Microsoft is working on Surface All-in-One PC destined for your living room
A Surface for your living room may soon be a reality. Our new report confirms that a Surface AIO device is currently being developed by Microsoft.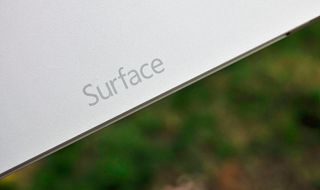 Microsoft is developing a new Surface all-in-one (AIO) PC running Windows 10. The information comes from a reliable source who has confirmed the news with Windows Central and it follows an earlier report by Digitimes.
While Digitimes claims a Q3 2016 release for the alleged Surface AIO, our sourcing suggests such details are undecided at this time. Like other next-gen Surface products the timeframe for a Surface AIO will partially depend on availability for Intel's new Kaby Lake 14 nanometer processor, the successor to Skylake.
We can also add to the original report that the company is positioning the Surface AIO for the living room. The device is evidently targeting a "modern and elegant" design and is meant to be something akin to a premium appliance or furniture.
Unfortunately, any details about specifications and the Surface AIO design are not known at this time.
Our last report claimed that Microsoft is aiming for an early 2017 launch of new Surface tablets, and a planned "Surface phone", all linked to Windows 10 Redstone 2 general availability. Bringing the Surface AIO into that launch window would seem to make sense.
All-in-one PCs are an exciting development in modern computing. By combining a display with high-end hardware into a single device, the experience is similar to an appliance rather than a traditional PC tower, external peripherals, and messy wires connecting them all together.
Currently, Apple's iMac and Lenovo are the market leaders in AIO devices. Lenovo recently launched the Yoga Home 900 PC (seen above). That device features a 27-inch Full HD display running Intel Core i5 or i7 Broadwell CPUs. The device weighs 16 pounds but is a single, large tablet that can run on an internal battery for up to three hours. The Yoga Home 900 can be propped up on a Surface-like kickstand or laid flat as a table-top tablet, which is ironically reminiscent of the original Surface (now called Microsoft PixelSense).
While bringing Windows 10 and modern computing to the home's congregation area seems like an obvious market, no one has fully cracked it yet with any success.
Is this the consumer PixelSense?
Putting all the pieces together and it appears that Microsoft is combining its original PixelSense table-PC concept from 2005 with its new Surface Hub. However, instead of being marketed at large institutions this device is destined for consumers in the living room. This claim is complete guesswork on our part, but the dream of PixelSense for consumers has always piqued people's interest.
Creating a device with advanced 3D touch sensors, a high-resolution display with Windows Ink, and other technology could result in an amazing AIO experience. With the larger size, Microsoft could have more space to add newer hardware as well.
Microsoft specifies PixelSense as having four main features, which could be related to this Surface AIO project:
Direct interaction or the ability to "reach out and touch" the interface
Multi-touch contact similar to tablets that have at least 10-points of touch recognition
Multi-user experience where multiple users can use the surface at the same time
Object recognition or identifying things like you placing your phone down on the surface.
Microsoft has demonstrated placing your phone on the PixelSense surface and transferring photos and documents instantly to the computer. Users could then interact with the photos similar to the famed Minority Report sequence from the hit 2002 film.
Some of the technology and theory behind PixelSense can be seen in a 2012 video posted by Microsoft on the ongoing project. The Microsoft PixelSense blog (opens in new tab) went dormant in June 2013.
The original Surface based on PixelSense was commercially unveiled in 2007 by then Microsoft CEO Steve Ballmer. It would be very interesting if exactly ten years later in 2017 the device becomes a consumer reality. Of course, like all projects in development at Microsoft things could change when determining final product viability. For now, continue to watch this space.
Would you want a large Surface for your living room? If so, what would it need to have in order to be different?
Windows Central Newsletter
Get the best of Windows Central in in your inbox, every day!
Daniel Rubino is the Editor-in-chief of Windows Central, head reviewer, podcast co-host, and analyst. He has been covering Microsoft since 2007 when this site was called WMExperts (and later Windows Phone Central). His interests include Windows, laptops, next-gen computing, and for some reason, watches. Before all this tech stuff, he worked on a Ph.D. in linguistics, watched people sleep (for medical purposes!), and ran the projectors at movie theaters because it was fun.
Very exciting. I have this information on good authority, however, there are more questions than answers right now. This could be a very big deal, however. Especially if my ruminations on PixelSense are accurate.

I know. Do you think this is something people will go for?

Without any firm details, I would prefer to not make any guess on product viability. If Microsoft is introducing PixelSense tech into a consumer product, sure, this could be huge. Just a large PC in the living room? I dunno, ask Lenovo ;)

We definitely need some firm details

Firm details are Microsoft is going to announce this, tease you with amazing features, cut out said amazing features then cancel the project all together.

I am sorry Steve. While I am a good sport for sarcasm and humour, I am really getting sick of all the rant about MS cancelling its projects before they see the light of the day or soon after. If you really get a data on all projects that MS has worked on over the past decade or so, you will see a fair bit of them being cancelled. However, you will be hard pressed to find too many companies doing any better. Those that don't have such projects will hardly be doing any innovation at all. If you are into technology domain, you are bound to find out that something maynot work out only after you have invested time and money on it. Reasons could be anything uner the sky. What I do appreciate abotu MS (and google, FB, Apple etc. for that matter) that they continue to work on innovation. Of course they have the resources to be perseverant, but other way to look at it is that becuase they are so perseverant, that is why they have the resources. This device may or may not see the light of the day, but I am confident that MS will keep coming up with new products that are truly innovative.

Hemanlive, They (microsoft) have canceled so many projects, features in the past few go rounds, that it has soured me Just a tad, while yeah, I am having some fun, I am gone from microsoft products now and am running apple, the only MS products we have left now, are our two surfaces and soon they are gone for new Ipads. Good riddance to the MS side of computing. The land of failed promises and lackluster follow through. I was so close to pulling the trigger on 950xls but sooooo glad we have the iphone 6s's

First thing I thought of was Xbox streaming :)

This article reminded me of this: https://www.youtube.com/watch?v=n94E3IeBquY

I can imagine a device with a screen around 30-40 inches and less than half an inch thick using proprietary magnetic mounting. The mounting could sit into an indented area on the back of the device so that there is no gap between the aio and the wall or table. They will surely have something very cool!

It definitely has to offer more than Lenovo did. And I think it has to be significantly larger. The deal killer might be that, to get those things, it will have to be very expensive. But the right combination of things that it offers just might overcome price.

Surface has the large scale covered.

That's exactly what I thought of... The Surface name was originally for the table version offered to corporations. This sounds like a rehashing of that for a consumer

I would agree. We actually had one of the 2nd Generation Surface Tables from Microsoft. When they first announced the Surface tablets it actually screwed with my brain a bit, since the Surface had already existed, but was table sized.

Here comes the 'I am going to unlock with my Microsoft Band'-pc....?

That would tie in nicely too.

This! Bob finally comes into his own.

Lol, how many drinks are you down?

You may be too young to know what Microsoft Bob was.

It would be great to announce this at a hardware event like they did with surfacebook - announce the refreshes of the phone(s) and other hardware and then the reveal of the AIO. As a coffee table device this could be the surface name going full circle, not that anybody could ever afford the original "Surface" table, the legs alone were pricey for a consumer.

The surface started out a a table device, they have several of them at the galleria mall.

The original Surface were indeed expensive, but that's I think because it wasn't meant for consumers anyway. Also those times, that was the early times of multi-touch tech which would be expensive, even first iPhone is ridiculously considered expensive that time. Original Surface and PixelSense table are more than having big touchscreens, it can actually detect objects which is something we even don't have on modern touchscreen devices. It was called Surface and and later PixelSense for a reason. I hope that this is the consumer Table PC that the original surface did, only more affordable for consumers and hopefully more useful. Should be suited for both entertainment and productivity.

I hope it's not a coffee table design. SMART Technologies made those for a while - I owned one. It's great for passive interaction or groups like in education - but as a consumer system, it really doesn't work well. Mind you - if they're making an AIO with a more standard design - you realise that an obvious use would either a built in projector for movie nights or at least the ability to use your large screen TV as a display for showing movies. And if you're going to do that - maybe a TV tuner integrated with DVR features and a useful TV guide feature... in fact - why not create an entire application designed to work well on a large screen TV with nothing but a remote control? It could handle live TV, IR Blaster control of cable boxes, DVR, Guide.. and do that for many countries, not just the US, and let's add in DVD and BluRay and streaming... A nice clean easily read UI would wrap up the whole package... It would be, I dunno.. some kind of "media center". Nah - no one has that.

Bullcrap, nobody wants a table computer in the living room as everyone has tablets. They just could make a big screen TV with windows or just make an Imac clone but with detachable tablet touchscreen.

Personally, I was hoping this is what the Xbox hardware would be for. I guess this proves that they want the Xbox to be a full Windows 10 gaming machine rather than a box for all sorts of entertainment in the living room.

I guess this proves that they want the Xbox to be a full Windows 10 gaming machine ...

My thoughts exactly. Gaming, movies, TV.

Really. I already have that with 8.1 Media Center and no Xbox in sight.
Seems like the visionary old guard at Microsoft have long gone and we trying to reinvent electricity after we lost the knowledge.

Re' Hiseona,
So true. Microsoft knows how to build Windows Media Center for the whole house using a HTPC.

They don't have the knowledge anymore.
They've lost the code and are practically helpless on how to start over with Media Center

Some people don't get it. Guess what else, maybe they'll buy steam!

MS couldn't afford Steam, and Gabe wouldn't sell to them. It would be the single biggest catastrophe to happen to PC gaming, and mean a swift end to discounted games. MS don't do discounts well, and when they do they pander to retailers by always being worse than the retail prices. I've seen games in the XBL store sitting at $99 (typical price in Australia for a AAA title) for 2 years when you can then buy it for $15 in a shop.

I wonder how they will seperate this Surface AIO from the herd. Love to hear more about this thing

From what I've heard, it's more like a Surface Hub for consumers.

Yeah, a touch TV running Groove Music is what the consumer wants.

Is there actually anything you Like?

Well imagine watching Groove Music music

Why don't you imagine I do

It's called a 'jukebox' -- I have one and it will get a good workout on July 4th.

Ya.. except I dont wanna have to touch my TV... .I just wann tell it what to do.. ALA Xbox One ! Which.... dunno what happens when they kill kinnect... how will I say... "Xbox watch Discovery Channel" or Xbox "Turn Off" etc.... Having to touch the screen is a step back from total laziness that consumers feel entitled to.... ;)

Sorry, but it's an enterprise level device.

Any rumors about an Amazon Echo/Google Home competitor?

Like Cortana in a physical box? I don't know why it would be good, when Cortana is on all of your win devices, and can answer you anyway :D Other than that, Amazon Echo failed, just like Google Home (will).

Echo is a hit. Not sure what you base your assertion upon. Posted via the Windows Central App for Android

The echo is a phenomenal piece of technology that still sells out frequently. You're drunk if you think it's a flop. I use mine constantly. Posted via the Windows Central App for Android

"Phenomenal piece of technology"? What? A digital assistant in a separate box? A device, that can't do anything else? Wow, it's so amazing :D Just tell me one real scenario where you use it :D

Ask the many people who are buying the Echo instead. Posted via the Windows Central App for Android

You mean I can say the following anywhere in my house.
'Alexa lock the doors'
'Alexa turn on the bedroom lights to 20%'
'Arm my alarm'
'Read me the news'
'Play some music'
'Open the garage door'
'turn on the air conditioning'
'Start my car'
Etc etc. Etc But no, that's not good tech at all... and it's certainly not at all comparable to the voice activated computer on star trek. Posted via the Windows Central App for Android

I just don't know how I could be so stupid to think a voice automated home was revolutionary. God I'm an idiot! Posted via the Windows Central App for Android

And you could do all of this, when your phone is in your pocket. That's why I say, that it's not innovative at all :D It's just a device with only one function took out from a phone, or a PC. Would you buy a device, that you only could use WhatsApp on it for example? Call it WhatsApper :D It's redundant.
P.S.: I'm more of a Star Wars guy, than a Star Trek one :D

You can't voice command smartthings from a phone. Posted via the Windows Central App for Android

You can. Or google now on that shiny lagdroid can't be integrated into apps? :D

Nope- google it. Only option is custom code for voice control on anything other than echo. And it's spotty at best. Posted via the Windows Central App for Android

All pretty cool sounding futuristic star trek things. But personally, i'd rather have less technologies like this around me. Adding "smart" features to everything doesn't necessarily make things smatter or more efficient or even useful.

Cortana being on all my devices is precisely why I'd want a separate Cortana device - my PC and Xbox are always in the same room, and I'll frequently have my phone and Surface there as well. So that's potentially 4 devices, with a wide range of only somewhat overlapping capabilities that are all going to wake up and try to respond with varying levels of success when I invoke Cortana. It'd be much nicer to have an Echo-like device that could process the commands, and route them to the appropriate device over the network (either implicitly via context where possible, or via explicit disambiguation where necessary).

I'm thinking that'd be a great features to add into Cortana, especially for W10M. You pick and choose what to do with your devices through your phone's Cortana, so can turn on your heater, record your favourite TV programme, readying your coffee machine, etc., anywhere. Like this, Cortana would be a real personal assistant. Let's talk about a cool name here: "Cortana hub"?

Yeah, that's a great idea. But not on a separate device, but on your phone, PC, and XBO, as you said :D

I thought Pixel sense was something else when announced I alsways that it was cool. If I am correct I think it was geared towards POS places like restaurants and allowed people to split checks and notified when in need of a refill (again I could be wrong). But cool in all as long as this price doesn't cost me a semester of my kids college savings ;)

Right, it initially was a commercial play for companies to use a demonstration device. The question was always lingering if/when it goes to consumers.

Thanks I thought it was pretty cool technology, I remember looking at the price for these at the time I want to say it was like 10k and the only businesses I could find using it were in WA or Canada. Cheers to the living room push I hope it comes before I finish my basement!

To me this going be far more interesting to see than a surface phone, tablet or book /Runningaway

Well that depends. Without any firm details on both devices we don't know how they will be received by the public. Maybe this device is somehow lacklustre and the surface phone groundbreaking, or vice versa. But right now, this does sound a bit more interesting than the surface phone.

I so want this. Bring it on, Microsoft!

+1 Posted via the Windows Central App for Android

an xbox lite for your non gaming consumers to have a proper "smart" tv would be a safe deal for microsoft, this thing i cant even think of a use, why not just deploy a bunch of 10" atom tablets around your house

I rather call it Windows TV since they're making Xbox branding solely for gaming again, not general entertainment. This is why we don't use Xbox brand anymore for entertainment media. But that's just my take, Xbox TV still make sense. But yeah, we seriously need that since not everybody want and need a gaming console if they just want for smart TV purposes. A Windows TV device would be cheaper than Xbox One S with smaller hardware but have same UX of Xbox One, only without much of the gaming aspects and tweaked to focus on entertainment instead. It would be still possible to play games from Windows Store and Xbox Streaming like PS TV. Even better, the Windows 10 TV operating system used on Windows TV/Xbox TV is open for OEM to be used on their SmartTV. Microsoft has to take a piece in Smart TV market and just don't let Google and Apple dominate this space, which is important if Microsoft to be visible on consumer space.

I hope whatever interface they use can be adopted to be used on any display powered by Xbox/Scorpio/Kinect/Cortana.

"Apple's iMac" are the market leaders in AiO devices"
Hahaha, that made me laugh. A giant screen with no touch or biometric authentication.

yeah, but 5K display and being a Mac it has its audience, just not in a living room.

Yeah I have seen designers buying an iMac and installing Windows on it, just for that screen. So an AIO with high DPI display and windows will be very well recieved by pprofessionals, atleast thats the case here in India. Posted via the Windows Central App for Android

50" windows 10 4k tv i want

I think I would actually use what this comes out to be

An AIO that sits on your desktop where you can tilt and pull the screen down for drawing and other creative purposes would be nice. Whatever MS does, I'm sure it'll have a few surprises like when they revealed the Surface Book.

I'm so excited for this. But the question remains. How will they position it? As an AIO PC? A living room smart device a smart tv or something akin to X Box living room features? Gaming akin to XBox? Surface hub but for the consumers? Potentially tho they could throw all of them in here to make up for a killer premium All In One. But knowing Microsoft they will probably be unable to communicate the message properly and will alienate people in the process. My suggestion? They could apply the same approach they do with continuum. A quick action toggle in action center to switch between modes. PC mode. TV mode. X Box mode. Conference Hub mode. Etc. Of course that will mean some complexity merging all these SKUs but isn't that the purpose of Universal platform? Shouldn't the OS platform SKUs itself be universal given enough leeway which such a large screen device can certainly provide. As much as I would want to see such a device I would advice Microsoft to just play it safe and place this device as an iMac competitor with stunning industrial design, 5k or better resolution with accurate colours, powerful processing and graphic compute. In the meantime they may want to figure out a way to merge all these SKUs for large screen devices in a stunning UI and UX kind of like what they did with windows 10 for 2in1s.

As for pixelsense, I don't know I don't see much utility for it except maybe in kitchen or architects or children doing their homework's or drawing/painting. It's good for a minority report esque show off but not very practical and usability limiting. At least not right now. But it's not to say that such an interaction model can't exist in future. Microsoft has touch and holographics oriented UWP platform which with advent of real holograms may work with pixelsense tabletop form factors. As of right now Microsoft needs to do what it did with surface hardware. Innovate category defining orientations. Like with 360°/detachable hinges and stand they introduced different modes like tent and tablet mode for PCs. Similarly with AIO they could use foldable legs, stand and wheels for different orientations. Like a canvas mode standing on two legs, or a table mode standing on four legs, or a table top mode propped flat on table, or a desk stand mode on a stand, or a wall hanging TV mode. With powerful processing and graphic compute, high resolution display, synergy with peripherals and other Microsoft devices, Surface Pen and multi touch multi user input support, XBox Controller and Surface Remote support, and mechanical industrial design innovation of Surface team, Microsoft really could put out another categories defining product in Surface family.

As I see, I'm not the only one waiting for a Windows 10 TV :D But this will be good too.

Hah, that would be interesting but screen size preference would be tricky.

Size preference is usually a very personal thing. Some people like big, some like small

I could go for a Dell XPS 60" AIO. My 27" has been amazing for me.

Yeah I got one of those already. Plugged a $99 Lenovo compute stick into the living room TV. No touch screen though.

Windows 10 TV as an OS or hardware or both? They should really enter to SmartTV space by releasing a lite version Xbox but just call it Windows TV with Windows 10 TV OS that basically a stripped down and redesigned Xbox One Dashboard. Microsoft can also license the OS for any SmartTV OEM interested to use Windows 10 TV OS instead of other solution.

In the Surface Lab video tour they showed a lot of examples of wood material in sizes that could be used for keyboards. I'm wondering if they are using wood for this AIO. Also, I hope there will be some sort of connection between the Xbox One / Project Scorpio for additional processing power for games and professional software (video or 3D rendering). Possible names:
- Surface One
- Surface Station
- Surface Home

PixelSense along with the McLaren rumored 3D touch are interesting. I hope we can see Microsoft apply this in a relevant way and by that I just mean in a way users can find useful. Whether or not this is a table PC or something, I'm not sure and don't particularly care, but I do hope it serves its purpose in inspiring further adoption/evolution of the Windows 10 ecosystem. I may not be so excited for mobile (and specifically something produced by Microsoft), due to well, the last several years of owning one... but I am excited for Windows 10 as a whole.

In the PixelSense video, he described it as cameras in the display. Makes me wonder, is it possible for some hacker to use your display as a webcam? Regarding what I'd expect from a Surface in my living room, I wouldn't buy such device. I've replaced most of my Desktop needs with my Surface Pro + Docking Station. All that's left is simply adding a Thunderbolt port on the Surface Pro, making it capable of handling external PCIE Desktop-class graphics when docked. Unless this replaces living room TV (without any privacy-ingasion concerns) and can double as an external touch-and-pen-equipped Monitor for my Surface Pro, I wouldn't consider it. Posted from my OnePlus One.

Best case I can think of to bring back Media Center (yeah yeah I know its a dead horse.. )

Am guessing this will launch with together with the surface phone

I already got my DELL Inspiron with swiveling arm....too late Surface. My comment doesn't matter anyway.

Exactly. I use inspirion at work.
Never used the touch function. In fact its a hindrance when you have a discussion with someone and point to the screen only to drag something accidentally.

Maybe in your little world. Some of us like touch. I guess you are a glass is always empty kinda guy.

Well when the batteries go out in your Bluetooth mouse and keyboard I bet touch comes in handy.

Not really. Autodesk still haven't bothered to make their programs touch friendly, which I fail to understand.
It would be good to take a Surface 4 with Revit 2017 model to site instead of a PDF version and be able to rotate a building model in a discussion.

Oh no... "elegant design" again... All Microsoft's products except xbox are changing to this boring silver+white combinations... I miss colorful "nebula" design of old Lumias (L920/730/830/1520) and if next wave of Lumia phones will folow this boring iPhone-like phylosophy I will probably leave Microsoft's ecosystem...

Yeah man what you're asking for didn't sell. If I were you, I'd start packing bags

This is literally what I want. I have a surface pro 1 but I just use it to stream to my tv. Having this right on my living room table brings the surface closer to me (currently sits under my tv) and gives me a larger screen to like, do stuff. Since im not buying a phone this fall, I'll buy this CASH if its real

The Surface hub all in one conferrence PC/monitor makes sense. the trick is to shrink it down to the RIGHT SIZE Screen. I think a 27 inch 16 X9 or Surface screen 2 By 3 that can tilt and go flat would work. This has bee done before one of Microsoft's OEM partners. I saw a Video on this deviice that was at the las vegas big consumer market show. I never saw one for sale at a store though. People see a lot of fantastic devices at Consumer Electronics shows that Never come to market in the USA. The most important thing I think this device needs is a built in HDTV over the air tuner to pick and display free HDTV broadcast Channels other wise it would be nice nifty high tech all in one PC that would occashonally be used by the family.but if it was also an HDTV it would be a more useful device for the family to use.

www.pixelsense.com coincidence?

If a Surface Book costs ~$2000, can you imagine the cost of this? Gates dream becoming reality.

The cost will be less. The more compact computer the more cost...

A 40''+ touchscreen? Far more expensive.

Where did you get the 40"+ from?! The screen is only 27".

Great news!
MS: Please make this AIO upgradable including RAM, SSD, WiFi, CPU and motherboard and I would dump my Dell 2720 touch and buy one!

RAM and SSD I could possibly see, but how could they possibly make an All in One with the other components upgradeable? And judging by the Surface line, I don't think this'll happen either way.

Dell 2720 WiFi card is upgradable as I have done it.

I agree. have looked at a lot of AIOs and they ll eem lacking in som way, without possibility of upgrade.

Nothing will be upgradable. Unfortunately, that isn't how things work these days. Posted via the Windows Central App for Android

Nothing is impossible...if they make an attractive machine with upgradable MS components especially the motherboard, and a nice hi res screen they don't have any issues selling...

Do you really think consumers care about it being upgradeable? That is not a selling point, otherwise all these ultrabooks and macs wouldn't be so popular. Even if it is business focused, I don't see a desktop being an easy sell.

It seems unlikely for Microsoft to innovate a device like this, without trying to lead the way for its OEMs to do the same. I highly doubt they would be trying to catch up with Lenovo, or out-compete with their own Surface Hub. Although I could see a market for a consumer-grade Surface Hub, for those days I get to work from home. Hmmm...

I just don't see what it will do for my living room besides not having to use my phone to look at stuff while I'm looking at my TV. So confused as to position this as a living room device.

One thing we can count on is: If it carries the "Surface" name, Panos will make sure there is a "one more thing" feature to it.

I almost think this would be geared as Microsoft's take on a SmartTV. Maybe even with enough oomf to run basic UWP games (not necessarily on par with Xbox).

I thought Xbox One already existed

So you're unfamiliar with the concept of AIO devices?

It will be really interesting to see what ms can do with this idea, it could be brilliant, it could change the whole smart tv trend.

Isn't a Surface already an AIO? It's not meant for desk use, but the concept of an "all-in-one" is essentially a monitor with the processor and components built into that one device.

I will only be interested if it has a battery. I have a VAIO Tap 20 and I have been looking for a suitable replacement as it has served me well for four years and is beginning to show its age. I use it mostly like an immobile desktop, but when I have to travel around, it acquits itself admirably. It has a bag like a portable, so if it has to be used in a presentation, I can employ it without a second thought. I am very comfortable using it as to design all my publications. I can't think of using any other configuration. Microsoft, please add a battery to whatever you are designing. Thanks.

Now, if Microsoft would just resurrect the Courier (Surface Courier?) THAT would be something I'd be itching for.

I'm not a fan of AIO computers for the same reasons I don't buy laptops. I want to be able to upgrade parts of the computer without having to buy the entire thing. So in that sense, this wouldn't be very appealing to me. However if it's more in line with a UltraSmartTV, then it might be really interesting. Posted via the Windows Central App for Android

You need to start taking context into account. While I agree it's nice to be able to upgrade your desktop in a piecemeal fashion, that model isn't very good for mobile computing. To reach the point we have, it's necessary for components to be tightly integrated into the system. And for the most part, that's fine these days because hardware has become so powerful that even a system with integrated components can perform admirably for most common tasks for several years. I have a Surface Pro 3 I got on release day almost two years ago, and it still works fantastically well. It's fast, fluid and runs like butter. Someday, yes, I'll want to replace it, but by then it'll be cheaper to just replace the entire unit.

People would also want to get work done and the living room is not the place for that. My friend is looking to buy an all in one for doing design in adobe and such but she works best at her desk. This seems more of something for entertainment .

Agree. I hope this is more of an idea than a one-dimensional product looking like a coffee table.
When Jobs unveiled iPad, he positioned it as a slate you'd like to use on a couch, consuming media of all forms. Later, you see people using them as video cameras, virtual synths at concerts, doctors doing remote surgeries, autistic kids learning to communicate, POS terminals, virtual menus at restaurants, pilot log books, the list goes on. I hope they make it generic enough, to keep the use possibilities open, so it takes all possible forms, shapes and sizes, created by OEMs. I would love to have a 30" digital painting canvas at home to use real brushes on. Wacom is nice, but jsut doesn't do it for me.

A large foldable screen that turns into a tablet and when you unfold it dock it into a monitor stand and it gains more power from the dock. Similar to surfacebook but all in one. That would rock.

I would buy one if the design looks like a true All-in-one pc :D, not like a table pc or whatever

I would be the happiest guy on earth if Microsoft would just make an iMac style all in one that had Surface Pen support. I don't care about the living room stuff. I just want a big Surface Pro for graphic design work. A digital drafting board so to speak. Basically a Wacom Cintiq with the PC built in. That's the dream. :) Posted via the Windows Central App for Android

Love the idea of a Surface AIO.

Needs the TV in the room as well. For these living room PC's to have an impact and be successful, they must be the primary viewing device in the living room. Which means a 40-60 inche TV that is a Surface PC.

I belive the "for the living room" thing has more to do with it having an attractive design that would look good with modern furniture than it's use being focused on the living room. If done right, this could be the cintiq killer, an all in one that replaces the 21 and 27 wacom cintiqs. A device aimed at designers and digital artists. Something you can bring closer to you and the table at an angle and use with pen and touch. This could replace the iMac+cintiq combo in one device if done right. I hope they do, but they need to not shy away with specs. Quad core and a dedicated video card are a must for visual power tools like photoshop and 3d tools

This device should have all the essentials concerning connectivity: both WiFi and wired ethernet, all possible A/V connectors, DVB-T, -C and -S with built-in support CI+ and so on and so forth, for the simple reason that it should be usable in under any condition for any purpose, whether online or offline. Battery would be nice, and power consumption should be kept to a minimum. WiDi (and DLNA) should be buillt-in too. With proper remote control possibilities through phone or tablet. Basically it should be uasble as "just" a dumb TV screen or as the ideal Media Hub. And that's exactly what they should call it: Surface Media Hub! :)

Tbh I'm a developer and my computer frustrates the heck out of me with bugs that I have to repair with very complicated registry edits...not in the mood to be doing that with a table lol. Posted via the Windows Central App for Android

I hope it's not a coffee table thing. I would reeeeeeeeeally welcome a Surface-branded iMac-style AIO computer though. Definitely.

The timing between kineti and this leak make me believe it's going to be the definitave coffee table. I suspect it brings surface hub connectivity to the couch with rooms like features across Windows and casting to your existing TV. Or maybe a repackaged thinner consumer surface media hub like mentioned above.....though that makes far more sense as a 4k full backlit, her Xbox device in 55,65,75 inches....

The timing between kineti and this leak make me believe it's going to be the definitave coffee table. I suspect it brings surface hub connectivity to the couch with rooms like features across Windows and casting to your existing TV. Or maybe a repackaged thinner consumer surface media hub like mentioned above.....though that makes far more sense as a 4k full backlit, HDR Xbox device in 55,65,75 inches....imagine that one version of Scorpio is a TV with Kinect built in taking no space on your Ent. Stand.

I want a native Microsoft TV with win10...

When Microsoft first announced the Surface Book at their hardware conference I got SUPER excited because at the end they said but wait... there is more! And they started showing the video and I though they were going to announce and AIO. I would love and AIO from Microsoft. If this becomes primarily target at the living room I will be sad as the xbox is plenty fine for the living room. What I need is a good AIO. Once Microsoft releases a good competition to the iMac I'll ditch my apple products but until then I need to stay on the mac boat (even thoguh I use windows 10 on all my mac devices haha).

coffee table
PC
giant TV remote
giant XBOX remote
news/magazine reader
board game
who knows..... I wonder, if they'd stream games from XBOX to this, similar what WII U does with its controller and make the XBOX do the heavy lifting in terms of graphics. That could possibly allow the specs for this AIO be fairly low key, making it affordable.

I want it built into a coffee table. Not even joking. Posted via the Windows Central App for Android

Nice to see MS with this kind of innovation. I hope they can pull it off before a competitor. This could be great for group collaboration at work and home. Throw in Cortana, Xbox Tech and my phone - interesting stuff. Can Cortana differentiate voices? Fun times ahead!

An all-in-one PC is innovation? I am quite sure people have been making them for years. The innovation might be the UI, but this will probably be running Windows 10. That certainly would not be innovative. Posted via the Windows Central App for Android

I'm sure it will be another distraction for a company that going in a million directions and losing (has lost) the battle for mobile.

It might be interesting if the AIO interacted with Hololens so that 'all the family' can see what the hololens user sees. Not from the point of view of the Hololens user but the whole room using the AIO camera.

It would imagine that it's like a Cintiq 27QHD touch, but with build-in PC.

Was kind of hoping M$ would have done a Surface Pro with a 17"/18" screen for design professionals and power users who want a larger screen. This needs to be doing some very special very differently for it to appeal.

Bringing the Surface AIO into that launch window would seem to make sense.

#ItMakesSense

L S Smith Canada New developments for the all in one PC. I wrote the CEO and gave him my thoughts. Nobody replied. Seemed like a long shot...I would like to express my thoughts once again and again hoping this company called Microsoft will respond. Thank you. I struggle with the content,settings,upgrades,multiple distractions as cloud,edge promote...Microsoft - my pc and my experience is utterly frustrating.Simple things need to be repeatedly fixed,checked. I waste my time and continually my patients. Please make a product that I enjoy opening and using. I request answers...not at the help level..not at friends level (have tried both. I continually search for answers that do not fix the problem and get me deeper into confusing answers. I would just like to begin my searches.......find them and leave. Start this company from the ground up. Start with me.

Oh, Microsoft is going all Minority Report on us......

Daniel, Do you get the idea that Microsoft is taking xBox back to gaming only and that this new Surface will be positioned as the new hub for driving family room entertainment sytems? Seems with the death of Kinect, that xBox will no longer be the voice activated entertainment hub. A coffee table like Surface could close this gap and interact with xBox and work in tandem to drive family room entertainment systems. Also make it interact with phones and other objects transferring pics and such just by laying them on the table. Include wireless charging so phones, xBox controllers, etc sitting on the Surface get charged and things could get interesting. Enable classic board game play and I could see this being a great addition to the family room.

if you imagine the 27 inch screen Imac Apple makes with a thick base that contains electronic components and input /output ports with a screen that can tilt and be lowered flat. then THAT IS WHAT THE MICROSOFT ALL IN ONE COULD LOOK LIKE. The 27 inch Imac with an intel i5 CPU and a Terra bit drive costs about 1800 USA Dollars. It is sad that Steve Jobs was against Apple having bulit in over the air free broadcasts HDTV tuners in Imacs Apples all in ones. I hope that Microsoft is not as dumb as Steve Jobs was and puts an ATSC free over the Air TV tuner in their All in one. There have been Windows All in one PC's made wtth HDTV tuners in them so the idea is not far fetched. Microsoft could team up with Haupage to get the HDTV tuner card and with ROKU to make it a smart TV/PC. wow this woud be a nice item to Have but would have to have at least a 32 inch screen to be usful in the living room. folks THAT IS IS A BIG ALL IN ONE PC. No OEM I heard of makes such a device

I find Digital Devices tuner cards to be far superior to Hauppauge. But they shouldn't bother building that in. Instead they should buy DVBLink so you can have a central location in your house to connect up your signal, and stream that in exactly the same way to any device. Wired preferably. I use this method for years now using Kodi and it works quite brilliantly.

Well Microsoft has the Display Adapter already which broadcasts to a TV so there would be no need to have a HDTV tuner.

I was gonna be buying an all in one for my living room in the next 12 months. Now I will wait to see what the surface all in one has to offer. Exciting times for surface.

A surface AIO much like a slender and glassy 22 inch cintiq with a reasonably high spec computer inside would be perfect for myself and many people in my industry for both home and work. The ability to swing it over your shoulder a big padded bag and become portable would be soooo good. It would need a pen, really great graphics and real power, you see this would be perfect for designers artists, engineers animators even editors. It could be such a hit for them but I imagine so many consumer usersnwould ditch their hefty boxes and tangle of wires for a gutsey fully featured AIO that you could carry over and out down on the coffee table. I would buy one in a flash if it could replace my wired cintiq 22hd , that I somehow manage to shove into a padded artbag for transport or perch on a homemade couch table to use in front of the tv. The suface book is just too small for serious tasks and the desktop has always been a bulky and messy contraption. I can't wait for a new wave of suface 'easles'.... BRING EM ON! ☺☺☺☺
Windows Central Newsletter
Thank you for signing up to Windows Central. You will receive a verification email shortly.
There was a problem. Please refresh the page and try again.