Hands-on with the giant Minority Report-like Lenovo Yoga Home 900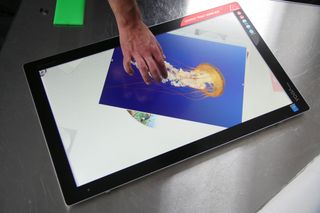 Lenovo has announced their latest 27-inch all-in-one PC the Yoga 900 Home. This PC is one of those genre-bending devices that I like to see companies play with, although I am not too sure if there is much mass appeal for them yet. The Yoga 900 Home is a continuation of Lenovo's plan for a giant-all-one PC that you can quickly convert into a table-top PC akin to Microsoft's original PixelSense computer (which itself was originally called Surface).
So what is the Yoga 900 Home? It's a 16-pound PC that runs for about 3 hours not plugged in. It features a bevy of solid hardware including Broadwell gen Core i5 and Core i7 processors, Nvidia video, and a decent 1080p display.
Lenovo Yoga Home 900 Specs
Swipe to scroll horizontally
Category
Specification
Display
27" 10-point touchscreen FHD with LED panel
1920x1080
Software
Windows 10
Processor
Up to 5th Generation Intel Core i7
Storage
Up to 1TB SSHD
Memory
Up to 8GB
Graphics
Up to NVIDIA GeForce 940A 2G
Thickness
19.5mm
Weight
16.75 lbs
Battery
Up to 3 hour 6-cell 73Wh battery
Ports
3 x USB 3.0, 1 x Headphone/MIC, 1 x HDMI-in
Color
Platinum Silver
Price
Starts at $1,549
I have played with Lenovo's previous attempts at such a device, and it is improving. Back a few years ago this PC came on a cart basically that you had to wheel around. Today, even at 16 pounds, you can rightly carry this around your living room to be used by the family. And that is what this device is meant for – it's a social, family computer that you can play special table-top games like air hockey or view and edit your photos Minority-report style or just surf the web. This is all possible with Lenovo's AURA 3.0 interface, which is a separate program that you run on top of Windows 10. AURA is connected to the Windows Store, letting owners download new games, apps, and utilities as Lenovo releases them.
Here is the thing with the Yoga 900 Home: It's clearly not a PC that every family will get, especially since it starts at $1,549. However, I think we all know where technology is going, and the idea that we have multiple, giant displays around us is something rapidly approaching. Microsoft's own Continuum is all about the idea of making computing more personal by taking it with you, and the Yoga 900 Home is just an here-it-is-now extension of that idea.
Frankly, I think it would be pretty amazing to have on of these in my living room, and if you ever saw Microsoft's original Surface (now called PixelSense), then you should be intrigued by this design. Clearly though we are still looking at niche computing, and it is neat to see Microsoft's Surface 1.0 concept hitting the consumer market.
Look for the Yoga 900 Home to hit Lenovo.com at the end of October. Pricing begins at $1,549.
Daniel Rubino is the Editor-in-chief of Windows Central, head reviewer, podcast co-host, and analyst. He has been here covering Microsoft since 2007 when this site was called WMExperts (and later Windows Phone Central). His interests include Windows, Microsoft Surface, laptops, next-gen computing, and for some reason, watches. Before all this tech stuff, he worked on a Ph.D. in linguistics and ran the projectors at movie theaters, which has done absolutely nothing for his career.
what the hell would I do with a screen like this? I mean... ok, porn could be superB on it but serious work? Nope, not for me.

I could imagine having that on my lap and sketching.

I woud have bought one of these if it had HDMI out intead of in. That way I could use it for table games but then have dual monitors with a larger monitor as primary. I kept hoping they would do that when they upgraded, but it appears not.

You could rig something up. Something going out through the USB port, perhaps chromecast or the MS alternative to wirelessly stream. There's options.

Is this compatible with any type of pressure sensitive pens? Would be awesome for graphic design uses.

I feel this is rather dated already. HD display while others are pushing QHD. 8 Gb RAM while others are pushing 16. i5 or i7, the enterprise environment may be the only audience for this, but I think it missed the point.

I kinda agree, but they are being price conscious here. Plus, TBH, the Full HD looked 'good enough' to the point that I was surprised that it was "only" 1080p.

Completely agree. Seems like a rather dismal product.

It's already starting at $1600. Of course they COULD put a QHD screen in it but they probably would sell even fewer then.

I've been wondering about this for a young child to get instead of a normal PC but every time I think they'll just step on it and bam! out 1500 bucks.

I would buy it because it comes with risk

All compuiters come with risk. ;)

Lenovo should get surface pen with it then it will be a complete device.

Not sure how much I like the curved back when laying down flat. Daniel, does it feel wobbly when using it like that?

Nope, no wobble. Kinda real fun to use. It was fast and fluid, much better than their previous attempts.

That is very nice to hear!

Minority-report style :-) I like it. Did you manage to stop a pre-crime?

This is really meh specs for the cost.

Any word on a smaller sized screen? They had the Horizon 2s at 19.5"

So I just tried to find official youtube vids for Surface Pixelsense. Didn't find any official one for original one which was apparently demo'ed at CES2008. Did get around to Surface 2.0 which was a Samsung Touch monitor using Microsoft's Pixelsense technology back in CES2011. So, that's where it all started for Surface. Great trip down the memory lane.
Also goes on to show that when apple was popularizing the iPhones, Microsoft was aiming for the moonshot circa 2008 with Surface 1.0. They seem to have finally caught up with the present world in 2015 with Surface Book, Surface Pro 4 and impending Surface Phone in 2016. I wish they had taken the logical step with touch screen phones and OS properly in 2008 and waited for their time for big screens. Oh well! No time regretting the past. It's 2015. It's Windows 10 and One Windows on every screen era. Let us look forward to a better future mostly I hope in terms of nurturing Windows 10 ecosystem.

To be fair, I can remember in the early 2000's when Windows XP on a touch enabled monitor was all the rage. Microsoft was doing tablet-like devices wayyy before Apple, but two things held the entire thing back. One was their clunky interface, which was merely replacing the mouse with your finger. And two was the terrible OEM hardware that was as thick as a brick and weighed as much too.

@lonewolfe2015, well, not if you count the Apple Newton. That beat any of MS' devices to market. :-) Newton came out in the late '90s, maybe '98. Microsoft's first foray, the PocketPC, wasn't out until a few years later, 2001, I think. Of course, Palm beat both of them with its first Pilot in ~96. I used a Sharp Wizard around that time too. But the original large-screen Surface was the first multi-touch computer and that was from Microsoft. Brilliant machine.


16.75 lbs How much is that in non-retarded system?

I like how you knew exactly what he/she was talking about.

Should I be ashamed that I live in the U.S. and that I just lol'd?

There are two kinds of countries; those that use the metric system, and those that have landed on the moon. We get by.

Pretty sure they use metric on Cybertron.

Did you come up with that? That is the best quip ever! I work in a science field in the UK and the Europeans are always being rude that we have not gone fully metric. Clearly the thing holding us back is that we went metric at all!

That, my friend, was hilarious. Posted via my HTC One (M7)

I understand that NASA now use the Metric System... just sayin. I love the NASA quote on this site "If you think in pounds and miles instead of kilograms and kilometers, you're in the minority. Only the United States, Liberia, and Burma still primarily use English units -- the rest of the world is metric.": http://science.nasa.gov/science-news/science-at-nasa/2007/08jan_metricmo...

Oh, you meant in non-freedom units. lol

Exactly 16.75lbs. Thanks for asking.

Also, loved the minority report reference jbtw.

LOVE to see PC manufacturers stepping it up! Nice looking device!

My wife, who's an illustrator, wants something in the 24-27" range like this but with stylus support a la her Surface Pro 3. No stylus? Not interested.

She probably look at getting a Cintique. That way she doesn't have to replace it as when she wants to upgrade her PC.

PCs that are made to be used very often but for short times by a whole group of people, like this one, should have a Windows Hello capable camera to make it easy to use your own profile.

Once this tech matures and prices fall a bit, I'm going to embed these screens in all kind of furniture and/or walls.

Introducing the ChairScreen!

HoloLens would probably reach to that stage faster than large touch displays which are very expensive. As a reference Microsoft's Surface Hub is very expensive, it would be better if HoloLens can display a complete touch surface on your wall that mimics a live Art Paint masterpiece which shows 12Megapixel images and is changed every minute.

I was at a car dealership where the entire salesman's desk was one of these. Used a Waicom pen to sign the virtual papers right on the desk and then it was sent to the printer. It was so big that my son was able to play a video game on the same table pretty badass.

I like the idea of a family gaming system. Mix this with a HoloLens type device where all users can see the holographic, 3D board game without losing pieces all while wearing cheap glasses or nothing at all, sold. Like those gaming systems onboard every space exploration sci-fi show's ship, but capable of playing any game developers create. Free to play need not apply.