King Oddball, conquering the world one boulder at a time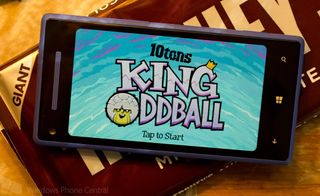 King Oddball is a odd little game for our Windows Phone. A little creepy as well.
You play the role of King Oddball, a disembodied head that hurls boulders from his tongue in an effort to conquer the world. You face various enemies ranging from tanks to helicopters that are scattered about various structures. The game has a bit of an Angry Birds feel to it but not enough to make it feel as a knock off.
Once you get past King Oddball's rather long tongue, the game grows on you. It has an addictive quality that makes it a nice addition to our Windows Phone gaming library.
Game play with King Oddball is simple. You have three boulders that can be used to destroy the enemy vehicles. King Oddball grabs one of the boulders with the tip of his tongue and swings it about. To release the boulder, just tap the screen to send it smashing into the structures protecting the enemy or strike the vehicles directly.
You only have three boulders to wipe out all the enemy vehicles. However, if you take out multiple vehicles with one boulder toss, you can earn bonus boulders.
As you wipe out all the enemy vehicles, you are sent to a world map where you move around each sector defeating all that occupy it. All totalled there are more than 120 levels of play on the map with each level getting a little more challenging than the last.
Along the way to conquering the world, King Oddball has fifteen achievements to earn and a handful of side games available such as a diamond that you can land on to replay previous levels or a grenade icon to let you play a collection of levels tossing grenades instead of boulders.
Pausing the game pulls up a menu to give you access to the game's options (sound/music) and the ability to change players. This is a nice feature in that King Oddball saves your progress and if a friend wants to jump in and play, just add another player so your progress isn't screwed up.
The only minor nit with King Oddball is the lack of a help section. However, there are plenty of pop-up windows to guide you through the game. Personally, I like reference sections but pop-up windows will work.
All totaled, King Oddball is a fun, addictive game that's easy to get hooked on. A little creepy hurling boulders from a tongue but once you start smashing things you get over it. King Oddball is challenging enough to keep the game from becoming boring and it's a nice gaming choice.
There is a free trial that has some limited functionality and a pop-up ad that appears from time to time asking you to buy the full version. The full version of King Oddball is currently running $2.49 and you can find it all here (opens in new tab) in the Windows Phone Store.
Thanks, mr_808, for the tip!
Windows Central Newsletter
Get the best of Windows Central in in your inbox, every day!
George is the Reviews Editor at Windows Central, concentrating on Windows 10 PC and Mobile apps. He's been a supporter of the platform since the days of Windows CE and uses his current Windows 10 Mobile phone daily to keep up with life and enjoy a game during down time.
10 Tons has some interesting games. I really liked playing Azkend via Bing a few years ago. They have another game, Grim Joggers, that looks interesting (not sure if it is slated for WP8); but hopefully, they will bring Swingworm and Ironworm (I have IronWorm on my N8) to WP8 as well.

I'm glad that they are making games for WP now, but I really wish that they could code their games for WP7.5/7.8..



As soon as I read "disembodied head that hurls boulders with his tongue" I went straight to download. I regret nothing.

Really nice game. We need more high quality games like this one.

I am not a compulsive windows phone gamer. As long as we keep getting at least one decent game per week, that is good enough for me.
Looks interesting. I have to run through AC, then Shogun and Civilization before I can get this.

Same deal with me, sort of. I am trying to force-feed myself Gun Bros. to finish the last 3 achievements (level 100, 50K kills, Revolution 10), then it's off to Skulls again. The game's just SO DARNED BUGGY, despite being a fun game, that I can't play it for more than 15 minutes before I get pissed at it.

Before moving on to AC and Earthworm Jim (amazing platformer this one), I spent hours playing this old, unknown game called Fusion Sentient. There are simply so many levels in these mobile phone games, it is hard to complain that we don't get enough games :)
Yet to come across a game that is so buggy you cannot play. Based on your feedback, I may avoid Gun Bros completely. If Gameloft comes through with their twelve announced windows games, that seals the deal for phone gaming for 2013.

This is an awesome game, really really addictive.
The most impresive part is the HOURS AND HOURS of playtime! And it also has excellent replay value.
I finished this game a while back on my n8 before I switched to a 920.
Recomended. game

Keep 'em coming George. Whimsical games like this are the best.

Quote : "This app is not available on your devise , tap here for more info" .
..
WP7.8 users, AKA the Millions of (( Lumia800 , 900 , 710 , 610 )) users, are obviously left out again ,, now that really SUCKS !! guys .

Yup winpho 8 only...goddammit. I would get a Lumia 920 or maybe a 8X but with MWC round the corner I may just wait to see what Nokia reveal! Then I can get amongst some of these games!
Windows Central Newsletter
Thank you for signing up to Windows Central. You will receive a verification email shortly.
There was a problem. Please refresh the page and try again.