Kodi media player launches for Windows 10 via Desktop App Converter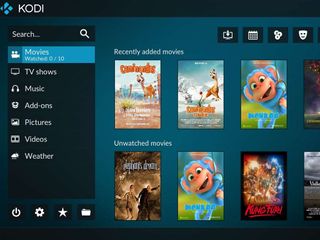 The popular Kodi media player is now available for Windows 10 PC owners in the Windows Store. The version of the app in the store was created with the help of Microsoft's Desktop App Converter tool.
In a blog post Kodi stated the team was skeptical at first that the Desktop App Converter would allow their Windows app to be published in the Store, but that opinion soon changed:
Kodi says they actually worked with Microsoft to convert the app so it would work in the Windows Store. Kodi also helped to improve the Desktop App Converter itself so it might make it easier for other developers to do the same thing:
The current version of Kodi in the Windows Store is v17 beta 2, but the team says it will continue updating it until the final version is available, after which it will "just stick to final releases" Kodi is just for Windows 10 PCs at the moment:
Thanks to Alfredo Cedeno and "OldSchoolTMoney" for the tips!
Download Kodi from the Windows Store (opens in new tab)
Windows Central Newsletter
Get the best of Windows Central in your inbox, every day!
so can we watch live tv with kodi on the pc?

You always could bro. I've had kodi on my surface pro 3 for like 2 years...

Is it easy to use I always read about it but thought I couldn't do it since I don't have a firestick or chromecast

2 years or like 2 years? Actually 2 years or another unit of time that's similar. Clarify.

When I try to run it it says I'm missing some programs on my computer MSVCP140.dll and VCRUNTIME140.dll

https://www.sereby.org/site/All20One%20Runtimes&lang=en installs all the runtime libraries you may need for Kodi or other software.

Wow, Kodi is one of my favorite programs for replacing Windows Media Center. Good to see them do this.

can someone comment on KODI versus PLEX? can I use the KODI App to access a PLEX server? Are there benefits KODI offers that PLEX does not?

I thought KODI was the old XBMC if which plex is a fork - I have have been a massive plex user (as are most of my friends) so would also like to get a better understanding of the diffrences - I thought they were much the same.

Plex is or was based on XBMC same as KODI, but the biggest difference between Plex and Kodi is the server side of Plex. I use a Plex server to transcode all my bluray remuxes that usually only play nicely if i'm streaming from a PC or Shield, so when I'm in bed and only have the ipad in hand I use Plex Kodi on the other hand is just a media player it lacks the ability of Plex at least without plugins to transcode videos from a server. I use kodi in my htpc because I can bitstream HD audio something plex cannot

You can use Kodi to stream via DLNA.

Yes, you can use DLNA, SMB or whatever you might like, but it doesn't transcode which the Plex server does. For example my old "smart Tv" doesnt like file with bit rates larger than 10mbps so my remuxes that have an average of 35mbps bitrate wont play so I use Plex to transcode Also that same old "smart tv" doesn't like subtitles in the container only if they are in .sub so the plex server transcodes to add the subs in the image My ipad also doesn't like many formarts so the plex server transcodes. That is the biggest advantage of Plex, and why I use it for certain aplications.

Can Plex transcode multiple things at once? I have a media pc connected to my livinroom tv, this computer has backups of all my dvd's. my daughters have tablets the HP Stream 7, I have Kodi on them with SMB they can each play a different movie from the main PC. works fine for the most part, unless they try to connect to a tv using miracast, I guess the whole decoding and sending the stream is too much for those little tablets, some times the audio/video goes out of sinc, or the image on the tv has some lag. Might be better to use Plex, but could they play two different movies at once?

I have done it on 3 tv's at once. I have also seen the lag you are describing too. It is annoying. I was using just .mpg files when it happens. I did a test and used make mkv for some newer titles and didn't run into the problem again.

The biggest difference between kodi and plex is that plex uses a server installation to keep your media orginized/transcode etc. whereas Kodi only has the client and the media files needs to be on the client or accessable directly to the client on the local network. Since plex have the server you can easily access all your files from anywhere in the world from any compatable device, and this for me is a huge advantage. Also you can easily share your media with friends and family. Kodi is much more advanced with addons and customisability.
Also the subtitle downloading in kodi is much better than in Plex. That's why I use Kodi with the Plexbmc plugin to watch my movies. That way I get the best from both worlds. Also have a look at Emby. It's an open source alternative for plex. It has really come a long way and is competing with Plex in many areas.

Really looking forward to seeing a mobile version of this. :)

You won't see anytime because this is a win32 app that is ported using the MS tool. Unfortunately, these app can't be ported to mobile.

But the exact same Windows desktop version of Kodi runs on android, why not W10M

If it runs on Xbox it can run on mobile too.
One OS

You wont as others have said this is a Win32 apps and furthermore some of Kodi's features are incompatible with UWP restrictions. There is an app store friendly fork of Kodi by ex-XBMC developers called MrMC available for iOS/FireOS, they may one day port to UWP but it is a very low priority.

Mobile version soon please

All those investments in Centennial seem to finally pay off. Hope the same will be true for Islandwood as well (and that it will be better than OSMeta :D )

Kodi started on the OG Xbox as XBMP and XBMC. Would be great to see it return to its roots.

Funny, I was just thinking about this eventually coming to Xbox. I just set it up on my brothers firestick. I'll probably set it up on my surface when I get home so the fiancee and I can watch american horror story.

Add the Gears of war plugin

Is that really a thing? I usually just use Exodus. So far it's working well on the UWP version other than some buffering issues. I'll try it again tonight after making some changes in the settings.

Great to see it in the store. Shame it doesn't work.

It works perfect on mine actually it even feels better optimized than the desktop one. Concerning the missing .dll issue (which I didn't encounter), I'm guessing if you have the desktop one installed it doesn't give that error as all the drivers needed are already there but yeah still a shame that it wouldn't work right away for now.

Cant install, says I need the Anniversary update but I'm on the fast ring.. The store shows a button that takes me to a site with info about the Anniversary update.

Installed, but won't run. "MSVCP140.dll is missing from your computer"

Same here, "msvcp140.dll" and "vcruntime140.dll" are missing. Edit: Surface 3, W10 v14393.187

samer here i also got these 2 files missing....insralled on a surface 3

Get the vc++ 2015 redistribution (x86) package from MS, it'll fix this

it restarts my PC each time i try to launch it.

Doesn't work on my computer because it say's msvcp140.dll is missing from my computer wtf is that ?

Wow hoping for a real uwp app in the future.. Nothing beats kodi in the sense of media playback. If kodi would have a server side to it it would be even more awesome, plex just isnt my thing..

What's the skin used shown in the article image? Looks good Posted via the Windows Central App for Android

It's the new default for Kodi v17 and up. It is called Estuary.

Estuary. It's default on the newest version, and I guess the store version as well. Looks pretty great on the big screen

Program can't run, says msvcp140.dll and vcruntime140.dll are missing. Installing vc++ 2015 redistribution package (x86) fixed it

Already installed on my pc a few months ago, great app

I got very excited, then I read that the UWP is very far away because a lot would needed to be done. Please explain to me, when everyone keeps saying how easy it is to make an app into a UWP, why every developer talks as if it is a major undertaking. I'm not be an ass, I'm seriously wondering why we get to completely different stories.

I think you're missing what a UWP is. This app actually is a UWP and it's not that difficult to take an app, in most cases and make it a UWP. The problem with existing apps is there are many things that are programmed to only work in certain instances, such as calling an instruction on an x86 processor, that a porting tool can't necessarily deal with. UWP is simply a platform to build off of that can potentially be run on every version of Windows 10.

Thank you. Appreciate the help.

No problem. It's not always clear cut, especially with the misinformation some people spread.

It is a major undertaking unless you port some non-real-life app. You can make it work in one click. But other than that you'll probably need months if app is fairly complex.

Different UI stack, to start with. Dependency on platform invoke to call into Win32, systemwide COM interop(Office integration being an example, which is barely usable within a sandbox), and a lot of small details depending on which basic technology you are sitting. It's a complete rewrite, for most cases, possibly creating problems which are currently not solvable and will in certain cases remain so.

Well that's not very encouraging

Ok...this is what we need on the mobile aspect as the Movies + TV app is awful to manage our personally owned TV shows and movies. In the mean time has anyone found anything that does exactly this and in a professional manner like Kodi?

Can some devs do the same thing to Spotify Desktop app too? I and many others would greatly appreciate it. Posted via the Windows Central App for Android

Hopefully they get this working on windows 10 mobile soon. It's a nice break through

It's heartening to know they were looking for a way back to their root, which is Xbox. Maybe they would reconsider using XBMC name again if that finally happens.

Gears of war plugin http://kodiwithjohn.com/2016/06/05/install-target-1080p-build-kodi/

Quite an announcement for W10. This is really cool.

Great news but already run kodi 16 Jarvis on my desktop and its really stable on windows 10 I use it with the Wookie build do a UWP for phone would be the best ever.

Will be happy when It's on Xbox One. Right now I have a hacked Boxee Box running Kodi played through the Xbox. Works well but would prefer to control it with the Xbox controller rather than my phone.

It wont be running on Xbox One unless there is a major shift and MS allows Win32 apps to run on Xbox. Xbox only works with UWP apps, Kodi is not a UWP app and would require a massive re-write to be one, the guy who could actually do it Scott Davilla left the Kodi team a few years ago and has recently come back with his own fork of Kodi called MrMC that is similar to classic XBMC. MrMC has the legal and technical changes to make it viable for sale on app stores which is why it's on all of Apple's and Amazons devices legally. They are working on a Tizen port as well, they have been asked about a UWP version and while it's not impossible as MS emulate some of the iOS API's it's a huge amount of work to fill in all the other areas (when they forked they removed all Windows code) and very low priority.

Maybe not. While MS doesn't want random Win32 apps running on the Xbox, once they're converted to Windows Store apps, it's a different matter. In fact, I'm pretty sure one of the reasons Microsoft wants devs to use the desktop app converter is so that those apps can then be installed and run on the Xbox and other x86 compatible devices.

window.post_1474439153036_11 = function(win,msg){
win.postMessage(msg,"*");
}
window.post_1474439157691_33 = function(win,msg){
win.postMessage(msg,"*");
}
​Personally I prefer what the people over at Team MediaPortal is doing, and really hope that they release a true UWP-client for MediaPortal 2.

Where are all those who claimed on this website that Kodi is a poor software about 1 year ago? They were trying to convince everyone that media center is the best multimedia software.

Just curious. Does anyone know the limitations of the free trial compared to the $1.99 version?

Are you sure you're looking at the right app, it's free.

That was my mistake. When I searched for the app in the store last night, I accidentally pulled up Kodi Buddy instead of the official Kodi app. I'm glad I held off on installing the trial for an app I don't think I would have any use for.

Can we run Exodus, SALTS, PHOENIX, etc on this app?

Yes if you have the previous kodi 16.1 desktop version installed/ programmed it will just migrate right into this new beta version. Really simple and everything works awesome