Ladybird: I'm Ready for Phonics now available on the Windows Store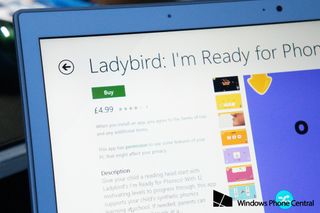 Providing kids the means to get a head start in life is the desire of any parent. To lend a helping hand when it comes to reading, Ladybird has released I'm Ready for Phonics on Windows 8. The app contains 12 levels to progress through, supporting the child's synthetic phonics learning at school. Not only is the app enjoyable, but children will also benefit from the content in the long run.
Synthetic phonics is the primary reading method taught in schools across the UK, but this technique may come across as complicated and possibly even daunting to both parents and children alike. Ladybird's I'm Ready for Phonics is an attempt to help ease children into the method of learning so they're ready to tackle what's thrown at them in school.
Here are some highlighted features of the app itself:
Get your child ready for the Phonics Screening Check at the end of Year 1.
Tested in schools with children who are currently being taught Phonics in Reception and Year 1.
Fun, interactive space theme with 12 motivating levels to unlock and progress through.
Learn, blend, segment and practice the 44 sounds of the English language.
Contains a glossary to help you understand the technical phonics terms your child uses at school.
Fully up-to-date and in line with the official Letters and Sounds document.
Teaches initial letter sounds, phonemes (sounds) and graphemes (letters) in the order children learn them at school.
Includes essential tricky words that cannot be sounded out – such as 'the' and 'said'.
Record your child's voice as you practice the different phonemes together and then play them back.
Test your phonics knowledge with the Phonics Challenge!
Complete each activity to win a star!
You can rest assured that your child will have access to a practical and understandable guide to phonics. As an added bonus, Kate Ruttle, a literacy consultant and phonics expert with previous experience working with publishers, teachers and the government, worked with Ladybird in the production of content for the app.
If desired, parents can even manually unlock access to all the app's levels via the parent information screen. You can download Ladybird: I'm Ready for Phonics (opens in new tab) from the Windows Store.
Windows Central Newsletter
Get the best of Windows Central in your inbox, every day!
Rich Edmonds was formerly a Senior Editor of PC hardware at Windows Central, covering everything related to PC components and NAS. He's been involved in technology for more than a decade and knows a thing or two about the magic inside a PC chassis. You can follow him on Twitter at @RichEdmonds.
Good for people with kids. We need more games like this. I have no kids and usually don't let other peoples kids touch my stuff... But at least if I did any other above I have another app that can actually teach their little minds :) All about education

Windows store is getting better day by day hope they will beat apple in a year.

South Korea today launched 5G internet connection and we are still using 2G and 3G is a complete failure in India !!!

Looks decent. I work in a junior school in the UK and pitched to replace the windows XP Toshiba Netbooks we have had for a few years with 17 Surface RTs 8.1. We've got them up and running now and just waiting on the apps to come. Its good to see apps like this being released (so I don't get fired lol)

Great story. There are a lot of apps coming into the Windows store this week to tie in with the work at BETT, check out the microsoft Education UK website for more info :-)

Yeah apps are bombarding on Windows store and have good quality

I'm guessing British English?

Yes, as it's based on the UK curriculum. Though it will be much the same for the US as it's fairly accent-agnostic.

There's still hope for Rodney.

Many commenters here could benefit from using this themselves. :P

That's what I was wondering... given Rich posted this I think it's a safe bet. Better not to confuse US kids with the different learning system and pronunciation I suspect.

Many commentators here do not have English as their first language so I wouldn't be so quick to pass judgment. Many others who do have English as a first language don't even have a basic grasp of any other language which limits them to English only.
So I can only tip my hat to anyone who posts here in English when it's not their main (first) language. They should be putting the rest of us to shame.

Good. We need more of these type programs to come to the platform. I'm always looking for good educational apps for my kids but so far they're few and far between.

My 4 year old daughter has already learned her phonics by using the traditional methods. No applications were needed so I'm not convinced our young ones actually need this type of learning material.

No one 'needs' it any more than the alternative. However this is just another way of learning for people who would rather teach their children digitally.

My point is that this is a "solution" to a"problem" that doesn't exist. We shouldn't rely too heavily on technology to educate our children.

It's not a 'solution', it's an alternative. And anything that encourages parents to be involved their children's learning rather than just leave it up to schools is great.

I really don't get your animosity towards me. But as I've already said, we don't really need a digital "solution" to educate our children because what we already have is more than good enough.
I am personally very involved with both of my daughters education and at no point have I ever relied on anything digital or computer related to aid or assist in their education. However, they are both doing very well at school and are amongst the best of the best in their respective classes.
As much as I like technology and what it can do for us I'm still old fashioned enough to insist that my two girls learn what they need to the same way that I did.

Sorry, I don't have any animosity towards you and I apologise if I came across that way. That's often a challenge in an online forum, and I'm very straight with my wording which doesn't help ;) I'm just expressing that while there's nothing wrong with the older methods, there's also nothing wrong with the newer ones, providing that both are used healthily. This one has just as much risk for the parent to fob off the teaching to something else as school does. However as it's something that's done at home, I feel there is more likelihood that an average parent would get involved in it. Again, I'm not implying that you're merely an average parent, or that you're one that would leave the teaching to someone/something else. I'm just expressing that both methods are viable, and anything that gets the parent involved and aids learning outside of a regimented schedule is a great benefit for the child.

You didn't come across that way. But you're more gracious than I would be coping with those responses :)

Any word on Hooked on Monkey Phonics? (too obscure?)

Bring back Letterland. None of this "teach them an easier language then tell them it's wrong and teach them the actual language" Phonics rubbish!