Lara Croft: Relic Run for Xbox now available on Windows Phone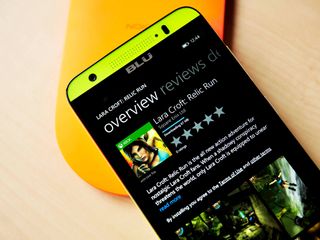 Back in April we first caught wind that Lara Croft: Relic Run would be making its way to Windows Phone at some point this year, but it was unknown exactly when. Well the wait is over, and the game is now available for your downloading and playing pleasure.
Some of the gameplay features include:
Make your way through multiple ancient locations - each filled with secrets and danger
Power up Lara's weapons and engage in frantic combat
Use Parkour moves to create death-defying last minute escapes
Fast-paced vehicles like ATVs and motorcycles give Lara more ways to conquer the terrain
Epic Boss Fights – including the return of the infamous T-Rex!
Swap and upgrade equipment to give Lara the edge
Earn bragging rights on the leaderboards
Outsmart and sabotage your friends by Cursing their Relic Run
Hit the link below to begin your download, and check out all of the new Lara Croft: Relic Run action.
via: Plaffo
Download Lara Croft: Relic Run from the Windows Phone Store
Windows Central Newsletter
Get the best of Windows Central in your inbox, every day!
Jared started off writing about mobile phones back when BlackBerry ruled the market, and Windows Mobile was kinda cool. Now, with a family, mortgage and other responsibilities he has no choice but to look for the best deals, and he's here to share them with you.
Cool! Have to download now! XD

Just saw the title..and went straight to download...xbox integration too...nice..

Finally the app has arrived that too for free. :)

Yup, been waiting for a long on this one!

Waiting for WiFi to connect. Well I will insert a 3g sim and use hotspot on another phone to download. As I have disconnected my stupid BSNL broadband.

Hehe... I know right? I dumped BSNL in 2013. I had no complains for their allotted speed but the service was plain pathetic. I had my internet disconnected about five times a month without any reason or notification from their side. Not sure how it works now. AirTel is a money s**ker, on the other hand. I'm currently using a private network. Better service than the biggies, less hassle too.

I had my share of BSNL woes when I was in AP but I am pleasantly surprised at the quality of service that BSNL TN provided. It was actually too good to be true. When i had frequent connection drops, the service guy latched on to the nearest tower and was playing with some frequencies and was constantly calling and asking for feedback on the network's performance. I was also helped very courteously by their staff when i faced issues related to data top up plans. I am using their 3G sim on a Huawei modem with WiFi. :)

Good to hear that! I think all services ain't served equally in all the states. And ISPs often happen to gain popularity on regional basis. Here in U.P.(West), High-speed BSNL/MTNL are mostly used in offices or in corporates, as it's often criticized by the consumers who dare to try it :P
But then it's over two years since I left them, they may actually be doing well by now, I'm not sure. Things do change. But the service you got in TN is rather rare these days ;)

But I can download it on 2g. Current download limit is 100mb on mobile network.

I like the sound and picture of that!

Got it! And it's a good looking game and runs well on my 930

Yes. Kept my hands nice and toasty last night.

And it is available here in Brazil!!! Yay!!!

Glad to hear that, mate.
No work for you today ;)

Almost. I already commented in another article that has a game not available here. But is getting better every day. :)

I see. Keep up the good work!

I agree, keep up the great work and I am glad to hear that as well.

First Hitman Go and now Lara Croft, and with Xbox Live!

Installing now. Better late than never. Hopefully more games continue to come over and be updated.

Hopefully it will work with W10 under the hood... Anyways giving it a try though..

Not necessarily on topic but, for those that like good apps Discover news just released a new app and it is a 5 star app in my eyes.

Happened about 2 weeks ago ;)

Hi Dan..hope you're enjoying this game as much as I am

There was an article about Discovery News in WC already Update : Daniel was bit faster to comment.. Just a second ahead :P

Downloading! Super excited to try it!

Just downloaded and had a quick try, this looks awesome on my 930, love the graphics and gameplay. Will be playing more....oh yes!

The fact is, I have to change my Lumia 520 to a newest one.

Yeah, any WP with a GB of ram that fits your budget and requirements.

Go for 640 or 730(currently using and is awesome)

Two big name mobile Xbox titles from them in the past few weeks is a nice sign. Perhaps Microsoft's relationship with them for Rise of the Tomb Raider is paying dividends on Windows Phone too.

Hopefully so, Final Fantasy goooood Final Fantasy with achievements goooooooood, I hope this means that G-Bike will also make an appearance.

we're gonna be seeing more and more of 1gb ram minimum apps, now that even the lowest end lumias are launching with 1gb ram.
eventually the no. of 512mb ram phones will become less and devs won't bother.
time to move ahead. :)

Xbox live.. A must download.

Slightly laggy on 930 but its only the first release. Hopefully future updates will optimize it better :)

Lags terribly on the 830. If only Microsoft had released 830 with a better chip.

Runs great on my Blu Win HD

Cute. Isn't that the same phone on the article picture?

Yeah this lags a lot on my 822. Nothing an update can't fix.

Oh my, not only is it free… it's got Xbox LIVE achievements!!!! Yaaaas!!

This games eats battery life.

Yeah, it needs some optimization. Updates.

Anyone with 1GB ram pls. Make a request the dev for support on 512 MB ram and same for dungeon hunter 5. Pls I realy request you!

Okay, I wrote that in review. Hopefully they'll listen and do some optimization. Btw, it's a bit laggy on my 930 too.
I don't have DH5 installed so can't do that yet!

>_< no support for 512 Mb ram devices

No Achievements no buy... Oh wait

Another endless runner game... Well, at least it's coming to WP and even with Xbox integration!

Next to bear grylls runner, these 2 are the best ones.

It lags on 8x too. I assume it's ported.

Guys do lemme know., is this an endless runner game..?

Fun little game.
Is anyone else having issues with '0x82bc0013' error code on unlocking Achievements?

Same!! I can't find anything on the internet of what the fix is for this, i guess maybe when Windows Mobile 10 gets to RTM we should expect this to sync though (i hope)

Awesome love tomb raider!

I cant believe how good a game this is! I may swell uninstall temple run!!

Seemed slightly slow and possibly over time the slow mo effect would get boring. Downloaded it. Played it. Deleted it. Downloading Monster Go!.

I just want to nuke Microsoft's hq every time I try to install an app from the web and it says "sorry we couldn't do it, we'll email you the link"

Excellent one with superb graphics. . Enjoying it since the moment I have installed it. :)

Shit all good games are not support fr 512

If I'm not mistaken you won't be able to download this game while using the W10 TP or maybe I just had a hard time finding it in the store. Also on my Lumia 920 with the TP the Windows Central app got confused with dedicated forums section and I had no way of accessing the app from the app list or any other way. Anyway, I'm back on a smooth 8.1 and have downloaded the app and all is well again. ;)

I noticed that the app selection is sometimes different between the new and old store apps. The new store is probably being updated at a slower pace for the time being. For example, myfreeapp discount is only available in the old store.

Awesome, downloading now!

Man the lag causes too many mistakes on my 1520.got to further in game with ease on my brothers android tablet. This game needs optimization for windows phone.

I'm intrigued, but the name worries me... is this one of those temple-run style games?

It is just like temple run!

Awesome, love the shoting part and the vehicules ! Really better than Temple Run. But still need optimisation as it drain the battery and phone is heating up when charging.

Lags on 525. Also swipe controls are very buggy. I have lost count of how many times I fell to my death because lara wouldn't jump inspite of swiping upwards. Also, no volume controls. Hopefully, they'll release updates. BTW, does anyone know what the counter in this screenshot signifies? http://tinypic.com/r/2lafx50/8

Kudos to the developers of this game, It's so complete! I discover something new everytime I play.