Latest Windows Phone data shows slow GDR2 release, possible 'phablet' and more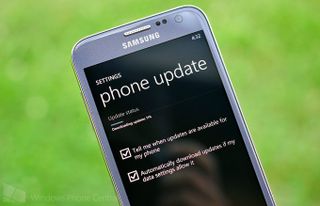 The GDR2 update from Microsoft is slowly (but surely) rolling out to consumers across the world. That said, how many of us have actually received the update? AdDuplex decided to run a quick test with the data accumulated in their monthly report. The results show that it's a slow process, but other miscellaneous details are also included so let's jump straight in.
It's clear to see with the above chart how the update process is progressing. Just 3 percent of 1,009 Windows Phone apps running AdDuplex SDK are installed on Windows Phone 8 hardware running the latest version of the OS - including handsets that ship with the update pre-installed (Lumia 925, Lumia 625, Lumia 1020 and possibly the Samsung ATIV S Neo). Microsoft has some way to go but it's early days in the month of August.
Have you had the GDR2 update on your Windows Phone? Let us know in the comments along with which device you own.
Don't support 512MB RAM? Your loss.
This is certainly an interesting piece of information for developers to take note of. The above chart shows there being more 512MB hardware than devices sporting 1GB of RAM. If you're not supporting the former amount, or don't intend to do so when launching an app, you could well be losing out on more than 50 market of the above market (obviously this does not represent the entire ecosystem).
Nokia Lumia 520 continuing to steamroll
The Lumia 520 is a special Windows Phone. It has been able to grow fairly rapidly in multiple markets, as was covered in previous AdDuplex reports. We can see in the above chart the handset overtaking the HTC 8S as the most popular device in France, but also effectively doubling its lead at the same time within a two-month period.
India warming to Nokia's Lumia 720
India has been covered numerous times due to the incredible growth of the Lumia 520. The most affordable Lumia Windows Phone isn't the only handset highlighted as the Lumia 720 has taken second place with 14 percent, surpassing the Lumia 620. The device was on just 12 percent last month and the surge has been pinned on the larger display (4.3-inches).
There's speculation the Lumia 625 with its 4.7-inch display should do well in this market when available. To finish off this report, here are some interesting codenames that were spotted:
Nokia RM-955 – Covered in the June report, this device is appearing more times, possibly hinting at an impending release. To reiterate this is something of higher end variety (with WXGA screen) and most of the hits are coming from China, so it could end up being a regional variant of the 92x or 1020.
Nokia RM-937 – Sports a ScaleFactor of 150. High-end Nokia handsets so far have WXGA screens (ScaleFactor of 160) and Samsung and HTC use 720p screens (SF 150). AdDuplex notes this ScaleFactor of 150 probably make sense on a 1080p device with a larger screen. Possibly the highly anticipated phablet? It's running WP version 8.0.10492.
Nokia RM-927 – Same as the RM-937 but running on the Verizon network.
Nokia RM-940 – And again, ScaleFactor of 150, but running on AT&T.
Samsung SGH-I187 – Brace yourselves. It's something new from Samsung. ScaleFactor of 150. Running on AT&T. Could be just a version of ATIV S for AT&T, but could well be something more than that.
Be sure to check out the full report over on AdDuplex when published tomorrow.
Rich Edmonds is Senior Editor of PC hardware at Windows Central, covering everything related to PC components and NAS. He's been involved in technology for more than a decade and knows a thing or two about the magic inside a PC chassis. You can follow him over on Twitter at @RichEdmonds.
Just waiting for ATT to approves the release. What taking them so long for exclusive 920 to get this update.

Especially when you consider this is supposed to have hero phone status with AT&T. That should have guaranteed it top priority.

ATT are a$$ holes I thought I would wake up and see gdr2 waiting on me to update still nothing and all the little countries and Verizon 928 got there's like wtf we should have been getting it before 928 people who just got their phones I'm really getting to hate ATT more and more every month I will switch to Verizon eventually im close to the edge.

You guys got the 920 right at launch while the rest of the "little countries" got theirs a month or more later. So yeah who cares if some got the update a bit earlier sheesh.

The point isn't that the other countries got the update. Europeans have unlocked phones and always get updates faster. The point is why is AT&T dragging their feet when this is supposed to be thier hero device.

Not got any updates yet in my part of Europe.

I suspect it has something to do with the drubbing they took over the 1308 firmware update killing the radio. I'm sure the customer support center wasn't a fun place to be that day. It seems like AT&T has decided to let another group be Nokia/MS ginuea pigs this time...Im betting they'll wait to see if there's any glaring bugs or connectivity issues before releasing, it'll likely be a week or so.

Except the 1020 which has the same internals Is running gdr2/amber pre-installed

They'd lose sales of the 1020 if they released Amber and gdr2 on time.

Really?
Do you think that the Pro Camera application is THAT good?
Because just GDR2+Amber is nothing and it will come eventually
Remember also thyat Lumia 1020 is initially US only plus ATT only


The Pro Camera app is amazing, I was never a big picture taking guy but this app makes it easy to love taking pictures. Once you try it, you'll use it for most of you picture taking needs. The only place it can't really be used is for taking a quick picture, messing with the settings is were the magic happens.

Haha. I just updates my fiance's Lumia 810.

No GDR2 here...Deutsche Telekom said they released it for the L920, L820 and L625 (though I think they meant L620) but it could take up to TWO weeks to show up...why? No idea...

So, yeah, "slow" is too fast of a word to describe the process. Slug-ish is more appropriate.

Do you seriously expect anything resembling speed from Telekom?

I'm not a Telekom client, I got my Lumia 920 with their branding because of the grey tiles, so I'm dependent on their updates. But I normally expect speed and efficiency from Germany.

The Telekom recently produced a shitstorm by virtue of introducing data caps on their online service.
That's why my first reaction was to joke about their speed. Telekom is currently known as "Drosselkom", from "drosseln" ("To throttle") in Germany.

Early days in August? Month is half gone!

Yes.......whats your point? Is 6am not early? Its half the morning?

Just got the update today, and looks like many people in Sweden did.
920, unbranded on Telia


Unbranded on Telia myself, but no luck :-/

Got it in Norway too, on my ubranded Swedish phone on Telenor.

If it doesn't pop up on your screen then look for it. That's what I did on the 810 and now in waiting on gdr3

Telia unbranded.
No update yet.

No update here either.
Telia, unbranded 920.

Got GDR2/Amber on my Lumia 810 on T-Mobile yesterday. Still waiting on this update for my unlocked Rogers 920.

We got it on our 810 too. Surprised me to see it show up after tmobile EOLed the phone. Glad they did right by us.

interesting.... maybe Nokia has some contracts with t-mobile and other carriers for pushing out every update they throw @ them, only thing carriers are allowed to do is to test updates.

I don't know if you see any changes in your battery charge. But this update has improved my battery life like crazy.

Im waiting for the same thing.... Att is always late to the game of updates for wp

Vietnamese users (Lumia 920) startred to receive the update last night (Vietnam time), but most of them are still struggling because they are not able to update after the phone has finished downloading.

Nokia 820 with AT&T. No update yet...

ATT is a fucking joke.. I'm sick of them right now and the only reason I got a 920 day 1 was for exclusives.

Updated my Lumia 920 this morning. I am from India

Same here.. Update my Lumia 920 to Amber..

No GDR2 on my FL-US Verizon HTC 8X

Slower than a snail sliming up a window in salty air. Still no update for my Nokia Lumia 920 on EE in the UK. Says alot about the UKs biggest network if countries like India and Denmark have started rolling out the update and the UK hasn't. Should spend less money on adverts with Kevin Bacon and more on providing a better service to customers who pay £60 a month for a contract that's 2 years long on a device that is classed as "old".

What do you mean by "countries like India" what you have so special in you that you should hlget the update first? Man India is one of the largest phone markets in the world, we should get the updates before you, we buy unlocked phones not carrier subsidized like you people and probably pay more than you do! Got it mate! Next time think before you ink!!

He didn't mean anything bad, it's just the other storage issue is really bad, so GDR2 should have been a priority update.

I get it man! But if he meant that, he should have written that, also everyone around the world is affected by the storage issue, no need to point out countries, we are getting the updates coz we buy unlocked phones, plain and simple :)

Calm down! He didn't say anything bad. Updates are just random - kind of. There are various factors involved. Indian customers do not have the carriers as middlemen, so they will always get updates first - directly from Microsoft and Nokia. Which is always good, and one of the perks of not being tied to carriers and teir crap.

I'm calm man :) and i agree with you :)

Actually he praised India for pushing out updates so quickly :P Carrier-Frustration is probably the right word here :P

whatever man! he didn't sounded like that, his word were "Says alot about the UKs biggest network if countries like India and Denmark have started rolling out the update and the UK hasn't." it completly sounded like he was comparing the countries!, although he did include the carrier factor but still, and i'm pritty chilled man, i'm just saying :)

Exactly..he should have chalked out what he meant to say and from next time he should refrain from such unclear remarks

Country's like India ?? Just for your info
1. India has 961milion telephone users. Second largest in the world
2.137mil internet users. Third largest in the world.
and if you told this based on political reasons
1. India is 10th largest economy in the world
2. 4th largest defence and army in the world
3. Largest democracy in the world.
and that's all achieved after being a younger republic nation. Now beat that.
sources: search wikipedia

@vaibhav. ... Chill brother, you are part of a special minority with a wp8... Join the revolution.

i'm chilled man :) im all about windows!! , and i am a hardcore windows fan, even tried to find ways to install windows 8 on my samsung smart tv lol, im 18 and i waana work for microsoft, its my dream since i was 11 :) and man we are not minority, wp8 uses windows NT kernel, the most used kernel in the world ;) we are in majority :)

Oh man, you Indians are so lucky. Here in Brasil we buy unlocked phones too, just like you guys, but haven't received the update yet :// That's so Sad. (I agree with you about your point debating with the European guy, sometimes we have to be a Little agressive defending our nations, just because we're still Emerging nations some people have a wrong opinion about us.) Sent from my unlocked Lumia 820.

Yeah, but Brasil is boomng and is set to be one of the top four economies in the world....if you play your cards right this time that is. "You guys" didn't take adavantage of the privious opportunities but I think you will this time. Don't do like we Americans....share the wealth!


Scale factor 150 is 1280x720 : (720 / 480) * 100.
For 1080p, it will be (1080 / 480) * 100 = 225.

Nokia 920 with GDR2/Amber. Got it yesterday evening. Went smoothly in 20 minutes.India.Unbranded.Unlocked.

No GDR2 here in brazil. Ativ S

I have a Lumia 920. Nothing yet in Jordan. What's taking them so long?

I've created a wpcentral whatsapp group, since we both ate from Jordan we can alert each other with new things, msg me ur number if ur interested to join

I'd love that! Sending you my number.

It's available in Jordan guys

According to this, it should be available, but my phone says that I'm "up to date". This is really frustrating. :L http://www.nokia.com/global/support/software-update/wp8-software-update/availability-in-middle-east/

Ya man....its available from the PC suit....but u will lose all ur data ...make backup.and do it

Still nothing on t-mobile in the Netherlands. Slow rollout indeed.

Surprising that the Lumia 710 is 12% left in the world as I am still using one.

You mean 2%? Thats what I'm seeing in that chart.

I was combining the two charts

GDR2 here L920 Hi Netherlands

Updated yesterday on my Verizon 928.
We finally have group messaging!!
I don't send outbound group texts, but it's super-annoying to be on the receiving end if you don't have group messaging turned on.
Weird things I've noticed so far: 1) It changed my text message ringtone (which was just using one of the built-in ones) and 2) The blue "cobalt" theme seems a tiny bit more "purple-y" now. It could just be my eyes.

Is 'group messaging' something different from 'group text'? I've always had group text on Lumia 920.

It's the same thing. It's enabled on the 920 (on AT&T), but Verizon had it disabled (at least, on the 928). Prior to GDR2, the option wasn't even there to turn it on.

All my colors on my 928 got a little more colorful and less washed out! Ringtones did change a bit but I like them.

Have you tested group text? I turned on after update and it still not working. Verizon support didn't know what to do.

Agreed, all of the changes including group messaging are great.
3) Weird thing fo me at least, my proximity sensor is no longer turning off the screen during calls

Telstra (Australia) branded Lumia 920 updated about 20 hours ago

Unlocked, unchannelled, retail 920 purchased in Australia hasn't received updates yet. The GDR1 update took several weeks to be released after Telstra's release, so I really hope that this won't be the same with the GDR2/Amber release.
I grew impatient last time and flashed my 920 using the Retail Update software.
The Portico update (previous to the GDR1 - 1314 update), was released the same day as Telstra's release of Portico which was great (and kind of expected).
Fingers crossed we won't have to wait so long this time round.

928, USA Verizon wireless received downloaded and installed yesterday around noon.

928 VZW. Got it yesterday.

No update in India for lumia 820..waiting and just waiting..when is it gonna be available??

Maybe after 2 weeks for the Lumia 820 and 620. They'll probably get the update for 520 and 720 approved first.

L920 at&t still waiting...

No update in Philippines too. I want FM on my Lumia already!!

920, Canada, Rogers. Still waiting patiently.

Waiting impatiently here. The Nokia support page says 'Coming Soon'. Most everything else, in Canada, says Awaiting Approval'.

Nothing here yet for my 920 Italian unbranded device....

Nothing for my unbranded italian 920 either

Nothing on my NL920 on EE in UK

Since one and a half week I use GDR2 on my unbranded Ativ S and it brought be some space back from other storage

How much? I have 16GB on my 920 no GDR2 yet for me

Unlocked Lumia 920 in Brazil. No GDR2 yet....


I don't understand this, why would the Factory Unlocked Phones need approval?

Good question. I guess maybe gov't approval if the updates in any way affect radio behavior. Really just guessing.
Even though these handsets aren't carrier branded, they are designated for a region I think. My 720 was destined for Hong Kong.

The government doesn't have time to approve a minor OS update for each WP device. Maybe they would for an iOS device.

I guess Nokia do some of the own testing on unbranded phones for each model and country. So instead of waiting for carrier approval, you're waiting for approval from some department within Nokia that are responsible for these things.
Just a guess though. Maybe they actually just check with their Magic 8-ball each day if it's a good day to release the update.

All three of my Lumias have the update...

Got GDR2 a few weeks ago on my unbranded, unlocked ATIV-S.

Samsung Ativ S "proper" on Bell Mobility in Canada. I've had it since July 4th and the usage rights fox in Xbox Music is alone worth the price of admission! Standby battery life is noticeably improved as well! (it was already pretty stellar, but there's always room for improvement) Data Sense is also useful, but IMO it's something that should've been available to every device on every carrier from day one...

Verizon 928 here with GDR2

Wat are the improvements you see after the update?

Lumia 928 with Amber update (installed last night). Unfortunately no FM radio and no BT 4.0

1000 devices is such a small sample size it's not even ok to run a story on it

its 1009 apps not devices.

That's amount of different apps they pull info out if. Apps installed in who knows how many phones.

Verizon Lumia 928 received the update yesterday!

Received a brand new ATIV S today which I immediately updated to GDR2.

Hoping this reaches the UK soon, my 920 will welcome the update :)
But im not too fussed wiating either way, ive only had my Lumia 920 for a week, so im still getting used to the new OS after yearson android

I'm loving it, i was a bit uneasy in making the switch at first but a lot of research helped and now after useing the lumia 920 for a few days, its the best thing ive done in a while,
WP8 OS just seems like a huge step up from Android (IMO) despite the lacking marketplace apps, but, it has everything i need so im happy with it,
My only issue atm is im experiencing some battery draining issues that have apparantly been a long term issue with the lumia devices

Yeah it has, make sure you put on battery saver when your battery is low and set lock screen timeout to 1 or 3 mins. I own a 920 too, nice camera

i have almost everything off to prolong battery life and i always have battery saver on (always have on all devices i own) but still get a fast battery drain, not sure why, its a bit strange, but other than that im loving the lumia and the OS is amazing, Is a shame so many people slate Windows Phone atm just because "not android or ios"

True! Also set brightness to auto

Why auto? i have it set to low, wouldnt auto use more power?

Check what's running in background and turn off Xbox music sync if you're not going to use it. In the forms there's a article about making the battery lasting longer. Also I've noticed weather apps can kill battery if updating every 5min.

Ive already done all of these suggestions and i still get some odly quick drainage i only sync xbox music + games when i play a game, ive got almost every background task blocked too,
Its seemed to last much better today after i let it completelty drain yesturday, so i was planning on letting it drain out again tonight and see how that goes,
thanks for the tips though :)

Do you have NFC and Bluetooth on? NFC drains battery power pretty quickly. I only turn it on when I'm actually going to use it. I am assuming that you have your email accounts set to manual, Try the battery sense app, since it alerts you when you are getting a sudden heavy drain usage from something on your phone.

Both are off, i have my emaila ccounts to only update once every 1 day cos i rarely check the on my mobile anyway,
ive searched for battery sense and it doesnt find it in the app market

you might have an older firmware. Goto SETTINGS>ABOUT>MORE INFORMATION and check your firmware revision number


my lumia 920 is having awesome battery life of about 28hrs i dnt use mobile data but my WiFi is always on, My location set ON, NFC-OFF, Brightness level-LOW, Automatic Adjust-OFF.
This morning i got Amber update and charged my phone after updating and i am having 74% battery left(its 10:38pm here in India)

hmm ive checked for updates and it says my phone is up to date, but my firmware version is: 1232.5957.1308.0001



all you can do is wait for the update, don't use camera much, use bluetooth and NFC only when necessary, and when going out be sure your phone is fully charged and ya i also recommend you to turn off the location. one more thing keep your phone on ringing only(turn off vibration). Hope this may help.

i only ever intend to use the camera heavily when i attend comic con, other than that i wont touch it, i have every thing else off unless i need it on for a few minutes, ive done pretty much all the above suggestions, so all i can do is hope it gets better, im gonna let it drain tonight and recharge from 0%-100% and hope the update will give some form of help

Got GDR2 on my Swedish unbranded L920, but no update on swedish unbranded L620. If someone updated their swedish L620, please let me know.

Grr... come on Rogers! It still says Coming Soon :(


That's Robbers for ya! I can call them that because I am a customer.

Updated yesterday and running GDR2/Amber on Verizon. Lumia 928.

I Am In That 3%
Lumia 920!

For a moment I thought India is warning us about something..

I read "warning" instead of "warming"

I got it yesterday, HTC 8X......ATT

Did the 8X get FM radio? (crosses fingers) (Mine's on T-mo)

Got mine too about 20 hr ago! I am in India and have a 920!

I've been on 928 since yesterday about half an hour after you posted that VZW had it available. I manually checked for he update and loaded it right away.

Got it last night L920 on Vodafone in UK

Have downloaded the update on my 920, Norway, Telenor, but can't install due to a error message that says the file can't be opened... :-(

Same error here, Telenor Norway, and now Nokia has pulled the update...

Ok, guess we have to be patient then... :-)

Still waiting for the GDR2 update..l have the Lumia 920..live up here in Canada..am on the Rogers network

No GDR2 yet in Singapore (Singtel)

When is 822 getting update

http://www.nokia.com/global/support/software-update/wp8-software-update/availability-in-north-america/

Waiting for Verizon to approve. Should be anytime soon i thinkl

Glad to see the Rm-937, 937, and 940 are being tested on Verizon and At&t simultaneously. Maybe Nokia will release them at the same time?

Slow? Att defines slow...

Rocking an unlocked and unbranded Lumia 920 with the latest amber update. Happy..!! :D though i want to see how the battery life is after analysing a week's usage..

Nothing yet; 920, at&t, U.S.

HTC 8X on AT&T. Installed yesterday. Meh, I see little-to-no improvements. In fact, my browser speed seems slower now on WiFi or LTE. No FM Radio, no Data Sense.

Browsing is definitely much slower with the update! Very frustrating!

Only new change I saw on 8x ATT, FM radio.

I'd advise everyone with a wp7 device on att still waiting for a upgrade to grab a 520 like I did getting to experience WP8 before you get your next flagship device is cool plus it's a nice looking phone compared to every other phone at $99 i got a SD card for it and a yellow shell cause black just isn't me

I did the same. Replaced my Lumia 900 with a Lumia 521. Definite step down in build quality and feel, but a step up in usability (even lacking the front facing camera and flash, since I rarely used it). I've gone back to the Lumia 900 on a couple of occasions only for the camera, but that's it. For the price, a great interim device.

AU unbranded 920 and no update, just silence from Nokia.. slow is an understatement

You can check this to know that there is something happening and not just silence.
http://www.nokia.com/global/support/software-update/wp8-software-update/...

I'm now able to scroll down in one motion to phone update with my eye closed!!! Time to give up....I'll just wait for WP central's notice of 920 rollout on at&t.

Same for me!! Lol. We will be waiting awhile :/

Looks like this report should be redone after this week, since so many of us got GDR2 yesterday and today (T-Mobile Lumia 521 myself yesterday).
That said, there isn't a whole lot to GDR2 anyway from a user standpoint. DataSense is interesting but useless to everyone that has T-Mobile's regular plan (since it's unlimited). As a test case for how rollouts go it's interesting though.

It's so refreshing to see so many 720 sold in India. It's really a great device. I wonder how many 720s were sold in India say compared to the iPhone 5. IPhones are flop in India so the comparison would be interesting. I think the iPhone is an overrated device and to a layman in India it has no better features than the Lumia 720. I posed this question on reddit why are iPhones any better than a Lumia 720. I've yet to receive a satisfactory answer.

Lumia 720 is the best! But Nokia is taking too long to give up the update for it :( its really frustrating.. And yeah iPhone 5 is a big time flop in India ad far as I know.

I guess no update for the 620 and 820 anytime soon

I have 2 devices on T-Mobile, the 8X I got at launch, and the 521 I recently picked up for a backup/travel phone (no room for music/videos on the 8x due to lack of expandable storage = no music on the plane).
Last night I updated the 521 to GDR2. Went very smoothly, now I have FM radio on it (hopefully 8X supports as well).
I'm really hoping T-MO's delay on the 8x is because they're trying to nail down WI-FI calling as part of the update, but that's pure speculation.

Just fired up the L810 and downloading it now.

Hi. I am from India and got the GDR2/Amber update yesterday. No problems at all. The Glance Screen is super. Radio works well. So does Data Sense, very very useful. I have the Lumia 920.

I have been checking regularly. nothing for Lumia 920 in South Africa

I received gdr2 about 2weeks ago

A new Samsung device on AT&T? As long as it's 4.7"+ my wish will finally be fulfilled.

No update for my Lumia 720, I live in India and I bought this phone from United Arab Emirates. Can anyone please tell me if I will get the update from the Indian server or the U.A.E servers?

UAE servers, original location counts.

Got it yesterday. L920 Sweden

Got the update on my 928 yesterday evening. Like the glance feature. Seems like gdr2 is causing problems with market and background download, as download had stopped when screen was off and downloading 1mb file took long time via WiFi and I have Comcast thru which I have 30+Mbps download speeds. Or there was a problem with Windows Market yesterday. Will try again now and see if it is better.

Heh... this is pretty brilliant. The one company with the most doubt about supporting a device got it out first. Thanks TMO for updating the 810. Still want that FM radio dammit!

The more and more I think about it the more I feel tempted to flash instead of waiting and using a 'handicapped' version of GDR2 by AT&T.

Lumia 928 and loving the glance and camera apps

I'm still planing on upgrading from my lumia 710 to lumia 925 as soon as I get my income tax money next year on t-mo.

Browsing is definitely slower after the update! Very frustrating.

L928 Verizon Chicago. Updated last night. Loving the glance and double tap to wake. My awesome phone just got better :)

Right?? The little things in life :)

Yup.. They had me at glance. Lol!

928 on VZW, got it. Really like glance.....woot!

920 AT&T. I flashed my phone with the Euro Dev Rom. All features and new apps are installed. F#*k AT&T

Updated to Amber last night on my T-mobile Nokia Lumia 521. I went into settings and manually checked for updates.

We in Sweden got it yesterday

Oh wow guess I'm lucky to have gotten it yesterday (I actually like my provider here in holland lol)

T-Mobile USA Lumia 810 here, got the update yesterday, looking good so far....just no FM radio, or LTE, but that's not a problem for me....

LTE was not supposed to be part of GDR2 or Amber. It was already considered, tested, and dropped by TMO. We were supposed to get LTE around March, but TMO backpedalled for some reason. The lack of FM radio is puzzling, but hardly something to get heated over.

I have a L822, where's our love?

updated yesterday. NL920 Dutch user. Data sense, Nokia pro cam are operational. Can't wait for more features with gdr3. But I'm happy with this so far.

Unlocked ativ s from Sweden, nothing yet, Serbia

My unlocked Ativ S has had this for weeks now

Its not GDR2 we're excited and eager for. Its Amber. So far, MS has nothing exciting to present.

Still no update for Lumia 920 in Saudi Arabia, I am really disappointed.

GDR2 on O2 UK Samsung ATIV S (unbranded)

Got amber yesterday. Verizon L928. Love Glance. Colors appear to be more crisp. Love the new camera apps as well. Seems like scrolling is not as fluent now... Will reboot and see what happens.

T-Mobile 810, got it yesterday, no problems. Cleared storage in anticipation of update. I had 1.87gb available at start of update.

Wtf at&t. I'm still waiting on this shit. I seriously dislike at&t. Can't wait for my contract to be over

Available in Israel as well! Now on my yellow Nokia Lumia 920! Woohoo!

Lumia 920 in Vancouver on Rogers, still waiting for the update. I check every day!

I still have no frikin idea why the unlocked developer 920 isn't the first to get this update! Its not even locked to a carrier. What's up Nokia?

Because it isn't ready? Especially if devs don't get it... Obviously means it ain't ready. Want an unfinished update? No you'd be pissed and wondering why they didn't wait. Chill

Is it possible to end up with Amber but not GDR2? my 521 now says it is a Lumia Amber but the update size was also only ~250mb

GDR2 and Amber will roll out in a bundle

Well, then I got them it just seemed like the download was about half of what I was seeing others report.

Nokia Phablet please! 5.5" or large would be awesome with a 1080p display. If they get something like that then im definitelty taking advantadge of verizon edge

Nothing on at&t's unlocked 920. I'm too impatient

I guess I will leave AT&T after all. my 4 lines are up for renewal next week, but I doubt that this renewal will happen. Just too much money for too little service...

I received my update earlier this morning (09:00 am GMT). Love the Glance feature! Lumia 920.

I just got an OS update alert for my att 920. . . . Oh wait, no I just farted. My bad.

You got me excited, and then I read the last part of your post. Nice one.

I guess no phablet for Tmo yet huh?!. I have to keep using my HD 7 until then

Lumia 920 ATT, still sitting there waiting for some ass swipe to approve the update.

Lumia 820- Bulgaria. Still no GDR2 update

Its done on my Lumia 920 in India.

Got it today in Norway, on my unlocked Lumia 920 on Netcom.

unbranded 920 in melbourne australia still no update saturday morning guess it wont be long now

Lumia 928, I have my GDR2 update

Got GDR2 on my Lumia 928 Verizon phone. Yay.

I have the 928 and I got GDR2 yesterday here in Iowa.

Early days ?? .. It's already 2nd half .. You guys seem to try twisting reality very often .. Come on! ;-)

Besides, think of how it is done with iOS. We should always compare with betters.

I got my GDR2 for my Lumia 928. Nice.

My unbranded Lumia 920's still not getting any update. From the Philippines.

Check this link for the Lumia amber update:
http://www.nokia.com/global/support/software-update/wp8-software-update/...



GDR2 came in on my Samsung ATIV S a few days ago from O2 in the UK. I still believe this is the best Windows phone on the market. Superb device and highly productive.

@martinwtaylor , what changes did u see after updating... i have an ATIV S, updated it. nothing changed, everything is same as before


Nothing at all, Fahad, I believe GDR2 may have some bug fixes but all the enhancements are for devices like the latest Nokias with hi-res cameras and other devices not yet launched.

country varients should atleast be getting the update alot quicker since there is no need for a carrier approval!!

Got the GDR2 on my L920. It's all great but when swiping it's not as smooth as before. And the Pro Cam crashes when I take a picture while zoomed in. Anyone else having these issues?

Can't say I've seen any difference in performance or strange behaviour so far.

Got the gdr2 update here in India for nokia lumia 920

If 720p phones are using ScaleFactor of 150 like
"Samsung and HTC use 720p screens (SF 150) "
Why would people guess the new RM937 will have 1080p for same SF 150?

Any ones lumia 920's in the UK started to get this update yet

Still nothing in uk for 920 owners on EE "yawn"

i updated my Samsung ATIV S (unlocked) earlier this month... but noticed no change in Firmware still the same... no data sense... no FM Radio.... not even "other storage" issue resolved, just dont know where that update went.... any one help please

When is lumia 820 in India going to get the update??..nokia is too slow at releasing d updates..its approved still takng time to release it

I'm on Tmobile usa and I'm installing the update as we speak. Go Tmo! Lumia 521
By the way, the update is already about 1 hour in, still looks like it has a long way to go in the installation process. Major internal overhaul? I hope they solve the "Other" memory storage issue, which has alreaday taken 3 gb on my 8gb device lol. wtf.

After the 1st update..nokia hasn't move ahead..when is the update for other phone coming up??..its just showing coming soon for lumia 820 india

I've got the update on my 920 in Denmark.

Any one from Israel got the update

Any one in Jordan got the update

Sooooooooo fucking slow! Why the fuck can't they release it worldwide simultaneously?

Brag so much on ads but take forever to release a MINOR update. Spend more time speeding up the updates and fuck off with the ads
Windows Central Newsletter
Get the best of Windows Central in in your inbox, every day!
Thank you for signing up to Windows Central. You will receive a verification email shortly.
There was a problem. Please refresh the page and try again.