Bak USA's Atlas 12 notebook is now available in Microsoft retail stores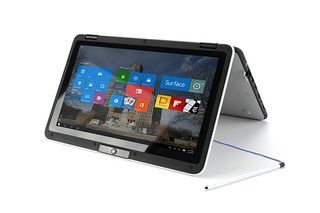 Bak USA, which makes PC products in Buffalo, New York, has announced that its Windows 10-powered Atlas 12 2-in-1 notebook is now on sale at Microsoft's retail stores for $399.
The company first announced a partnership with Microsoft earlier this year to assemble a Windows 10 device at its Buffalo offices, and now the fruit of that labor is ready for its public debut. Bak USA's press release states that the notebook's primary market is for education customers in K-12 schools:
As far as specs are concerned, the Atlas 12 has an 11.6-inch touchscreen display, with a hinge that allows the screen to flip over and become a tablet. It has an Intel Intel Celeron N3010 processor, 4GB of RAM, and options for either 128GB or 256GB SSD storage. The 2-in-1 has also been made to withstand the amount of stress from students using it in a classroom:
The Atlas 12 also comes with a rotating 180-degree camera, along with a stylus, a detachable microscope, and a built-in handle.
Get the Windows Central Newsletter
All the latest news, reviews, and guides for Windows and Xbox diehards.
This actually looks like a decent system for learning, and the price seems good. Just a little more than a netbook, with the same CPU, but more RAM and storage. I'm curious about that stylus and microscope.

I am also wondering about that stylus. It looks tethered to the device, but not in any electronically connected way. Which pen standard is it compatible with?

Detachable microscope? What?

Nice laptop and all, but ehhh...
Why is the Surface app installed on this computer? (I mean, does the app really have a function on this laptop or is this a case of a bad Photoshop?)

What does the Surface app do?

With the Surface app you can change Surface related settings, for example turning on/off the touch Windows button on the Pro 3. I have a Pro 3 myself and this got preinstalled.

So why would it not function on this notebook?

Because this isn't a Surface? The app was made for the Surface, not for some other random notebook. If you don't believe me, I've installed the Surface app on my old laptop. When I opened it, it kindly told me: 'The Surface app is designed for and only works with your Surface.'
This picture here is probably a bad Photoshop where someone took a screenshot on his/her Surface and pasted the picture on this device.

Bad photoshop and (even with a new MSFT CEO) bad attention to detail!

John Callaham could you clear up some things? Where is the built in handle? It doesn't show in any pics. What are the specs of the microscope and where does it attach? Is the pen just normal capacitive touch or is it active somehow?

This morning a local New York news station posted a much more detailed article about Bak USA and its collaboration with Microsoft here: http://www.wgrz.com/news/local/innovate-wny/innovate-wny-bak-usa-laptop-to-be-sold-across-us/317845645 . It includes video of the new laptop.

Well - That was a wasted trip - The Microsoft Store in Bethesda did not have one and they actually never heard of it. They even called support and it was not in the system - nary a mention. Is it just in select stores?