Leaked Windows 10 Mobile builds reveal new Wallet, 120 FPS video and possible new animations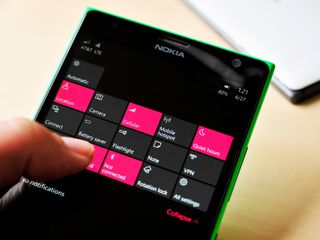 Over the last few days, bits of information have been leaking out over what may be the next build of Windows 10 Mobile for Insiders. Currently, Microsoft has all their focus on getting the desktop version of Windows 10 ready for the July 29 launch as evident from their three releases this week.
The site msmobile.pl allegedly got their hands on build 10158 of Windows 10 Mobile, up from the current Insider release of 10149. Although the changes are not massive from the posted screenshots, presumably the performance, reliability and battery life are all also better. Here are the items identified as new in 10158.
Windows 10 Mobile build 10158
Microsoft Edge and Store tiles now have transparency ability
People app Live Tile now has animation
Camera app can now shoot video at 120 FPS at 728x576p resolution
Volume sliders are now slightly rounded on the edges
Wallet is back with support for rewards/loyalty cards, tickets, and boarding passes
You can read the rest of their write-up in their article here.
People App Tile Animation
Interestingly, some users on build 10149 purportedly have a Live Tile for the People app. The animation was caught on video by Lovable Lumia and posted here shows those polarizing circular avatars floating across the tile.
However, most builds of 10149 only have a static tile hinting at some behind the scenes A/B testing by Microsoft. We have not seen the animation on any of our devices so far but build 10158 and later may change things. Judging by the reaction on Reddit, where the video was originally posted a few days ago, many users are not fans of the design.
New Tile Re-Sizing Animation in Build 10165 (Rumor)
Finally, last night Windows Central received an anonymous tip about an even newer build of Windows 10 Mobile. The tip claims that this is build 10165 and that Microsoft is experimenting with a new Tile re-sizing animation, which can be viewed below in the accompanying video. In the video, a much smoother tile resizing animation is demonstrated and it includes the return of those 'tall' Tiles.
The tipster describes this feature as "very alpha", and it seems if it is something Microsoft is merely considering. The feature is allegedly being demonstrated on "a prototype 7" tablet" for the video.
We should point out that Windows Central has not been able to verify the authenticity of the tipster or the video itself, so take it with a grain of salt. Since this article is filled with indirect leaks and observations, it made sense to include it in this roundup.
Update: As pointed out in comments, this animation looks a lot like an Android app called SquareHome (opens in new tab), lending credence to the idea that it is fake.
Thanks, Sandesh and Yasar H., for the tips
Windows Central Newsletter
Get the best of Windows Central in in your inbox, every day!
Daniel Rubino is the Editor-in-chief of Windows Central, head reviewer, podcast co-host, and analyst. He has been covering Microsoft since 2007 when this site was called WMExperts (and later Windows Phone Central). His interests include Windows, laptops, next-gen computing, and for some reason, watches. Before all this tech stuff, he worked on a Ph.D. in linguistics, watched people sleep (for medical purposes!), and ran the projectors at movie theaters because it was fun.
10149 has the people animation.. at least on my defaulted 1020.

So, as the article states, some users, actually very few, have this in build 10149. This is likely due to some A/B testing that and/or some people report that doing a hard-reset will make this happen.

Well, now I feel special.

Welll juha's feedback noted.!! tweet actually worked XD slo mo is an awesome thing to come :P

I am always in the "very few" :( but this time I guess it was good. I've already submitted feedback for how ugly and childish this looks. Turns out they ignored it anyway even after full 4 upvotes!

The only 2 contacts apearing on my people live tile are the two that actually have a native profile picture on my Outlook account (and i mean actual picture added manually in outlook, not linked automaticaly though messenger/skype/facebook/linkedin/google profile picture).

Man, you're a one smart human being. I actually thought that too. Since none of my contacts have pics, I thought that's the reason the tile doesn't animate

i have it too on my lumia 920

my edge shows progress bar for paytm.com especially.
lumia 638 India

Microsoft Edge on Windows Mobile shows progress bar only when Refreshing a page.

Oh my God, Yes Microsoft !

Yes I had it to, with upgrade from the last build

Makes you wonder what else Microsoft can do with the Startscreen and its live tiles! Hope to see interactive live tiles soon (by soon I mean next year)

Yes I had it to after upgrading from last build, but stability of OS was so bad that I hard reset, and that took it away. Instability continued so rolled back to WP 8.1 them back to 10149 ... Poor stability still, and animated people tile still lost. I have to say however that people animation, particularly because I don't think that the round photos thing works..

I also rolled back after I encountered a blank rectangle every time I tried to type something. For me, build 149 mobile was unusable. I tried everything, and even posted screenshots on Gabe's Twitter account and he did not respond. After, two days or so, my phone started going blank and I would have to turn it off for an hour. Overall bad experience with build 149 mobile.

did anyone else have texting problems with 149?

in Landscape mode keyboard not display...1320

Yeah! They arrived really late, not at all, or too many times. It's too bad, too, because everything else I could've/would've lived with.

I had it but it's now stopped.

Same for me. Had it to start with and now it has stopped. Really liked it.

yeh i have poeople animation on my 930 with 10149

I'm thinking getting 10149 on my 930 too. Is it a good time to jump onto the windows 10 train, or wait a longer? How stable is this build on your phone?

Working very well on my Icon now. Only problem now is I can not turn off quite hours manuall and have missed few calls. there are stil a few glitches, ut nothing major.

Awesome.. But the circle animation is kinda ugly :/

I think it looks... weird.

It looks like some weird Android animation mod made by geeks on XDA.

I have been anti circles, especially for album covers and photos as so much detail will disappear. But, I actually liked this people animation! Actually, looking at it again, I don't like for WP OS. On its own it looks good but not matching the OS. I changed my mind, it's allowed :)

All these circular designs are sickening. Better to have an option to choose between circle,square or any other shape.

You cannot just add "options" for all things in the design of an OS if you also want it lean, clean, fewer bugs and great performance. Doubling code to please a few people is not smart engineering.

Changing existing code for no purpose other than aesthetics is not engineering at all.

Agree, the tile of the people hub doesn't need changing really, just change the experience within the app. MSFT.

+929 I don't like all those circles, every single pic i have was square or rectangle in mind.

I dont love the circles, but its not a huge deal.

Yeah man, cos, like, who gives a crap about aesthetics, right?

Burn the circles. They are not even a shape. They are just round things.

This is not all things, it's circles vs squares. and users should have a option for that. I personally hate the circles but someone else may love it. Is it a deal breaker for me & WP, no. Will it lower WP 10 performance? I really doubt it. Wil it Double WP 10 code? Hell no! Whats smart is Great design along with great engineering. Not allowing androids "live wallpapers" is a great engineering choice. Not allowing a horizontal start screen is a bad engineering choice. Why do you think even iPhone did it. Its what people want. You can't just kiss MS butt on everything they do and call yourself a smart guy.

Whah, whah. All people seem to do do these days is stake out my way out the high way positions. They've said that circle denotes people objects, while squares denote things. This is then bringing that theme to people hub. Personally, the circles remind me of Google hangouts (we migrated to Google apps at work, sigh) and so I think it's a differentiator that's lost. Which other OS has given this much feedback voice to their customers? Nothing is ever enough, is it?

@RayW7, ugh Google Docs... Missed out on several jobs because I had a sum total of 0 years of experience with google docs (found out via freedom of information request). Anyway why do you Microsoft has made that choice? It would be funny to see people complain about the squares if Microsoft moves back to it :P.

What company did you apply for?

This is not the kind of thing you give options for. Where would it end? What if I want a triangle, or rectangle? What if some users want bigger sized, or smaller, black background, blue, white. The answer to everything isnt just give everyone every option.

Old animation was way better imo. They should focus on features rather than background animation variations. If you want it lean clean and fewer bugs keep what's working well and add what's needed. There is no need to reinvent the wheel here.

And " few" is based upon?...

Just like the word Windows...they can be squares or circles...so I like the circle and square thing. Plus you know the saying "Don't pop my bubble." Well that us saying give personal space and that applies to people app. Posted via the Windows Central App for Android

Looks terrible, IMO. Little things like that make me not so bummed I moved to Android for my upgrade, last month. Posted via the Windows Central App for Android

Don't let the door hit ya where the Good Lord split ya. Buh bye!

I think this looks terrible too. I don't mind the circle in artists in the music app, and I don't mind circles In general, but this use of them sucks. Maybe a different design for the people app with circles would work, but not this one... Yeah definitely not this one...

Microsoft keeps trying to make circles "happen"... but I'm just not feeling it. It feels forced.

Nokia bubbles had circles. I was feeling that

Its is forced and its really not well thought out. Its a change for the sake of changing and because they can. I'm not really against of circular images as long as they're use correctly and not just slapping everywhere they can.

It's Ugly/Silly/Childish.

Childish? So the bottom bar on every Windows Phone 8.1 app has been childish so far? Jeez.

I honeslty think Rubino should have a poll and let the users decided! As it would be useful feedback for Microsoft ;) Square, Circle or don't really care. To me the peoples tile looks like polka dots, really strange. Will the me tile or other people you pin to start screen have a circle within a square?
Seems like a waste of space to me... also how will the wide tile of pin contacts work???
Will it be a rectangle with a little circle polka dot bounding around inside??? It just seems like bad design to me.

The last time I downloaded W10 for phones it had a poll asking if I preferred circles or squares.

Might look good if they make the squares, inside the tile, a bit bigger.

absolutely. rond in a squar box doesn't fit. it looks odd and serves no purpose.

Windows Phone 8 is full of circles, practically every button was a circle. Explain that... actually don't.

I have people live tile animation!

New People tile animation.... Loved those words...

I think we need stability and battery fixes too

Hope they release next week & change the new circle live tile or give an option to turn of that ugly live tile..

Now MS has full concentration on WP10...Good to see.

It all depends on what Nadella has on his mind about the future WP10.

On 10149 my people live tile was animated after a hard reset. Lumia 830

Hope my Lumia 1320 records atleast 480p at 60fps

Yeah, higher end phones should be fast enough for bigger resolutions..

120fps means, camera can shoot slow motion videos. This is one feature where in which iPhone had upper hand. Now waiting for flagship devices with 120fps video shooting capability.

Hope present phones will also get it via software update

I think the Snapdragon 800 can handle this, at least I hope so because I have a Lumia 930.

The HTC one m8 with windows has this capability, but can only be used with the HTC camera app. The native windows phone camera app can't handle this as far as I recall. This is with the phone runing 8.1 update 2.

Thanks for letting me know, I had no idea. Also it does 60fps video! Had no idea, thanks for the heads up

Whoa, the new people tile animation looks lame. I know they're trying to move to circles but don't force it where it just doesn't fit with the design. Having square tile with a circle animation doesn't look pleasant to the eye. Granted, that's my opinion but so is Reddit's. Sure this is far from being completed but knowing Microsoft and the fact they're testing the new animation on the people tile is scary…

Circular pics don't look fit for square tiles

The people app be like: "They see me rollin, they hatin'. "

@Hadrian Embalsado:
True gangsta. ;-)

"heads will roll", the rolling circles! I prefer squares.

http://lovablelumia.com/2015/07/exclusive-music-app-has-brand-new-contro...
Also this one.

That's in build 10149, not sure how that is "exclusive" when we all have it already.

Thats been here for a while. Its a joke

Didnt have live tile for people at first.den started animating after 2 days.and today again it became static

I'm on 10149 as daily driver but switching back to 8.1, still buggy. Cortana Bluetooth in car not smooth. No custom ringtone option (on mine anyway). Volume issues with phone app, Start screen is starting to flicker and still scrolling stuttering. This is on my dual sim 640XL with ATT in USA. Oh and MSN weather acting up

It's still buggy maybe because it's a beta made to be tested not on your daily driver..preview program is made to testing builds not for having the new features of the incoming OS before the final release.

I tried 10149 for the past week on my daily driver, a 1520. I had to roll it back today, because it just didn't work reliably. So, i can't wait for a more solid build. 1) when I took a picture, and then tried to view that picture, the photos app would crash every time 2) my corporate email account decided my phone was a PC, and rerquired a full password on login - my PIN went from an 8 digit number, to a password with upper and lower case letters and a number ruquired. Imagine having to enter that every time you login???? 3) my email account all stopped working after a few days, and no amount of fiddling would get them to re-connect. 4) if I left certain apps running in the background, my battery would drain super fast. Literally wore my battery down in 4 hours one time. 5) photos app would only show photos on onedrive, and nothing on my local machine 6) music would sometimes play, but more often just wouldn't play. downloading music helped, but that would start a death spiral on battery usage. 7) the new keyboard was driving me nuts. it would never interpret what I typed correctly, especially with swipe. all that being said, i was liking it, especially the new phone screen that let's you have a keypad and mute button at the same time (i mean seriously, it took this long to get that???). I like a lot of the new look and feel, and am very excited for the future.

3) I hear you on that one. Regardless of me putting in the correct password, I can't access my at&t or yahoo account. Ironically, my google email, which I never use, is the on email account I can enter. It keeps saying that there is no record of my other accounts. Real bummer, but that's the only major problem I've had on my 1520. I hope that's a new build fixes this.

Very happy to see Wallet is sticking around with updates. Here's hoping the Reward card portion is an improvement on current lacking WP8 options.

@920Walker:
Does anyone really care about a "wallet" unless it supports some kind of "tap-to-pay"-feature?!

Seriously; a wallet with no money?

Yeyyy.. Hamburgers on settings too. Delicious.

slowmo videos are coming people.

About the wallet, any info on supporting pkpass(passbook) files? Cause it did back then, right?

Thats what they meant by saying boarding passes.

728x576p... 728x576p... Smh. I know, I know, work in progress... Lol Posted via the Windows Central App for Android

I really really wish they would add continous vibration because once is not enough.

I wish they can add option for more intensity.

thats definately what she said hehehehehehehehe

thats definately what she said hehehehehehehehe

Why don't you go see Magic Mike XXL while you're vibrating. Jees!

Windows phones can't ring and vibrate at the same time. Even a 10-year old feature phone can do that. C'mon MS, this is really shameful. This is the reason why I miss calls all the time when the phone is in my pocket. :/
Insiders need to request for this.

Would really like to use the wallet at check out. Apple has apple pay and google has Google pay.

Windows Central. Switch from the flip animation to the new animation

Would you guys please fix the battery's shape on the main menu ..its so small and it has to be provided with a percentage ..please it will be a great thing to do too

Starting in 8.1 you swipe down for the Action/Notification center to see %. No need to clutter it up on the main screen.

Agree, this would be just clutter and is fully available already.

I'd say it still has a place on the start screen...tapping it takes us into the battery saver...
Saves us a swipe as well as acting as a notification/app shortcut...I personally have it tucked away in a live folder with other handy utilities..

There aren't many icons on the top row of the main screen in the first place so how a percentage would clutter it up? At least they should give an option to show the percentage like iOS does.


Sure thing! I'll need a couple days

yeh hattery is too small now

Only 120 fps? When the competitors have 240 fps :(

Tbh 30fps is perfect for a human eye.

Exactly, so 120fps gives us 1/4x slo-mo. 240fps (1/8x slo-mo) would be even better. But I'm not complaining. I'm excited for this.

Tbh 144fps is excellent for my eye lol

YEAH! I'm expecting at least 5000 fps from our phones. (on the same levels as Phantom videocameras or... EVEN BETTER..) This is unacceptable Microsoft ffs!!!! Seriously now, iphone's 240 fps slow motion video is mindblowing..

It probably has to do with hardware. They cant force the current phones to record 240 fps which I am expecting from the upcoming flagships.

Damn that people tile animation looks horrible. I loved the old people tile where all profile pictures would cover the tile and be clearly visible :\

Agreed. If that silly circle crap makes it into the final build, I will certainly nit be using a live people tile anymore.

I like Spongebob's mom than Spongebob itself

FINALLY something above 30fps! Yes!!

So, with W10m we will start seeing 1080p 60fps on the flagships! To tell you the truth, I'll be perfectly fine if the future midrangers could record 720p videos at 60fps.. :)

What about 500fps on 120p?

When is it coming, I might actually try this now

Hope we'll hear more about Microsoft Payments soon, and it'll be integrated into the Wallet app. BTW, is Wallet available as a universal app on Windows 10?

Nice live tile animation, can't wait to have circle Tiles on Start ;)

Is slow motion video recording is possible in lumia 730

Moto g2 has this feature, and it has same specs as Lumia 730, 830, 640 and 640XL so we might be getting it, even if we get 60fps its enough I think.

I had the people animation app on 10149 in Lumia 640

Liked new peolpe animations A LOT. In contacts and on the tile too.

As a indie filmmaker. 120fps news gave me orgasm.

I did not need to know that.

Yeah, I heard that roar. XD

Meh. It's really staring to feel like programmers are making design choices rather than designers in Win10. The 'rolling' animation choice for the People App, for example, feels tonally random from any other design choice in the OS and only adds the 'hodgepodge' feel to the overall design language; just doing stuff for the sake of coming up with something new/different. Like the 3D effect of the tile flipping in big Windows, which feels 'cutesy' on the one hand, but disjoined on the other because it ignores the flat design language that I thought Windows 8-forward, had embraced. I am hoping that over time the OS will fine a common tone to whatever its design language is at this point.

Amen, brother. And I am not even religious.

Yeah, I agree. Its only a matter that people get bored when there's nothing new all the time. It's like choosing to eat egg today, then eat hotdog for tomorrow for a change.

You're right. The best phone OS is the one with the most (useful) features, speed, and usability.

I remember when WP was known for being a stylish, elegant and easy to use OS. Now it's cropped circle pictures and hamburger menus. It's like all the people that designed 7/8/8.1 were fired and ex-Google people came in and designed the OS. Just a sad joke.

I dont want that circle animation.. Hope the insiders give respons to MS.That horrible.windows 10 Mobile should be ellegance..

They fucked all the good features of WP ( people section , music player , pictures magazine view ) Seriously who came up with this idea to introduce such lame icons and modifications

Keep the polka dot pimples away from the tiles at least!

I think the source article is based on the 10158 emulator, not an actual build.

Even I had the peoples tile animation on my NL730... But now its gone... I don't know how and why...

I am mixed on the new people animation. On one hand, it looks alot cleaner than it did before (all the squares mashed toghether was annoying to look at). On the other hand, it doesnt really show any useful information, just contact pictures moving around. as for the new resizing animation.... FUCK YES. Cycling through the sizes was so annoying, being able to stretch the tiles is what I have been waititng for since the release of windows 8.

Ilike the new people app i love the pivitiong smaller text look but all those circles cuck and im not a fan of the tile animation. It reminds me of ios 7 from 6 i wasnt a fan there either.

Guess we won't be getting exploding tiles that was demoed before Ballmer left.....just sad we need all of the great features to compete against apple/android

Please put it on the feedback app.

Have you seen how that exploding tile thing works? Did u saw a demo? .. I dont think so

Have you seen the demo of the Interactive tiles? I did and that is the real deal, I had exploding tiles in Zune and there is no comparison.

I like it, you could tell your friends that that's how they roll

i would have preferred people to remain squares.. this is a step backwards only to make android users confortable on windows.

Saturday, 4 July, 2015 10:08 PM Even Android don't use circular images too much. Their Contacts/People app for example looks beatiful than the People app on Windows 10 IMO. Even Apple have new Calling screen on iOS9 that is full-screen and doesn't use circular image. http://www.droidgreen.com/wp-content/uploads/2014/06/android-l-5-lollipop-dialer-contact-apk.jpg http://o.aolcdn.com/hss/storage/midas/43e9b44099e0557b7c6aa3b4503ba98/200243163/Screen+Shot+2014-02-25+at+10.11.40+AM.jpg

I have a HP Stream 8 (has SIM card slot). Windows 10 on it is not a good experience. So I am wondering if it will get Windows 10 Mobile instead??

That circle animation of people app sucks older one was much better.

This looks exciting, but I'm undecided on the people tile animation and I really need the battery life fix. I understand it's still alpha, but it sucks when my battery dies after 2 hours, and normally it lasts for a good 12.

My lu 1320 also has people animation, why in the world there's a difference in ui in the same build.

FAKE. This video is showing an Android Launcher called "Square Home" which lets you have tiles on your homescreen similar to Windows Phone, but at the same time let you resize them to however you wish.

it had better be fake, but u have to prove it here so we can believe its what is coming else i sound off with @gabeaul of the implementation design

Is a simple web search too much to ask for? See this video (search this up on youtube, won't let me post link here): CU96SV-U0Is Skip to 2:50 to see resizing in action.

Would check for square homes launcher on play store and see for myself, then I would believe

Still I think Microsoft should adopt this in the near future, especially that we will have more Live Tile sizes coming.

I love the wireframe icons so much!

People live tile. Looks bad with circles. Squares were better.

True dat! Circles look ugly and the animation is lame

Anyone? Got notification... Insider configuration blah blah.. Then phone restarts.. Been through spinning gears and migrating screen... Lumia 1520. But when i go to about page.. Still said 10149. I dunno whats the update about.

Hey that is INSIDER FAST RING CONFIGURATION

Uugggggglyyyyyyyyyyyyyyyyyyyyyyyyyyyyyyyyyyyyyyyyyyyyyyyyyyyyyyyyyyyyyyyyyyyyyyyyyyyyy

120fps nice but the resolution tho :/

Come on it's fine! My guesses are that it will also be supported from lower speced phones than just flagships.. Anyway, we have to wait and see :)

Ugly? I recorded 125fps videos on 120p and those were fine. So chillax bro.

That's what they were talking about. I didn't understand at first what they were talking about.

That "people tile" animation is the lowest point WP could hit, soI guess we can sit back and chill since everything else would be better than that.

I already felt like unpinning or making a small tile for People app becaue of this. :(

That people animation tile kinda cool

My camera app has already been showing 120 frame per second video and 1080p at that. It freezes though when I use it.

Please, don't do it...Please just don't go with those round things crawling, rolling over the People Hub when official upgrade is pushed. The one in 8.1 will do better if remained unchanged in WP 10.

so like it 8.1 version, last week updated WP 10, looking so cute and liked but tooo too slow...... working so badly. so please improve.

I like the app opening animation, but the circles... Smh

Support for just 120 fps still when Apple has been using 240 fps for almost a year now.
P.S. Just saying (Not an Apple fanboy)

Finally, people hub gets animation

- love the tile resizing. - I regurgitated a little when i saw that people tile animation.

10149 on Microsoft edge, try visiting Facebook using mobile version..webpage is broken..its only fix when you turn to desktop version..any help on this?thanks

Oh you tease! But seriously, does the new wallet signify the release of Bing rewards outside of the USA?

Is the current version stable enough to install it in my daily use device?

Yes, there are still some quirks and issues here and there but the essentials (Messaging, Phone) works flawless. But it's still a YMMV scenario and you should actually try it before.

No,scrolling on start screen isn't that smooth. Music app plays different song and shows different.8 out of 10 times Store(beta) doesn't open. Outlook calendar doesn't have date on tile. Battery saver, data sense and storage sense are no longer exist . 1080p video lags in default player. Resuming is replaced by "wait a minute!" Black screen and accent coloured screen. UC browser crashes all the time when you switch from other app. Multi tasking isn't possible,o/s terminates all other apps . Battery drains within 4 hours. With only screen on and no app , battery drops at 2% /5minutes .No OneNote app. Sometimes all notification toggles start flickering which make them useless.people app have ugly circles look. Phone restarts on its own 2-3 times a day. Photo app is pathetic. Lockscreen most of the time doesn't show pin number to unlock which forces you to wait for 2-3 hours. Microsoft camera produces low quality photos. Using it on my 1020 . *ignore grammatical mistakes :P*

Let me guess, "only quad cores can run low red slow mo"

There's a dude on Youtube saying the "tile" rumor is fake, it's an android launcher called Square Home.

I got that moving circle tile in my phone after reset in present build of windows 10

For when THE build, the final one?

I would like to see more live (animated) tiles back. Windows 10 looks too static like "live" tiles being demoted to just app icons

Did anyone noticed the phone used for recording the changing live tile size video? I guess it was successor of 1020.

Windows 10 mobile has all kinds of awesome features, until it's released a finished product I'll deliver my feedback directly to Microsoft and continue to enjoy my New Microsoft Lumia 640 LTE. The best thing about this phone is that it's a Microsoft edition not a nokia.

Just one question...
Will my LUMIA 1320 upgradable to WIN 10 M

got the animation by default on my 920 with build 10149

I'm all about the cirles and as for the animated tile, true at the moment it looks kinda lame. but try to picture it down the line a little once MS commit to it and develop it some more. I'm not sure how feasible it would be, but I picture the tile with more free flowing 'circles' of varyious sizes based on how frequently a contact is used. just my 2 cents

+940XL. I'd like to see a random storm of contact bubbles of differing sizes, bouncing around the tile.

Slow as a dead turtle -_-

I just wish I could pick who's faces showed up on my People tile. Really don't like having my co-workers faces on my home screen. It makes me feel like I'm some kind of stalker. I keep my People tile small because of it.

It would be nice too to have one like only favorites to show or something like that. Some people also want this.

When is the official windows10 for mobile going to release any idea friends??

You mean you don't know? We all do, nobody tell him. Sheesh...

Circles in tiles look ugly. :S

But I preferred the sharp edged toggle switches more.

That tile sizing is just someone dicking around. No way is that official, it's appalling.

This build looks great. Can't wait.

That moment when you realize that......
Its an Android app called "Square Home" @_@
Buhahahahahahahahaahaaa!
(in video)*

The transition between a colorful start screen and black and white people app is quite jarring.

I m still waiting for the windows 10 update for HTC 8X :'( plz bring the update fast :(

Tile re-sizing animation is fake. Check here. http://wmpoweruser.com/windows-10-mobile-build-10165-may-feature-a-new-w...

Thank god its not on wp 10 .....btw I had a feeling that it was fake after seeing the spacing between the tiles.

It would be better if Microsoft introduces an animation like when we click on the tile. a kind of web of people's profile may appear floating and we can click on single person's profile to contact him .. I hope someone is getting my idea :P

@Daniel I thot ComedyCentral, sorry I meant WindowsCentral validated rumors before posting them

I'm liking all this additional cusotmization :)

I have the adnimation or probably I should say I did, I do not appear to have it any more. I was not a fan and have stated in a seperate post how I would prefer this stayed as box with one highlighted as it did previously.

This idea is horrible if this is what MS wants us to have as people tile, I'd rather not use it all than pin it to my start screen. Someone on this forum said its an android app launcher I just hope it is and stays that way but am a little concern what will become of the peoples live tiles now that the people hub is in circles

The actual windows 10 build was the worst. unstable on my Lumia 640, random reboots, made my 64GB micro SD fail and can't use it. So I rolled back. Just waiting for the final... Some UI choices are not easy to accept but they don't seem to listen so...

Ever since I first installed the preview on my 1020, I have been thinking that resizing tiles should work like that, just drag the handle to the desire size - small, large, wide, extra large and tall.

When I updated to it on my lumia 820 it didn`t run as good as it runs on this video, it would just lag everywhere.

I said it before and I'll say it again, these circles have gone far enough, the tile looks bad, come on guys, their putting circles into a square hole, and it looks..well awful.

You are welcome Daniel :) Always happy to help

INTERACTIVE LIVE TILES! When are they going to realize that this will be the groundbreaker for windows phone... It would be amazing to operate with apps without having to load them. Like in android

Will 120fps work on 500mb RAM devices? For example L625

Yep 930 & 1520 need the power of there cameras unleashed. 20mp 6L ois coupled with sd800 is capable of much more.

I know a lot of people don't like it, but I'm pretty excited about that animation. It seems pretty unique to me, so I'm looking forward to it. At very least, I'll get some satisfaction by the people's pictures I don't like rolling away off the screen. :-)

Fix that battery icon please! Its too small!

I hope the peopleo tile animation is just a 5 yr old school project, and that he got a D- for it... It can only be a joke. An animation like that for a MS OS... Circles with contacts pictures rolling inside a square. I really couldnt believe when I saw that animation.

I like the people tile's old animation. :( the circle animation looks ugly as hell.

Looking forward to seeing 120fps video support. But what is this about 576p 4:3 aspect ratio. Are we back to PAL and NTSC standards? What about Microsoft Edge as a store app? I'm not liking the rendering prowess of Microsoft Edge in mobile. Can't even render facebook mobile properly. Please get your web rendering engine together, Microsft.

It's just technical preview.

No. I just store my rewards numbers in OneNote.

Love the transparency. Wish the aero/transparency be in the latest build of desktop/laptop win 10. Guess have to wait for the final release.

I love the current people live tile

Better than the atrocity that was in earliest builds; static closely put together circles in square tiles. Still want People's live tile to show latest updates from connected apps of contacts.

If open OS like Android, circles Gone!

Surface phone as next flagship, Lumia to be low and mid..

Hopefully they're working on 240 fps video support. Apple's current iPhone can do 240 fps and it's awesome. Microsoft really needs to push for top of the line features for their Fall flagship.

No circles! Just squares!

I'm not fond of that animation. I like the current one better

Old is gold u might say but new animation works well on both lower end as well as higher end devices.

when is MS gonna expand the phone list for preview? i want to test this on my Samsung Ative

First of all, that people animation is awesome, but it looks like polka dots which I don't really like Secondly, I'm not a fan of thattile resizing

Good! I always have said that Is really weird how shitty iphone camera can record up to 240fps and zeiss pureview cameras can't...

I hope my lumia 830 with pureview can record at 120 frames... I mean, at least at 480p...

Does anyone know, if Surface2 will get some update and when, no technical preview for Surface 2 *Sad*

I have thought which strikes. That is will every phone with windows phone 8.1 will be able to run Windows 10 mobile or not. #Lumia 520 thoughtful.

What about those un editable 'mobile 1, mobile 2, work 1 etc,' on contacts, are we able to edit them now on the new builds?
And we are limited to only 2 cell phones per contact. You can't send a message directly to the third number (work 1) unless you copy and paste the number.

So like it 8.1 version, last week updated WP 10, looking so cute and liked but tooo too slow...... working so badly. so please improve.

I love what Microsoft is doing with Windows 10 Mobile and Windows 10. I'm getting goosebumps.

Dono kno y are they going with rounded edges ..

Phone tile icon is tilted bit too much. Icons are way too ugly. Now don't tell me its raw build.

How's HERE MAPS on win 10?

Please microsoft, add 60 fps 1080p...

I really don't like the new Live Tile of People app, sorry I have to say that its really looks silly, cheap and tasteless. Circular images are fine on some areas like when browsing because its like an icon, on chat thread, on login screen and lastly only on some areas that it will actually blends. Circle images are horrible on context where you want to showcase that person. Example on artist page in Music app and Windows Store, currently they're just a big freakign circle that lacks immersiveness to the artist. Artist images isn't a selfie, especially that many are group/band that compose of 2 or more people and they won't fit on circle, no matter how big it will be. What they should have done there is to have banner-like, rectangular, magazine-like and panoramic layout that really show who they are an not the shape of the circle. The layout should share the same principle on magazines where photo and content is king, not the other unecessary stuff. iTunes, Spotify and even their old Zune understand this and have beautiful layout for artist page. New Incoming Call and Calling screen is another example of unecesary circle image when we already have better almost full screen Incoming Call screen and still bigger Calling Screen. Even new iOS9 and Android are now using these kind of layout while Microsoft is going back to 2008 call screen layout. Unfortunately its sad to see that sometimes (if not common) Microsoft is just implementing stuff just for the sake of it because they can, design-wise.


No prefect working window 10 in Lumia 525

I can't believe people are making such a big deal out of circular avatars.

is the L520 supported in the Windows Insider Preview?

When I went through the original link Daniel has mentioned, I couldn't understand a thing. Its in some other language.

Noooo! Don't change the people's app animation... The flip style of just fine.. I understand that they're changing everything to.. circles and circles can't flip.. But the people hub can be an exception

Time to clean up the bugs.

I'm anxious for the next build. I cant wait for it to come out.

10149 on my 930 first did not have the hold start for half screen etc then out of nowhere it works on any screen and scrolls... Have also noticed other little fixes that have occurred without further updates or resets... What is going on? Nobody will answer so guess its just magic

The new people live tile is bad the circles idea in all let me think about google, there's many ideas to change the live tile animation "What about squares moving left and right up and down back and front" This will be amazing but not this circles

I tried the build on my 1520 liked it but my text messaging had a major delay. I really want to try but have to wait on a reliable build I understande its preview but it worked fine initially. I just need to buy a 640 or 640xl to play with win10.

If the circles were actually floating around randomly and bumping into each other like the bubbles screensaver it'd be cool. Otherwise it just looks weird and doesn't make sense.

Can you manually now enter (or scan with camera) loyalty card info or do you still need that card's provider to have a WP/WM app to be able to add the card to your Wallet?
Windows Central Newsletter
Thank you for signing up to Windows Central. You will receive a verification email shortly.
There was a problem. Please refresh the page and try again.