LEGO Dimensions development comes to an abrupt end
By Dan Thorp-Lancaster last updated
LEGO Dimensions joins Disney Infinity as the latest toys-to-life game to wind down.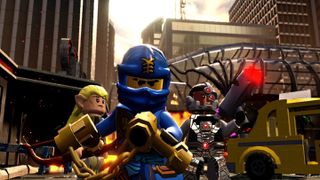 It's been a tough couple of years for toys-to-life games. Disney announced its intentions to shut down Disney Infinity in 2016, and now it looks like LEGO Dimensions is next on the chopping block. In a tweet (via Engadget) today, Warner Bros. Interactive, TT Games, and The LEGO Group announced that they will stop producing new LEGO Dimensions expansion packs. Existing expansion packs will continue to be sold, and ongoing server and customer support will continue to be available.
The companies don't go any further in their statement, but a recent Eurogamer report indicates that the series is coming to an early end due to a combination of disappointing sales and thin profit margins. When expansion packs failed to sell well, they were subsequently discounted, effectively eliminating any profits. Compounding this was the fact that LEGO sets are relatively expensive to manufacture compared to other toys-to-life series.
According to Eurogamer, this marks an early end to what was reportedly a three-year expansion release cycle planned at the launch of LEGO Dimensions in 2015. Year three would have reportedly reintroduced a storyline featuring series villain Lord Vortech, a Minecraft expansion, and a potential Doctor Who pack. TT Games was also said to be working on a camera that could scan small LEGO builds and transport them into the game.
Dan Thorp-Lancaster is the Editor in Chief for Windows Central. He began working with Windows Central as a news writer in 2014 and is obsessed with tech of all sorts. You can follow Dan on Twitter @DthorpL and Instagram @heyitsdtl. Got a hot tip? Send it to daniel.thorp-lancaster@futurenet.com.
Spyro the Dragon is feeling a bit paranoid right now.

I mean Skylanders. Is that still around anyway?

No they too stopped for now.

I built "stuff" with Lego, my children built "stuff" with Lego. Dimensions was over priced, unimaginative, and lacked what Lego delivered to countless generations over many decades.

Not surprised, now it will just be virtual dlc packs in the Lego Universe game so you won't get any resale possibility.

The writting was on the wall way before E3. So this really doesn't come as a surprise to any LEGO fan. I personally have enjoyed the game on both the PS4 and XBone. But my wallet is definitely thankfull for this. Each pack was too overpriced (15€ for a "fun pack", 20€ for a "team pack" and 40€ for a level pack is ridiculous) and the game relied a lot on the users buying a ton of extra packs. The bright side is that the minifigures in these packs will be wortha sh*t ton of money in a few years. For example, the Beetlejuice minifugure, once LEGO stops production of the pack, in 10 years will likely be worth five times what it costs now. That's the good thing about LEGO. It's the only investment besides land property where the value goes up instead of down.

Many of these packs already have hit the 99 cents stores, dude. I bought a **** ton of them for literally $1 apiece, whether level packs, character packs or fun packs, and resold them for 500% markup. Made a killing and STILL got them to people for a fraction of retail :P

I just bought the last 2 packs now have them all including the specials .

Not surprising from Disney, they discontinue or stop supporting all their games even if they are broken right after release. Sad to see the same trend coming from Lego

bummer. my kids love this game and I enjoy it occasionally myself (the rare times I get to play anything, that is). I guess the hunt is on to finish the set.

Can't say I'm surprised. They asked people to continuously buy accessories for a game they bought. I would've played several of their worlds/dimensions, but someof the starter packs were $80. I would've played the Doctor Who world, but I didn't want the high cost or the accessories cluttering up my place. Oh well. I hear the game was pretty good.

I'm glad I wasn't heavily invested in this. After being burned by the Disney Infinity sets, I didn't buy much more than the Lego Dimensions starter kit.

More petroleum based landfill material. While other companies are getting out, MS recently signed a multiyear deal with the company that makes the plastic figurines for an as yet unkown project. DUMB. I said this was dumb from the outset and avoided it purely for the pollution.

When are companies actually going to learn, after being burned twice now I certainly wont be investing in any other games along this line. If Companies want people to invest in series / subscription material they are going to have to stop just chopping it when the margins begin to fall.
Windows Central Newsletter
Get the best of Windows Central in in your inbox, every day!
Thank you for signing up to Windows Central. You will receive a verification email shortly.
There was a problem. Please refresh the page and try again.