Lenovo admits to shipping LaVie Z 360 notebook with flaws in its tent and stand modes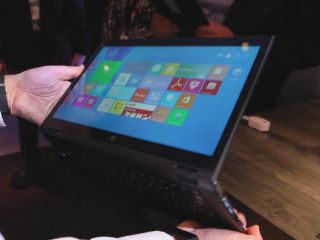 Lenovo launched its two super-light LaVie Z Windows 8.1 notebooks last week, but now one of those models is shipping to customers with known flaws. Specifically, the LaVie Z 360, with its display that flips 360 degrees on a hinge, has problems in both its tent and stand modes.
Consumer Reports bought the 2.04-pound 13.3-inch Lenovo LaVie Z 360 but afterward it received an email from the the company's Web Sales Manager, who admits that "in our haste to bring the product to market, we have made a couple missteps along the way." The report stated:
The letter said that the Lenovo LaVie Z 360 would continue to ship, with these flaws, but that customers would receive a 5% refund of their purchase price. In addition, the description of the laptop on Lenovo's website has been changed so that it only shows and talks about its notebook and tablet modes. There's no word yet if Lenovo plans to issue a patch that might fix these problems with the notebook. There's also no indication that the company plans to delay shipments until this problem has been resolved.
To be clear, this problem seems to only be with the LaVie Z 360. The regular 1.87-pound version of the LaVie Z notebook, which does not have a touchscreen nor a display that can flip 360 degrees, seems to be free of any known issues.
Check out the LaVie Z notebooks at the Lenovo online store
Source: Consumer Reports; Via: CNET
Get the Windows Central Newsletter
All the latest news, reviews, and guides for Windows and Xbox diehards.