Lenovo admits to shipping LaVie Z 360 notebook with flaws in its tent and stand modes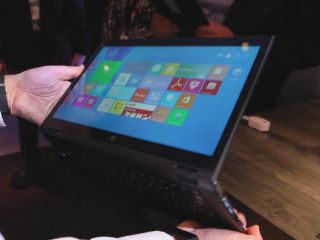 Lenovo launched its two super-light LaVie Z Windows 8.1 notebooks last week, but now one of those models is shipping to customers with known flaws. Specifically, the LaVie Z 360, with its display that flips 360 degrees on a hinge, has problems in both its tent and stand modes.
Consumer Reports bought the 2.04-pound 13.3-inch Lenovo LaVie Z 360 but afterward it received an email from the the company's Web Sales Manager, who admits that "in our haste to bring the product to market, we have made a couple missteps along the way." The report stated:
The letter said that the Lenovo LaVie Z 360 would continue to ship, with these flaws, but that customers would receive a 5% refund of their purchase price. In addition, the description of the laptop on Lenovo's website has been changed so that it only shows and talks about its notebook and tablet modes. There's no word yet if Lenovo plans to issue a patch that might fix these problems with the notebook. There's also no indication that the company plans to delay shipments until this problem has been resolved.
To be clear, this problem seems to only be with the LaVie Z 360. The regular 1.87-pound version of the LaVie Z notebook, which does not have a touchscreen nor a display that can flip 360 degrees, seems to be free of any known issues.
Check out the LaVie Z notebooks at the Lenovo online store (opens in new tab)
Source: Consumer Reports; Via: CNET
Windows Central Newsletter
Get the best of Windows Central in in your inbox, every day!
Lenovo is on a bad streak

I agree. I was in partial defense mode on the spyware because I know they are far from the only OEM collecting data, whether any others will admit it or not. I am not defending them doing it as I think it is inexcusable, but I am not naive enough to know they are not the only ones. In regards to today, this is 100% inexcusable and they should be ashamed by this. As well, the only response they should have had with explaining the issue was to say they are working on a software fix. If it can't be fixed (not sure why it can't be) then it should be recalled. This is a big mistake and will make me rethink looking at their products in the future. Though I only plan on buying part of the surface line anyway.

Right. Microsoft needs hardware on par with MacBooks. While the surface is a start it's still not a full fledged notebook. People want something beautiful, powerful, long lasting, and with high performance capabilities.

Is the surface pro line not all of these things? lol

I would argue no, pound for pound.

I'd argue yes, and then some

I believe the XPS 13 and the spectre x360 are on par with the macbooks.

I'll have to check those out.

@cj...Huh, what crack are you smoking? Surface exceeds everything out there...there's nothing like it on the market...

Lol. No crack. Perception issue. Macs are still the industry standard for media regardless of actual performance of surface.

@cj Yeah, if you only live in the 8% market share world of Apple Desktops...the other 92% of the world use Windows in a variety of price points and power levels and very high-end Windows tablets/laptops/desktops, run rings around Apple PCs several times over and are cheaper...you have to step out of the Apple Reality Distortion Field bro...

Dell latitude e7440. Even has an option for full docking station

The auto rotate problem occurs on my ideapad yoga 2 13 as well

Class act, Lenovo are. /s

Can't it be fixed using software patch? It isn't like a hardware or something.

Sounds like one of the sensors is not tuned right or defective. Perhaps the angles involved are not steep enough to trigger them. That may not be patchable. Since they're not promising a fix, I'm guessing it's a hardware problem that can't be patched.

If that were the case you would think they would halt production and bring in a fix for it

I miss IBM ThinkPad's. Were so solid

I had my old ThinkPad thrown to the floor on several occasions and never had an issue with it. Rock solid!

The original Surface RT had similar problems (rotate and keyboard) but MS issued software & firmware fixes regularly that addressed these problems

This damages Microsoft, too. Get it together, Lenovo

I've never liked the brand and this just sounds like they have no plans to fix the issue because its hardware related. I would pass on the 5% and return all of them.

I would also return. Don't think I will be giving Lenovo any of my $ anytime soon. The spyware and now this...looks really bad for them right now.

"Will continue to ship with flaws". How dare they even make such a comment. Arrogant bastards. Lost faith in them ever since the prior adware issue.

Must be their Ebay division.

I always hated this Chinese brand... And now this was the last nail of the coffin...Crap Lenovo, they ruined the motorola brand too.

Yup. I hate Android but I really hope they don't start putting their crappy Android skin on the Moto's near-stock rom.

This is exactly why I've stopped buying these brands (including Dell), constant small but critical flaws, and probably why MS had to come out with their own hardware. I'm on SP3 and it's not perfect, but night-and-day compared with Lenovo and Dell. WW

Tried any new Dell machines?

11 months ago, Dell Venue Pro 11, so many issues, the biggest ones being that the slim keyboard doesn't deactivate when swung back, and the screen locked in portrait mode with the keyboard swung back, along with screen blackouts, very poor microphone quality, and jumpy trackpad. The mobile keyboard was buggy too, resulting in total power off when the keyboard angled a certain way. If you're wondering, I didn't have a lemon, because Dell sent me a replacement tablet 4 months later, and Amazon sent me multiple keyboards. They're all riddled with bugs. And don't get me started on their active stylus from Synaptics, it's a joke. WW

I got screwed big time with the active stylus. I live in India and had to import the dell venue 11 pro and the active stylus from the US. The only reason I went with the venue 11 pro was for the active stylus. What a waste of money!

Yeah Dell is making really quality stuff once they went private again.

Maybe, but once they totally screwed me selling a defective PC, there is no reason to let them have my money a second time, unless of course they have full refund, which DELL never did.

Lenovo goes on my do not buy list

Will Lenovo even be in business come the end of the year?

Oh yeah. They sell lots of enterprise pcs. And lots of smartphones in china.

Wow, there's a lot of anger here, but honestly I've never found a single reason to use tent mode on my ThinkPad twist in the past year or so. It was definitely a mistake, but it's understandable they don't want to stop shipping over something that will affect hardly anyone. Tent mode is just a way for marketers to add another "mode" to their ads so it sounds impressive.

They are shipping products that they know don't work as advertised, and giving a discount HALF my standard student discount.

What's worse is that they're giving you a discount without a guarantee that they're going to fix the problem.

I don't disagree with what you are saying, but I do think that if people bought the notebook thinking it would work in Tent mode, they should be given the option by Lenovo of cancelling their order outright..that apparently wasn't done.

I didn't know that about cancelling, but you're definitely right. They seem to keep making their mistakes worse by not making any kind of extra effort to make it right. Very shortsighted thinking.

I seriously will never buy a Lenovo product at any point in the future. I feel sorry for the PR people and all the swords they've had to fall on lately.

And this is why Apple is king while Windows OEMs brands don't inspire recognition

apple is king due to consumer ignorance. and the fact that its a status symbol

Apple's notebooks don't usually ship with defects like these, maybe the consumers are in reality smart, not ignorant?

This is ONE model from ONE manufacturer that is shipping with a defect. stop drinking the koolaid. apple is overrated and overpriced

Not sure about overpriced. Many high end ultrabooks are in the Macbook Air and Pro price range. Only difference is that Apple sells every machine they build, while other OEMs can only dream of selling high end PCs on a consistant basis. If you seperated the Mac business apart from iPhones and iPads into a seperate company, it would still be a successful multi Billion Dollar business.

I still think they're overpriced. People say that the MacBook air cheapest model is a really good deal, until they find out the display is 720p. At that price I can get a 1080p touchscreen windows ultrabook with the other specs still the same. I have a Dell xps 12 first generation which I bought for $1100, and I still think it's overpriced. At least I don't feel as bad since it's a convertible with touch screen and has top and bottom carbon fiber, which is way more expensive than Apple's favorite slab of aluminum.

No, they don't sell every machine they build. More than a few go out as replacements for defectives. Apple is pretty quick to replace truly defective machines to their credit.

Kinda like the Surface with its WiFi issues that took months to fix.

Except the whole video card debacle from Apple?

No Apple is king because although their products are expensive and don't do much, what they DO do, they do with elegance or at least they do it consistently. Its a right ecosystem that is worth respect, and it's something Microsoft is trying to pull off with Windows 10 and their surface/Lumia lines.

LOL, no. Hardly selling 10% of all notebook sales. Please do a reality check. Lots of OEMs build the better laptops.

10% is actually a lot. And what is more impressive is the profit they make per MacBook. Built well, designed well, marketed well. People trust the brand regardless of perhaps the value for money factor. You can't honestly say that Windows OEMs have been as stellar as Apple as putting out continuously good products and building a trustworthy brand.

Microsoft themselves have

The 10% that's the most profitable portion of PC sales, the >$1000 segment. Windows PC OEMs can only dream of having loyal consumers, like those tthat buy high end Macs. I wouldn't be surprised if Macbooks were frequently used inside Microsoft, running Windows in Bootcamp or Parallels, due to the premium and quality hardware.

Yep the 820 is, just as any Lumia, chinese crap too ;)

Well, that would mean that Apple is Chinese crap too with your logic. Just because it's manufactured in China doesn't necessarily mean it's crap. Developed and produced in China by a Chinese company on the other hand is a completely different thing. Some Lumias still have that Nokia-quality we're so fond of. ;)

Exactly. By that argument the xbone and just about everything else is **** too. Lol. The problem is with how companies handle things. This requires a recall. They can't sell something claiming a specification. They're factually claiming something that isn't there - and the fact that they'll continue selling it anyway - well recall or lower prices. Either way this behaviour is indicative of a company that doesn't give a hoot. Maybe it's just me but when I spend money I expect good customer service.

this coupled with the spyware drama a cpl months ago has ensured that ill never buy a lenovo product

5% refund? Wow that's like 50$ off of a laptop. How about a 20% refund. Such a problem is huge on a convertible device like this.

For a $500 computer that's $25 off. Not sure how much it is

First the malware now this in only a few months it seems. Right now I would not buy a Lenovo at all.

Welcome to tip top Chinese products...

Lenovo this is suicide. Stop it whilst u still have time.

I was a Lenovo fan at one time. These latest issues, combined with terrible support for my Motorola X post acquisition, pretty much ensures I won't be buying their devices again any time soon. Due for a new work laptop too, let's see if IT allows me to choose Dell instead of Lenovo for our standard option.

5% refund? No thanks. Return.

They should allow users a full-refund or to switch to the lesser one and refund the rest. Horrible customer service on this issue. Or change the name to the 180

Never bought a Lenovo product, aannnd I'll keep it that way.

I moved from Toshiba to Lenovo for laptops, totally happy with yoga pro and more happy with the yoga 2 pro, and the yoga 2 tablet. Never use the tent modes of hanging mode. Did have an occasional display issue as described here with stand mode. If that's the scale of the issue here, I say do not worry about it. It too incidental and resolved with a simple sleep/wake up power button double press. I consider my self a consumerist of sorts, but not to the extent that this gave me a rage.

Only 5%?? Damn they are greedy. Give them like 10-20% refund

The problems with the Yogas (2,3, and the ThinkPad version), the spyware, and now this. Great job, Lenovo.

And some people were still supporting them.

Um, Yeh I'll just never buy a Lenovo.... How could this get past qa

LOL. unbelievable. And a 5% refund? Wow. No thanks.

Lenovo, go home you're drunk

One of the first Windows 8 Lenovo laptops did this as well.

Except now it's been three years since the first Windows 8 Lenovo laptops and they are still having this issue.

Damn, Lenovo has been doing a bit of digging.

Ookay that is the last straw, to ship a product with a known defects is just asking for trouble. One would think after the whole mess with superfish, they would do their due diligence and make sure none of their products ship with defects or adware.

I haven't had a problem with my Lenovo Y510p. The model Is 2 years old now and it still works as good as the day I bought it. I had no spyware problems. And its built for gaming (what I wanted ;) ) Not a single flaw with mine yet. So I love how people who don't own a single product from Lenovo are discrediting the brand because of one product that can probably be fixed with an update. And for the people saying Apple makes good computers.... You are wrong. I have 3 friends who bought MacBook Pro's and all three have had to be fixed within a year due to the screen forming bubbles underneath the glass. Or from it cracking for no reason. So what I'm trying to say is do your research before you buy products. And try them out before you buy. Not all products are perfect.

Ookay that is the last straw, to ship a product with a known defects is just asking for trouble. One would think after the whole mess with superfish, they would do their due diligence and make sure none of their products ship with defects or adware. Will never again recommend their products let alone consider them for my own use. 5% refund is just insulting. They should be knocking 50% off as two of their modes do not work as advertised.

Aren't these just rebadged NECs?

While you are hating Lenovo, I have to change my brand new Lumia 535 6 times do the screen issues. And even I have to go to a Nokia Care and I don't know if they can solve the problem. But nobody is saying anything about that.

when will mixx 300 ideapad launch in India or US any clues?

Designed in USA? Lenovo's Chinese phones are ok I suppose.

Oh, I wouldn't say that. I've heard nothing but good things about the OnePlus One, and Xiaomi seems to be doing fantastically well. Oppo also seems to make fairly decent products as well. Futhermore, some of the older Lenovo laptops are quite fantastic. Please, think before you speak like a racist bigot.

"Other Chinese companies." You likely have bought a product from a Chinese product without you having been aware. And considering Lenovo has a very strong US presence right now... your statement rings kinda hollow and dare I say... ignorant?

Friend you do realise China makes practically everything. That xbone one? China. Your tv? China. Etc ad nauseum. I guess you were being sarcastic?

China assembles the device (in most cases). All Apple products are designed (or made) in Cupertino, as are Microsoft products made in Seattle

Made isn't the same as designed.

A 5% refund on a faulty product who's major selling point is flawed. It's like buying a convertible, but you find out the top won't go down. Removing mention of these features does NOT fix the issues the customers are having... They should have said a patch is being worked on as we speak... instead of saying "this is not a great user experience."

True. It's probably a hardware defect so they can't patch it - perhaps the sensors in the hinge? this is why they will continue selling until they have to stop - or shop to another market. In the UK we have legislation that provides we could get a full refund, though I'd imagine they'll offer that quietly anyway, most places have consumer rights. You see this happening all the time. Even in dangerous sectors like cars...

seriously more chinese garbage, evenrually this turns around as a Mictosoft\Windows problem in the eyes of the average person on the street...

Good one Lenovo. Do it more often.

Folks, that's why MSFT needs the Surface and Lumia line of products...it's incompetencies like this that gives MSFT a black eye because people think it's MSFT's fault that this occurred...

Have to say I've been a ThinkPad user for a long time, but my latest laptop has the worst trackpad ever on it - they changed to clunky floating cheap plastic things that give PCs the worst name, and then with all these recent mistakes, it looks like Dell or even HP may get my next business. Thinkpad was quality. Lenovo is value. Not the same thing, but not mutually exclusive. And yes, I know this is not a ThinkPad (my current is), but image and experience is set by the ethos of a company, not one model.

That's really, really bad. And instead of doing a recall, they wanna offer a 5% discount? Not good enough. And worse yet, many consumers will blame the OS, thus making MS the culprit.

Because I don't really game on PC/ Laptop, I have pretty much just given up on most third party companies. They are just too inconsistent.. I think I will just stick with Microsoft's surface line..

Is just amazing the we will still sending devices with flaws, is a new device or refurbished? I would expect that from a refurbished unit not from a new one

5% refund is a bit of a joke. They should offer a fix or the option to return it. The fact they're still shipping with this fault is embarrassing for them.

So much going on with Lenovo recently. But, Im still happy with my ideaCentre B750. A great All-In-One with no flaws
Windows Central Newsletter
Thank you for signing up to Windows Central. You will receive a verification email shortly.
There was a problem. Please refresh the page and try again.