Lenovo's first VR headset is a low-cost Windows Holographic alternative
VR doesn't have to be expensive or complicated, and Lenovo's hoping to push the market a bit.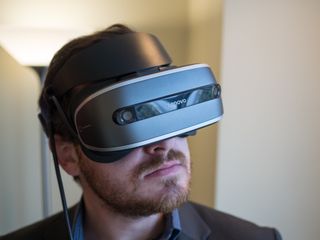 VR is a huge deal this year at CES, and Lenovo is getting in on the scene from multiple angles. The most exciting and surprising of the bunch is the news that Lenovo is developing a self-branded VR headset that's built for the Windows Holographic platform.
On the face of it, this yet-to-be-named headset seems to have a lot going for it: it's lighter than the likes of the HTC Vive or Oculus Rift, has a pair of high-resolution 1400x1400 displays (though we couldn't plug it in and try it out) and is targeting a lower price than either headset. The design is sort of a poor man's Hololens in that it has a rigid ring that sits high on your forehead and low on the back of your head, tightening with a knob for a snug fit — the face mask portion then pivots down from the forehead portion of the headset, meaning it doesn't put unnecessary pressure on your cheeks or nose.
Image 1 of 8
The Lenovo headset also has an advantage over the HTC Vive in terms of setup, because it uses a pair of front-mounted cameras to get depth information rather than relying on the Vive's light towers for positioning. The Lenovo headset also has just two cables running off of it, rather than the more bulky tangle of cables from the competition. On the other side of the coin Lenovo isn't making its own controllers to go alongside the headset, meaning right now you're going with an Xbox One controller or other future controllers designed to the Windows Holographic spec.
But in the end, Lenovo has one big differentiator: it says it's targeting a price under $400 for the full-featured headset, which would make it far more attainable than the current crop of VR accessories. We don't have any firm pricing information or know when Lenovo even plans to make an official announcement on the headset as a proper consumer-ready product.
Get the Windows Central Newsletter
All the latest news, reviews, and guides for Windows and Xbox diehards.