Lenovo's Yoga Windows line gets some new additions at CES 2015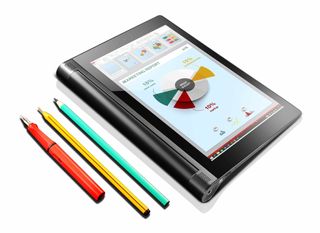 Back in late 2013, Lenovo unveiled the Yoga Tablet 2. Today, at CES 2015 they're unveiling a refreshed version of their Windows tablet that will allow you to write on it using any pen you desire.
Otherwise it's the same basic tablet as we've seen before. It'll be available starting this month from Best Buy and Lenovo in the U.S. for $299.
Elsewhere there are more announcements in the Yoga line from Lenovo. The new Yoga 3 will come in 11- or 14-inch sizes, with the 11-inch being powered by an Intel Core M CPU. The 14-inch model will be available with up to an Intel Core i7 inside, and the Yoga trademark Laptop, Stand, Tent and Tablet are still present.
Following on from the Thinkpad announcements earlier, Lenovo is also announcing two new Thinkpad Yoga products targeted towards the business professional. These will be available with 5th generation Intel Core i processors up to an i7, and up to 1TB of on board storage.
We'll be seeing a lot more of the new Yoga products later on this week from CES, so stay tuned for that. For now, check out the full press release below.
Lenovo YOGA Family Takes Flexibility and Interactivity Even Further with New Technologies
Debuts "AnyPen Technology" on Tablet and Optimizes YOGA for Business with 3D Camera
8-in YOGA Tablet 2 with Windows, featuring Lenovo AnyPen Technology, that turns nearly any pen into a tablet writing tool. LAS VEGAS – January 5, 2015 – Lenovo (HKSE: 992) (ADR: LNVGY) today announced at the 2015 International Consumer Electronics Show its new lineup of YOGA convertibles and tablets with new technologies that take flexibility and interactivity to a new level. The family includes the thin and light YOGA 3 in 11-in and 14-in models (in a 13-in chassis) built especially for today's on-the-go and digitally-hungry consumers; the ThinkPad YOGA, optimized for businesses in a 12-in model, and a 14-in and 15-in model for prosumers; and the  No More Fingers, Lenovo AnyPen Technology Turns Pens and Pencils into Tablet Writing Tools The 8-in YOGA Tablet 2 with Windows featuring AnyPen Technology extends the YOGA family tradition: the hardware not only adapts to users with its four modes, but it also provides a new, innovative writing solution that gives users a better way to interact with their device and distinguishes it from other tablets today.
With Lenovo AnyPen Technology, any pen or pencil becomes a handwriting tool – no stylus needed. Consumers can pick their preferred tool and use it directly on the tablet's touch screen for easy navigation instead of relying on their finger. Lenovo AnyPen Technology makes handwriting on a tablet now as intuitive as writing on a piece of paper. Users will find this technology especially handy because smaller screen devices require more precise navigation than a finger. At the same time, Lenovo AnyPen Technology eliminates having to replace lost designated touch screen only styluses and the expense of purchasing one separately.
As part of the YOGA Tablet 2 family announced in fall 2014, the YOGA Tablet 2 8-in with Windows drew acclaim for its enhancements over the original YOGA Tablet. Not only does it have four unique modes unlike any other tablet on the market – Hold, Tilt, Stand and Hang – giving users more ways to do more, but it also features an unparalleled entertainment experience. Equipped with two front facing speakers, Wolfson Master Hi-Fi noise reduction and Dolby audio, this compact tablet goes large on entertainment. With Windows 8.1, its 8-in FHD display and Intel® AtomTM processor, users can strike a great balance between work and play. And mobile consumers will appreciate its extremely long battery life of up to 15 hours.
YOGA 3 – Flexible Fit for Today's Consumer
The new YOGA 3 gives consumers even more flexibility with choices of an 11-in model or a new 14-in model with a backlit screen. Both convertibles showcase an envelope-thin design, measuring 18.3mm thin or less. In fact, the larger 14- in model gives users even more screen real estate yet remains extremely thin and light in a 13-in chassis. And at just 15.8mm thin and 1.1kg, the 11-in model remains the lightest convertible in the YOGA family. Both feature the classic YOGA two-hinge design allowing 360° flexibility to give consumers amazing function and value with four special modes – Laptop, Stand, Tent and Tablet. Lenovo refined the hinge to now open and close more smoothly and also allow the screen to lay flat at 180°.
More than just beautiful technology, the new YOGA convertibles are performers with powerful up to Intel® CoreTM i7 processors on the 14-in model, Windows 8.1, FHD screens and fast 802.11 A/C WiFi. Strong performance deserves brilliantly loud and clear sound, so Lenovo equipped the YOGA 3 with stereo speakers and Waves audio. And for a more adaptive, intuitive experience, Lenovo includes Harmony intelligent software. Harmony helps users discover and customize applications and includes automatic brightness adjustment when reading a book, enables motion control or optimizes audio settings in specific modes and recommends new apps.
Users can pick from fun color choices including the head-turning Clementine Orange, Platinum Silver, new Chalk White or Ebony Black.
ThinkPad YOGA – Readying Professionals with Power of Two New Innovations
Lenovo created the new ThinkPad YOGA 12-in, 14-in and new 15-in convertibles to meet the needs of businesses and prosumers, striking a perfect balance between productivity and a great PC for personal use. Built for small office, home office and students, the ThinkPad YOGA gives them mobile flexibility featuring the new ActivePen technology in select models along with elegant design and business-optimized features including an optional 3D camera on the ThinkPad YOGA 15.
Select ThinkPad YOGA models feature an optional ActivePen for convenient, accurate and precise handwriting. Ideal for productivity takes like taking notes, sending emails or creating presentations, ActivePen closely mimicks a user's actual handwriting on paper. The YOGA 12 continues to offer a digitizer/pen option that provides an internal garage for the pen. ThinkPad is creating an innovative hardware and software pen experience, regardless of pen technology.
With four modes and all day battery life, users can digitally write or enjoy any of the ThinkPad YOGA's modes: type or write in Laptop mode, take class notes in Tablet mode, present to colleagues in Stand mode or just relax by watching a movie in Tent mode. And the convertible's Lift n' Lock keyboard makes switching between Laptop and Tablet modes trouble-free without keys getting stuck.
Thin and light at just 19mm thin and less than 1.5kg on the 12-in model, these stylish convertibles come in black with an attractive backlit keyboard as well as FHD touch screen display.
The business-ready ThinkPad YOGA also features another new technology to help small businesses: a built-in 3D camera. Lenovo's first 3D camera in a laptop, it comes optional on the 15-in model. Today 3D cameras are being used by businesses for more personal video conferencing and scanning small objects for 3D printing applications.
The ThinkPad YOGA also comes ready for business with powerful up to 5th generation Intel® CoreTM i7 processors, Windows 8.1 with optional vPro for managed environments (12-in only), large storage up to 1 TB and Dolby Home Theatre v4.
The ThinkPad YOGA models expand the overall computing experience with Lenovo's SHAREit app to share files easily between devices. Small business users may opt to add support via Lenovo Services for their ThinkPad YOGA convertible, choosing among a variety of services: Accidental Damage Protection, Warranty Upgrade, Priority Technical Support and more.
Pricing and Availability
The 8-in YOGA Tablet 2 with Windows, featuring Lenovo AnyPen Technology will be available beginning in January with models starting at $299 via www.BestBuy.com and www.lenovo.com. The YOGA 3 11-in and 14-in will be available in March with models starting at $799 and $979, respectively, via Best Buy and www.lenovo.com. The ThinkPad YOGA 12-in and 15-in models will be available beginning in February starting at $999 and $1,199 via business partners and www.lenovo.com. The ThinkPad YOGA 14-in model will be available beginning in May starting at $1,199 via Best Buy and www.lenovo.com.
Windows Central Newsletter
Get the best of Windows Central in in your inbox, every day!
Managing Editor - Tech, Reviews
Richard Devine is a Managing Editor at Windows Central with over a decade of experience. A former Project Manager and long-term tech addict, he joined Mobile Nations in 2011 and has been found on Android Central and iMore as well as Windows Central. Currently, you'll find him steering the site's coverage of all manner of PC hardware and reviews. Find him on Mastodon at mstdn.social/@richdevine
Darn it!!! Just got a ThinkPad yoga! Also, typo (pen and pencil1)

I was very excited about the ThinkPad Yoga announcement of 2015, but it doesn't seem like they changed much at all. Some ultrabook makers wen below 19mm two years ago, and this is 12.5" with 1.5kg weight; when there are other ultrabooks that weigh less at 13.3". So it's not major change at all. :) Your machine can hold its own against the new ones. This will be my next laptop for sure. I love the combination of the stylus with a solid build and a hinge to boot.

I wanna see this "Anypen" technology in Surface pro 4!

I don't think you'd be able to have pressure sensitivity using any pen, isn't that what the tip of the n-trig/wacom pens was for? Also buttons.

You're right, didn't think of it.

You could have a combo of the AnyPen technology plus N-Trig, so you could mostly use your Pro Pen, plus a regular pen if you forgot. My only concern: I feel like you'd very quickly scratch the display up something awful.

Yeah, I'd feel weird about using any old pen on it. I'll hold my judgement until I see how this thing handles wear and tear from ballpoint pens.

How about a dry eraser marker?

Anypen reminds me of using certain objects as styluses on my Lumia 521 with the sensitivity set to high. c:

True...true... Work few times with my NL920.., not always though... And not as smooth as my Ntrig

When does a pen become a stylus. Interesting, but makes sense with smaller tablets.

Agreed. Works best on the 8' than on the bigger ones...

This makes me more nervous than excited - Some day I'm going to be writing with magic markers and need to scroll down to read the next paragraph.

I use Surface RT and stylus with one note at my uni. Teachers notes are in pdf format. And i dont buy paper books. Just ebooks. With surface RT i get about 2 days of battery. I use Split screen feature with one note on one side and Questions on other. I like this e-style of studies compared to old Paper style. I know most ppl(including my friends) dont like this but I am sure if they try it, they will not go back to paper. With one drive i can study any device with internet connection.

Huh? Wouldnt The screen be scratched or inked up by using a normal pen? O.o

inked up, not so much, as a screen is to smooth (try writing on glass with an ordinary pen, it'll hardly work), but scratched could be a problem, i've never seen scratch-free screens, even gorilla glass will get scratched quite easily (i always put my phone in a pocket without anything else in it, and it still gets scratched, eventhough they're a few tiny scratches you can't see easily)

Yes Gorilla glass also has scratches, but you will be surprised what caused those scratches... It is sand!!!!!!! Yes, it is the sand particles. Sand has .1 hardness more than gorilla glass. So when your pocket has some sand particles and you sit and stretch your legs, it will rub against the glass and make scratches. Though they are not visible mormally because the size of sand particles is small. But when carefully observed , you will see the scratches.

PCPer has a video where they demo it: https://www.youtube.com/watch?v=eAmDMBtVA8Y

Gorilla glass doesn't get scratched up by steel or iron usually. That's why you have those tests on youtube where people are running knives over their tabs and phones. GG is a bit harder than most metals. Not so resilient to sand particles though...

I am more worried about how it works when you need to White-Out™ your mistakes

I wonder how good that "Anypen" tech works. Also if the screen remains risks-free or not...

will touch be disabled to rest your palm on the screen when drawing/writing? just like the surface pro pen en the n-trig pen?

There's a pencil, color pencil and a pen

Those tablets are still ugly as hell..just sayin

I just ordered my Yoga 3 Pro after unsuccessful Surface purchases. I hope these new announcements will not make me too sad :-)

I have the yoga 2 and now i want the 8" to. I live the yoga 2. Best tablet i have.

Whether we agree or not about the success of the Surface line of devices, one thing it has successfully accomplished it has pushed the OEMs to new heights in design and innovation. Just imagine what a Surface Windowsphone would do. ​

Yes... That's the point of Surface tablets and they pulled it off magnificently... They will make it perfect, whether from 1st Gen or next.

Agreed. The Surface line is the epitome of looks and quality.

For $300 I just bought a Surface 2 with type cover 2 on Craigslist.

I own one too but sadly I can't see any faith in this device and platform from Microsoft anymore. Hope Windows 10 have good news for us RT owners!

I have had the Thinkpad yoga for a year now, the latest 12" version, and I'm very pleased. Extremely well build laptop and has worked without any problems since day one. 2 things i was hoping for on this new version. Better battery life and little bit lighter. Thats the little complaint I have on my previous one, but jus this new one just under 1.5 kg was little too heavy (just a little lighter than mine). I was hoping for 1,2 maybe.

I just got the new model stylus for my dell venue 11 pro! It works! Took dell months to get it right.....
Well, why does Lenovo only have this in 8 Inch model? What about 10 inch? Posted via the Windows Phone Central App for Android

Dedicated stylus (Wacom, Ntrig. Etc) still hold the ability of Active palm Rejection (for those which support), pressure sensitivity (app support), and definite Scratch free touch screen... So, artist and designers won't benefit from this. True that this will be a good addition for small screen device as they don't need palm reflection tech (nowhere to put your palm on) and smaller screen will guarantee Gorilla Glass/ other chemically strengthened glass to be mandatory... Wonder if this Anypen will work with screen protector though... :I

Yoga is standing up to its name. Its the next Galaxy or bigger, in making.

Shame BUT CES 2015 only Android phones, TV, many tablet and laptop. NOTHING WITH Windows Phone? Asus, Htc, Sony, Samsung, LG not support Microsoft anymore (for smartphones). I think the final chance for Microsoft is WINDOWS 10 for mobile, BUT developers SUPPORT MICROSOFT? This is the problem for me. IF Windows 10 smartphones is amazing and Developers support with perfect apps (WITH UPDATES guys) i will buy again Microsoft phone. Sorry BUT WHERE IS next MICROSOFT High-end smartphone? Nothing....... Now i have HTC one M8 (before I had Nokia Lumia 920 and 925). Htc one m8 is OK smartphone BUT come on Microsoft Give us high-end SURFACE Phone and i switch again. :) (sorry for my eng) "My Surface Pro 3 and my new Xbox ONE is AMAZING" : P (y)

I did the same thing. Paper is old school

Just another fake solution, without palm rejection (like this here) it is useless. Sony had the same "technology" in Xperia Z Ultra....it is just useless...
Windows Central Newsletter
Thank you for signing up to Windows Central. You will receive a verification email shortly.
There was a problem. Please refresh the page and try again.