Office Sway: You had questions, I've got answers!
Sitting down with the people who make Sway!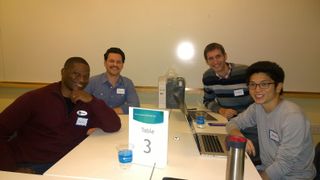 Microsoft flew me and about sixteen or seventeen other folks to the Redmond campus for an Interaction Day to talk about Sway. As a Microsoft enthusiast, this was a great experience, and I'd like to take this opportunity to share my story with you faithful readers and fellow enthusiasts.
For starters, this trip was part of the Signal program. Signal is a project initiated by Microsoft CEO Satya Nadella that's designed to connect Microsoft with their customers. It is meant to help Microsoft find out how customers are using their products and to get feedback on what customers may want. Rather than relying on hypothetical scenarios, this project also allows Microsoft to solve real problems by interacting with and understanding real customers. The program is founded on Microsoft's customer obsession ethos.
To be clear, I was not chosen for this session because I am a writer for Windows Central. The invitation was based entirely on my personal activity and passion as a Sway user.
Pick Me, Pick Me!
To be completely candid I had no idea that the Signal program even existed. Early this month I received a survey from the Sway team which indicated that they recognized my activity and that the survey was sent to a select group of individuals. I completed the survey and gave it little further thought.
A week later I was cleaning out my inbox, judiciously swiping away emails, and I froze mid-swipe on an email titled "An invitation to visit Microsoft".
Microsoft flew me out to Redmond four days later, and the next day I met the Sway engineers and the other attendees. The day included various question and answer sessions, individual interviews, group discussions, and socialization.
Tell us more
The morning of that session I asked for your questions about Sway, hoping to present some of them to the engineers. Here are some of the core questions and the responses I ultimately gleaned from the event.
Will there be handwriting capabilities integrated with Sway?
Not in the near term. I was told that there is a lot of backlog of requested features that need to be finished first. The team operates based on a system where features or projects are
prioritized based on demand. Though we see inking in Windows and other Microsoft products, at present, I am told this feature for Sway is years down the road.
Contributing to the delay are limited resources. As a newer team, the Sway team has about one-fifth the resources of other Office teams.
Will we be able to manually adjust picture size?
This is unlikely. The purpose of Sway is to automate many functions. The more control that is given to users, the more the system loses the ability to automate. Loss of automation can affect how Sways will look on different screens.
Will we be able to print from Sway?
This request is definitely high up on the near term roadmap. The team is looking into how other apps are doing it. The challenge is that unlike other canvases like Word, there are no breaks in a Sway document.
Thus, the engineering work takes more time as the team tries to determine the best approach. They are looking into options such as converting a Sway to PDF or a another format such as Word and then printing. At present, converting to PDF I am told, looks promising. The good news is that printing from Sway is on track to arrive in a matter of months.
Will there be a Windows Mobile app?
This was not a simple answer. Here's the complex way in which it was conveyed:
There is currently only an iOS app which has been being used by the Sway team as a measure for the mobile experience. I was told, however, that this iOS app was created through a Hackathon and to some degree approximates the Sway experience from the desktop on the mobile device.
The team is redoing and re-planning their approach to mobile across the board — they want the mobile experience to be as complete as it is with other apps, like WhatsApp. They don't want users to feel the need for a companion desktop app if they use Sway on a mobile device. The goal is to bring all of the features to mobile that delight the users on desktop. With this new approach the first mobile app and platform has not been determined.
As they begin this approach to mobile from scratch the team is looking to see where most Sway usage is to help make this decision.
Sway sees heavy use in the education sector where Chromebooks and Windows devices dominate. Data such as this will affect the decision making as to what apps the team will invest in. I was told they want apps on all platforms but limited resources prevent such an investment.
When I brought up the point that a high Windows usage might make a universal app that also runs on phone a sound investment, I was told that most usage is in the browser. Anecdotally, I always use the browser as well. Familiarity with the browser is part of the reason for this usage model.
Since the UWP is key to Microsoft's future the team is pushing the Windows 10 app through the Store, email receipts, Edge and other means to encourage the apps usage. So will there be a Windows Mobile app? Maybe, time will tell.
Share and share alike
I previously shared some examples of how I have used Sway. Since my experience at Redmond through Signal included meeting other Sway users like myself I thought it appropriate to share some of their Sways here. So here you go.
Drew: Interaction Day with Microsoft
Jared: Learn OneNote Conference 2016 Speaker Schedule
Jared: Learn OneNote Conference is Global
Neal: Drawn Out Project Management
Neal: Labor Day at Henry Ford Greenfield Village
Sway's versatility opens it up to all manner of use cases!
Looking forward
Sway is a great story-telling tool with many uses. It has taken off in the education sector, and the team is hard at work adding new features. They even showed us a highly requested "table of contents" feature that will be debuting very soon. For Sway users like myself who have been wanting a way to navigate within a Sway, this is a welcome addition.
I was also told that this feature is the foundation for a Wikipedia-like, non-linear navigation system, that Sway creator Chris Pratley told us about in an interview last year. This vision is still a few years out, however. What is currently available as of four weeks ago is a Quick Starter feature where Sway will build a rudimentary Sway for you as long as you supply the topic!
If you haven't yet tried this great Office tool now is a great time to get Swayed!
So what are your thoughts? Sound off in comments and on Twitter!
Related reading:
Get the Windows Central Newsletter
All the latest news, reviews, and guides for Windows and Xbox diehards.
Jason L Ward is a columnist at Windows Central. He provides unique big picture analysis of the complex world of Microsoft. Jason takes the small clues and gives you an insightful big picture perspective through storytelling that you won't find *anywhere* else. Seriously, this dude thinks outside the box. Follow him on Twitter at @JLTechWord. He's doing the "write" thing!