Office Sway: You had questions, I've got answers!
Sitting down with the people who make Sway!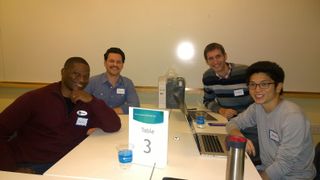 Microsoft flew me and about sixteen or seventeen other folks to the Redmond campus for an Interaction Day to talk about Sway. As a Microsoft enthusiast, this was a great experience, and I'd like to take this opportunity to share my story with you faithful readers and fellow enthusiasts.
For starters, this trip was part of the Signal program. Signal is a project initiated by Microsoft CEO Satya Nadella that's designed to connect Microsoft with their customers. It is meant to help Microsoft find out how customers are using their products and to get feedback on what customers may want. Rather than relying on hypothetical scenarios, this project also allows Microsoft to solve real problems by interacting with and understanding real customers. The program is founded on Microsoft's customer obsession ethos.
To be clear, I was not chosen for this session because I am a writer for Windows Central. The invitation was based entirely on my personal activity and passion as a Sway user (opens in new tab).
Pick Me, Pick Me!
To be completely candid I had no idea that the Signal program even existed. Early this month I received a survey from the Sway team which indicated that they recognized my activity and that the survey was sent to a select group of individuals. I completed the survey and gave it little further thought.
A week later I was cleaning out my inbox, judiciously swiping away emails, and I froze mid-swipe on an email titled "An invitation to visit Microsoft".
Microsoft flew me out to Redmond four days later, and the next day I met the Sway engineers and the other attendees. The day included various question and answer sessions, individual interviews, group discussions, and socialization.
Tell us more
The morning of that session I asked for your questions about Sway, hoping to present some of them to the engineers. Here are some of the core questions and the responses I ultimately gleaned from the event.
Will there be handwriting capabilities integrated with Sway?
Not in the near term. I was told that there is a lot of backlog of requested features that need to be finished first. The team operates based on a system where features or projects are
prioritized based on demand. Though we see inking in Windows and other Microsoft products, at present, I am told this feature for Sway is years down the road.
Contributing to the delay are limited resources. As a newer team, the Sway team has about one-fifth the resources of other Office teams.
Will we be able to manually adjust picture size?
This is unlikely. The purpose of Sway is to automate many functions. The more control that is given to users, the more the system loses the ability to automate. Loss of automation can affect how Sways will look on different screens.
Will we be able to print from Sway?
This request is definitely high up on the near term roadmap. The team is looking into how other apps are doing it. The challenge is that unlike other canvases like Word, there are no breaks in a Sway document.
Thus, the engineering work takes more time as the team tries to determine the best approach. They are looking into options such as converting a Sway to PDF or a another format such as Word and then printing. At present, converting to PDF I am told, looks promising. The good news is that printing from Sway is on track to arrive in a matter of months.
Will there be a Windows Mobile app?
This was not a simple answer. Here's the complex way in which it was conveyed:
There is currently only an iOS app which has been being used by the Sway team as a measure for the mobile experience. I was told, however, that this iOS app was created through a Hackathon and to some degree approximates the Sway experience from the desktop on the mobile device.
The team is redoing and re-planning their approach to mobile across the board — they want the mobile experience to be as complete as it is with other apps, like WhatsApp. They don't want users to feel the need for a companion desktop app if they use Sway on a mobile device. The goal is to bring all of the features to mobile that delight the users on desktop. With this new approach the first mobile app and platform has not been determined.
As they begin this approach to mobile from scratch the team is looking to see where most Sway usage is to help make this decision.
Sway sees heavy use in the education sector where Chromebooks and Windows devices dominate. Data such as this will affect the decision making as to what apps the team will invest in. I was told they want apps on all platforms but limited resources prevent such an investment.
When I brought up the point that a high Windows usage might make a universal app that also runs on phone a sound investment, I was told that most usage is in the browser. Anecdotally, I always use the browser as well. Familiarity with the browser is part of the reason for this usage model.
Since the UWP is key to Microsoft's future the team is pushing the Windows 10 app through the Store, email receipts, Edge and other means to encourage the apps usage. So will there be a Windows Mobile app? Maybe, time will tell.
Share and share alike
I previously shared some examples of how I have used Sway. Since my experience at Redmond through Signal included meeting other Sway users like myself I thought it appropriate to share some of their Sways here. So here you go.
Drew: Interaction Day with Microsoft
Jared: Learn OneNote Conference 2016 Speaker Schedule
Jared: Learn OneNote Conference is Global
Neal: Drawn Out Project Management
Neal: Labor Day at Henry Ford Greenfield Village
Sway's versatility opens it up to all manner of use cases!
Looking forward
Sway is a great story-telling tool with many uses. It has taken off in the education sector, and the team is hard at work adding new features. They even showed us a highly requested "table of contents" feature that will be debuting very soon. For Sway users like myself who have been wanting a way to navigate within a Sway, this is a welcome addition.
I was also told that this feature is the foundation for a Wikipedia-like, non-linear navigation system, that Sway creator Chris Pratley told us about in an interview last year. This vision is still a few years out, however. What is currently available as of four weeks ago is a Quick Starter feature where Sway will build a rudimentary Sway for you as long as you supply the topic!
If you haven't yet tried this great Office tool now is a great time to get Swayed!
So what are your thoughts? Sound off in comments and on Twitter!
Related reading:
Jason L Ward is a columnist at Windows Central. He provides unique big picture analysis of the complex world of Microsoft. Jason takes the small clues and gives you an insightful big picture perspective through storytelling that you won't find *anywhere* else. Seriously, this dude thinks outside the box. Follow him on Twitter at @JLTechWord. He's doing the "write" thing!
Office Sway is a powerful story telling tool for the storyteller in all of us. As a relatively new addition to the popular Office suite, Sway is still maturing and carving out a place as a tool made for the modern age of content creation. As a web based tool, imbued with intelligence which enables automation of layouts etc, a Sway is designed to look great on any screen. I know many of you have yet to try it. I encourage you to give it a spin. I also know that like me many of you are disappointed that there is not a more definitive answer regarding a WP app. Well, what's on you minds. I've got an open door to the Sway team. They are eager to connect with users. There's even a "connect/talk to engineer option in the app! What other questions or comments do you have? LET'S TALK!

No wonder the browser is the place its used the most....as there is no actual app anywhere really. The W10 PC app is a web wrapper type app and by their own admission there are no official mobile apps yet. It sounds like its getting limited resources within Microsoft, and although it would be a shame I wouldn't be surprised if the product is eventually dropped and they make a way to bring the versatile way sways can show on any device to PowerPoint, where it might actually end up making more sense. We already have things like Office Mix that make PowerPoint really powerful, so wouldn't surprised if Sway is eventually canned in favour of adding features there

Actually, Sway won't be getting dropped. :-) The model as a web bases, primarily automated tool, it won't be integrated into PowerPoint. It's used quite a in education, and it's growth overall is making strides. Its only two years old, so I thankfully, I think it will be around a while.:-)

I'll be totally honest, I gave it a good try a few times now and while I can see the benefit and in general I like the workflow, I have not been swayed. There are a few things which really concern me, the biggest being that they don't have the resources needed to go cross platform, as a part of the Office team I really did not expect that and it reduces my confidence in the product a lot, you say it will be around for a long time and it won't be dropped but this is Microsoft you are talking about, if they don't want to give full resourcing to the product then it is entirely possible it will be axed eventually as has happened with many other great MS products. The other thing that concerns me is the fact that they are merely considering using UWP and I think that's pretty much a disgrace to Microsoft's direction and goals, even if Sway started as a web based project, UWP is the ONLY logical next step and as MS employees they should know that as a certainty. Once they have the UWP down then the ONLY logical next step from there is to use Xamarin to branch to other platforms. Until I can use Sway on W10M, I won't be trying it again since I can do great things in Powerpoint on my phone, and easier and better experience by using Continuum. Sounds kind of like childish blackmail when I read that back to myself but for me emotion doesn't come into this, just the logic of the devices I use and the best way to achieve the result I need with those devices, for now at least that way does not include Sway.

I wish I would have known you were going. I would have loved to ask if there are plans for offline editing/playing? My biggest problem with Sway is relying on my school's internet for it to work.

That question did come up. I believe it is one of the features they are looking into.

That question did come up. I believe it is one of the features they are looking into.

Cool, I hope so. i can see editing offline not being a priority, but playing offline would really help adoption.

That's super important for students and teachers as they can never rely on school web access.

Thanks for sharing my Sways. Was fantastic that they were willing to take all our feedback. I am crossing my fingers that implement a 'staging' area to organize your media resources and an outline of topics or text. That way, with all your content staged, you can hit "Remix" and bam! you are done and looking professional.

I can't tell if it's more static or more dynamic than PowerPoint. On the one hand, the idea of a continuous presentation is really rather slick. On the other, there's far more tools available for PowerPoint. I guess they aren't really meant to compete with each other, so much as wrap the content in a different way.

I agree with this, and wouldn't be surprised if this gets swallowed up into PowerPoint eventually. It doesn't sound like Sway is as well resourced as the core office applications from the answers

I never really get the feeling sway is perfectly fluid when viewing, and they tend to look quite rough at times. I've seen content created with office Mix that has wowed me. Sways have been informative but not really "impressive" from a visual standpoint in my experience

What about making, editing, and viewing Sways offline?

Microsoft really need to make sure that Mobile technologies are heavily promoted within Microsoft - and by that, I mean Windows 10 Mobile. Fine for people to be able to choose other mobile OS's - but they at least need to know about Windows 10 Mobile, what it can do, and be given the option to try and help provide feedback by being an Insider. In other words - all MS employees should be given a free phone to try / use / test / provide feedback. If they choose to use a different OS - then that's great but a Windows 10 phone should be mandotory to have - even if it's put in a drawer. MS know they have seceeded when the employees prefer to use the MS mobile rather than iOS or Android.

Not at all. The team didn't seem to know n consider UWP. And their mobile strategy formula will only derive a result ending up with ios pr android

I used this for a presentation in my college level history class and it looked fantastic. Everyone loved it because it was so visually appealing

Hey Chris would you mind sharing that sway with me on Twitter @JLTechWord?

The fact that you even had to as a microsoft team if their app is coming window mobile is very telling of the current situation we are in

"There is currently only an iOS app" Nadella is responsible for this Neglect of Microsofts own mobile OS.

What if it gets renamed MS Office Swag

Hmm. When people spend more time finding excuses than a way forward, it sounds amateurish and not at all professional. And that's the feeling Sway gives. Heavy web usage? Of course, there's no Sway on my Surface 2, on W10 I use the UWA, on W10M over continuum, because they're still contemplating what the essence of a mobile app should be instead of delivering a first version of UWP, I have no other option than using the web. They're pushing everyone to the web and then are surprised Web is the most used channel. Wow. Besides, bla bla bla limited resources, bla bla bla refining the mobile experience, but WHY ON EARTH have they announced, on the official Office blog, in August *2015*, the windows mobile version is coming soon? Why on earth have they repeated the same on Uservoice? Sorry, a team wanting to deliver finds a way; otherwise, they find excuses. And that's exactly how it sounds. I'm not saying Sway team are lazy or incompetent, but for the least, they're extremely poor at PR. The irony for a team developing a communication/pitching software.

When will Sway be on W10M especially on Continuum?

As I said above, the office blog said it was coming to W10M "soon" in August 2015. Still no sign, and according to Jason, it's far from being imminent. On Uservoice, they've confirmed it's coming soon in Aug 2015 along the blog post, and since then, people upvote and no response from Sway. On Twitter, @office or @sway will invite your to upvote that UV entry. I don't understand. Delve, Sharepoint are now available on UWP, even as previews. They work over continuum. Why not give the same push on all the office suite, including Sway? Anyway, you question is legitimate, but see my message just above yours, reminding Sway's promises and how they fail to deliver seems to be politically uncorrect, as it cost me a down vote lol

Thanks, Jason for sharing this! I mainly use Sway for super responsive photo albums. My only worry is the performance hit Sway does to a device. I hope this can be improved in the future. Moving away from photo-heavy Sways, I am inspired by one of the Sways presented here, to create a Sway-based website content test of my site, which is heavily lore based with minimal graphics. I hope it can work. I would love to spend more time on writing and updating lore rather than spending time on coding and layout :)

I would like to Sway at work, but that's not possible. My employer blocks many useful websites, including accessing Sway.
Windows Central Newsletter
Thank you for signing up to Windows Central. You will receive a verification email shortly.
There was a problem. Please refresh the page and try again.