Let's talk about Sway with the Microsoft team that made it!
I'm at Microsoft's headquarters today hanging with the Microsoft Office Sway team!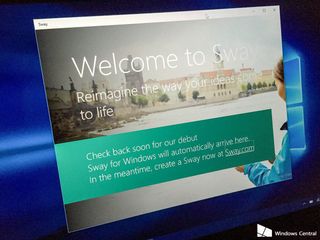 I was invited to our favorite tech company's main site to participate in a session all about Sway. You know that awesome Office storytelling tool that uses intelligence to help users create engaging media rich presentations. If you've never used it, it's been described as Power Point on steroids. Don't let that description intimidate you. The intelligence this tool draws on makes it infinitely simpler to use than Power Point. All you have to do is type your text and include your media such as pictures and videos and the Sway does the rest. It's incredibly simple to use.
So why am I and a handful of other folks from various disciplines here today? Well, Microsoft wanted to get some face-to-face feedback from enthusiasts and other folks that are using the tool. How could I say no?
Here are some of my Sways
Our Storytelling Story
This Sway tells humanity's storytelling story from the time of oral traditions to the present age of Sway!
Cortana Lives
Cortana Lives is a fan fiction Sway that tells the story of Cortana's survival after the events of Halo 4 to her arrival in 2014 on Windows Phone.
Q & A with Greg Murphy CEO of WhartonBrooks
This is the raw Q & A with the CEO of WhartonBrooks Greg Murphy, who is making Windows phone for consumers!
Microsoft's Windows 10 ad Attack should include Windows Mobile
This Sway tells how Microsoft can use the current Windows 10 ad campaign to keep Windows Mobile in the public eye and maintain mindshare.
Send your Sway questions and feedback
I plan on sharing my feedback and learning from the team who created one of my favorite Office tools today. That said, I figured I'd invite those of you who might have some feedback or questions to share your insights and concerns as well. If you tweet your question please do so to @JLTechWord #IveBeenSwayed
So please, load up the comments and I will do my best to check them at various free points throughout the day and share with the team what you share here. I will also be creating a Sway documenting my trip to Redmond so please follow me on Twitter where I will share that story!
Related stories
Interview with Sway creator Chris Pratley and Program Manager Nathan Freier and other Sway stories
Windows Central Newsletter
Get the best of Windows Central in in your inbox, every day!
Jason L Ward is a columnist at Windows Central. He provides unique big picture analysis of the complex world of Microsoft. Jason takes the small clues and gives you an insightful big picture perspective through storytelling that you won't find *anywhere* else. Seriously, this dude thinks outside the box. Follow him on Twitter at @JLTechWord. He's doing the "write" thing!
Sway seems poised to become a powerful WYSIWYG web publishing tool. Is that a direction you could see Sway going in? The Muse of Microsoft Office Suite? I can't be the only one that actually misses Frontpage.

My 2 questions, that I have tweeted : 1. Sway UWA for W10M has been announced officially in 2015 (aug 2015). When will they deliver??? 2. Export to PDF is a must, still not there, even if "they're working on it" according to uservoice. I filled their survey, but still no possibility to export to PDF. I love sway, but as I use it more and more for work, without the 2/, I'll switch to bunkr or something else. As for the 1/, it's to be able to use Sway on my 55" TV over Continuum. I can use all Office Mobile apps, except Sway. No response from @sway or @office on Twitter. Not very profesionnal.

it can be difficult to respond to everyone all the time. i wouldn't count that against their professionalism. Microsoft is a big company and they get a lot of messages across all various platforms. Also, why would export to PDF be that great? I don't see any benefit to items such as those shown above. It's possible that maybe that's why Export to PDF isn't a thing yet. But I agree wholeheartedly with #1.

I can see the appeal of PDF export for some people (e.g can be viewed offline, can be stored anywhere rather than just on sway.com, can be printed, etc.) but it also runs counter to the spirit of the app, and it greatly reduces the functionality. Posted from my Nexus 5X

Can't you "print" to pdf?? That always seems to work better than "export" to pdf for me with things like powerpoint (especially with hand drawn slides!!)

Sway needs handwriting capabilities

Hi onysi: I just asked and handwriting is not high on the list at the time. But I shared that handwriting is becoming more of a focus with inking on Windows 10 and OneNote's capabilities. He mentioned if it consiumers consumers demanded it, (because even todays event is centered around that very purpose) it would become a higher priority.

When I can work with Sway offline and on my L950, I'll care.

Offline use was one of the topics discussed, Dalydose. We'll see. As far as a WP app, please see below comment. :-(

This is my biggest issue with Sway. I love it, and it's great for making presentations/teaching, but relying on our District's internet to be up 100% of the time is unrealistic. (ahem, why did we buy Chromebooks...smh) If they could just make offline playing a thing and leave editing/creating to online it would work for me.

I did a sway presentation about HoloLens in my college

Cool, @Pon. Do you mind sharing the link. I'd like to see your HoloLens Sway. If your comfortable you can Tweet to @JLTechWord #IveBeenSwayed

The best Sway I've ever seen was the one made by the Microsoft employee who made a custom Minecraft PC. That was the one example that finally got me to understand the purpose of Sway.

Do provide a link to that Minecraft pc Sway, please.

This is the link I think: https://sway.com/f4LW9NkiC43yveh_

Did you ask them about the Mobile app for W10M?

Yes I did Dan. Unfortunately, there is no Windows phone app imminent. Trust me, I expressed my frustrations and thoughts about that. They did share it is not off the table, just not imminent. Thier focus now is bringing features and uses that customers are asking for that are using the product. Unfortunately, those priorities trump the demand of users like some of you here as well as myself, who really want a Sway app. I'll try to go into a little more detail in a follow up piece as to the response I received as I spoke to them about this issue.

Sometimes I really hate Microsoft and that's coming from one of their biggest fans. Did the sway team forget about UWP, OneCore and Xamarin?

One of the coolest article I've read/seen lately...

Thanks raytiger. Curious what did you like about this article?:-)

Where is Windows 10 mobile Sway? Ask them this.

I just started my first real sway earlier today, was about to open PowerPoint then decided to give sway a try. I like it and its fairly easy to use though not that good for customising header placement (or at least I don't see where the option is yet). A deal breaker for me however is the lack of W10M app, it's already a UWP app so it really shouldn't be this long without an app especially when you rub salt in the wound that iOS and Android have mobile apps for it since the dawn of time pretty much. #favouritism!

Ha ha Jason you refer to Sway as Power Point on steroids. I liken it to the love child of Power Point and Adobe Acrobat

Ok. Now bring it to Windows 10 Mobile. That is where I do the most work with photos and my life.

I view as a great tool to remake PowerPoint into a responsive web presentation. They are two pieces in the puzzle that compliment each other... But yeah, sucks I still don't have mobile support on the 950

This is a great tool that Microsoft is not pushing hard enough. They should actually put some dedicated marketing behind it. Posted from my Nexus 5X

I don't understand the purpose of Sway. If it is like Powerpoint, then why in the hell wouldn't Microsoft build off of that!? Why start from scratch with something that is most likely going to fail??

@Dlo1997 Thx for the question. Though it has been described as and compared to Powerpoint its very different in many ways. :-) One, it's completely web-based. Once you build a Sway it lives as an easily sharable URL. Two, it has built in intelligence which takes a lot of the guess work and need for meticulous control from the user. It's great at arranging text, pics and other content for you which leads to... Three it reflows great for ANY screen, phone, tablet, PC etc. Please check out this earlier article I wrote where I talked in greater detail about Sway! I hope the combination of this link http://www.windowscentral.com/sway-docs-com-storytelling-tools and the above points help to answer your question. Also please check out the link at the bottom of the article where I interview Sway creator Chris Pratley and also Nathan Freier, they talk about why Sway is different and the reasons you'd us it rather than something like Power Point. :-) Thanks for the question!

Can I embed a Sway story in my WordPress website?

Upload the Sway to Docs.com (a site that Microsoft owns, log-in with your Microsoft or work/school account) and select embed once it is uploaded. Posted via the Windows Central App for Android
Windows Central Newsletter
Thank you for signing up to Windows Central. You will receive a verification email shortly.
There was a problem. Please refresh the page and try again.