LG E906 gets GCF certification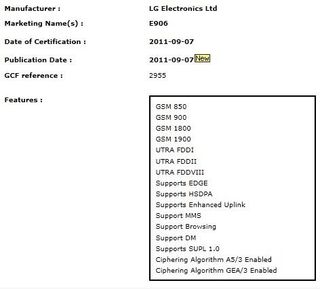 The LG E906, which recently cropped up as a "Jil Sander branded design" has earned its GCF (Global Certification Forum) wings. This is significant, as GCF is typically the last certification a device gets before hitting the shelves. The E906 will support both GSM (850, 900, 1800 and 1900 MHz) and W-CDMA (2100(I)/1900(II)/900(V) MHz) frequencies. Though most of the technical details are not known, the Mango phone will have a WVGA display, presumably 3.8 inches, like its predecessor, the Optimus 7. It wouldn't be surprising to see a 8MP camera, 512MB RAM and 1GHz processor as well. There's no release date announced for the E906 yet, but it shouldn't be long now, given this last hurdle has been passed.
and here come the spec haters.

◎★★◎Something unexpected surprisewelcome to: http://www.jordanforworld.com The website wholesale for many kinds of fashion shoes, like the nike, jordan, prada, also including the jeans, shirts, bags, hat and the decorations. All the products are free shipping, and the the price is competitive, and also can accept the paypal payment., After the payment, can ship within short time.3 free shippingcompetitive priceany size availableaccept the paypalexquisite watches 75$90X Extreme Fitness System ONLY ONLY 42 $jordan shoes $ 32 http://www.bestworldstore.com nike shox $ 32Christan Audigier bikini $ 23Ed Hardy Bikini $ 23Sm ful short_t-shirt_woman $ 15ed hardy short_tank_woman $ 16Sandal $ 32christian louboutin $ 80Sunglass $ 15COACH_Necklace $ 27handbag $ 33AF tank woman $ 17puma slipper woman $ 3090X Extreme Fitness System ONLY ONLY 42 $Believe you will love it. welcome to: http://www.jordanforworld.com

Personally I don't really care about specs as long as I can get 32GB/64GB on my next phone but here's my question... Do you think that WP7 is perfect? Because I feel like you literally hate any sort of criticism thrown at the platform which is really not healthy.I could see why people would have an issue with specs the same way I have an issue with games but it's like you don't have any issue with anything!

there's a couple of things I'd want but I'm not whining about it in every single article. that doesn't get anything solved.

It's people who are vocal about issues who help things moving. Remember the camera settings reset was originally a feature of the OS, not a fault. And it's thanks to all the whiners that settings can be saved now in Mango. Microsoft is listening to complaints to improve the platform, they said it. It's being silent that doesn't get anything solved.

This is all nice but were are the 4G Phones ?I thought Mango would support 4G

looks like I was right. don't complain unless 4G is available in ur area and besides 3G is still good enough for most things,even Netflix.

"is still good enough for most things"This is unfortunately becoming the motto of Windows Phone..."it's good enough" Not great. Not better than the rest. Just "good enough.

what u and alot of these other spec haters may not know is that all windows phones released have support for EVDO Rev.B and HSPA+, these have speeds that are on par with WiMax and LTE.

It was announced sometime ago by MS that mango will support 4G!!!
Windows Central Newsletter
Get the best of Windows Central in in your inbox, every day!
Thank you for signing up to Windows Central. You will receive a verification email shortly.
There was a problem. Please refresh the page and try again.