LG Miracle Gen-2 Windows phone revealed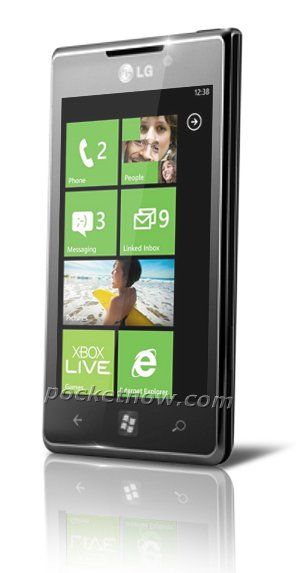 PocketNow has obtained some info on a new Windows phone from LG, codenamed the Miracle. You may know it as the LG Fantasy, which we heard about last July, and popped up 5 months later on XDA Developers. The Miracle is said to be a mid-range phone equipped with a 4-inch WVGA NOVA screen, making it the first WP7 device of its kind. It will also have a 1GHz processor, 8GB of storage, and 1.3MP/5MP cameras. LG's Miracle is also thought to connect using 14.4Mbps HSPA radio, 5.0GHz-capable 802.11a/b/g/n Wi-Fi, and Bluetooth 3.0. Another interesting detail is that it will also have NFC tag-reading capabilities, though we're not quite sure how it will come to be used.
Word is that the Miracle will be unveiled at the Mobile World Congress and subsequently released later this spring. So far, there is no information on carrier, but according to its FCC passage in October, it appears to sport CDMA bands. Could we finally be seeing a new offering from Sprint or Verizon?
Source: PocketNow
Good looking device, and I would like to see more options for Verizon/Sprint even though I am on ATT.

Wikipedia is saying this:
"-The LG Optimus Black features a WVGA NOVA display which is brighter than competitor displays with brightness of 700nits."

It is a brighter version of WVGA that also consumes less energy.

WVGA is a screen resolution

Small comparison between various screen types:
http://www.phonearena.com/news/Display-battle-NOVA-Display-vs-Super-AMOLED-vs-Retina-Display-vs-ClearBlack-AMOLED_id17123
Is only a comparison for indoors but it seems to be surpisingly good

Good article. Nice explination of the technology and difference. Thanks.

It might be brighter but the blacks still kinda suck, at least in the pics

The black sucks because you're displaying that picture WITHOUT a NOVA screen, genius -.-"
It's like watching an AMOLED tv spot on a LCD monitor and saying "Mmh, the contrast is not much better than my LCD..."

If it has an HSPA radio, then it's probably not Sprint or Verizon, right?

Gen2 with a 1ghz processor??? Minimum processor should now be 1.4ghz. With those specs and looks, LG should just get out of the wp7 game. They aren't doing wp7 any good; their form factors are boring and repetitive. Yeah the bands are different and NFC is rumored to be supported but people like sleek designs. People buy iPhones and androids for looks. While many of us here buy ours phones for looks and needed features, the majority of users purchase phones because someone else has one and they are followers. It`s time for Manufacturers to bring forth good designs like Nokia is Doing. All parties that aren't interested should be dropped. HTC is bringing specs and screen size, but they too need to have a standout design not a HTC Trophy on Steroids (The Titan). I'm not saying drop HTC by no means because they are one of two companies making an effort.

This is supposed to be a midrange phone. We need different price points for WP to be successful.

The over stock of first Gen phones the horrible sales people at local stores are or should become the midrange devices. They're being sold for .99, 49.99, and 99.00 in most stores now. We need well designed clean devices

This is supposed to be a midrange phone. We need different price points for WP to be successful.

Another 8gb phone c'mon 16 GB plz!!!!!!!!!!!!

Hahaha! You're begging for 16 and others complain when it's only 16. Look, there are plenty out there that will have room to spare with 8. This device just isn't for you; wait for the next one. New devices keep rolling out every couple of months. It's lame that WP doesn't yet support microSD, but it is what it is. Apollo can't come soon enough.

I don't care what a phone has in regards to stock memory. As long as it is expandable...

Expandible memory can be unreliable (what do you do if the sd card goes bad and you have to format it or if you lose your phone).. Its easy enough to have pics and vids auto upload to SkyDrive which should minimize the memory you use on the device.

I do not use SkyDrive and desire expandable memory. If the SD card goes bad I replace it and restore the data (music in my case) from backup. Now, you have a point if they do it like they did with the Focus. That was totally dumb. In Windows Mobile the SD card shows up as separate storage that you can select as a place to store files.

Second gen?? Is this the low-end Tango handsets we were hearing about? Sorry, but those specs are fit for Nodo.

Second Gen only refers to phones that come with Mango preloaded and might have a front-facing camera. 8GB storage, 1Ghz proc, and 5MP camera are still the minimum requirements for Gen 2.

This is the LG Miracle, I'm sure the LG Fantasy will have better specs.

It's a rumour , so stop treating all this info as a fact. stop saying it's revealed.

If priced at $50 or less this will be a good option for some.

8GB is pathetic! Gen 2's should be at least 32 GB

Hey by all means trim the fat! =P

I have to say this does mot surprise me after my conversation with a Sprint associate on the phone. I was calling about something unrelated and told new how disappointed I was with lack of Windows phones. She looked up some details and told me she had WP LTE devices later this year from HTC, Samsung, and LG. I asked about Nokia and she said no. Maybe she was not suppose to give me this info? I took it with a grain of salt but now this makes me wonder if she was on to something.

I wouldn't be surprised if Sprint or Verizon do get something with or after "Apollo" since they have said they aren't to interested in wp7 until the Apollo comes out.

I've said it before, will say it again: last I heard, Nokia and Sprint are not in any talks.

Thats still the best camera we ever had, so I'm not getting another no matter what comes out.

I got confused between the comments and my text messaging. Lol!

I'm going to take that as a personal compliment ;)

This seems to be the Windows Phone edition of the LG Optimus Black.

This is going to boost and metro pcs

I only ask for 16 cuz I know 32 is a stretch until microsd....i listen to alot of music I hate having to eliminate some artists for others and 16 is a bit better at least geez

I only have 1.3 Gigs left available out of 38.1 total on my Focus. Its mostly music because I live in the foothills of Rocky Mountains so streaming it wouldn't be practical. I do hope either a expandable sd slot or at least 32GB on a phone. I won't give up my Focus until Apollo and stated above becomes available.

Me, neither. I'm clutching to my Quantum until an Apollo slider with either 32GB onboard or 16GB onboard w/microSD is released. With this new LG phone I seriously doubt they're going after upgraders. It's clearly for first-timers.

NFC is going to be in Windows Phone 8, so maybe this is a (very weak) attempt at building for the future?

Looks like a very nice phone
The more quality windows phones the better I say :D

Just don't bring out any old rubbish like some of the android phones.

LGs nova displays arent as nice as advertised. Theyre clearly brighter than all other displays on the market, but brightness doesnt mean it has better colors/contrast. I think nokia/apple takes the crown for best display

I really hope this is coming to us cellular.

Never an LG after the o2x failure.

http://synitic.com/2012/02/kindle-fire-giveaway/ free kindle fire don't sleep on this
Windows Central Newsletter
Get the best of Windows Central in in your inbox, every day!
Thank you for signing up to Windows Central. You will receive a verification email shortly.
There was a problem. Please refresh the page and try again.