Limited-edition MrMobile t-shirt available now!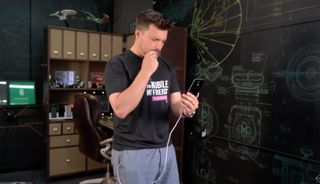 Show the world that you appreciate informative, entertaining technology reviews by picking up the ultimate t-shirt for the discerning gadget enthusiast. This Next Level Tri-Blend premium tee is available in black, and will announce to the world that you're a tech genius on the move, sporting the best in both electronics and fashion.
Proceeds from sales help to support the Mr. Mobile YouTube Channel. The limited-edition official Mr. Mobile "Stay Mobile, My Friends" t-shirt is available right now from teespring.com. Grab one before this offer ends! …and Stay Mobile.
Give me a t-shirt that says the epic words 'Mobile retrenchment'. This will go down in history books like one of the biggest businesses failures ever. Even tops Balmer mocking the iphone. Would be one epic t-shirt.

Well bloody make one scrub.

Stay Windows Mobile my friends.

Only if I can get one that says "I'm with stupid 👉" so I can stand next to you crise.

MS sacking starts on Thursday. Woohoo!

Or you can just make it by your self....there are many store you can do that.

So warm, fluffy and leaves you feeling good but not much substance?

Does not make that much of a first impression, imho. Well, I admit it maybe not related to Microsoft could be the reason.

Sorry for the double post.

Just curious
Why didn't you delete one of the two comments instead of making a third comment to apologize for the double post?? :)

Because you can't delete?

Then explain to me how he has now deleted one of the two copies after my comment.

He didn't delete it. He edited one so it said sorry.

No No there were two comments with the same text and the third comment that says sorry but it seems he deleted one of the duplicate comments.
And I hope he deletes this comment too (the one that says sorry) to put an end to this pointless discussion that I have started 😂😂😂

Nope, neither the app nor the site allow deleting your own comment. A site administrator probably did it.

Seems like a sensible explanation 😃

Thats what i found out too! Could not delete my own post on mobile or pc.

That's funny because we as a race can send a man to the moon but you can't delete your own post.

I missed him doing windows phone reviews back when he was with pocket now. He gave so much love for the platform.

oh yeah? This was his ... "unbiased" review of the Alcatel Idol 4s when it came out. Mr Mobile hates the guts of Windows 10 Mobile and he shouldn't even be mentioned on this site, let alone have his silly T-Shirts promoted!! www.youtube.com/watch?v=hhx-uRoLmkw

I will get this shirt...right now! ...update:
I bought it for 25 bucks usd.

Can I get the Starfleet and Klingon ships instead?

cool! Does it also say how much he dislikes Windows 10 Mobile?

If I'm not mistaken he used to use a Windows phone.

https://m.youtube.com/watch?v=200bl3A6sAw Mr. Mobile on Windows Phones and Windows Central. It seems to me he liked Lumia phones and Microsoft.

want to be a loser ? buy a big tshirt

Why don't you just announce that Mr.Mobile is now part of Mobile Nations....?

What? He joined Mobile Nations over a year ago.

Can we have Windows Mobile Kaput!
Windows Central Newsletter
Thank you for signing up to Windows Central. You will receive a verification email shortly.
There was a problem. Please refresh the page and try again.