Line gets a timeline feature in latest update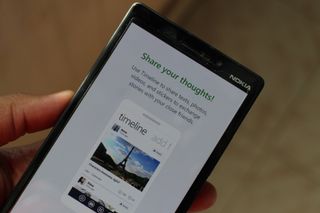 Messaging service Line received an update today that sees the introduction of a timeline feature, through which you can share texts, images and videos with your friends.
Line has a large userbase in Asian countries, where it is seen as an alternative to carrier-based SMS services. The messaging service also picked up video calling in a recent update.
With the new timeline feature, you can share your thoughts with all of your friends on Line, or customize who gets to see your status updates. Here's the official changelog for version 4.0.0.626:
Timeline feature (Share your moment with friends!)
Group Album and Group Post features
Reasons displayed in the Friend Recommendations list
Added French language support
Bug fixes and performance improvements
Line users, what are your thoughts on the timeline feature?
Download Line for Windows Phone
Thanks to everyone for the tips!
Brilliant Move
Now no need to use my PC often

Now we need to be able to open notes

Hahahaha. Let's wait till 2017 :p

The changelog stated that you can now view group posts. And group posts ARE notes.

I wonder if the app's rating will change overnight, since this is the biggest feature of this app that had been missing for the longest time. At least here in Indonesia.

I don't think so, cause many user just rate and review when they feel something wrong within the app. Btw hope they'll bring LINE Games too

Out of topic but are you using it now? I can't seem to find a way to reply a comment on the timeline. Ppl said just tap on the comment but it does nothing

It works for me
Just tried it now! And yes I do think the Ratings would improve

Ummm how exactly did you do that? Tapped it and didn't work. Is it a bug and should I reinstall it? I noticed some people from the app market also said that they were having the same problem. God idk why this is killing me lol

Uninstall and reinstall let's see if that fixes it

Nope didn't work. Guess I'll have to be patient for the next update then

Next update?? That's like next year
Do a soft-reset on your phone! Hold the power button and volume down button simultaneously for 10sec

Lmao yeah like I didn't know that. Nope, done that as well, didn't work

Yeah. That's the Lumia 930 in black.

Wouldnt it be good to link it to the people hub :O

One of WP great exclusive features, but unfortunately MS isn't advertising it :-(

Same pic is put twice. Fix that please

Did they improve battery use? Aside from the timeline feature that's been missing thus far, my biggest gripe with the app was how it practically ate the battery (not as bad as facebook messenger though)

OMG!!! Finally :'(:'(:'(:'(:'(

Finally a 5 star for the app

Dev says it's included in timeline

Now to be able to open links in Line...

Finally...
I think line is one of the most complete chat apps on windows phone right now

Hike is better. For me atleast.

Personally, I'm loving telegram. The WP app is picking up as well. Have it on my desktop, android and WP. I recommend everyone to try it at least once

Me too, I prefer Telegram more than LINE (But my country uses LINE more than Telegram).

Sorry hike app is better!

Greatest app! I love Line. :) I wish they would update it more often to bring more functionality. I used LINE with Android and it's a lot more advanced, but now with this update A LOT of the functionality is back! Yay! =D

Next mission, LINE GAME!!!

I've been waiting for this long time ago!!

Finally got the timeline! Maybe we should wait another year for Line Games :|

Always get notice unstable connection, im on wp 10 tp

So this is what most users been crying about good news

Hope line games came later :)

Just now? lol too late, Line. I may come back just if they finally changes this poor UI.

Totally agree. I want the design of the app like Twitter for Windows Phone (which can change the theme).

Timeline is not stable, the screen freeze when scrolling down faster.

Fix the subscription issue with MixRadio first!!

The photo quality is very bad after update. Timeline is always freeze if scrolling down fast. Before update I can still see the image very clear even zoom in.

In line I couldn't add new people from the different time line post

Got the latest update today, timeline scroll down becomes freeze issue seems like solve, but the low resolution photo still annoying me since precious update. Pls fix it.

Sorry to say that really disappointed with LINE cuz after 3 times updated until today, the problem with low resolution for photo sending via LINE is very serious. My settings was set to normal photo quality. Pls fix.

how to reply comments in timeline? any ide?
Windows Central Newsletter
Get the best of Windows Central in in your inbox, every day!
Thank you for signing up to Windows Central. You will receive a verification email shortly.
There was a problem. Please refresh the page and try again.