Linksys WRT32X Wi-Fi router review: Prioritize your PCs for gaming dominance
The WRT32X is a serious router that will smartly analyze and prioritize your data for gaming and video streaming. Here is why it may be your next purchase.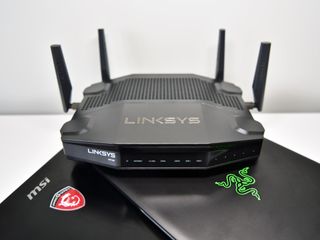 With nearly every bit of technology around us getting smarter it makes sense to see wireless routers get their due. Linksys today is announcing its WRT32X, which combines the company's prowess for Wi-Fi with Rivet Network's Killer technology found in modern laptops from MSI, Razer, and Dell.
I've been using the WRT32X, which is now available for the not-so-humble price of $299.99, and here is why I think it's worth considering.
About this review
Linksys supplied a loaner WRT32X for review along with an MSI GS63VR Stealth Pro (opens in new tab) laptop, which went unused (we already own one). The suggested retail price for the WRT32X router is $329 although Amazon and other outlets plan to sell it for $299.99.
See WRT32X on Amazon (opens in new tab)
Linksys WRT32X – What's so special?
Routers are a dime a dozen these days, and they range from super cheap dual antenna systems to the one I have been using the Linksys AC5400 (opens in new tab) – a $400, eight antenna monster with eight Gigabit ports.
The WRT32X comes in nearer the high-end at $300, but it has a unique trick up its sleeve: Rivet Network's Killer Prioritization Engine (KPE).
Killer is known for its wireless cards found in popular performance laptops like Dell's XPS and Alienware line, Razer, GIGABYTE, Acer, Lenovo, and MSI. The Killer Wireless 1535 card when combined with Killer's Control Center software lets user prioritize data packets by app and services. Specifically, the Killer Wireless system works by grouping packets for a game stream over background tasks, file downloads, or other low-priority functions.
That same technology is now a part of the Linksys WRT32X, and it lets users group and prioritize devices for internet performance. Moreover, the KPE ensures "low latency and less lag for all Killer-enabled devices on your network" automatically.
As Linksys explains it:
When playing 1v1 player-versus-player online games any lag or internet latency can be devastating since every second counts. It's no wonder that gamers spend a lot of time tweaking their internet optimizing their Wi-Fi for such scenarios.
Linksys WRT32X specifications
Swipe to scroll horizontally
Category
WRT32X features
Wi-Fi Technology
AC3200 MU-MIMO
Network Standards
802.11a/g, 802.11n, 802.11ac
Wi-Fi Speed
AC3200 (N600 + AC2600)
Wi-Fi Bands
2.4 and 5 GHz (simultaneous dual-band)
Certified for operation in the clear DFS channel airspace
Antennas
4x external, dual-band, detachable antennas
Processor
1.8 GHz dual-core
Memory
512MB DDR3 RAM / 256MB Flash
Wireless Encryption
WPA2 Personal
VPN Support
PPTP IPSec pass-through
Storage File System Support
FAT, NTFS, and HFS+
Open Source
Ready for OpenWrt
For those who prefer wired Ethernet connections some laptops like MSI's GS63VR Stealth Pro have Killer DoubleShot Pro, which lets users link their Ethernet and Wi-Fi connections prioritizing the wired connection for gaming and wireless for non-essential tasks.
Linksys WRT32X techno features
Let's get down to the nitty gritty if you're an IT or network nerd who wants all the features of the WRT32X.
Dual Core, 1.8GHz Processor: The WRT32X is equipped with a powerful processor that allows users to run simultaneous traffic through the wired, wireless, USB 3.0 and eSATA interfaces all at the same time. With 1Gig service becoming more available to the power users, the WRT hardware is ready to take full advantage.
Pro-grade Ethernet Switch: Wired performance is also enhanced using a SOHO-grade Gigabit Ethernet switch controller with five integrated Gigabit Ethernet transceivers and TCAM (tertiary content-addressable memory). This controller is capable of managing a high volume of routed, switched and IPv6 pass-through traffic locally, thereby offloading this work from the CPU so it can be reserved for other system functions.
Tri-Stream 160: The WRT32X wireless router supports three spatial streams on a 160MHz-wide channel (Tri-Stream 160), which results in a theoretical maximum connection rate of 2.6Gbps. The massive bandwidth of this wireless link allows the router to send more wireless data at a faster rate than ever before.
MU-MIMO: Traditional routers transmit to one client at a time, but the WRT32X is capable of transmitting to up to three MU-MIMO capable clients simultaneously. This increased efficiency improves the Wi-Fi experience for all 5GHz clients, including legacy devices.
DFS Certified: This router is capable of and certified to operate on DFS channels, which are a subset of the 5GHz spectrum that requires Dynamic Frequency Selection (the process of switching to a different channel when a radar is detected). Operating on these channels can potentially improve performance because of the decreased likelihood of airtime contention. Note: verify your client supports DFS before using one of those channels, else it may not detect the 5GHz network.
Beamforming: The WRT32X supports both implicit and explicit beamforming technology to deliver better network range and faster Wi-Fi speeds in the home. This technology is designed to precisely adjust, steer and monitor the direction and shape of the Wi-Fi signals for better performance to any wireless device. When the client device supports explicit beamforming, you will see even greater speed and range.
Optimized Packet Aggregation: 802.11n and 802.11ac both utilize packet aggregation to be able to transmit more data over the same airtime. WRT32X utilizes both A-MSDU and A-MPDU techniques to push performance to the highest level. A-MSDU allows more data to be transmitted when the signal is strong, and noise is low, such as in a local wireless bridge.
We've done some deep dives on the rise of MU-MIMO, which is found in more and more devices including some smartphones running the Qualcomm Snapdragon 820 like the Lumia 950, Lumia 950 XL, and HP Elite x3 and Snapdragon 835 found in newer Android devices.
While none of the above technologies automatically equals a better experience, when combined they do often help in situations where there are many competing Wi-Fi signals, e.g., an apartment complex.
Overall, it's an impressive package at least on paper.
192.168.1.1 - This is the best user interface
My skillset is slightly above novice for home networking. I get the basics, know some of the lingo, and have a rudimentary understanding of why my connection could be faulty. Nonetheless, when typing in 192.168.1.1 into my web browser some router configuration pages do not only resemble a GeoCities site from a decade ago, but they can be dangerous too if you don't know what you're doing.
Image 1 of 2
The WRT32X has by far the nicest and easiest to navigate interface I have seen for any router. It's just stupid simple and even beautiful to look at. The main dashboard give you a quick overview of what is connected, speed test results, bandwidth, and more. There are advanced configuration menus for VPN setup, DMZ settings, toggle Killer Prioritization Engine, and more.
There are even informative help screens that give necessary explanations for all the features and a quick restart router button.
It's frankly refreshing to head into a router's settings and not be overwhelmed.
WRT32X setup and connectivity
The back of the WRT32 has a broad range of connectivity options including:
Four Gigabit expansion ports.
Two USB Type-A ports (one 3.0).
One hybrid eSATA connector (split with USB 2.0 port).
Reset, 12VDC connector, router power toggle.
The front of the WRT32X has multiple LEDs that display power, internet, whether it is live broadcasting on 2.4 or 5GHz frequencies, and which wired device ports are active. There are also display lights for an eSATA connection and the dual USB ports - and if the blinking LED status lights bother you just turn them off in the router software.
The four expansion ports on the back are OK, but I do prefer the eight available on the more expensive Linksys AC5400.
Testing – is Killer prioritization legit?
The $300 question is, of course, does the Killer Prioritization Engine (KPE) work. For this test, I used the MSI GS63VR Stealth Pro, Razer Blade Stealth, and Razer Blade laptops. Each had the new Killer Connection Manager installed, which is needed for the Linksys router to "see" these devices.
Image 1 of 2
Without failure, the router picked up those laptops and put them ahead of the queue. For example, the Razer Blade Stealth had a 5ms ping over Wi-Fi during repeated internet speed tests. That's impressive if only because my Surface Studio when wired to the router over Ethernet had an 8ms ping during the same repeated tests. That result happened even when the Surface Studio was manually set to high priority.
Now, 3ms is not a world of difference, but the fact that a wireless connection outperformed a wired one was telling (and repeatable).
Another similar test was performed with Team Fortress 2 on two PCs (wired Surface Studio with 980M for graphics) and Razer Blade Stealth over Wi-Fi with a noticeably improved performance for the Razer Blade with Killer Wireless.
Reception is also quite strong. Walking around my 1,900-square foot house, I had better connectivity with the WRT32X than the Linksys AC5400 with 93 percent signal in some areas versus just 80 percent with the AC5400. All samples were recorded in the same spot, direction, with no other devices connected.
Of course, the WRT32X cannot work miracles. I did set my Xbox One S as a high priority on the network to ensure streaming of Hulu and Sling was optimized, and while I did notice a decrease in buffering/downscaling, it was not eliminated even on a 60MBps wireless network. That's, of course, more on my shoddy cable internet, which I can't control, but you get the point.
Linksys WRT32X – Worth the consideration
For people with 1Gbps fiber optic internet connections, you can almost afford not to worry your router or even latency. For the rest of us, who are stuck with an aging internet infrastructure routers that optimize every bit of data, or let you shape your wireless network for your priority is not a bad idea. It's why I also recommend configuring your DNS servers for faster browsing (see my how-to guide on DNS Jumper for more).
From that perspective, investing in something like the Linksys WRT32X seems to be a promising concept even if you don't have any Killer Wireless devices. I feel more assured knowing my main work PC is prioritized on the network for daily work. (Hopefully that also means you'll see more consistent Skype streams on the live Windows Central Podcast each week.)
For those who have laptops and would like Killer Wireless card, you can pick one up on Amazon for $40. You'll need to open the laptop up and with a single screw replace the existing card, but it's simple. You can see how it's done with the older Dell XPS 15 (9550) in a guide I wrote last year as an example. Check with your manufacturer first to make sure the Wi-Fi is not soldered to the board.
See Killer Wireless at Amazon (opens in new tab)
Regarding everyday reliability, ease of use, configurability, I had no issues with the Linksys WRT32X. It just worked, and I never had to reset it.
Whether the $299 is worth it is another question. I think for people who enjoy online gaming, or, like me, have large networks with limited bandwidth, such a router is worth considering. Casual users or people who are already satisfied with their wireless setup may want to save their money for something else.
See WRT32X on Amazon (opens in new tab)
Pros:
Awesome GUI to control router settings.
Prioritizes network traffic to favor gaming and streaming.
Easy to upgrade firmware.
Robust feature set and connectivity options.
Cons:
Expensive.
Benefit and results will vary.
Windows Central Newsletter
Get the best of Windows Central in your inbox, every day!
Daniel Rubino is the Editor-in-chief of Windows Central, head reviewer, podcast co-host, and analyst. He has been covering Microsoft since 2007 when this site was called WMExperts (and later Windows Phone Central). His interests include Windows, laptops, next-gen computing, and for some reason, watches. Before all this tech stuff, he worked on a Ph.D. in linguistics, watched people sleep (for medical purposes!), and ran the projectors at movie theaters because it was fun.
You've given no context to what the 5ms (wireless) vs 8ms ping (wired) pings were from/to.
On a local network, if you've got a wired 8ms ping you need to throw the router away.

Context is repeated internet speed tests using Ookla.

On a local network...

Not a local network, one wired directly to gateway; other is wireless thru gateway. The router is meant to reduced gaming latency for online multiplayer, not local, which I presume is just fine for obvious reasons.

LOL 1900 square foot house. You definitely don't live in the U.K. 😝 Enjoy the mansion Daniel!

lol, I'm not uncomfortable, plus no kids ftw!

Interest piqued. This may be the one to finally replace my aging, but reliable, ASUS RT-N66U.

Oops! missed the entire part of needing Killer branded network cards. Those are terrible. Pass.

Still no openvpn in firmware. I am sticking to Asus till other routers get this feature.

My Linksys AC1900ACS has openvpn built in so i'm pretty sure this would too as well.

Linksys is selling it at $299.00 as well...for now...

I hate killer wifi cards, bought myself an intel 8260 and I love it.

First thing to do will be to ditch the default firmware and install a custom one like dd-wrt. This definitely will unleash the power of the router. Second thing, Daniel, I read your DNS article and let me say that you didn't mention anything about security with DNSs, if one of them gets compromised, you could end visiting a fake website, the domain will be valid but the DNS will redirect you to an crafted fake site, so it is recommended to use only well known DNS server.

I am NOT impressed by the Killer driver in my MSI Stealth laptop (love the laptop, though!!!). There are a ton of complaints in the forums about it with lockups and dropped wireless connections. I would be extremely leery of investing so much $$ in their router. The "unique" prioritization this router boasts sounds like nothing more than typical QoS shaping. They just do it more automatically with a paired Killer NIC. Am I wrong in this?

My WRT1900 was expensive and filled with issues maintaining connectivity with the net. No solution was provided by Linksys even with tons of similar complaints by others. I won't spend that kind of money again.