How to upgrade the Wi-Fi in the Dell XPS 15 (9550)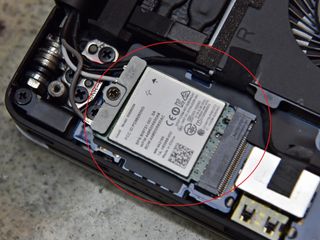 The Dell XPS 15 (9550) which has been my favorite "power" 15-inch laptop for professionals who need the most power, high build quality, and excellent performance. One of its most overlooked features is its easy upgradability. While many laptops don't let you touch many of the components, the XPS 15 (9550) has at least three useful areas that you can swap out: SSD, RAM, and Wi-Fi.
Why upgrade the Wi-Fi?
The XPS 15 (9550) ships with the Dell Wireless (Broadcom) 1830 3x3 802.11ac 2.4/5GHz + Bluetooth 4.1 (the base model ships with the lesser Dell Wireless 1820 2x2 Wi-Fi card). Some users have complained that the Wi-Fi signal interferes with Bluetooth connections, causing a wireless mouse to be inconsistent. Another complaint is the card stops seeing Wi-Fi connections due to a software issue with the 'power saving mode' that causes the Wi-Fi adapter to fail to wake up.
But whatever the reason you may have, changing out the Wi-Fi card on the XPS 15 is quite easy.
Your Options
There are a few different Wi-Fi cards available, but there could be some compromises. The most common one people use in the XPS 15 and most recommended is the Intel Dual Band Wireless-AC 8260, which runs for a modest $25 or so. The Intel 8260 also includes Bluetooth 4.2 and is 802.11a/b/g/n/ac compatible up to 867 Mbps.
See Intel 8260 at Amazon (opens in new tab)
The downside with the Intel 8260 is it's a 2x2 antenna system and not the 3x3 found on the original Dell Wireless 1830. This is not a huge deal — it just means you will have an extra wire in the chassis when done. Intel is supposed to have a forthcoming Intel 9260 Wi-Fi card with a 3x3 setup, but it is not yet available.
Does it matter? While it is ideal to have a 3x3 system if you are already having issues with the Dell Wireless 1830 it is a moot point.
Some people have also used a Killer 1535 card that has MU-MIMO (Multiuser multiple input, multiple output). The Killer 1535 is more expensive at around $40, but isn't as easily found online. To take advantage of MU-MIMO you also need a router that supports it, which most do not. While MU-MIMO is helpful for homes with many devices connected it is not a clear-cut technology that will matter for most users.
Finally, another reason to consider the Intel 8260 is support. Intel is superb at updating their drivers for this Wi-Fi card and compared to Killer people have fewer bugs. In fact, people have very few problems with the Intel 8260, making it a more attractive option.
Difficulty Rating
If you have never worked on a laptop before you will want to know the difficulty level. Considering that this my first time too, I can vouch that this upgrade is quite simple.
The process is just taking off the bottom cover of the laptop, removing a single screw for the Wi-Fi card and unplugging the connectors for the antenna. You are looking at about a 20-minute job if you take your time.
What you need
You will need a few tools like hex and Philips screwdrivers and a small pry to help remove the bottom cover on the XPS 15.
You may have your own tools, but since I plan on doing this more often, I picked up the E-Durable Pro Bit Driver Kit on Amazon. It was a mere $12 and includes every tool you will need to work on electronics like a laptop, and I recommend it if you don't have anything at the moment.
See E-Durable Pro Kit on Amazon (opens in new tab)
You will also want a clean and well-lit workspace and somewhere safe to put the screws from the bottom of the XPS 15. You may also want a pair of tweezers for snapping the antenna cables on and off.
Get the Driver
Before you begin surgery, make sure to grab the Intel 8260 driver.
Technically you won't need this as Windows 10 recognizes and configures the card automatically on first boot. However, just in case, it 's nice to have, and I recommend installing it after you boot up with the new Wi-Fi card. Intel provides a few tools and optimizations that may not be included with the generic driver.
Download Intel 8260 Wi-Fi and Bluetooth Drivers
You will want to grab the Wi-Fi and Bluetooth drivers. Make sure they are the latest and are built for Windows 10 64-bit.
Opening the XPS 15
To begin, shut down (not sleep or hibernate) your laptop and unplug it from the power adapter.
You should also use an Anti-Static Wrist Strap when touching the inner components.
See Anti-Static Strap at Amazon (opens in new tab)
To open the XPS 15 (9550), you will want to do the following.
Place the XPS 15 bottom-up. I recommend on a cloth to prevent any scratches.
Remove the 10 Torx head screws from the bottom.
Remove the 2 Philips head screws from beneath the XPS label (lift the cover).
Pry the cover off gently using a pry tool.
The cover should just click and come off without much force once all 12 of the screws are removed.
With the display hinge at the top, you'll find the Wi-Fi module is in the upper left corner (near the back of the laptop). You can see it in the above photo.
Changing the Wi-Fi card
Changing the Wi-Fi card is very easy. You only need a single Philips Head screwdriver and optionally a pair of tweezer or small pliers to handle the antennas.
The seemingly tricky part is the antenna cables. They simply snap on like little buttons and are not soldered. You just pop them off and can push them down again to reconnect making the change out easy.
Remove the Philips head screw and put it to the side.
Pop off the three antenna cables with tweezers.
Gently lift and pull the old Wi-Fi card out at a 45-degree angle.
Replace with Intel 8260 (or whatever you bought) by sliding into the slot at a 45-degree angle.
Snap the Black and White antenna cables back to the new Wi-Fi card (note the matching arrows).
Tuck the gray wire to the side or put it just under the card.
Screw the holding plate back on from Step 1.
That's it!
Now just put the bottom cover back on and replace the screws. Start from the center (under the XPS label cover) then do the four corners and finally fill in the middle and side screws. DO NOT OVER TIGHTEN as the Torx head screw are relatively soft and you can easily strip the heads. Tighten them gently just until they are not loose. It's much easier to buy a replacement screw then to drill out a stripped one!
Finally, after your system boots into Windows, it should configure the Wi-Fi adapter automatically. You may need to re-enter your network password. At this point, you can optionally install the Intel drivers downloaded earlier, or use them in case Windows does not recognize the card.
Daniel Rubino is the Executive Editor of Windows Central, head reviewer, podcast co-host, and analyst. He has been covering Microsoft here since 2007, back when this site was called WMExperts (and later Windows Phone Central). His interests include Windows, Microsoft Surface, laptops, next-gen computing, and arguing with people on the internet.
Very good guide Dan. I wonder if you could do a round up of all the available wifi cards at vairous price points that we could potentially use on our laptops.

Something I'm thinking about although most people seem to think the Intel ones are the best. Killer is good for gaming. I have it on the new MSI laptop I'm reviewing, but it has crazy stupid 'double shot' and weird gimmicks with it. Still, I hear people like Killer.

On my XPS15 I have noticed my bluetooth mouse has interferance with 2.4GHz WiFi, but no problems when using 5GHz. Thanks for the info Daniel, this is great for anyone looking to fix the interferance problem. This is such a great laptop and it is awesome that Dell has made it so easy to upgrade or swap components!

Nice, glad to hear. Yeah, this upgrade should fix things. It's super simple and pretty cheap.

Hi Daniel,
Thank you for this great tutorial, I just bought the XPS 15 9550 from Microsoft I got the i7 16 GB 512 GB for $1,529.
They have it listed now for $1,699 but on top I got a 10% student discount.
Mine has the killer 1535 should I change to the card you mentioned?
The only issue I have where my MX anywhere 2 mouse disconnects from the Bluetooth, and then hard to reconnect since my laptop can not see it.
I used your amazon links to buy the WiFi card and buy the RAM too in your RAM tutorial.

Sort of disappointing that Dell skimped out on the Wifi. Would the stock card be fixed with better drivers? Or will intel continue to produce utterly substandard ones like it has for its video and chipset hardware I wonder.

I really have nothing to offer here as I had no issues with Wi-Fi. In having tested a lot of laptops, seems everyone has issues somewhere with Wi-Fi at some point, even on Macs.

its not my job to do such things

So pay someone to do it for you. Not a hard problem to solve. Anything else?

Let me get this straight. Dell makes the XPS 15 easy to work on to upgrade the hardware yourself, so now they should do the work for you when you want a different Wi-Fi card. Had they just sealed the machine with no screws then it would be fine as no one can now upgrade anything. I really think you're trolling here. If not, let me guess: you're going to assume that Macs, HP, Lenovo's have no Wi-Fi issues either. And I can't Bing examples showing that they too have their own problems making any complaints about the XPS 15 on the same level as every hardware manufacturer. Why? Because Wi-Fi and BT are inherently flakey to work with.

nope, I wont pay anybody to do such thing because: 1. I wont buy a faulty product or a product with known issues 2. Any disassembly of the device will result in loosing waranty

Any disassembly of the device will result in loosing warranty

That's false, and it's illegal

something almost all companies are guilty of, except, ironically, the one we are talking about here: Dell. Dell advertises that the XPS 15 can be user upgraded to 32GB on their site and provide user guides for disassembly. Have you never seen their repair guide (PDF)? It has whole sections on nothing but updating and replacing parts. Sure, if you break your XPS 15 while servicing it's not covered. Also, if I drop and break my XPS 15, slam it in a door or gouge the display with a knife it too is not covered. Please do not spread misinformation.

I wont buy a faulty product or a product with known issues

Congratulations on not owning any technology. I'm sure the farms are marvelous by candlelight.

Hi Daniel, I have the Dell 15 7559 laptop (the i7 version with 16gb ram). Ever since the AU update, my wireless mouse always seems to have have a problem with connecting. I do remember when applying the AU update I got a warning that windows had incompatibility issues with my Wi-Fi plus Bluetooth drivers and would replace them with its generic ones. Does this mean I need to upgrade the Wi-Fi card?

I'd say it's worth a shot.

Why all or most of the newer Dell laptops have Wifi or bluetooth adpater issue?? I've heard from many of my friends aslo. They are facing wifi issue in the Dell laptops.

DON'T DO IT!!! My friend and I both have the XPS 15 9550. We both ordered the tools and the Intel card. We both followed these instructions EXACTLY. We gently pulled the antenna cables off...and then...neither of us could reattach them. Not to Intel card, nor to the original Dell Wifi card. The snaps were not distorted or bent and everything was done very gently. We had to take our units to the Geek Squad at Best Buy to have them repaired, and their techs also found it very difficult to re-attach the antenna cables. They charged us each $50 to fix them. Waste of money and lost a whole day of work. The new Intel card doesn't drop the bluetooth mouse like the original Dell one did, so that's a plus.

Its not that hard. you just have to have it at the right angle. Greek Squad is a big scam, $50 for attaching the cables that's insane, you should have gone to local computer shop. They might do it for free within a minute

Thanks for your reply. I gently tried to reattach those wires at various angles. After a whole day trying, I went to Geek Squad out of desperation. Even they had a hard time doing it, and charged for the time involved. They first suggested going to a local computer shop down the street, but it was closed for the weekend and I was losing business every moment I didn't have access to my computer. I know I there could have been a better solution, but I had to get operational again and was willing to pay for it.

Just upgraded my XPS 15 (9550) to the Killer 1535. I realized Dell actually sells the laptop with the Killer WiFi now. They must have had enough people compain that they decided to go with the better card (as they should for such an expensive laptop). One thing to note for anyone upgrading: You have to re-install the Intel 530 graphics driver after installing the new wireless card and drivers for Miracast to work properly. I ran into this issue and it took me like an hour to figure it out. Other than the Miracast issue, good card so far... No other issues.

Any ideas on replacing the battery? I already bought the extra RAM WiFi and SSD time for the battery now

Hi Daniel,
Thank you for this great tutorial, I just bought the XPS 15 9550 from Microsoft I got the i7 16 GB 512 GB for $1,529.
They have it listed now for $1,699 but on top I got a 10% student discount.
Mine has the killer 1535 should I change to the card you mentioned?
The only issue I have where my MX anywhere 2 mouse disconnects from the Bluetooth, and then hard to reconnect since my laptop can not see it.
I used your amazon links to buy the WiFi card and buy the RAM too in your RAM tutorial.

Hi Dan, Thanks so much for this tutorial - but I did everything you said and now my wifi speeds have dropped from 200mb to 8mb. Any clues? I dont really want to put the dell card back in!

Were you able to fix it? My internet speed is so slow in the new XPS 15 (2017). I'm still trying to figure it out. Thanks
Windows Central Newsletter
Get the best of Windows Central in in your inbox, every day!
Thank you for signing up to Windows Central. You will receive a verification email shortly.
There was a problem. Please refresh the page and try again.