List of best-selling Xbox One games of all time (U.S.)
After five years on the market, check out the Xbox One's best-selling games ever.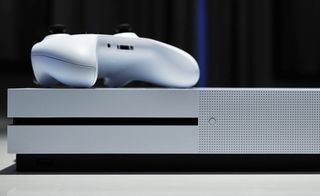 (Image credit: Windows Central)
Tracking video game releases can be challenging, with several platforms and many markets to account for worldwide. With the rise of digital downloads challenging physical retailers too, market research firms like The NPD Group are among the few with trusted data-tracking on industry sales.
The NPD Group's Mat Piscatella has shared data on lifetime Xbox One software sales, providing a reputable insight into the best-selling Xbox One games in the U.S. This accounts for both physical and digital sales from major firms, aside from Bethesda Softworks, who hasn't joined NPD's Digital Panel of publishers. Furthermore, this data fails to account for sales beyond September 2018, with major releases like Red Dead Redemption 2 excluded.
List of Xbox One best-selling games of all time
These are the Xbox One's best-selling games ever, as of late 2018.
While The NPD Group doesn't track beyond on U.S. sales, this still provides a rough indication of global trends. Topping the charts regularly five years since launch, Grand Theft Auto V's presence at the top spot comes as no surprise. Activision's Call of Duty first-person shooter franchise still dominates the industry too, securing four places among the best. And while exclusive in-house Microsoft titles are historically failing to gain traction, the Halo franchise still sells big on Xbox One.
Let us know your thoughts on these results in the comments below.
Get the Windows Central Newsletter
All the latest news, reviews, and guides for Windows and Xbox diehards.
Matt Brown was formerly a Windows Central's Senior Editor, Xbox & PC, at Future. Following over seven years of professional consumer technology and gaming coverage, he's focused on the world of Microsoft's gaming efforts. You can follow him on Twitter @mattjbrown.
Given that the general feeling is that the Xbox controller is the best for FPS games, it doesn't surprise me that nine of the ten are FPS titles (with GTA V also offering an FPS option).

general feeling...? I don't know about that... The list is almost the same as on PS4...

So many PS4 exclusives on the list...

Yes, because not selling more than 10m copies of a game means it's a failure. LOL For some fanboys exclusives are not important unless they are "console exclusives" of the company they worship... LOL

If PS4 exclusives mattered as much as you say they do, then why is there only one in the top 10 list? Why are multiplat games like GTA, COD, Fifa etc in the list like i've been telling you for so long? Lol keep worshiping Sony.

LOL so Gears 4, SoT and the entire Forza franchise doesn't matter because it's not on this list? You mentioned FIFA. It's not even in this list LOL
You are ridiculous, because you purposely pretend not to understand that people don't usually buy a new console to play a game they can already play with what they own.
Someone won't buy a XB1 for FIFA if he already owns a PC or PS4. Same can't be said about exclusives. Major exclusives are system sellers. Look that term up.
Look at the sales chart. There's always a peak when major exclusives comes around. I've shown you simple historical facts but you'll ignore them just because you must defend MS no matter what. Oh but the funny thing is that when MS announce a new console exclusive you cry with joy like a little kid...
Fanboys are such hypocrites... LOL

Lol no need to be upset and throw a tantrum like a little boy. If PS4 exclusives mattered as much as you say they do, then why is there only one in the top 10 list? This major peak you speak of, why hasn't it affected GTA and other older multiplat games that are in the list? Could it be because they actually have replay value? No that couldn't be a reason.........

ok so according to you SoT, the entire Gears and Forza franchise don't matter because it's not in the top 10 of x360 or XB1. LOL
It's not nice to crap on these games... LOL Anyway I'm done with you, you're only here to troll and promote a company you worship. There is no way I can have a serious gaming discussion with hypocrite fanboys whose priority is the company they worship.
Bye

Alright see you later troll! Have fun licking the ground Sony walks on and enjoy your one and done exclusives at full price lol. It's hard to have a serious conversation with a Sony troll on a Microsoft based website. Either way there is no need to get upset. I'll be playing RDR2 in 4K and waiting for the online component afterwards.

It's similar on the PS4 just swap out Halo for God of War.