Lite version of Avirall is free for the next week, basically one of the best stopwatch apps on Windows Phone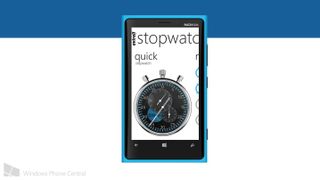 Nearly a month ago we showed you guys and gals an app called Avirall. While you try and pronounce the name, we'll go ahead and tell you it's probably one of the best stopwatch applications on Windows Phone. We really dig it and from looking at the comments of the last article, so do you. The developer has been listening to feedback since then and has some changes coming up. Let's see what's happening.
Some of the complaints users logged at first centered on the logo and names of functions within the application. That's been addressed in Avirall Lite. The logo has been cleaned up, features renamed within the application, and some of the more advanced functions have been removed from Avirall (this is Lite version after all). Avirall Lite basically contains a stopwatch and timer, but it's so much more than that.
Here's what you can do with Avirall Lite:
Activities
Profiles
Mail sharing
Image sharing
Pin TaskTimer to Start screen for instant access
Completely adheres to current device theme
Modern design and experience
Every timekeeper can have multiple activities
Define millisecond precision for individual timekeepers
Keep timekeepers running for as long as you need
Stop/Pause and let them be in your history for reference
Running timekeepers adjust with current time zone of the device
Extensive settings to control app's behavior
Image attachments in every timekeeper
The Lite version of the app removes the activity logger (ACTLOGER) and progress keeper (PROKEEPER) from the pro version. But other than that, works just as well. While you and I will call this all Avirall Lite, the app will appear in the Store and on your phone as "+Stopwatch+Timer". The developer claims this will make it easier for users to find the app.
The Avirall Lite (+Stopwatch+Timer) will be free for the next week, but after that will cost $0.99. You should grab it while it's free, but don't forget to check out the pro version in case you mind be interested in some of the more advanced features (includes trial). Both available for either Windows Phone 7.x or 8.
Grab +Stopwatch+Timer from the Store, use the QR code below, or swipe to the right in our app.
Cool that I got the full/original for free too.
Its a great app. I've never actually used it except playing around, but when I do actually need it... LOL.

Great app. I've installed it few weeks ago. Looks and works very well.

I do not like the design, not very wp'nish. Like Stopwtach better

I installed it the last time it got coverage here, but soon realised that it drained my battery extremely fast while running one of the timers. So I uninstalled again quickly. I suppose it ran in the background at all times. So beware of that exact function. Other than that, a decent app I suppose.

@filskov, this is Sanjay, developer of Avirall. Firstly, thanks for showing interest in Avirall and I apologize if Avirall caused any problem. Having said that, I am pretty sure Avirall is not the cause of battery drainage (but I am always open to re-investigate the issue), because one - Avirall does not run (or consume any resource) in the background, two - we tested Avirall on several different physical devices and never encountered the issue. I will request you to give it a try once more. To confirm that Avirall does not run in the background, start a Quick Stopwatch, navigate out of the app, totally switch off your phone, restart your phone, restart the app, find the stopwatch still running. Actually, in our last test we had 200 different stopwatches and timers running in the app switching off and switching on did not create any problem with running timers/stopwatches. Avirall is constantly tested on low end devices with 512 MB RAM, and on those devices also we did not find any problem. If you could please have only Avirall running and check the battery issue, i am sure we can know if the cause is Avirall or something else. Totally apreciate your involvement with Avirall.

Sanjay, I have not seen any drain issues. I have been using it since the last coverage you mentioned. I believe you make use of a cloud/sync server, which is why I don't think the app should create any battery issues, especially once you exit out of it.

Thanks, Sanjay, for bringing this app to Windows Phone! It's a great app, and I've experienced zero issues using it on my Lumia 900.

Who didn't pick up original version for free?

This is a well designed, visually appealing app. I haven't even touched the surface of all of the functionality contained in this app, but the Quck Stopwatch function is fantastic! Tasktimer is great as well.

I can certainly see why the original is priced at $3.49 - you get a lot for this price, and I have uninstalled the other stopwatch type apps that I previously used.

Thank you Sanjay. I use your app in the operating room to time heparination, for instance. I look forward to more practical and professional applications of your genuine efforts. Thank you.

Lol yeah it will make it "easier to find the app"... Because they started the name with a '+' sign which will make it show up at the very top of the app menu. Along with the fact that people will be searching "stopwatch" or "timer" instead of "Avirall" in the marketplace :P

This app sucks. Stop promoting it.

lol, now I'm going to do more posts on it

Stahppp it Dan, y u do dis!

Do it, because this app is very well made.

The lap functionality doesn't appear to work in the quick stopwatch.

I love this app but I refuse to install it? Why? Because the a isn't capitalized. Yes, I know I'm crazy.

Particularly crazy because the lite version of the app is called +Stopwatch+Timer... Unless the a in Stopwatch bothers you ;)

Like cook timer better. Simple yet effect

Can't fault all the features but I don't like the design at all, it's too confused, I can barely stand to look at it. It mashes up an iOS skeumorphic and a retro digital look in one and doesn't do well in either. No WP design in there at all. Think I'll will stick with 'Stopwatch + Timer Free'.
Windows Central Newsletter
Get the best of Windows Central in in your inbox, every day!
Thank you for signing up to Windows Central. You will receive a verification email shortly.
There was a problem. Please refresh the page and try again.