Lite version of Avirall is free for the next week, basically one of the best stopwatch apps on Windows Phone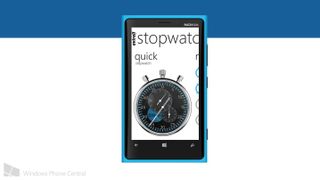 Nearly a month ago we showed you guys and gals an app called Avirall. While you try and pronounce the name, we'll go ahead and tell you it's probably one of the best stopwatch applications on Windows Phone. We really dig it and from looking at the comments of the last article, so do you. The developer has been listening to feedback since then and has some changes coming up. Let's see what's happening.
Some of the complaints users logged at first centered on the logo and names of functions within the application. That's been addressed in Avirall Lite. The logo has been cleaned up, features renamed within the application, and some of the more advanced functions have been removed from Avirall (this is Lite version after all). Avirall Lite basically contains a stopwatch and timer, but it's so much more than that.
Here's what you can do with Avirall Lite:
Activities
Profiles
Mail sharing
Image sharing
Pin TaskTimer to Start screen for instant access
Completely adheres to current device theme
Modern design and experience
Every timekeeper can have multiple activities
Define millisecond precision for individual timekeepers
Keep timekeepers running for as long as you need
Stop/Pause and let them be in your history for reference
Running timekeepers adjust with current time zone of the device
Extensive settings to control app's behavior
Image attachments in every timekeeper
The Lite version of the app removes the activity logger (ACTLOGER) and progress keeper (PROKEEPER) from the pro version. But other than that, works just as well. While you and I will call this all Avirall Lite, the app will appear in the Store and on your phone as "+Stopwatch+Timer". The developer claims this will make it easier for users to find the app.
The Avirall Lite (+Stopwatch+Timer) will be free for the next week, but after that will cost $0.99. You should grab it while it's free, but don't forget to check out the pro version in case you mind be interested in some of the more advanced features (includes trial). Both available for either Windows Phone 7.x or 8.
Grab +Stopwatch+Timer from the Store, use the QR code below, or swipe to the right in our app.
Get the Windows Central Newsletter
All the latest news, reviews, and guides for Windows and Xbox diehards.