Live the Xbox One experience with Microsoft's latest video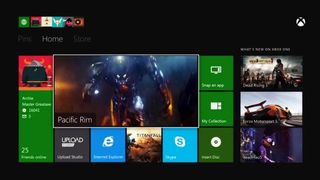 (Image credit: Windows Central)
We have seen bits and pieces of the dashboard for Microsoft's latest entertainment console, Xbox One, but we haven't seen a full immersive tour of it all. With Xbox One being released in less than a month, it definitely is a bit of an odd situation. Microsoft has heard our desires though, and released a full video showing a user interacting with the Xbox dashboard along with multitasking.
The user starts by giving the command "Xbox On" and the console comes to life. Archie, the user currently engaged with the console, is greeted by name and brought directly to the dashboard. While we can't say that the console actually starts up as fast, the process from Archie saying "Xbox On" to seeing his dashboard takes five seconds.
The dashboard itself is as we expected – reminiscent of Windows 8 and Microsoft's Modern Design Language. The video takes an interesting route of showing how closely the controller and Kinect's voice recognition can work together. Archie is using a controller to navigate the dashboard, but decides to speak "Xbox go to Pacific Rim" to jump into a blockbuster movie.
As all of the commands are being given to the Xbox One, a microphone is shown in the upper right hand corner and the users words are being shown as recognized text in real time.
The video player is shown briefly, also displaying a minimalistic design, and then we are switched away when Archie ask the Xbox One to go to his activity feed – one of Microsoft's ways to get users more social and involved with Xbox Live.
As Archie watches his movie, he receives a notification from Titanfall that his multiplayer game is ready to jump into – "Xbox join Titanfall" is all that needs to be said for the action to start. As he plays, he shouts "Xbox Record That" and the console begins to record his gameplay – a simple, "Share", command ends the recording and shares his video to Xbox Live and his setup social networks.
Once Archie is bored of "pwning noobs," simply saying "Xbox Watch TV", brings him to a live cable stream thanks to the Xbox One's HDMI pass through ability. If you are wondering, he is watching Sleepy Hollow and just like any 21st century over stimulated human, he snaps Internet Explorer to the side of the TV and uses Bing to search for more details about the show.
His show is then interrupted by a Skype call that he answers with his controller (we hope, because he didn't say anything to accept the call) and chats up a friend.
The video ends by Archie stating "Xbox Off", and putting the console into its low power state.
Xbox One is right around the corner and Microsoft still has to win over the hearts of many to bring the latest generation Xbox to the top of everyone's holiday wish lists.
What questions do you have about Xbox One that aren't answered yet?
Get the Windows Central Newsletter
All the latest news, reviews, and guides for Windows and Xbox diehards.