Logitech announces new beastly 4K webcam with Windows Hello, HDR support and more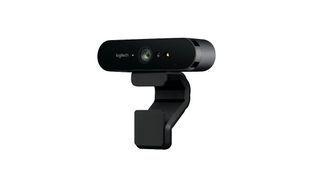 Logitech is one of few manufacturers on the market who are still pumping out great webcams in 2017. Known for the ever popular C920/C922 webcam, the company has today announced a new line of webcams called BRIO, which are beastly compared to the Logtech C9xx series.
Why is the BRIO beastly I hear you ask? Well, the new BRIO webcams from Logitech supports resolutions of up to 4K, which makes it one of the first consumer webcams on the market to support such high resolutions. Not only that, but it's also rocking IR sensors for Windows Hello facial recognition, another excellent benefit especially if you're a Windows 10 user.
Furthermore, the BRIO 4K webcam also features RightLight 3 and HDR capabilities, meaning you're going to be looking pretty sweet when Skyping your friends or on a business call. That's if you internet supports streaming 4K or your video service in question supports 4K video to begin with. As it currently stands, most video calling services allow 1080p at a maximum, which isn't bad, but it does mean you won't be getting your moneys worth as of right now.
And it is quite a bit of money for a webcam, the BRIO 4K is on sale now for $199, which isn't cheap. You can check out its full technical specifications below.
Specifications
4K Ultra HD video calling (up to 4096 x 2160 pixels @ 30 fps)
1080p Full HD video calling (up to 1920 x 1080 pixels @ 30 or 60 fps)
720p HD video calling (up to 1280 x 720 pixels @ 30, 60, or 90 fps)
Plug-and-play USB connectivity
90 degree field of view (FOV) with two additional settings (65 degrees and 78 degrees) available with optional software download
5x digital zoom in Full HD
Autofocus
RightLight™ 3 with HDR for clear image in various lighting environments ranging from low light to direct sunlight
Built-in dual omni-directional mics with noise cancellation
Infrared sensor technology
Background replacement
External privacy shutter
Multiple mounting options, including clip and tripod mount
Supports multiple connection types, including USB 2.0 Type A and USB 3.0 Type A and C connections - Custom carrying case
Background replacement, a Logitech labs project powered by Personify
This is no average webcam, as you can probably tell from its specifications. It's a webcam for the most hardcore of streamers, the most serious of video podcasters, or even fans of Windows Hello. This webcam appears to have it all, and we'll be reviewing one in full shortly. Stay tuned at Windows Central for more.
Get the Windows Central Newsletter
All the latest news, reviews, and guides for Windows and Xbox diehards.