Logitech announces new beastly 4K webcam with Windows Hello, HDR support and more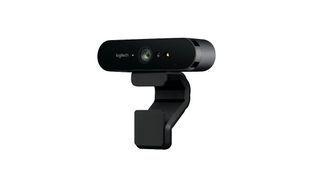 Logitech is one of few manufacturers on the market who are still pumping out great webcams in 2017. Known for the ever popular C920/C922 webcam, the company has today announced a new line of webcams called BRIO, which are beastly compared to the Logtech C9xx series.
Why is the BRIO beastly I hear you ask? Well, the new BRIO webcams from Logitech supports resolutions of up to 4K, which makes it one of the first consumer webcams on the market to support such high resolutions. Not only that, but it's also rocking IR sensors for Windows Hello facial recognition, another excellent benefit especially if you're a Windows 10 user.
Furthermore, the BRIO 4K webcam also features RightLight 3 and HDR capabilities, meaning you're going to be looking pretty sweet when Skyping your friends or on a business call. That's if you internet supports streaming 4K or your video service in question supports 4K video to begin with. As it currently stands, most video calling services allow 1080p at a maximum, which isn't bad, but it does mean you won't be getting your moneys worth as of right now.
And it is quite a bit of money for a webcam, the BRIO 4K is on sale now for $199 (opens in new tab), which isn't cheap. You can check out its full technical specifications below.
Specifications
4K Ultra HD video calling (up to 4096 x 2160 pixels @ 30 fps)
1080p Full HD video calling (up to 1920 x 1080 pixels @ 30 or 60 fps)
720p HD video calling (up to 1280 x 720 pixels @ 30, 60, or 90 fps)
Plug-and-play USB connectivity
90 degree field of view (FOV) with two additional settings (65 degrees and 78 degrees) available with optional software download
5x digital zoom in Full HD
Autofocus
RightLight™ 3 with HDR for clear image in various lighting environments ranging from low light to direct sunlight
Built-in dual omni-directional mics with noise cancellation
Infrared sensor technology
Background replacement
External privacy shutter
Multiple mounting options, including clip and tripod mount
Supports multiple connection types, including USB 2.0 Type A and USB 3.0 Type A and C connections - Custom carrying case
Background replacement, a Logitech labs project powered by Personify
This is no average webcam, as you can probably tell from its specifications. It's a webcam for the most hardcore of streamers, the most serious of video podcasters, or even fans of Windows Hello. This webcam appears to have it all, and we'll be reviewing one in full shortly. Stay tuned at Windows Central for more.
Zac Bowden is a Senior Editor at Windows Central. Bringing you exclusive coverage into the world of Windows 10 on PCs, tablets, phones, and more. Also an avid collector of rare Microsoft prototype devices! Keep in touch on Twitter: @zacbowden.
My LIfecam Studio WebCam has started to act up quite a bit as of late. Looks like this might be a futureproofed replacement. I'm to see if I can get on at a discount through my company

I ordered one. Because 4K.

Same,. which means...4K PODCASTS! Yaaay! or Ewwww depending on your views.

Daniel, please do a review of the cam and let us know how it works with Windows Hello. I've heard some devices work better than other for windows hello. $200 is a lot of money for a product and we'd love to see a review.

I want. Luckily I have my credit card otherwise I would have to wait till pay day 😀

Doesn't look like a toy, has removable type-C cable! Buy!!!

That's pricey, but it checks all the boxes for a next gen (current gen?) webcam. I really love that it features a removeable cable. I have no need for a dedicated webcam, but I'm still tempted to get this.

Im tempted just for the Windows Hello support...

Am I correct in thinking this is the ONLY Windows Hello camera out there (excluding the Intel RealSense that has been in beta testing mode forever).

Last time I checked (a few months ago) the Intel one was the only Hello compatible model, so I think you are correct.

Could be great that Logitech make one more affordable, having the same specs but can't make 4K videos/streaming.
I would love to change my C525 in order to have a new one, 1080p and Windows Hello compatible.

Microsoft need to start making its own Windows Hello cameras. What we're up to like 3 consumer buyable WH cameras?

Doesnt Kinect support Windows Hello? If so, they make the Kinect for Windows.

Already out of stock at Amazon US. Yikes

Does Windows Hello still require specific Intel Processors? As soon as Ryzen hits the shelves, I'm upgrading. I'd like to add this to my wishlist for Windows Hello support, but not if it requires Intel..

I'd like to know also. I have a third gen Intel processor. If it won't work for it then I'll wait a but longer to upgrade my whole rig.

Ditto. I also have a fast third gen i7 that I see no reason to upgrade other than Hello support.

Now we're talking ... 4K @ 60 Hz is not supported. The Logitech website mentions an external privacy shutter,
however I could not find a picture of the webcam showing the shutter. Logitech still does not support Linux - which is a real shame. -

So want this, but it's £199 in the UK!

I don't understand why anyone would get a 4K webcam, it just seems like a waste of bandwidth to me.

YouTubers will want this for sure. I'm sure there are many other fields too

Plenty of people have unlimited internet connections, for them there is no issue using 4K webcams. The problem is many people in so called 'developed' countries have far shitier and much more expensive connection then in many 'other' countries where you can get 100mbs (upload/download) unlimited internet for under 10 euros. And I bet this webcam won't come to those markets for a long time.

How does this compare to the SR300?

I think I will buy one for my cam girl to improve the quality of our chats. Yay!!!

Yep. Pubes always look good in 4k.

Really nice, I didn't see it coming. First commercial Windows Hello camera then?
Also, what's the technology like compared to RealSense?

Razer Stargazer or Creative BlasterX Senz3D were both released last year, although both use RealSense

I was almost going to order one, just because of Windows hello and 4K video - until I saw the @ 30 fps.
​Now, I know 4k @ 60 FPS is far away, but I also know disappointment in any 4K stutter will eventually cause me to spent even more money on a 4k@60fps solution later, so I would rather wait and save the money. I am used to waiting for the right hardware with Windows 10 Mobile anyway >_>
Windows Central Newsletter
Thank you for signing up to Windows Central. You will receive a verification email shortly.
There was a problem. Please refresh the page and try again.