Here's your first look at the future of SongArc and details on joining the beta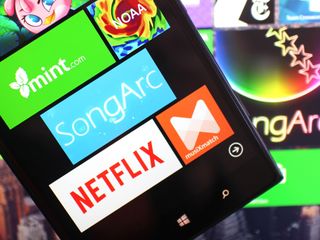 SongArc has become the most popular music game on Windows Phone. They now claim over 1.5 million downloads and are still pressing hard into the future. Here's a sneak peek at what's coming in the future for SongArc.
What's on the horizon for SongArc? A lot of exciting news. Here are the highlights of what's coming and changing with SongArc version 4.0:
The entire UI has been entirely changed. It now looks and feels a lot more modern, and is suitable for large screen devices, such as phablets and tablets.
Starting to play with a song is much easier.
We have a new tutorial that will do a much better job getting new players started with the game.
The gameplay has seen some cosmetic changes, but nothing major. If there are two notes arriving at the same time, they will have the same shape and color.
We have to drop WP7 support with this version, since even Microsoft doesn't support it anymore.
The Sheet Creator now has seek functionality: you can use the bottom progress indicator to jump around the song, we have a forward and rewind button to jump a few seconds – or you can just grab an empty space on the screen, and drag up and down for fine movement.
Some interesting stats from the SongArc team: The game has been downloaded over 1.5 million times and there have been more than 120,000 Sheets created by the SongArc community. Every five minutes a new Sheet is shared within SongArc.
Going forward, SongArc has also started to team up with musicians that will include their songs in the game. These songs will be free and can be played with professionally created Sheets, which are also free. The SongArc team hopes to expand the Featured Artists program beyond the electronic, ska, rockabilly, hard rock, metal and country musicians already lined up. This Featured Artists program within SongArc could be a great way for upcoming musicians to promote their work.
SongArc version 4.0 is currently in beta testing and you can join! Hit up the link below to fill our the form to join and try the next version of SongArc.
Don't forget to try out the current version of SongArc on Windows Phone and Windows 8.1.
It's great to see this support

Here is the announcement video: https://www.youtube.com/watch?v=fPlIQA4jASk&feature=youtu.be Come to our Facebook page and sign up for the Beta (iOS and Android, too!) www.facebook.com/songarcgame

Is this available on the other two OS or is it still a WP exclusive?

We are gathering beta testers for both iOS and Android. None of these are available yet.

Great game, with a few adjustments this game will rule any other music games for WP

We hope so too :). What kind of adjustments do you think is needed? You can also send your suggestions to contact (at) songarc.net.
Windows Central Newsletter
Thank you for signing up to Windows Central. You will receive a verification email shortly.
There was a problem. Please refresh the page and try again.