Looks like Nokia Lumia 1520 has arrived in Australia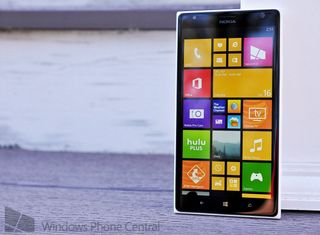 After Nokia Lumia 1520 became available in the US this Friday, it looks like it has also arrived in Australia. Michael from My Nokia Blog got his hands on a catalogue that showed up in the mail which features the Nokia Lumia 1520 and its price.
The Harvey Norman catalogue lists the 1520 for AUD$898 with a $20 apps voucher as bonus offer. Harvey Norman is one of the leading Australian retailers, although the blog post cites a source saying that the stocks are available at other stores as well. Nokia Australia, incidentally, hasn't announced the availability of Nokia Lumia 1520 officially.
The immediate availability is a good news for our friends down under. Are you planning to grab this 6" beast? Read Daniel's comprehensive Nokia Lumia 1520 review to find answers to all your questions.
Source: My Nokia Blog
Is it the real deal? It says 32GB but no wireless charging?

Looks like. No word from Nokia Australia though. Although, several times devices are available in stores before official announcement.

As far as I know there's only two version. Crappy AT&T version and Lumia 1520 with 32GB and wireless charging, plus Nokia blue box with in-ear headphones matching the color of the phone.

Yup. The global version is 32gb and wireless charging included

Why AT&T wants to murder Nokia's spirit? :-( Nokia should go worldwide with 1520 soon. So US people can buy the device online and "hadōken!" AT&T's ass! This is to teach them goons some lesson..

Rhx for some posts wp was pretty desserted tonight

Thanks Abhishekh. Lets hope India comes up quickly

UK only has it to be released for one damn phone company bloody Vodafone on contract need it on all networks plus the unlocked version already hope its available soon the waiting is annoying come on Nokia get the led out >

Is that true? Only Vodafone !?!
I've seen it listed SIM free on Carphone Warehouses website for £599.
Hopefully that's not locked to Vodafone network.
:(

Fuck me! That must of been recent well spotted my good man! They must of only just added it sweeeeet!!!! Thanks for the tip :)!

Ah one draw back they don't have it in red

I did fancy the red when it was announced, but having seen photos I'm not so sure. It might have been someone referring to it as nail varnish red that put me off though. :) Shame about the price. Much cheaper in the US, even if you take in to concideration the 16GB and wireless charging thing.

Mmmm ill have to look at both colours up close my impression was that the red was very much like my 920 indeed price tag is a tad steep buuut knowing amazon once they get hold of it might be a bit cheaper good ol amazon black still cool that would be my second choice not a fan of yellow or white to much

Big for nothing lol. Ok I got the phone 2 days a go. I'm taking it back sometime this week. Is just to big not comfortable to hold at all. The camera is so so. My 1020 way better I have to say this is fast. Snappy phone. That snapdragon 800 really do the trick. That's the only thing I would miss. Other that no worth it. Hopefully Nokia would release a new 1020 running the snapdragon 800. a successor I mean.

So you had absolutely no idea what device you ordered, how big 6 inches is and the difference between 1020 and 1520, camera technically. Please bring it back to the store and make someone else happy... try before you buy

Chill out. And I'm not hating or anything. I'm a big Nokia fan. Not trashing the phone neither try to take a selfie lol. Hard to hold it. PHONE IS HUGE I think they went to big here.

Is it really necessary to jump on someone like that for trying the phone? I wasn't going to buy it myself because checking it out at the store means trying to get a feel for it with the security cable attached. Then at the Xbox release event a manager was walking around with one and I was able to actually check it out and put it in my pocket. Loving it so far, but still miss aspects of my 920. (32gb, wireless charging) Still not sure if I'm keeping it, I have already had to uninstall apps due to size. Sometimes you need to live with a phone to make a proper decision.

I think I will order the Vodafone version and get it unlocked because At&t is rubbish for destroying this phone. They never do this to Samsung and Apple

White... 32GB. I'm in. No wireless charging... I'm out.

Who said there's no wireless charging? Or are we just assuming things now?

Honestly, I seen it in comments and assumed thats what the post said. Why else would they say it? Maybe I misunderstood lol. My opinion still stands regardless.

People in the comments are daft, just because the Australian ad didn't specify that the phone had wireless charging built in they jumped to that conclusion. Nothing said the screen was in full HD either so I guess judging by their logic we can assume that this model is 480 x 800 in resolution.

Its all good. Not too worried about it.

Does anyone know about the Micro Sd cards that are listed as smartphone cards? they list them as being able to handle apps and games!!! But everywhere I read about the 1520 that the Micro Sd can only load Photos, Music and Video! This an OS problem or a Nokia problem because if its an WP8 problem maybe that will get fixed in the future...p

So if its strictly an OS problem in your opinion will the next OS update fix that issue?

As it stands currently Windows Phone cannot install applications and games to micro SD cards. This is only a problem for devices that have low internal storage but not so much of a problem for devices with big internal storage.
I honestly do not know if MS considers this to be an issue and whether they are planning to allow the installation of applications and games to SD cards.

Check this thread: http://forums.wpcentral.com/htc-8xt-tiara/235044-sd-card-expansion-worthless.html

I have all my apps loaded on my 16 GB version and can't even find anything to spend my Nokia $20 app credit on. I've got plenty of storage space left and 32 GB dedicated to photos, videos and music.

Good to know thanks!, I have a 930 with 32gb and I have almost 8gb left, but I have a lot of music so I guess I am good to go... THANKS

I went from 920 to 1520 and I had to uninstall apps to make room. I don't consider myself heavy on the apps either. OS and "other" takes up just over 3gb as is. Therefore big games like batman and Spiderman had to go, never really played them before, but was hoping to be able to check them out on the bigger screen.

Nokia 920, Sorry fat finger's! I guess I need the 1520 sooner than later...

That price is ridiculous! We get ripped badly here in Aussie :(

$894 AU = £504 GBP In the UK it looks like it's going to be £599 No offence, but I'm glad it's one thing you wouldn't be able to pick up cheaper here. :P How much would it cost you for a flight to the US?
Met a family from Australia holidaying in Colorado last year, the exchange rate was so good in their favour they were splashing cash on everything.


Yeah agree! Hopefully it'll come to a carrier. I'm on a sim only plan at the moment.

As expected.. News about the 1520 being released every else but Canada. This is really sad news for us being the last ones to get any word on it's release. Even more sad when we're neighbors with the US who get their announcements first. I just don't get it..

You're not last yet. Nothing official has been mentioned for the UK (and I think the rest of Europe). Just be happy in the knowledge it will most likely cost you far less than if you lived in the UK. :)

Well it' not fully released in the USA, since Nokia completely sucks and did not supply AT&T with enough phones (ONCE AGAIN) and here I am sitting here without my new phone. STEPHEN ELOP IS A HORRIBLE CEO. That idiot thinks limiting the supply of a phone is how to generate demand and excitement. That might hold true if you were Samsung, but considering WP is in a distant 3rd place, all it does is push potential customers to their competitors. If I don't have the phone this week im canceling and going with Samsung and Android.

Just a small correction: the catalogue says 894 not 898 ;)

Yes real, we get 32gb and qi as it should, only reason the US has 16gb and no qi is because att removed it

Bring it to freakin' Romania!

Same thing for me.. Sa speram ca îl vor aduce într-un timp măcar la fel ca cel în care au adus Lumia 1020

I'm due for an upgrade with Vodafone now so my plan is to upgrade to an iPhone 5s (Vodafone never seems to stock the best Lumia stuff) and then sell it to buy this sucker. Cannot freaking wait. I'm glad it came to Australia so quick, it took a while for phones like the 925 and 1020 to make it over here.

Have a moan at Vodafone Australia and ask them why they're not as good as Vodafone UK. ;-)
(That said their 3G in the UK is the worst of all the networks in the county I live in.) Vodafone appear to be the first to stock the 1520 in the UK.
They also had the exclusivity on the 32GB Lumia 925 in the UK.

Wow that's expensive! If there's no wireless charging I'm out too. I've invested in too many charging plates etc...

I'm going to have to wait until Telstra have it in stock.

As an aside, Mobicity.com.au have it listed at $949 preorder, we can safely assume that is going to drop very shortly if HN is selling it for less than that (mobicity always undercut the brick and mortars).

As long as it gets here before Christmas. w00t!!

Not so soon. I'm looking for way to off-load my recently bought Lumia 925 to my spouse, until then i stick with it or till the arrival of Nokia next model Gold finger and Money penny next year.

Still waiting for my pre-order in the US. Nokia keeps shipping elsewhere while AT&T blames lack of shipments from manufacturer (they don't mention Nokia by name) for my loss in California.

Looks like it will also land on malaysia shore soon.. :)

Lumia 1520 = AWESOME!!!!!!!!!!!!!!!!!!!!!!!!!!!
Windows Central Newsletter
Thank you for signing up to Windows Central. You will receive a verification email shortly.
There was a problem. Please refresh the page and try again.