The Surge trailer is all about looting and limb-cutting
When it comes to hardcore action role-playing games (RPGs), defense is everything...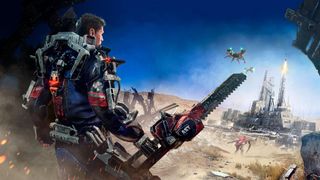 And when it comes to The Surge, the game has a few surprises up its sleeve.
Deck13 just released a new trailer demonstrating the game's looting mechanics — and it is brutal. Here's a look.
Targeting specific body parts allows you to tear the enemy to shreds, literally hack them limb from limb in order to get at their tasty, tasty loot. A series of vertical or horizontal slices will liberate the enemy of their cumbersome limbs and reward you with a piece of gear or a weapon, a schematic, or building materials for that piece. The risk-versus-reward factor is stupendously high, and tougher enemies will have the better gear for you to steal or salvage from their cold corpses.
This also allows players to decide whether to make a long fight shorter by targeting unarmored parts of the enemy, or go for gold and attempt to get the specific parts you need. Longer battles risk taking more damage, and you could end up dying in the process.
About The Surge
The Surge is developed by Deck13, the maker of Lords of the Fallen. The Surge is set in a dystopic future where the planet is dying; the increased and widespread use of technology, disregard for the environment, and humanitarian issues have led the world to a dark and desperate end. Humans are enhancing their bodies with upgrades to make themselves more efficient and productive after machines have replaced the workforce. Tight, brutal combat allows the player to loot, craft and upgrade their modular, cybernetic upgrades and character progression.
The game costs $59.99 and is expected to be available in May, and preorders are available now.
Get the Windows Central Newsletter
All the latest news, reviews, and guides for Windows and Xbox diehards.
Lauren Relph is a games writer, focusing on Xbox. She doesn't like piña coladas but loves getting caught in the rain. Follow her on Twitter!