LucidSound LS35X is the first gaming headset to connect with Xbox Wireless tech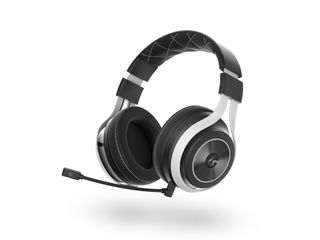 LucidSound has announced its latest gaming headset, the LS35X, is the first to connect to Xbox consoles and compatible Windows 10 PCs using Xbox Wireless tech.
The new headset uses the same tech as the official Xbox Wireless controller, meaning you can pair it to your Xbox One console in the same way. That should ensure compatibility with all past and future Xbox One consoles as well. As for PCs, the headset will work with the Xbox Wireless Adapter, which has been available for some time for connecting Xbox One controllers to PCs. Further, since Microsoft started licensing Xbox Wireless tech to PC makers in 2016, the LucidSound LS35X will be able to easily connect to PCs with the tech built in as well, without the need for extra wires or adapters.
Aside from its Xbox Wireless tech, the LS35X headset packs 50mm neodymium drivers and 3D surround sound via Windows Sonic for Headphones on Xbox One and Windows 10.There's also head tracking tech on board, along with compatibility with Dolby Atmos for Headphones surround sound.
There's no word on price or availability yet, but we should learn more on that front soon.
Windows Central Newsletter
Get the best of Windows Central in in your inbox, every day!
Dan Thorp-Lancaster is the former Editor-in-Chief of Windows Central. He began working with Windows Central, Android Central, and iMore as a news writer in 2014 and is obsessed with tech of all sorts. You can follow Dan on Twitter @DthorpL and Instagram @heyitsdtl.
How does head tracking work with headphones? They don't know where the screen is, so how could they do anything beneficial?

I'm guessing there are just a set of accelerators to track head movement. Wouldn't need to know where you are looking, just have a way to recenter your view when needed.

That would be very inconvenient.

Likely for 3D virtual positional audio

Perhaps it works with Kinect, providing different positional sound based on where Kinect determines you are located/oriented.

Interest piqued. Curious on price & audio quality.

Looks really solid, kinda scared of the price lol!

Quite surprised MS didn't make one first. Still, although they make good 2-in-1's, their headsets are mediocre, so maybe it's a good thing.

Is this going to have the same crappy range as the original XB1 and its controllers?

You had to go almost three years back in time to complain about something?

Hmm... I use SkullCandy earbuds and have been doing for some time in preference to my Astro A50's. I like the idea that this uses the same connectivity as the controllers. Definitely be keeping an eye on this'n. Looking forward to hearing about pricepoint and availability (in Australia), in the near future.

This company has been around for a while now. They already have 3 headphones out: The LS20, LS30 & LS40. The LS40 is the top model and usually retails for $200, but is currently on sale at amazon for $158.55. The thing about these current models is that you are able to use them on any gaming consoles as well as a PC. You can also use them as normal headphones with your windows phone or any phone/mp3 player. Here is what the company say's about the LS40: The only headset you need! Wireless DTS Headphone:X Surround Sound for Xbox One, PS4, PS3 and PC. Wired stereo for mobile gaming and music. Xbox One is wireless to the console and requires cable (included) to controller for chat. The LS40's already do 7.1 3D surround sound, however it doesn't do Dolby Atmos. I'm not sure if this head tracking tech is new to the LS35, I don't remember reading that about the LS40. I did know about the collaboration between Lucid and Xbox before buying the LS40's, because Lucid said a true Xbox headset was in development and coming soon, but all there other headphones work with everything where these seem to only work with Xbox/PC/Phone. I do like the LS40's very much they work great, but I don't know if the LS35's are going to be better then them outside of the fact that they will connect to the Xbox like a controller and a few new audio tech features. The LS30's go for $150, but are currently on sale at amazon for $128.50. I can only suspect that the LS35's will be around $150-$200 and it's possible they will come out with an updated LS40 under the name LS45 which will cost $200 - $250. These LS35's aren't that much different in appearance and how they function from the previous generation besides the new features I mentioned before. I'm happy to see Lucid make good on their promise of a native Xbox headset. Not sure I will get the LS35's, I may wait and see if they update the LS40 to an LS45 model. Or maybe the LS35's are the nice hybrid b/w the LS30 and LS40 and the only reason why they aren't the top ends is because it doesn't do every gaming console, but again that's just a guess. I don't know why they are b/w the LS30 and LS40 in model number, the LS35 seems to have better tech then both the LS30 and LS40.
Windows Central Newsletter
Thank you for signing up to Windows Central. You will receive a verification email shortly.
There was a problem. Please refresh the page and try again.