Lumia 1520 in Finland nabs Lumia Denim update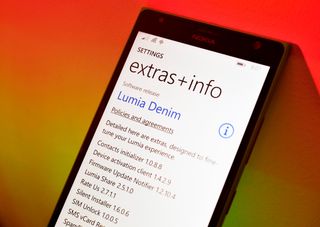 If you are Finland and own a Lumia 1520, you are one of the lucky few to get officially the new Lumia Denim OS and firmware update.
Heading to the Microsoft support page, Finland's Lumia 1520 'country variant' is marked as eligible for the Lumia Denim update (firmware 02540.00019.14484.37004). In checking other regions and countries, Finland appears to be the only one with a Lumia 1520 and Denim.
Besides the Lumia 1520, the Lumia 930 also began receiving Lumia Denim earlier today in Europe. The Lumia 520, Lumia 530, Lumia 625, Lumia 1320 and other Lumias also became eligible across Europe, the Middle East and Asia territories.
Follow all our Lumia Denim news on our main landing page: www.windowscentral.com/lumia-denim
Source: Microsoft (opens in new tab)
Windows Central Newsletter
Get the best of Windows Central in in your inbox, every day!
Daniel Rubino is the Editor-in-chief of Windows Central, head reviewer, podcast co-host, and analyst. He has been covering Microsoft since 2007 when this site was called WMExperts (and later Windows Phone Central). His interests include Windows, laptops, next-gen computing, and for some reason, watches. Before all this tech stuff, he worked on a Ph.D. in linguistics, watched people sleep (for medical purposes!), and ran the projectors at movie theaters because it was fun.
Lumia 1520 supports 4k video recording after denim??

I would have preferred if it supported slow motion instead

It probably will, eventually.

Exactly what I want it to support!!!

on my 1520 maximum is 2160p/30fps

2160p is actually 4K... you see 1080p or fullHD as it's also known, is 1920x1080p, 1920 is close to 2000, so this is 2K, 4K is double or 2X(1920x1080p)= 3840x2160p, 3840 is close to 4000, hence the 4K, when you choose the resolution, it shows you only the height, that is 2160p, the width however is 3840 (4K) AKA UltraHD!!

Yeah, the one from the internet that came in Spanish...

There was an Italian one too.

Any news about L720 India?

keep refreshing the app/website

+720 India .. Waiting ...

Is the L1520 being discontinued in Europe??

Cause it says so in amazon uk's page, and I'm looking to buy one!!

oh didnt see this one. it may be, but it doesn't really matter, if your gonna buy one, just make sure you get an unlocked country variant so that you'll continue to recieve updates.

I believe so. It's not possible to buy it in Norway anymore.

It came off the Vodafone page so yes buying maybe discontinued

Damn, Microsoft is really efficient! Loving it!

Verizon is not, hating it.

Someone PLEASE tell me I can somehow flash the Finnish software to my att 1520. I did the French rom on my old 920 and loved the lack of att logo and faster updates back when amber came out. Would love that again on my magical 1520.

+1520 wanna know that too. got an AT&T and want Denim.

You can't unless you want a brick. Be patient and wait like the rest of us.

*a chance of getting a brick
if I were you guys, I'd wait...

Flashed my phone 3 times yesterday. Nothing goes wrong unless you disconnect the usb during flashing, then you have an uinrecoverable brick

Well... Atleast, it's a brick with a 20MP Camera :)

This shows the level of intelligence in this thread, I changed my flash to uk variant from Chinese and got cyan 2 weeks before Chinese!

Nice, and I'm still waiting on Cyan from Verizon!

I got the Lumia Icon (929)

Same here. Everyone at work hates Verizon now.

Anyone from Finland please do hey Cortana demo video and post it into Youtube....... Eager to seee how it looks

On Lumia 930 -> https://www.youtube.com/watch?v=71Nz2lCrPtI

Thanks buddy , that's seems to by faster than Ok google noe

Finland doesn't have Cortana.

Here's hoping we see it in Singapore before the New Year. :)

Nothing yet for brazilian version.

Hey Cortana has to be enabled in settings and you have to do voice training only works with the owners voice it seems when someone else try it wont work

Keep them updates rolling! Glad to see Denim rolling out even though it's not in America yet. My AT&T 1520 will be waiting.

Daniel has the 1520 right??

Pretty sure they all have every phone...ever.

I mean he use 1520 as his personal smartphone :)

Most likely seeing as it is currently the best WP ;)

Yes he indicated the 1520 is his main phone. No wonder he published this article himself rather than delgating it to other editors who have been posting about Denim recently.

Yes he is, at least last time he mentioned he was alternating between the 1520 and the 830 if I'm not mistaken.

Why anyone from Windows Central is mentioning witch phones in Latin America are getting Denim??? You have made list for all other regions

Probably because they dint have info yet.

It was updated: http://www.microsoft.com/en/mobile/support/software-update/wp8-software-update/availability-in-latin-america/

I got an ATT 1520 unlocked running Cyan of Telus in Canada.... Weird eh? Hope Demin is a-boat (lol) to happen....

When'll get denim update for 925 in India??

No more coming soon bro you will get it in no time !!

This rollout is expanding really fast!

Hope it keeps increasing in momentum.

I realise that the 1520 is over a year old, but please Microsoft, finally offer the 1520 unlocked for Canada. We need something! Windows 10 devices are still a year away. That means a 3 year wait for Canadian 920 owners since we had a top tier flagship.

Woo-hoo! Downloading the Denim update as I typed this! I got the FINLAND firmware 059V281 RM-937 VAR EURO FI CV WHITE flashed on my 059V254 RM-937 VAR APAC HK CV WHITE 1520. I kept on checking via phone update. Nothing! I HAD to DISABLE 'PREVIEW FOR DEVELOPER' for the update to commence. #GiddyWithExciteMent

Loving 'Hey Cortana' which you have to activate by 'training' her in the Phone Settings.

does the update come with lumia camera 5.0?

Yes and it's zippy-fast ;)

Uncheck the box in the app Preview for Developers

What's hk? Hong Kong? So, all you need is for the RM-xxx to match?

Please post a link to the Finland dirmware

Latin America page updated! http://www.microsoft.com/en/mobile/support/software-update/wp8-software-update/availability-in-latin-america/

Keep it rolling... longing for my Lumia 1520 Hong Kong to get the update with the new camera!

When is availble for Vietnam???? My 1520 :(

What about Mexico? I have a1520 in México City. Provider isTelcel. Will I get the update?

I didn't know Telcel was selling the 1520.

Everytime an article pops up talking about a firmware update all I see is something like this: OMG NOT AVAILABLE, WHEN IS IT AVAILABLE IN X COUNTRY?, I GOT THE UPDATE, VERIZON SUCKS (they do I know), YOU'RE STUPID I'VE HAD THE UPDATE FOR A FEW WEEKS. I'm sure I'm missing a few but people, spamming these exact messages isn't helping anyone. It's annoying trying to scroll down and find legimite comments or questions. So please think about it next time.

Verizon doesn't even have Cyan though. That's a very frustrating thing.

We're getting closer...? US Lumia 1520 Owner

USA, USA, USA........1520! Guess I'm getting a little excited & anxious.

It frustrating not getting this update on my 1520 att, but its also nice to see a change in pace with the update starting on the other end of the spectrum. I think this shows Microsoft still going against the standard of mobile OS yet again.

Will preview users get Denim ?

I want it to come already
Come on USA

Can we update using 3g for 520?

No update yet on my phone. 1520 from AT&T.

When is 1520 in India. Going to get...pls release it ..at least they could have released in finland an India like that...pls release next for india

I changed region to Finland but the update is not coming up(Lumia 1520)

You can't cheat that way. The availability depends on the phone's ROM.

Mine got it!!!! USA 1520.3

Yay! I got denim on my US 1520 ATT but no Denim features...

Same here... I just noticed I have it but none of the features... Wtf

Then it isn't Denim and it's a report bug.

This morning i had extras+info update. I looked it said cyan. Tonight all of a sudden changed to Denim.

What the heck! It just automatically converted back to Cyan!

It's magic!! The magic of the Christmas.

If you checked pfd app then you see cyan firmware in extras+info. But if you uncheck it then it will be denim. Just make sure that you restart your phone after unchecking pfd app.

My 1020 RM-875 received extra+info update which says my phone has Denim software!!! While 520 RM-915 and 1520 RM-937 also received extra-info update but no Denim!

That is a bug... It has already been discussed on windows central. You do not have denim

Uncheck the box in DP and see extras+info

Anyone got denim in Lumia 620 in India

Morroco is also there in list of 1520

come on.. Lumia 1520.1.. Cant wait for denim.

What about south Africa any news

Mine shows I have denim also after I turned off preview for developers for a 1520.1 on ATT in U.S with the Hong-Kong APAC ROM

Here in India Lumia 520 only getting OS update there is no firmware update. Its same as cyan firmware no.

Denim is downloaded to my L1520 (Finland)

Will it be available for preview for developers + it supports 630?

Friends please vote for my feature suggestion in user voice forum for adding USB OTG support in windowsphone. https://windowsphone.uservoice.com/forums/101801-feature-suggestions/sug...

Downloading the update :) Lumia 1520 and in Finland. But you have to turn of the preview for developers to be able to find the update. At least mine didn't until I turned it off.

I disabled DP too to find the update

They became eligible means we are gonna get the update for sure or just OS and no firmware ?
Can anyone please tell

When will Lumia denim come to 920 in India.

I think Microsoft is going to give Denim to everybody as a Christmas present.....so I think we will all have it before Dec. 24th......congrats Finland

Are there an other minor feature changes that we do not know of? to those already rocking #denim?

One thing I notice, in the 'Phone Update', there is now an option to "Tell me when updates are available for my phone" which wasn't there pre-Denim with latest updates for Preview for Developers. Also there's 'Hey Cortana' option added in the settings where you have to enable that option by recording ('training') your voice 5 times saying, "Hey Cortana" inside a silent room.

Ms can still add this feature ie hey Cortana, to other Lumias apart from the 930 and 1520, they should just make it work when the phone is charging, then saying hey Cortana will activate Cortana

Yaaay I got denim on my 520 here in Botswana. I love ❤ it

Hopefully you haven't got the bug but the real features.

Still no love for Lumia 630?

Which CV is RM 937-im-mea3 any help

Hmmm... I only have these in my list: •059V7H7 RM-937 VAR IMEA 4E CV YELLOW •059V3R6 RM-937 VAR IMEA 4D CV BLACK •059V4K7 RM-937 VAR IMEA 4D CV RED •059V3R7 RM-937 VAR IMEA 4D CV WHITE •059V6D3 RM-937 VAR IMEA 4Y CV BLACK •059V6D5 RM-937 VAR IMEA 4Y CV WHITE •059V6D4 RM-937 VAR IMEA 4Y CV YELLOW •059V4W1 RM-937 VAR IMEA 6K CV BLACK •059V4T9 RM-937 VAR IMEA 7P CV BLACK •059V4V1 RM-937 VAR IMEA 7P CV RED •059V4V0 RM-937 VAR IMEA 7P CV WHITE •059V478 RM-937 VAR IMEA 9L CV BLACK •059V477 RM-937 VAR IMEA 9L CV RED •059V476 RM-937 VAR IMEA 9L CV WHITE •059V479 RM-937 VAR IMEA 9L CV YELLOW •059V5J3 RM-937 VAR IMEA 9U CV BLACK •059V3M9 RM-937 VAR IMEA IN CV BLACK •059V3N2 RM-937 VAR IMEA IN CV RED •059V3N0 RM-937 VAR IMEA IN CV WHITE •059V3N1 RM-937 VAR IMEA IN CV YELLOW •059V4B1 RM-937 VAR IMEA IR CV BLACK •059V4B2 RM-937 VAR IMEA IR CV WHITE •059V257 RM-937 VAR IMEA ZA MTN BLACK

St
Ill nothing for UK cv?

Why the fuch does every country get the lates firmware update way before the u.s. ?????

There...there...its all about market share and selling volume...us doesn't seem to like WP very much, but the rest of the world does and finally Microsoft acknowledged that.

@Zonkeyd, Why the US get the Microsoft band and not any other countries in the entire world? lol ;-)

Hopefully the 1520.3 variant will follow soon

Why nothing for the Lumia 930, it's meant to be there flagship. UK.

My swedish 930 got update this morning. Unchecked PfD.

Hopefully you haven't got the bug but the real features.

Same here, but last night! No problems so far

Come on Lumia Denim my Lumia 1020 waiting for you! UK

I'm very confused here in Spain. My 1520 extras+info says Lumia Denim (all the additional info shows the right versions), but the device shows firmware 0261.00066.14253.40002 into about section (I bought it in the UK). No Lumia Camera app, no 4k capture, etc.

Just updated. Thanks to me that I changed my firmware to Finland's while Cyan Updating. Had a guess that Finland firmware get updates sooner than others.

They do since Nokia was founded in Finland therefore the customers there get that loyalty.

In India using 525 hasn't yet got any updates

Just updated my Finnish 1020 to Denim.

Why 920 always LAST ! F*CK !

Updated to Denim on 1520. So far I think it fixed battery drain on Cyan. Also I have found that camera starts up fast if it is in background, which sucks. Also rich capture takes too long for saving photo. Also there is no sound filter under video settings and make sound in front clearer

Hi givi !
Can you try 4k recording for one minute and then play it and see if there any problems?

Just restart your phone after update. Don't try to use full stream just after updating. It will fix the problem or otherwise make a hard reset. Haven't got any issues as I restarted my phone after update before testing it.

I got denim on my 1520 .
Tried the new camera app I had problems with the 4k recording ( while I play the video ) . But the still images are little better than before .also rich capture is awesome.
I ccan't find the night mod or sequence mod on the new camera!!
......
Hey Cortana also available but it didn't work under lock screen.

Hey Cortana works 70% of the time for me when the phone is locked. Only wish I could use it with my headphones though, since I have headphones on most of the day.

I'm getting "The update was downloaded but couldn't be opened 80188306" on my Finnish CV of L1520 when I try to Update the OS to Denim :(

I've never even signed for PfD ;) It seems something else must have caused the error. Anyway, the problem's gone - my OS successfully auto-updated itself today to Denim :)

Downloading on t mobile 920, was flashed with French rom ages ago so ots unbranded and unlocked UPDATE: installed and working fine

Just need this in the UK now =D

Can any one share the Finland denim download link to flash it on my 1520.

I am on AT&T in the US and woke up to my 1520 with Denim. AT&T is on the ball this time!

It may be the detection issue. Ugh. I spoke too soon. Says Denim, and numbers match the image above, but has the build date from July. Ugh.

Error 80188306 installing denim on 1520 finland cv ''I downloaded the update but I can not open it'' Why ???

Hello.I've got the same problem .Any help , please.

Is benig on pfd is a problem we are not getting updates

Yes you need to disable PfD to get the update.

Lumia 930 Just updated to Denim in Finaland - FI country variant. The phone is plazing hott.....

Can I get update if I Change the region

Any one can share Finland product code to download denim for.ware

In Uganda my L1520 is craving. Damn i can't to get this cam faster. And take real hot shots

Try Navifirm+ and donate $5 to get any firmwire you need for now or next.

I own a lumia 730,
Is this lumia already denim updated?

My uk 1520 updated to denim yesterday , but no camera update? Its still called Nokia camera ? Any suggestions anyone?

Yep... My extra+info also shows Denim on my UK L1520... But not update has been done, ie none of the Denim features => bug already well documented... I am now waiting for the real Denim update in the UK...

Oh snap! Why not in Estonia? We are right next to Finland!

My 930 got denim yesterday :) I'm in Sweden with Telia as carrier :)

Is 730 already denim updated?anyone?

Now its' happen, my Lumia 1520 is Denim (in Finland)

Omg omg omg omg omg omg omgong omg omg djhdjsgsksnslajzlagdneowusoejsnje

Got Denim for my L820 on Finland.

What about Lumia 635? Anyone?

Flashed my Lumia 1520 with Finnish rom about six months ago and got cyan and now I am downloading denim. Though I am in Ghana.

Albert links to how you flashed your Lumia 1520 to the finish rom pls

I Change The region to finland but doesnt work.....

Please let us know when the denim update out for Lumia 630 in india

In Ghana with my unlocked Lumia 1520 from at&t....... Waiting patiently

After update i have a big problem... Internet sharing is off but actually my phone shares internet over wifi.. my pcs find my phone as a hotspot and are able to use internet when internet sharing on the phone is shown as "switched off"

Anyone knows the Marroco Lumia 1520 code?? I'm so going to flash it on my L1520... I got a L1520 O2 UK variant, but I flashed it with the regular UK CV product code, cause I couldn't stand the branding and O2 symbols, also I live in Mozambique and have always had unlocked, unbranded phones so... If anyone could provide me with the Marrocco product code, it would save me a lot of googling!!! :) thanks

Just Flashed Lumia Denim on my L1520, the Taiwan CV. Now hard resetting before setting up and restoring my backups!!
Windows Central Newsletter
Thank you for signing up to Windows Central. You will receive a verification email shortly.
There was a problem. Please refresh the page and try again.