Here's the current list of smartphones with the Lumia Denim update (so far) in Europe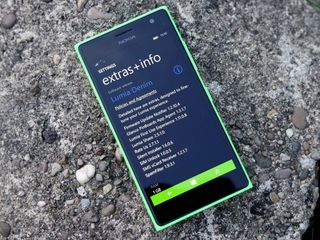 The European support page for Microsoft Mobile has now been updated, showing which countries, Lumia smartphones and carriers are receiving the just launched Lumia Denim update.
As you might imagine, Denim is only available for a select number of Lumia devices at the moment, so this list will change over time. However, if you live in Europe, we have saved you a little bit of trouble and listed just those countries that Microsoft currenty has as subjects of the Denim over-the-air update
Bulgaria
Lumia 520 - Country variant
Croatia
Lumia 520 - Country variant
Cyprus
Lumia 520 - Country variant
Czech Republic
Lumia 520 - Country variant
Lumia 625 - Vodafone
Denmark
Lumia 520 - Telenor
Lumia 530 - Country variant
Lumia 625 - Country variant
Lumia 1320 - Country variant
Estonia
Lumia 530 - Country variant
Finland
Lumia 530 - Country variant
Lumia 625 - Country variant
Lumia 1320 - Country variant
France
Lumia 830 - Country variant
Germany
Lumia 620 - Country variant
Lumia 625 - Country variant, O2, T-Mobie, Vodafone
Lumia 830 - T-Mobile
Lumia 925 - O2
Lumia 1020 - O2
Lumia 1320 - Country variant, O2, T-Mobile
Greece
Lumia 520 - Country variant
Lumia 625 - Vodafone
Lumia 1320 - T-Mobile
Hungary
Lumia 520 - Country variant
Lumia 625 - Vodafone
Lumia 735 - T--Mobile, Vodafone
Lumia 830 - Vodafone
Iceland
Lumia 530 - Country variant
Lumia 625 - Country variant
Lumia 1320 - Country variant
Ireland
Lumia 625 - Country variant, Vodafone
Lumia 1320 - Country variant
Italy
Lumia 625 - Country variant, Vodafone
Lumia 735 - Country variant
Lumia 1320 - Country variant
Latvia
Lumia 530 - Country variant
Lithuania
Lumia 530 - Country variant
Macedonia
Lumia 520 - Country variant
Montenegro
Lumia 520 - Country variant
Norway
Lumia 530 - Country variant
Lumia 625 - Country variant
Lumia 1320 - Country variant
Poland
Lumia 625 - T-Mobile
Lumia 1320 - T-Mobile
Portugal
Lumia 625 - Country variant
Lumia 735 - Vodafone
Romania
Lumia 520 - Country variant
Lumia 625 - Country variant
Lumia 830 - Vodafone
Serbia
Lumia 520 - Country variant
Slovakia
Lumia 520 - Country variant
Slovenia
Lumia 520 - Country variant
Spain
Sweden
Lumia 530 - Country variant
Lumia 625 - Country variant
Lumia 1320 - Country variant
Switzerland
United Kingdom
Lumia 625 - Country variant, Vodafone
Lumia 1320 - Country variant
Source: Microsoft (opens in new tab)
Windows Central Newsletter
Get the best of Windows Central in in your inbox, every day!
Here is the list of phones on Verizon with the Cyan and Denim update. 000000000000000000

Lumia 000
Lumia 0000
Lumia -_-
Lumia @_@
Lumia >_<
Lumia :-(
Lumia :-((

Here's the list of windows phones Verizon carries anymore:
-928
-ATIV
-nothing else
(because 930 wasn't good enough)

The 930 and icon are the same.

They discontinued the Icon.

Yes, Verizon did. But it is still the same phone as the 930.

It is the same phone in regards to their specs, but you can't use a 930 on Verizon or an Icon on AT&T.

except for Qi and 16gig more storage

MS by all accounts is showing their not commented to Windows Phone. Since purchasing the Icon back in February I've been waiting for another high end Windows Phone to hit the market. Where the hell is it? Do we wait till this time next year for Windows 10?

Think of it like this: the longer you have to wait, the better the phone will be. For starters, Microsoft just acquired the Lumia brand. Phones take a while to develop. From the conceptual brainstorming stage, where features are proposed, and eventually approved or rejected for the final project goal. There are engineering deadlines, product design deadlines, software and UI development--many benchmarks that must be met. While the final product comes together, it must go through branding and marketing for release to the general public. Microsoft has yet to complete this full cycle on their coming phones. I suspect the entry-level phones that have come out so far were partial holdovers from the Nokia days. However, phones like the Nokia X/X2 Android and McLaren were killed on the cutting room floor, forcing MS Lumia to start the cycle over from scratch. I believe (and hope) that in addition to coordinating future flagship phones with the release of Windows 10, their motivation is to release fewer, stronger, more well-rounded flagship phones. Past efforts have yielded great phones that seem to be missing a couple of important parts, like 16GB flagships without expandable memory, great cameras without a Xenon flash, wireless charging options--but not without a bulky external cover, or a 5" 1080p screen without glance. Rather than attempt to hit the target with quantity, MS is (hopefully) aiming for quality. How about a phone that features most of Lumia/WP strengths and few of its weaknesses? A phone like that could hold the line, lasting for more than six months at the top. After all, Apple has no problem doing this repeatedly with the iPhone. If MS can get far enough out ahead of them, that should leave the competition playing catch up for a while. For that, I can be patient.

If they can't even manage to get Verizon to freaking release the Cyan update, why should I believe they're going to release some great phones later?

it's not microsoft's fault, that's completely on verizon

Golden words... wait for Denim, for now...

U r forgetting that the whole development team moved from Nokia to MS, so they are not starting from square one with new phones. But they may have postponed them.

Finally someone with a proper working adult brain

Why do you need multiple flagships per year?

You purchased your phone in February and you are waiting for another high end Windows phone to hit the market? What the hell do you call the HTC One?
Also you realize it hasn't yet been a full year and you "have been waiting"? I got my 8X when it came out.. How's that for waiting?
Try harder...
I mean this with good will. Just saying you haven't waited much at all and a high end device other than your Icon has been released. M8.

The ​Lumia ICON was released in February and the HTC One M8 was released in March on android, it being released much later on Windows Phone does not make it a newer phone. They are both coming to the end of their 12 month life and there should be another flagship by February 2015 but there isn't going to be and we're going to have to wait more than 6 extra months until we get a new flagship which is too long to wait! It leaves a lot of people with nothing to upgrade to because they won't want to upgrade to a phone that's almost a year old

Exactly my situation, my contract is due in June and if MS doesn't release anything in the meantime there's no way I'm getting a 30months contract with a phone already that old (1year and a half by that time)

Hmm... It launched in August. That's 5 months. But in any case, geez, my phone is much older and runs great. Part of the joy of Windows phones is that they don't require bleeding edge hardware to run fantastically.
I hear you, I would like an Icon but Verizon has shown that they aren't committed to it so I'm hesitant until I can get firmware from Microsoft(never?) so I get the point but wow, to be up on arms about a phone that came out this year not already having a successor in December of the same year is a bit much. It is not currently February. This person stated that they "have been waiting", not "will be waiting". HAVE BEEN. When did that start? In March?
BTW, the "M9" is supposedly just around the corner so does that not count? Of course it's rumored but still.

Not sure I understand. Are you operating under the assumption that in a year everyone's contact is up and they'll need to upgrade, or that everyone has to but a new $600 phone every 12 months?

I don't understand it either, but that's what I gather from the post.

Why do You need antoher flagship when You are holding te newest? (not the bestest..thats the 1520 ;p)

"Since purchasing the Icon back in February I've been waiting for another high end Windows Phone to hit the market." - you'r not the brightest bulb out there, are you? Well, let me help you. You see, no company releases flagships every 6 or 8 months, they are usually released on a yearly schedule. Not even Apple with their cashload can afford to do that. And for good reason, one year is a perfect interval to release flagships and a 3-year life cycle is standard for any phone, be it SGS3 or iPhone 5c or whatever. This makes business sence. One day you'll grow up and maybe understand all that. Now, go to the kitchen and grab that glass of milk and the chocolate cookie I left for you on the table!

When are they gonna keep to their words and roll out the update for India

Update is out in India for 520 bro

Bro i even got that too but i can't see it

now is not for update in india we have more time to get in india

Oh no, not that question again!

Bingo..They want us to get pissed and switch to a Android or iPhone, not going to happen. I will leave Verizon first.

Not any better on Android! Same shit different OS

Verizon started their Android Lollipop rollout nearly a month ago. They were one of the first carriers to support the new version of Android. Posted via the Windows Central App for Android

Yeah, leave that Pussy Verizon.

Can the icon be flashed with 930 flash?

In theory I'd say yes...but I'm not giving you 100% certainty.

Some people on here have tried. It didn't work.

Denim update live in India for the L520!!!

Be happy Lumia 820 o2 German still has Lumia black :))

Only the French ones so far. Mine has Denim on it in NZ.

I'm in India, can I change my phone region and get the update? How did you get yours? I have developer preview version of the os

Region has nothing to do with it. It's determined by which variant firmware is currently installed, nothing else.

Okay, it makes sense to me now. @PepperdotNet thanks!

Denim is already live in in India for the L520.

you can flash it with those nokia tools (search for another country code), then change phone regio to your own

Thanks @Melle ! I will keep that in mind. Never struck me that I could do that

Check the following link, Everyday it expands the list. L820 wil come sooner than many others including L920. http://www.microsoft.com/en/mobile/support/software-update/wp8-software-update/

Thanks a ton, pinning the page to my start screen :)

1520 here and eagerly waiting! :D
"Hey Cortana"!

I have an Italian variant of the 1520, guess ill be getting it shortly! :) mine is now unlocked and being used on Rogers in canada

I guess that the info was that the 1520 and 930 will be the first to get the denim update, and then all the low end devices will be after that...

AFAIK 1520 will not get passive voice activation ("Hey Cortana"). Only x3x models with Snapdragon 8xx support that

You're the first to say that. If I remember correctly, not only the old WPC said it, but also Joe Belfiore (if I spelled that right) tweeted that 930 and 1520 would get the "Hey Cortana".

Had to check, my bad. 1520 has S800 so it's eligible. For some reason I thought it has the same processor as 1020

Same processor as the 1020? Haha, had a good chuckle at that.

1020 had the same S4 processor as the 920, if I'm not mistaken.

Lumia 1220 in Germany?! 1320, I'd suppose. And no 1520 yet at all. Dang. Can't wait for my 1520 to get this. Hopefully it won't be held up for people with Preview for Developers like with Cyan.

This would be the annoying thing if preview stops this!

1220 in Germany......... ? Correct it as 1320 plz

And why Lumia 830 & 735? Out of the box they've denim rite?

They would have Data Conn toggles in action centre

They say so but the Lumia camera is slow. And no passive voice activation of cortana

There will be a special update to Lumia Camera for Denim, current Lumia Camera is not the promised. "Passive voice activation" will be available only on phones with Snapdragon 800.

Lumia 730 & 830 will have Battery percentage tile of Battery Sense also Mobile Data toggle.

Rather insignificant update. Non-pure view phones dont get the camera benefits and Just for dual core devices so no "hey Cortana"... Can't wait to passive voice activation of Cortana in quad core phones.

How could they? You're comparing a Mercedes-Benz to a Smart Car. An update to the car software comes out, do you really expect the Smart Car to get the same benefits as the Mercedes-Benz? Say the update improves the max speed of the car. So just because it is the "same" doesn't mean that if my Mercedes sees a 30 mph increase in top speed that my Smart Car should see the same. Can you say the update is insignificant, partially, but I would call it a great success that they can release any sort of substantial improvements through software. You can only optimise so much. Eventually you reach a point where you can't get any more out of the hardware. I think they are at the point with the low/mid range devices.

Ahh, another fresh post to corrupt. Jk

China got it before Europe.

We are got cyan before Europe get Denim ;)

my wife's 1320 received a critical update at midnight here in Saudi Arabia and confirmed it's the Lumia Denim update...

1020 Germany gives hope for US AT&T

What's Demin update? (in the title)

Nice. After the numerous app updates I've seen in the last 2-3 days on my 1020 I'm hoping this will be a sign that the denim update is coming to Canada SOON. And if MS is feeling generous, they can bump Cortana up to 'beta' status too :-)

Glad to see Europe go first. They do have largest market share so they should get it first.

When they return stolen Crimea...

Tell me how it was stolen?

Wow! It seems you'll have to have the low end devices to get that first hand treatment...

So those with high end devices should get the best treatment? Laughable.

Not that im complaining, because if anything, i feel the update should just go out to all devices at once but realistically speaking, priority usually goes to those who paid the premium price...it's with most business models; for example, even when you are traveling, notice how Business Class gets to board the plane first.

Realistically speaking, you pay more for a better device, NOT a better treatment. For example, if you go to a restaurant, the waiters should not treat those who order not so expensive beverages any less than those who order the expensive ones.

Realistically speaking is, that's how it should be and I actually agree with you but i also understand the ideology behind it in terms of business. This strategy applies in the many fields of the industry. Buy a Mercedes flagship and receive their 24/7 client care service buy a b-klasse and u pay extra for this service. Go to a club and get a vip arrangement /table and tell me if you are treated the same as a person who goes in normally. Go to a normal restaurant, order champagne and a cigar and all of a sudden you have the manager serving you. Pay to park you valet, your car will be parked close by and brought back to you. You pay for a Disney vip package you get to skip the cue, dont pay extra for the package and you stand in line like everyone else. Go to any shop spend more, you're more likely to get a discount of gift....its business model which basically says: Spend more or use one of our more expensive products and we will give you the service you paid for. Open whatsapp on a high-end lumia, expiry is lifetime; open it on a low range and there is an expiration date. Not saying it should be that way, but it's simply a business model to keep customers who are willing to pay more for their products, encouraged to spend more again the next time they want to make a purchase...and it is understandable whether we like it or not.

Well, people who pay more for the high end devices are paying for their better devices, not a better treatment. Or do you agree if those who buy low end devices should be treated less than those who don't?

If this goes anything like Cyan, I'm betting my 820 will get the update sometime in February or March... -.-

Same worry here! But France is getting the 820 update.. Seems switching the phone region doesn't work. On Developer Preview

Switching the phones regions via settings would never work lol. It is tied to the region where you bought your phone from, look in the about screen and check under "Carrier".

still no 630 got update =,,=

i am waiting for 630 too.................................

Low end devices getting the update first = good. There is more of them out there. What's up with everybody complaining about not getting an update? Eager little children.

Waiting for 525 in Malaysia

520. Downloading Denim in India.

Cool, man!) congrats)
Waiting for my 525..

Thanks! Some one in the previous Denim article said that he got the update on his 525 in India, so you should check again (if you're Indian)

No, my phone is registered in Malaysia.
So, I can get it only when it will roll it out there.

Who are you calling liar? :p

Rzkwp8 cuz I am not getting Lumia denim on my 520 INDIA

Man, many of people are reporting that they're getting it.
So, just shut the hell up

Some Lumia 520 devices got update dude okay. No tension u wil get soon.

I am. You keep checking your phone, I'm sure you'll get it. Mine is also 520, Indian.

Yay count me in... I am getting it as well.

Congratulations bro. Now you must say sorry to me for calling me a liar

Kind of weird to read the Denim update is now hitting o2 branded devices since they officially announced users should not expect any update before the beginning of 2015.

German Lumia 1020 - O2 Produt code and RM ? please !

That's the 1 st 1020 for denim

Yes, I want the product code and the RM

I have a 1020 Vodafone and was surprised to have denim as I did a complete reset using the recovery tool about two weeks ago...

Probably a bug. I did a hard reset a few weeks ago and extras+info started showing Denim.

Waiting for 925 GV myself.

When pacific Asian countries? Eagerly waiting for my L520.

Omg really? I don't have any update yet

Will 630 get hey Cortana?

I think Hey Cortana will get devices with at least 1GB of RAM and above or 2GB, I am not sure. Someone correct me.

No, actually I think it was the ones with Snapdragon 800 only.

Ah yes, Snapdragon 800 and above, correct! Thanks :)

So weird that 1520 is not in the list

Hope it's on the way to India...

Still no equalizer on 520 after denim , 535 has it ! What hardware restriction is different in 520 ?

I just got a 1520 unlock with T-Mobile. Will i get the update when it's available in the us or do i have to put in an att sim to get the update. On a side note love this phone can't wait to see what win10 will bring.

You won't have to put the SIM in, but you will have to wait until the original operator releases their relevant update to get it.

This is Microsoft's treat to Europe since they no longer have to do the browser choice thing when you buy a new PC.

Actually, we do lol that annoying window is one of the first things that shows up when you install Windows.

Not anymore. That requirement just ended today.

US AT&T Lumia 1520...Date?

The thing I don't get is that these other hardware vendors barely care about WP and it's painfully evident. So why are they so uncooperative when it comes to firmware? If you don't want to support WP then let MS push some hardware centric updates. I love my HTC One but have no idea how many features I'll actually see in the future because at this point the ball is in HTC's court. If you don't really want to play anyway, pass it back to MS.

L520 in India showing some update. Now requires a Wi-Fi.

Problem with Indian people..... Some 1520 users will not have Wi-Fi at him . Just we keep searching for free Wi-Fi in malls

Lol. Its not a problem with indian. Why didn't Microsoft allow to update with cellular connection. I got plenty of data.

You are an idiot .... probably you do this kind of stuff looking for free Wifi in the malls and call every other Indian the same . Get lost from here

Getting Lumia denim update in India.Head to ur phone settings and check it out

No 1520 or 930 anywhere? I hope there's not some delay with those features that still come for the only two S800 powered devices..

Mmm.. Wondered the danger thing as I browsed the list. But then again these are the phones with most to gain from Denim.

Latest word from Verizon, Denim gor 928 & 8.1 for Ativ this Thursday

I'm here for the comments and to count how many will ask, "When will they roll out the update in India?"

So the high end 1520 isn't first on the list? Pants.

Good things come to those who wait, so the saying goes... However that is not entirely true for those on pfd and older devices as nothing new will be coming to them lol.

Can i get denim if i change my region to Germany??

No, you need to flash the rom to get that countries update. The other alternative is wait in the queue.

Bro, I flashed my L530 with Denmark ROM(Product code=059W4J5). But I am not getting denim update. Please help. Should I change microsoft account settings also to Denmark? Or plz suggest me other ROM. I didn't find product for Finland.

Hi am from India in my Lumia 730 am already having Lumia denim update, then again you are showing in the list that the same update to be released for Lumia 730/735... Why ?

This update will bring Data connection toggle button on action center and few more minor changes.

thank you for skipping the rest of Asia.

Okay I'm on preview for developer am i getting denim without visiting Nokia recovery....

Pfd issue is not present for denim!!

supposedly the firmware version of non pfd phones hasn't changed after the update. This leaves both pfd and non-pfd on the same page. If you are a pfd user like me u gotta disable pfd to be able to see Denim in extras+info. That's the only difference.

Bro can u explain me further..after disabling pfd it shows as denim in my 525.. But am really confused.. Whether I got actual firmware or not?

And they said 1st Lumias to get Denim will be Higher End.

When it will released in India ?

In Lithuania Lumia 735 and Lumia 830 has Lumia Denim too

Y 520 always wen both has same hardware?

Bcoz 520 is widely using in windows phone market and 620 has certain good features like camera improvement and glance screen improvement. They wont

I can count u several reasons y 620 is far more superior device than 520. If its just due to market share, then m afraid its unfortunate. RIP Sensitivity.

No need to afraid. They wont. V wil get al updates. Did u saw windows 10 update features in youtube?

W10 will b available for all W8 devices, if u dnt know. & yes u will get updates but with no EQUALIZER :P :D

Come on ATT, I want it on my 1020.

The denim update comes with new Lumia camera 5.0 features???? Indian, 1020

What's new on the 830? I understood it already shipped with the update installed.

I thought 930 would be the first one to get the Denim... No sign of that anywhere. Anyway, I am still optimistic, I will get it this week. However, I am unable to figure out my country variant. I ordered 930 from expansys USA, I think it is HK version, says 000-HK, any idea anyone?

Which "Carrier" is listed in Settings > About?

Settings > extras+ info:
Manufacturer: RM-1045_1044
Mobile operator: 000-HK

HK country variant would be my guess.

To confirm, yes it is the HK variant.

Is Denim good for 920. Will it add any features that uses existing hardware? Hope tile grouping and alarm snooze will be there, what else is the gain?

Lumia 1520 India. Waiting.........................................!!!!!!

Indian Satya Nadella.... Push Lumia Denim to all Lumias over here

For developer preview users too??

Yeah bitlocker issues were solved at the time of cyan

Well done Microsoft, no high-ends :/.

I have Lumia 625 Finland CV but I don't see that my phone needs update...what should I do?

Poor my Lumia 630 not on the list.

Downloading from Bangladesh using a trick, it's around 245mb update :D

Can u plz share the "trick"?

The simple trick just waiting.. Other trick maybe someone after me know it

1520 seems to be sent to the backyard for the update as compared to what was promised/confirmed by MS

What about 920 AT&T :/ im in Bulgaria but my phone is branded ¬_¬ ¬_¬ ¬_¬

Wow, no wonder the 520 is the most popular WP..... I didn't know it was sold in so many countries! :o (you know, aside from it being so cheap)

Why 920 is being left behind, that's our high end phone 2 years ago

Lumia 920 always be left behind :(

No more highend wp for me, just buy the cheapest !

When does it come out for US??

Is someone from O2 germany installed denim on Lumia 1020, is there any significant changes in camera load up and image caputure time???

Anybody who can send me the official link of NOKIA SOFTWARE UPDATER (NSU)

Maybe after my comment know it

Hey Cortana ! Where is my Denim Update - +1520

Damn they said 1520 ,930,Icon will get it first and now see what's happening

I have l520 in Greece, but I can't update my device. Should I delete preview for developers and downgrade to get Lumia denim?

Verizon's official answer: https://www.youtube.com/watch?v=Tsl7-TJtPew

Why i changed region to uk but cannot get the denim. Im using preview dev.

Nice to see a 925 on the list! Hopefully T-Mobile US will roll it out asap.

How about lumia 630?? Omfg

Jajajajja you guys are hilarious the First messages

What is up with the Lumia 1520 not getting this update? Think they having issues with it.

Will I have to remove dev preview to get Denim?

Same concern here... What for a flagship support is that? Hope its because they are making things better for us :-P

Lumia 820 French Country Variant DOES NOT have a Denim OTA yet!

Absolutely no 920s on the list. Won't be expecting this to hit the US for me tomorrow

We don't have "T-mobile" in greece.

The irony behind this is most of the services that integrate best are mainly in the US, such as/was Cortana, Xbox Music, etc. The rest of the world gets updates to enables these, while the US gets the services enabled, but cannot use them (at least on Verizon). It's like why bother offering all these services first in the US when outside the US gets the updates first to enable these services? MS needs to focus their efforts in the same direction...

No updates for the 930.... I don't know why I bought this "flagship".. Flagship my balls!!!!!

No Denim for 1320 OTA Finland. Unrolled from P4D and checked. EDIT: Denim is running ..14219.341 preview build.

That is the o/s build, check the firmware version and build date. To keep it simple for none techies they are going by the o/s build and that is under presumption they are not on the pfd program.

My phone is on the list (heavy breathing)

cummon guys .. Promised for 1520 930 n icon first n they r nowhere to be find ... Sucks

Still nothing in Belgium? Should be the L930 first, what's going on? :D
Does the Denim update has differences with the preview for developper (i am in) except the "hey cortana" feature? Thks !

Belgium is always late :p greetings from the Netherlands;))

When will we get this update in India?

Got it 2 days ago. Lumia 920 France country variant

Oh hell, why getting all happy about denim when I am on Verizon until May 2015.

If you get PfD, download everything that is available to you it will show Lumia Cyan in 'extras & info'. Then simply uncheck PfD hit done twice and have another look at 'Extras & info' and you'll be on Denim.

That's really not helping the op is it?
Trying to fob a person off with a known bug :P.

Helps with bragging rights down the pub, and it might just help the "when is Denim coming to India 520/521/525?" post.

wasn't the 930 supposed to be one of the first lumia devices to get denim update?

Patiently waiting the update for my Lumia 1020 in UK

Yes! My lumia is downloading Denim right now! Ro.

I don't understand how lumia 830 features on that list. It already ships with the update doesn't it?

Anyone here on 920 get denim ?

When is it coming to the 520 in the uk

Will developer preview users get this shit.i remember when cyan came out. There was some issue about having
ro revert back to an earlier os.I don't know for sure because my 630 came with cyan.Anyone know ?

I have a Lumia 920 Denmark CV, but I live in the Netherlands with a Dutch SIM. This means I get the Danish Lumia 920 CV update to Denim, right?

Will Denim also roll out to people on the DP

Yes, providing there are no issues like Cyan.

The Netherlands is not in the list. I went feom a 925 to a 830 about 3 weeks agiband it came with denim straight away. So i am a happy camper

Why is the Netherlands still not on the list? We have a large economy and technical background. This still boggles me. We have a similar status to Germany and Sweden???!!!! This is the third time in a row where I have noticed this issue with country ranking. It makes me curious how the country distribution of updates works. Would be interesting if windows central could make a back story on this. This issue is becoming and interesting phenomenon.

Relax man. It's incoming now on my L920. There is probably at most a few hours delay. It was night here in the Netherlands anyway.

It's not incoming after all. It was checking for updates too long. Normally that only happens when an update is incoming.

Liking what I am seeing, Country Variant galore! As it should be :).

I'm pretty sure my 735 from O2 in UK claims it's denim. Or was this topic of something else?

Wasn't 930 supposed to be one of the first to receive this update? Guess the rumor was false. Will probably be just around the corner.

L625 UK CV, nothing here even tho its on the list

Waiting for EE with mine...

Any one from Greece with the update in Greece?

Still waiting in Portugal with my 520 =(

Will denim roll out for those running the dev preview? Cyan was a disaster for us, I don't fancy using the "Nokia" recovery suite again to reset my 1020, then bump it back up again!

Check de support pagina: er is nog niet één Nederlands toestel aan de beurt. Zal nog wel paar weekjes overheen gaan met die mini markt bij ons ;)

Received update on my 1320 UK (unlocked)..Fantastic...... Although the message says that the update takes 5 to 10 minutes, be prepared to be without a phone for one hour, while the update completes.

Thx for the list. 930 and other upscale handsets were supposed to get it first, but they are coming.

WTF there is no T-Mobile in Greece

Looking at this list 2 things jump out to me. T-Mobile carries the 830 in Germany, and the 1320 in multiple countries. WTF T-Mo we want those here in the US.

So this is a bit weird. I have a Swedish Lumia 625, with OS version 14219.341 and firmware version 3058.50000.1424.0005. According to the Microsoft support page this is supposed to be Denim, but my phone still says Cyan. I wonder if it's PfD-related... Posted via the Windows Central App for Android

Noticed the same thing on a german CV Lumia 625 of mine... It does say Denim in the Extra's+Info screenie though. However, the 3058.50000.1424.0005 firmware seems to be unchanged. What's up with that Microsoft?

My Extras+Info screen still says Cyan. Interesting... Posted via the Windows Central App for Android

My 920 says lumia denim in extras info but I haven't updated anything

This is a surprise. I thought they will first update Lumia 930, icon and 1520. This is crazy and confusing to alot of people. I was happy to hear denim is out cause I have 1520 but now am really confused

Microsoft should COMPLETELY disavow the practice of allowing carriers to have exclusive models. Only when the same phones are available through ALL carriers will the competition force carriers to issue updates more regularly. Apple doesn't have exclusive deals that I'm aware of, and their phones are available through all the major carriers. That allows them to have more focused marketing and a consistent image to project. Microsoft would be wise to follow a similar tactic. Like many here, I would prefer a single knock-it-out-of-the-ballpark high-end handset with industry-leading features and quality to headline any future Microsoft phone efforts. Such a device, available through all major carriers, could do wonders to make Windows Phone more widely known and available to consumers.

The 830 comes with Denim preinstalled in every variant so why is it in the list?

Lumia 635 or 535 its better for updates?

1320 Italy, still no update available. I'm checking all day but nothing so far :(

Updating now extras+info for my Lumia 630 Philippines.

My Swedish 635 now says Denim in extras+info!

Ah why not Netherlands :(

Did they mean the 830 for France?

Well You can ad Lumia 930 to the list for Denmark :) Just installed the update and everything went fine so far. let you know if i run into problems.

The 930 was released in Ireland in just June, and the older models are getting denim first?

This is supposedly available in Norway, but I have no new updates for my 930 :( Lumia 930 Country variant Denim 8.10.14219.341 02540.00019.14484.37003

Update: I disabled PfD and the update was available when i checked for updates again.

Just got Denim to my 1020 in Finland =)

Got the Update here in Denmark - Lumia 930! The new Camera App is really nice and pictures are much clearer. The lowlight pictures are especially very good now.

Hello people ... !!! Please tell us who know the product code Nokia Lumia 530 for the country Finland or Denmark. Thank you so much.

Just got a "Lumia Update" in Italy (Lumia 520 - Vodafone), but when I check the "About" and "Extras + Info" sections seems like nothing changed.

I'm confused. I was on the Developer Preview, that I have not removed. It's says I'm on Lumia Denim in the UK (Lumia 1520), but I don't have all the changes in the list above.

I'm confused. I was on the Developer Preview, that I have not removed. It's says I'm on Lumia Denim in the UK (Lumia 1520), but I don't have all the changes in the list above.

I'm not receiving the update and I'm on the Lumia 625 Country Varient in the UK... I'm on the customer preview though, but it still says "Lumia Cyan", should I be concerned?

FYI: I just got he DENIM Update on my non-branded Lumia 930 here in Sweden.

Accidently turned on my previous phone today and after a little while the 620 (located in Norway) was downloading the update and is now equipped with Denim already.

We have no T-Mobile in Greece. What are you drinking?

I bought my Nokia Lumia 1520 in April 2014 in the UK, particularly for the Cortana. 9 months later and I'm STILL waiting for it.

On list for my Lumia 520, Croatia country say: Denim avaible. Why cant get this update ??????????

when is the update hitting Lumia 1520 in India ?????
Windows Central Newsletter
Thank you for signing up to Windows Central. You will receive a verification email shortly.
There was a problem. Please refresh the page and try again.