Lumia Denim update goes live in Europe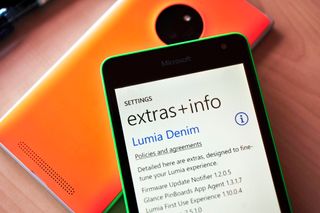 It looks like the Lumia Denim software upload is now starting to hit a few of Microsoft's smartphones in Europe. The Lumia-maker has published a support page for the Denim update where owners of Lumia devices in Europe can check their country and phone model to see if the update is available. For now, it looks like variants of the Lumia 625, Lumia 520, Lumia 530 and Lumia 1320 are starting to see Denim in select countries.
Microsoft asks that you be patient if you haven't yet seen the update for your device:
All in all we count 69 Lumias getting the update, which is not too bad.
Thanks to Dimitar K. and Silviu B., for the tips!
Source: Microsoft (opens in new tab)
Chuong's passion for gadgets began with the humble PDA. Since then, he has covered a range of consumer and enterprise devices, raning from smartphones to tablets, laptops to desktops and everything in between for publications like Pocketnow, Digital Trends, Wareable, Paste Magazine, and TechRadar in the past before joining the awesome team at Windows Central. Based in the San Francisco Bay Area, when not working, he likes exploring the diverse and eclectic food scene, taking short jaunts to wine country, soaking in the sun along California's coast, consuming news, and finding new hiking trails. For news tips or to connect, please message him on the Signal messaging app at +1 (424) 666-7438.
Guess they're doing the low-ends first as a test?

You guessed correctly... These devices seem to fit a pattern...

None of them are on Verizon because Verizon sucks. That's the only pattern I see.

none of them are on verizon because the update is gor europe only right now. you shouldn't worry about seeing patterns and worry about your ability to read an article before commenting.

I'm not stupid, Verizon is stupid. They haven't even released cyan\8.1.

Let him/her vent. I'd be pissed too if I were on Verizon. Tmobile is not any better though...

They are also the best selling models so..

Yeah, what the heck. I read the story hoping my Italian 1520.3 made the cut.

Lumia 520 update live in INDIA

Good news. Any surprise in features?

As usual, USA is probably the last one. I'm sure a ton of people will agree with the following quote, and please excuse my language. "Fucking cell carriers"

I still don't understand why people buy locked cell phones. Then complain because they're beholden to the network that locked it.

"I still don't understand why people buy locked cell phones. Then complain because they're beholden to the network that locked it."
Some carriers do not offer a way to use unlocked phones. Also there are such things as carrier exclusive devices... Go buy a Nokia 928 unlocked - it doesnt' matter as Verizon has to supply the firmware as it is an exclusive device.

Because the options are limited. The only unlocked devices I can use with Tmobile LTE here in the US is a 730 and a 1520. I decided on a unlocked 930 which is a great phone; but I'm stuck on slow 3G speeds.

Try "fuck Verizon" because Ma Bell, I mean AT&T already has Denim on 830... At least they have Cyan and some Denim...unlike my carrier.... Who refuses to update to Cyan

830 has denim by default didn't it?

What do you mean? USA is getting all the love.. Cortana,Xbox music/video and many more.. The only thing that you have to be careful of is the carrier you'll choose, that's all.

No, it's darude-sandstorm

Damn. It's missing Harder, Better, and Stronger.

Niiiice. Viva Los Daft Punk!!

Amazing track.. #nostalgia

Please someone tell me is PfD blocking me from updating to Denim on my 1320 HK?

no... PFD was a one time glitch for cyan.. Damn it microsoft, now noobs have a new thing to ask on every article

I'm not noob! I just dont have other explanation... My 1320 is sim free, 000 Hong Kong and every time i check for an update it says up to date... What else could it be if not PfD?

Uncheck the pfd box, and see what you get.

You have to wait and be patient if its not yet live for your CV, why not flash any of the ROMS from Chinese and EURO variants for which updates were already live

Its 000-HK apac something...

"Why not flash any of the ROMS from Chinese and EURO variants"
Man this isn't Droid that one can flash different ROMS on Lumias..!! It's universal..Everyone gets the the same updates..!! Looks like ye are new here..

Looks like you don't know what you're talking about

Man, it's not Android here, you can change the ROMs with ease, just look into the forums, where a ton of information is present. Looks like you're new here, welcome!

yeah, and that same update is not available for some countries yet, so you can flash a rom from a country that has got it

Turn pfd off on the pfd app

Is it OK to uncheck it, update to Denim and check it again, in PfD app?

I have disabled PfD, still says my phone is up to date... No more ideas...

Your welcome. Don't feel bad, the rest of us have to wait too.

At first I didnt get it... Now I see you have edited your post... :D It's ok, I waited even longer than this I guess...

Yeah, sorry, it was poorly written thanks to autocorrect.

No it doesn't..Denim is a firmware update and compulsory for all..!! PFD is only related to software development..It was a one time problem with Cyan..!!

For what it's worth, I turned off PFD a few months ago because I didn't want Update 1, and I still don't have Cyan. Even though it's been available on my carrier AT&T.

It is already rolling, am downloading as we speak. For Lumia 520, India.

Yea, and guess what it is with cortana, no region change.

Cortana was there earlier also..!!

I didn't change my region, neither the language. It is now available for India region. Although, I says not available for the language selected.

Yes it was there but we have to set language to UK , hope they hv set to English (india).

Yes, might be in dp but wasn't for me. And also, mobile data.

What fudge?!?!? This time Microsoft literally seems to be ramming in with the rollouts!!! Holy cow...m excited and impressed!!

Its official Denim is rolling out for 520,525,620,720 Lumias in India update:also Including Lumia 625 & Lumia 820

My 620 is saying up to date. Update Is not there.

1520 Norway i hope soon!!

Keep waiting. If its like the last time, 1520's denim will take weeks to arrive

Great to see progress in getting these updates out. I pity our friends in the States still waiting for their Cyan updates from various carriers.

..still waiting for 7.8 on my Focus and Titan! It's coming sky day now. I can feel it!

:)))keeep feeeeeling iiiiiiiit.!

I feel your pain... I remember how stoked I was when I flashed the Tango cabs.. Posted via the Windows Phone Central App for Android

No shit. Feels like a straight rip off. Particularly in that we were told the 1520, etc, would be up first. However, we often get things first, so it is what it is.

Yeah, Verizon can drop dead as far as I'm concerned, it wouldn't make my cyan update come any later

Verizon is but an unpleasant memory for me. Only question I ask myself is "why did I wait so long to drop them?"

Why aren't all Lumia phones getting voice activation Cortana!!!!! Microsoft has millions of low end phones and only choose the high end phones!! Very disappointed by that decision!

The battery management with that requires certain hardware.

Voice activation is simply only possible on WP devices with Snapdragon 800 or newer. Snapdragon 400 and older like the S4 doesn´t support this feature due to lack of hardware features ;)

That's why they are high end, they get high end features.

Seems that would be easy to figure out.

I'm sure they can find a way to make it work because that is ridiculous. It's not fair

Then what is fair? We, that spend 500 euros or so on a flagship, have the exact features as those who spend 100? Why would high end exist anyway?
I think that MS should even widen the gap. Right now there aren't a lot of features worth the addicional 400 euros

I think it can be possible but like the iPhone it has to be plugged in to work.

8xx chips have a dedicated unit for always listening, adding that feature to non s800 chips would kill your battery in less then 3 hours

They have to find a way because Lumias aren't the only phones out there! It would be unfair to leave everyone else who can't afford a high end phone. Android phones of all specs have that capability.

Actually Android phones generally only have that when the phone is on or charging. Very few have it enabled when off, just like here.

My daughter's LG tab 7 has it when its on, and its has a 400 chip the original Moto x has it and it has the same chip as the Lumia 1020, there's really no excuse, its all laziness, why doesn't the lumia 920 support miracast if it has the same specs as the sg3.

Less than 3 hours, only get 6 hours now.

I agree with Asskickulater. To add to that, even the iPhone's similar new Hey Siri feature can work only when plugged into a power outlet; Microsoft could introduce something like that for the rest of the Lumia lineup. So it's not unfair for those left out, only a hardware limitation which is why I'm now eager to get a 1030 if it comes out, also because the processor would be more than twice as fast.

better have more battery life than these kind of not really useful features imo

My Lumia 720 are downloading an update, it will be her Lumia Denim???

I'm American. Nice to meet you.

Do you realize he is American too?

I'm Indian. What's the plan..??

Hope, that we'll have it soon too in Switzerland

Guess Denim update season has started.

I think I can see the update for my Lumia 520 here in Nigeria......

It sounds that tomorrow will be more interesting news about it.

I m waiting from Italy,Europe,

It is also rolling out, in India, Lumia 520, at least for me.

Icon pls? Give the beast an update already darn it.

They sent it back to MS to "fix" whatever didn't work for their network.

Just updated my Lumia 520 to Lumia Denim in India.

Really what's the size of update file... Can u post some screen shots...

I'm not sure if the 1020 is getting any priority this time around.
And since this is rolling out to public, the preview for developers version should have had denim long ago. I find it hard to understand Microsoft at times.

Preview has never come with firmware. There's talks of that changing with Windows 10.

Surprising nothing for India.. First time update this much late for India bad luck....

I wonder how long the unlocked phones will take to get this. This intrigues me because this is the first Lumia firmware that microsoft is releasing. Hopefully they treat these unlocked phones like preview for developers users.
#1520.3 #WPMasterRace

Anyone know if Denim allows charging whilst off. Or has fixed the battery dropping 10% on restart.

- I don't think so. - That's a more complicated issue that I doubt one small firmware change will address.

Thanks. Charging whilst off will give better charging/life cycles. We Are actively toasting battery charging and using at same time.

No we are not. And I can add that the charging management require electronic control so it would be 90% on anyway. It's not a nimh battery you know...

I'm lucky to get 6 hours with little usage per charge. So either charging fault or battery % isn't correct.
Eg. Fully charge your phone, then do full power cycle. Upon restart I lose upto 10%. So a fault somewhere. Even @WinPhoneSupport advertises a phone that has 90% battery left after 19 hours use.... http://t.co/eWr4DGJ521

Holy shit they're releasing this thing in huge waves... Took awhile, but now that they've got the ball rolling, it's really rolling.

Yep. This is how it should be.

Is American denim out yet? Sorry if I sound ignorant.

When Nokia ran the show, the page showed the stages of approval of the updates. Now under Microsoft, if does nothing but tell you what's the latest firmware version. Thanks, Microsoft, but that's useless info. I would prefer to know at which stage the update is, not only when it's already available. When it's available I won't need a webpage to tell me...

No, we don't own people here

*you're ;) And no. All my Nokias have Deutsche Telekom software (because of the grey accent tile/UI colour)...and I have no idea in what stage of the process the Denim aproval is. But none have the update available (though only the 930 really matters as the 620, 820, 920 and 1020 will get nothing out of Denim).

I have the 925 with german tmobile branding and also no Denim here.
But I'll get my 930 tomorrow morning (also from tmobile) and pray to cthulhu! Maybe that will help :-)


Hopefully my Hong Kong 930 gets it tomorrow

Are they bypassing carriers with this?

Where the sun don't shine. You should find it in about 24 hours.

Sooner than that if vibrate is turned on.

So, by December 2015, Verizon Icon users might get Denim.....F U Verizon!;!!

Well guess I better start checking on my 1320. I've got an Italian unlocked version .. Nevermind that I live in the Caribbean.. LMAO...

The region you are in doesn't matter, only the region you bought your phone in does :P.

I have 820 but on my country list the 820 is not displayed at all. What can that mean :/?

Microsoft got faster. WOW crazy rainfall of updates.

Oh good! I'm waiting for it here in Kingston Jamaica...

Meanwhile... Verizon still has it's head firmly planted in it's own asshole, and still hasn't released the Lumia Cyan update.

Verizon is a lost cause for WP.

Well they got the HTC One M8 with WP, so I wouldn't call it a lost cause. But they certainly are messing things up regarding the Nokia phones.

Did you see that they sent it back to MS for "redevelopment" a few weeks ago?

Yeah, saw that. Seems more like a "waiting for the next update" stance to me. Why would the 822, 928, and the Icon all suffer from the same bug? I call BS on that.

Fuck you dumbshit! I didn't even say anything offensive to begin with pussy STFU! I didn't even say anything about your mom grow up!

It seems to be live in Asia Pacific but no sign of L930.

Nothing yet for CV UK Lumia 630, yet even Lumia 520 is getting Denim in some places...

Peg leg I'm directing my comment too

If you're using the app, use the arrow on the top right hand side to reply to a comment lol.

any new for lumia 530 in India??

I'm haven't got denim update for my lumia 520 & Lumia 1520 in India.

Excuse me if I have missed something along the way... but is denim bypassing carriers, or is it a PFD update?

My Lumia 625 in Indonesia has updated to Lumia Denim

Lmao @ "that young black man did nothing" ... I ain't did nuffin' shawty...

My M7 hasn't updated to 5.0 yet, telling you all that seems just as useful as the above comments... Posted via the Windows Phone Central App for Android

So here's a real question... What extra does it give people with say a 520?

mark my words, we'll all get before christmas

L520 updating here in Brazil. My mother has one. My L930 still nothing ¬¬

I am happy for all of you, and happy that my family will be taking all of our personal and business lines away from Verizon. VZW is going to be in trouble because corporations here are leaving them in droves.

Lumia 520 update now live in INDIA

I have not got.you must check your firmware

No update received still in india

Is there Cortana for 520?

Why is Microsoft not releasing it in the United States? I want Lumia Denim!

Screw Carriers, why doesn't Microsoft just bypass them

They'll stop selling the phones. I would welcome this if MS starting selling directly.

Why don't YOU bypass them?

Because they can't. Consumers in the US already don't care about WP. If Microsoft gets in a war with the carriers, there goes their last chance of even selling a couple of WP.

I wonder if they already did, seeing as the BLU phones just got the 8.1 Update 1.

But Blu isn't Lumia, Blu got OS update not firmware update

Right, but what I mean is that the firmware update accompanies the 8.1.1 update. I don't see it as being too huge of a coincidence that Blu got it just before Denim was launched.

ALL BLU phones are sold unlocked. They're not tied to any carrier. So, they ARE bypassing carriers.

Got Denim in Thailand just now

520 with Cortana, cellular data in notification

We want Lumia Denim for Lumia 930 EU nowwww

WC counted 69 devices that got the update
69 ! Am I the only dirty minded here? LOL

Calm your tits down man and be respectful as I did not insult or misbehave anyone!!!
And since it's a joke you can easly scroll away without your shitty comment.

All I read is that everyone will have denim before icon gets cyan.

I'm from the Philippines and my lumia 525 received the Demin update this morning.


mang andres pinoy din ako pero nasa israel wala pa yung sa L1520 ko

What's going with the US?

They are better, cause show up to date :D

No update for Lumia 1020 India.

India.... Shit when can we have something..

630aint showing existence of such an update..

I just checked and I've already got Lumia denim on my 1520 but the last time I updated my phone was about 4 days ago. Which is very weird

Doubtful you have denim. It's that glitch in extras + info that *says* you have denim, but you really don't

first WP 8.1 phone (630) didn't get the update earlier??? :(

Why are other indian 520 users saying 520 got an update! I have checked it thrice now no luck for me!! And i am not able to open extras and info after latest DP!

Where is Denim for my 1520?

On the way, maybe uploading, or scheduling

When is the Lumia Camera update coming? Never?

Donning helmet to keep flack from slicing my brain. Waiting patiently on my 930. Amazingly, my 920 has Denim and if you are bothered by slow cameras, hold on to your socks as Lumia Camera on Denim is markedly faster. Other than Verizon,I would expect we should all see it before the week is out.

Europeans always get all the good stuff first... ROFL.

Lumia denim to update goes live in India....

I Have got update for my L520 in india

Only 69 Lumias? i would have thought they sold a bit more of these phones than that... /s Joking aside, so much for (my) 930 being one of the firsts getting the update, as Daniel indicated in a couple of news items about Denim.

Ha 69.... But seriously where's my 1520 denim update

I haven't got cyan yet because of preview. When is that update coming? Vodafone Netherlands, lumia 820

1520 denim for UK. Hurry up

Patiently waiting the update for my Lumia 1020 in UK

Lumia 1020 O2 Germany received Denim.

Is the 1020 camera (Lumia camera or Lumia camera beta) considerably faster now, or is it still 4 seconds to open the camera and at least 2-3 seconds between shots?

Downloading the Denim update on my lumia720 here in Tunisia :)

Come on, I need the update, after my phone does strange things since today :'( I can't shut it down completly it will always start up again of it's own and it loses it's usability when it turns on the lockscreen

I had the same problem yesterday, nothing to do to fix this problem. I must do a hard reset... i don't know where the bug gone...on lumia 625/ preview for developpers.

Nothing in Belgium, Lumia 1520.

what happened to the Lumia 1520 being one of the first phones to get it =/

L520 and L720 installing it right now. Friend is informing me that L625 gave him notice for update. We are in Croatia.

Lumia 520 here in Indonesia, just got Denim update, the weird thing is, after restarting there is a notification from extras+info that says "Welcome to Lumia Cyan", of course when I tap it, it brought me to extras+info with lumia denim info. It's nice to finally get Denim, it's not as big as Cyan but still, its something ;D Uh, "seems faster"?

I'm patient, but would like to know if there are some clues when 1520 denim update should come out?
It's little weird that roll out to 1520 was supposed to begin in december and some other lumias in january and now it's vice versa

With PFD enabled the phone shows I am having Lumia Cyan, disabling returns Lumia Denim. Version number remains identical. Too funny!

My Lumia 1320 UK CV got the update last night, so this morning I woke up to Cortana. In a delicious twist of irony, the Lumia 735 I bought this week gets activated tomorrow. Anyone want to buy a SIM free 1320 with Denim firmware?!?!?!
Windows Central Newsletter
Get the best of Windows Central in in your inbox, every day!
Thank you for signing up to Windows Central. You will receive a verification email shortly.
There was a problem. Please refresh the page and try again.