Should you buy a Windows phone in 2022?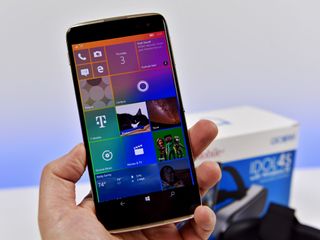 Should you buy a Windows phone in 2022?
Best answer: No, Microsoft isn't building new features for Windows phone, so there's no reason to buy one in 2019. There are no new phones, and in the next year, Microsoft will abandon the platform altogether. If you must have one, however, we recommend the Alcatel Idol 4S, but you'd be much better off with a OnePlus 6T or iPhone XR.Outdated and out of support: Alcatel Idol 4S ($127 at Amazon)Super fast and customizable: OnePlus 6T (From $549 at Amazon)Fluid and just works: iPhone XR (From $749 at Apple)
The current state of Windows phone
In 2017, Microsoft announced that it was "no longer focused" on building out its mobile platform and that from then onwards, the company would only service Windows phones with bug fix and security patches. It was no longer committed to building new features, experiences, or devices for Windows 10 Mobile, and within the next year, the company would outright abandon the platform as support comes to an end.
If you're still using a Windows phone, this year is the last year of official support from Microsoft. Come December, Microsoft will stop releasing security and bug fix patches for Windows 10 Mobile. The company has already stopped releasing new versions of Windows 10 Mobile, with Redstone 2 being the last major Windows 10 Mobile update released.
Users will still be able to create automatic or manual backups of apps and settings until March 10, 2020. After that, there is no guarantee that those features will continue to work. In addition, features such as automatic photo upload and restoring from a backup may stop working within 12 months after March 10, 2020.
In regards to app updates, Microsoft says app support may end at anytime, as it is up to the discretion of the developer building apps that still support Windows 10 Mobile. It sounds like the Microsoft Store will continue to function after the end of support date on December 10, but there's no guarantee as to how long that will last.
No new hardware
In addition to abandoning the platform, Microsoft has released no new Windows phone hardware since early 2016 with the Lumia 650. The last true Windows Phone flagship released was the Alcatel Idol 4 Pro, which features a Snapdragon 820 processor and 4GB RAM. If you're looking for a new phone, you're much better off getting one released within the last 12 months, as they feature the latest Snapdragon processors, better battery life, and a mobile platform that hasn't been abandoned.
If you're interested in upgrading from an old Windows phone to one of the last Windows phone flagships released, be careful. Those devices are now pretty old, meaning the batteries inside them likely don't hold a charge as well as they used to. We recently tried using a Lumia 950 XL again, and that phone now struggles to get through a full day with only mild use. Your usage may vary.
Because of this, if you must buy a new Windows phone, we recommend either the HP Elite x3 or Alcatel Idol 4S. Those are the newest and most powerful Windows phone devices available, featuring Snapdragon 820 processors and 4GB RAM, along with beautiful high-quality OLED screens. We do think you'd be better off buying a OnePlus 6T or iPhone XR instead, however.
The OnePlus 6T is a great choice because it provides a very customizable, clean, and fast version of Android, and the latest specifications without breaking the bank. The iPhone XR is also a great choice since it's not incredibly expensive but still provides all the same flagship experiences as the iPhone XS does.
If you must ...
The best Windows phone available right now

While we don't recommend buying a Windows phone, if it's something you must do, the Alcatel Idol 4S is your best bet in 2019.
We recommend
The best Android for Windows phone users

We think the OnePlus 6T is an excellent choice for Windows phone converts thanks to its low price, power specifications, and customizable OS.
We recommend
The best alternative to Android for Windows phone users.

We think the iPhone XR is an excellent choice for Windows phone converts who don't wan to switch to Android thanks to its powerful specifications that match the flagship iPhones, but for much less.
Get the Windows Central Newsletter
All the latest news, reviews, and guides for Windows and Xbox diehards.