Good people of Malaysia - Why not head to the Nokia Lumia 1520 Workshop on Saturday?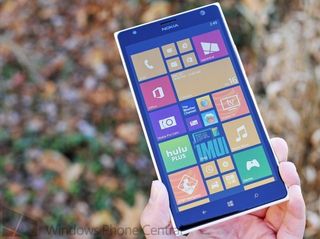 Are you in Malaysia and thinking of making the switch to Windows Phone? If in doubt why not head along to the Nokia Lumia 1520 workshop that Nokia Malaysia and Lowyat.NET (opens in new tab) and getting together to hold? The event is taking place on Saturday, December 21st in Kuala Lumpur.
Although the event is clearly pushing the Lumia 1520 you certainly don't have to own the device to attend and whether you are an existing Windows Phone user or not there should be something to learn for everyone.
The workshop will cover:
Introduction to the new Nokia Lumia 1520, specs and how to get started
How to capture stunning images and video with Lumia 1520, 20mp pureview camera- imaging story, digital lens, pro cam, story teller and rich recording. Do more with Lumia 1520 Windows Phone 8-Making the most with Live Tiles, Social Networking, Business productivity with Microsoft Office, SkyDrive,Family room and gaming (Minion Rush)
Stream to 13 million tracks with Nokia MixRadio and Nokia gears
Travel with peace of mind with Here navigation suites: Drive and Maps, LiveSight
Key apps : Instagram, Waze, AirAsia, and etc
Windows Phone Black functionality and how does it work
As well as some prizes being on offer on the day, attendees will also be able to purchase the Nokia Lumia 1520 at a special price. Interested? Seats are limited so head on over to the below link and register now.
Thanks for the heads up Aldo
More information/Register for the Nokia Lumia Workshop
Windows Central Newsletter
Get the best of Windows Central in in your inbox, every day!
Real nice! Great job Malaysia

You mean. Great job Nokia Malaysia?

lol...Malaysia is a place where most people are lazy to adopt new things and prefer android & ios most of the time

ikr. dem stoop it and brainwashed people

Not lazy, but I know what you mean. Its more a herd mentality thing.

Stop spreading false information. Greeting from Malaysia.

actually Malaysian are quite close-minded, im a Malaysian and I know, hard to accept new things, but I hope this will change in our younger generations

Overseas Malaysian and i agree with this. Majority 99% of the people doesn't know what they are talking about when they condem things. They are blind to mainstream information / debate and prefers gossip news, which, people thought is more reliable and rarely holds any truth. Nokia and Windows Phone will have a hard time estabishing in this close-minded market.

true, most of my friends using Samsung galaxy phone doesn't know android os is running on their phone, and some only know little about android os, they don't know it's open source and etc
the main reason they buy the phone is because many ppl are buying Samsung, and they follow blindly
some of my friends keep complaining about their android smartphone, but when I ask them to try windows phone, they refused, and some stick with iPhone because they think it is a "branded" product, more "high class"
every OS/phone has its pros and cons, no harm to try and find out what suits ourself the best

+ 1. I remember most of my friends and colleagues who owns a smartphone, 90% are samsung & iphones. Why? The same typical mindset answer, "..everybody is using this.. it's the trend nowadays.. it's FAST (until android hangs/restarts).. easy to send/receive files to others (tell that to iphone users trying to connect to non apple products).." and the best answer is "..it's the latest top of the line phone with best technology (and most expensive) at the moment..". Pffftt.. No offence, I do own an iPod touch 4G and a Samsung Galaxy Note 1. When I showed them what WP OS was and it's UI, they will go "that's all? no icons, no folders, no background/themes? so BORING. piece of junk, money wasted, Nokia is dead, WP OS is sluggy, so little apps, etc..". That my friend, is a typical Malaysian. Condemning without research, backed up with non-factual criticization. That of course changed after showing them the 1020's "junk" features and the "sluggy" performance. "WOW 41mp?! So smooth! The live tiles are cute! U can rezise them too?! Social network activities integrates with the contact list?!" and so on.. but the best question from them was "with all these features, why is it cheaper compared to the 5S 32gb?" :-)

I already have Nokia Lumia 920....if i can change it to 1520 for free I go...haha

Lowyat forum call people like you lowballers. Anyways I'd love to go but can't since im not in KL these days.

Do support all the hard work from Malaysia WP developers effort on develop local contents for WP in Malaysia. Go search the page called ICON3 in Facebook, you will find some of the work done by Malaysia WP developers.

Ahhh, why must they do it on the day my finals are starting, that is such a waste. It's pretty rare for something like this to happen in Malaysia, and now I'm gonna miss it.

Honestly I just want this phone to come to Canada. I really don't understand why this isn't a possibility. We always get the short end of the stick to our neighbours in the US and buying phones outright is just a pain.

The very next phone I'll buy is windows phone 9.. Maybe 2016?.. :|.. I have spent too much changing windows phone.. HTC Trophy, NL900, NL920.. :| so will stick to 920..

I bought my first 520 in Malaysia a few months ago, and I was surprised that the very known app to get a taxi in Kuala Lumpur (MyTeksi) was already available for WP, and now with AirAsia app (very low cost and popular malaysian airline), Malaysia is doing pretty well on the support to windows devices. Unfortunately I'm no longer in KL, otherwise I probably would be at the LowYat to see what offer would I have to replace my 920. Great job Malaysia!
Btw, there isn't a GPS in Malaysia better than Here Maps!

Yay, I just registered. I use 1020. Previously owned the N900, N9, Lumia 900, Lumia 920, Lumia 520 ;-)

Malaysian people live in Irbid here. Glad to hear this news. :)

Just got one for myself it's awesome
Windows Central Newsletter
Thank you for signing up to Windows Central. You will receive a verification email shortly.
There was a problem. Please refresh the page and try again.