Lumia 530 and Lumia 630 Diwali offers detailed by Microsoft India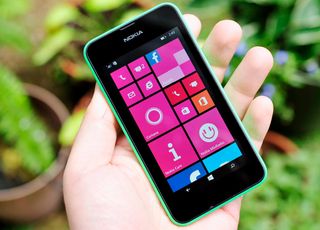 Ahead of Diwali(known as the festival of lights), Microsoft India is offering deals on the Lumia 530 and the Lumia 630 in the country. From now until October 23, customers purchasing a Lumia 530 will get a guaranteed cashback of Rs. 1001 ($16), with Lumia 630 purchases entailing a cashback of Rs. 1501 ($25).
Microsoft is also running a lucky draw through which customers buying the Lumia 530, Lumia 630 (single and dual-SIM versions), Lumia 730, Lumia 830, Lumia 930, Lumia 925, Lumia 1020, Lumia 1320 and Lumia 1520 stand to win 100 percent cashback. The promotion is valid across all Nokia Priority Partners, Nokia Priority Dealers and retail outlets in the country.
With Diwali just around the corner, we're sure online retailers will also start offering lucrative deals on Lumia handsets. Know any great deals for Diwali? Let us know in the comments.
Source: Microsoft India (opens in new tab)
Thanks techiez for the tip!
Any deals for 830 would be a life-saver. Please MICROSOFT!! Lol it's ridiculous you know, they make such a good device and they can't price it right!! 25k would have been ok. It would sell like hot cakes then. Hmm... fingers crossed for Diwali offers :D

Lumia 830, neither affordable nor a flagship :|

If the Nokia 830 isn't a flagship neither is iPhone 6 because they got the Sam specs just saying what to you constitutes a flagship

I think you're not from India, L830's price here is quite high here, u will get a Sony xperia z1 compact at the same price and a Galaxy S5 or L930 by investing little more

The processor is a big difference.

Amazon will start Diwali deals tomorrow. Flipkart is selling the 530 for around 5800.

If Amazon is going in the way of flipkart they will suffer.. Lot of complaint has been registered against flipkart... Bad that they loss their good name...

Amazon was offering L530 @4k and L630 @6.5k during Flipkart's Flop Show Day, October 6th. I'm waiting for them to offer the low prices again so I can get one for my Mom.

I bought 530@ 3.7K from amazon.

Hi, I bought this phone yesterday. the display looks very much grainy.. especially on white backgrounds (e.g. when i scroll through the content on facebook or IE) Is the display really this bad or have I got a faulty device?

if you know some 1 with State Bank of India card... you'll get cash back of 10%... i think this is how he got it for 3.7K

Any chance for getting 730 free..oops no money to buy...

Sure you don't mean your bank, when you're there...

Steal a tanker.
Well, I know the police will be after you. But whatever 'YOU HAVE A TANKER'

Like GTA? Bitches! Here I come, increse my money

rob the nokia priority store... :P

730 sold out everywhere :( :D

Here's to hoping that amazon is able to offer some outrageous offers like flipkart & deliver it as well

Amazon always give better offer thn flipkart.

Amazon sale starts tomorrow. Hope it's better than flipkart at any rate.

Will buying from Indiatimes, Amazon and Flipkart eligible for this cashback offer?

Read the article properly.. It says only at Nokia priority dealers and Partners.

They should have offered some buy back and exchange schemes.I would have exchanged my 1320 for 930 or 830.( provided they offer good price)

Can't even imagine of exchanging my 1320 for anything other than 1520 :)

Lumia 530 is on sale for INR 5000 on eBay.in. I bought 3 of them already.

Shut up! :P they were not for me. Read my comment below.

Lol 3? You could have bought one better Lumia around 15k :P

They were not for me. 2 of them were for my parents and one was for my friend. I already have the best windows phone in the world. :P

What is the best WP you have, gautam26?

LoL so what's 930 & M8 in your dictionary?? :P

I'd take a 1520 over a 930 without batting an eye. The M8 vs. 1520 would be a harder choice, especially when the Dot View Case is factored in.

What if they give you a 630 with Eminem (or whoever is your fav)autograph for your 1520?? :P

The 630 isn't even LTE! No chance. Not even for one autographed by Rush. Well, maybe for one autographed by Rush, actually. :-)

The 1520 is the most complete Windows Phone till date and that makes it the best! The M8 is an awesome device and comes close but its stupid Ultrapixel camera lets it down. The 930 doesn't have an expandable storage. As far as the 1520 is concerned there are no weak points or anything for that matter that lets it down.

3 ?? I should have bought 730 on that price ...

and break it into 3 pieces ? :P

Are these deals coming to the UK?

wow india is actually stacked with windows phones that's like most of the current models i see there

No kidding. In Canada, we have to import. The only available models now are the Lumia 520, 635, and (soon) the 830. And the 520 is only available as old stock on Rogers and some of its MVNOs.

Tell me about it I just had to import my 930 hopefully with Microsoft in charge of the Lumia line now hopefully it changes, but probably wont at least no time soon lol

Yeh u r right.. Now Samsung is fading here..all I see red green yellow phones ... When I got my Lumia 520 last year felt like the only person with windows phone

Lumia 625 priced at 8800 INR (146$) in amazon.in from one week.. Still the deal is on.. Yesterday lumia 530 was placed at 4199 INR (70$) . Crazy amazon
. Full of surprises

ya but 625 yellow is 13600 :D ...

The thing is only one seller selling for that price..other sellers r selling for d same market price. Yellow might become out of stock for that seller. Lumia 625 @ 8000 is the crazies deal i hv ever seen..

you think 625 @8000 is craziest , then what about flipkart, they sold 1020 @ 13999 initialy on the big billion day sale then price gone up to 19999 ... later at the night it became 21999... wasn't that crazy ??

I got one for 13.9k Posted via the Windows Phone Central App for Android

By the time I added the 1020 for 13999 in my cart, the damn price went to 19999. It happened under a minute and made me wonder if it ever was true!

I bought 530@ 3.7k on 6 Oct

Don't want these I have just bought Lumia 1020

Nice business tactic by MS..... I like the offers

The Amazon.in Diwali bumper sale starts tommorow. I'm sure these phones will be available for much cheaper. However both the phones have only 512MB RAM so not looking forward to buy them. Really looking forward for some good deals during the sale.

I am having L625 and I want L730 for exchange. I bought my mobile before 6 months. What cost I pay for L730

for exchage you should go to nokia priority store...

What if I purchase it via online shopping sites...? Di I get to be in the lucky draw??

If online retailer can provide lucky draw voucher. But NO.

There is a super deal on PAYTM for 1520... its listed for around 36k and cash back of 25 percent so around 28K... but drawback is the cash back wont come in your bank account it will come in your PayTM account... which if you want you can use it for online top up or bill payment for your friends and take cash from them...lol...

Just want Lumia 720 exchange for Lumia 730 offer

I'm looking for EMI option to buy 730
Windows Central Newsletter
Get the best of Windows Central in in your inbox, every day!
Thank you for signing up to Windows Central. You will receive a verification email shortly.
There was a problem. Please refresh the page and try again.