Lumia 530 available for pre-order in Russia, ships August 22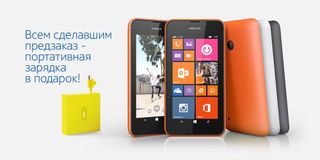 In Russia, you can now pre-order the Lumia 530 Dual SIM. The Lumia 530 was announced by Microsoft on July 23. It's an upcoming Windows Phone 8.1 device that will be extremely affordable. In Russia, the pre-order puts the Lumia 530 at 4,990 Russian Rubles, which is about $138 USD.
In terms of specs, the Lumia 530 is powered by a 1.2 GHz quad-core Snapdragon 200 processor, a 4-inch LCD display, 5MP shooter, 512MB of RAM and 4GB internal storage (with the option to expand with microSD support). As touched on above, the Lumia 530 will be available in two editions, both single and dual-SIM (3G). You're ordering the dual-SIM variant from Nokia Russia.
Order today and you'll get the Lumia 530 on August 22. You have your choice of black, white and orange for the Lumia 530.
Anyone in Russia thinking of grabbing the Lumia 530? Let us know which color you'll get!
Source: N-Store, Via: wp7forum.ru
Windows Central Newsletter
Get the best of Windows Central in in your inbox, every day!
Decent price, expected it to be higher. Nokia X is only slightly cheaper.

Yeah. Especially for Russia it's not that expensive as I would have thought

This needs to be the default background in Russia: http://guyism.com/wp-content/uploads/2013/02/putin-bear.jpg

I only imagine how would be a Lumia 430... No camera? No GPS?? lol

No phone? :D like a smartwatch. They could call it 430. Lol. "A phone without a phone inside. It's just a watch" would be the text of an ad for it

Maybe they would call it the 420. Because you would have to be high to buy one.

You know what 420 means in India right?

No, only familiar with the meaning in the states

It means four hundred twenty, right? :D

if Microsoft Mobile would release a weaker Lumia than 530, I think it'll be named Lumia 330...
to date, there is no Nokia phone with the number 4 in its name

I know. But there's no 330 either.

With 333mb ram and bare bones os

AFAIK, there has never been any number 4 on Nokia phones since it's an unlucky number for the Chinese.

Not Ukraine? Come on Microsoft. U could at least make it also available in Ukraine at the same time... Shame

There's a political joke in here somewhere....

Kind of. But there also could be no joke in there., u kno

They may not report about Ukraine since it is not a big market. But Lumias are usualy pretty quickly availible in the country.

Ure right. And the prices are more tasty in Ukraine than in Russia for example. Especially now with this dollar price. U can get a new 1520 with 3months of warranty for 450$

Sorry, but in the Russia 1520 have 400$ with official supports 12 month

I thought it's gonna be under USD 100... look at those specs! Wonder if Microsoft will release an even weaker Lumia and price it USD 85 unlocked

Wow, $30 more than Vietnam?

U kno that phones in Russia are more expensive than anywhere else, especially Vietnam. They have the cheapest gasoline in Vietnam too.. I'm jelly

Meh. Check the pricing in Brazil. That should heart. Also North Korea nation for their population they have like 5 phones altogether.

I doubt any mobile phones are availible in the N Korea...

Then 330 would be no screen, no GPS, no camera ! Lol

No yellow colour too bad...yellow is great to see

Weird, I thought there was a boycott among nations

In Soviet Russia, Lumia orders you!
Humorous stylings aside, don't think they'd sell a ton of these @$138...

Well Now they do have. Fly as a cheapest WP device. But anyways with Here services the Lumia is a no brainer. Tell you what, this price is actually quite affordable there.

I honestly think they need to quit making 512mb ram devices. Most people I know that have bought a 512mb ram Windows Phone think that Windows Phone sucks and judge them all based on their device because it can't run big games.

Not all people buy phones for these so called games, ya know. I'm happy with my Lumia 620 and gaming PC.

Yes, but the average buyer doesn't know about ram and stuff. They just assume every Windows Phone can't play the games. It's not that much more expensive to have a gigabyte of ram instead of 512mb. If should be the standard.

So Russia wants our smartphones but not our fruits/dairy/meats? I'd say they got their priorities right... :P (of course, I kid!)

Want to be hacked whilst they are hacking. Win win situation!

Hehe it would be still funny and you'd git it right if you'd be talking serious. Not just kidding.

a lumia 330 is possible, but not in this year: 512 mb ram 4 gb 3.8 inches with 480p snapdragon 200 dual core that is more cheaper than the quad core version 2.0 megapixels camera in the next year snapdragon 605 and 610 should enter in mass production and then 200 and 400 would reduce their price. so i think that 2015 will be the year for lumia 330.

It would probably be the 350 with WP9, as I understand that they skip the X4X series.

Does US trade sanctions against Russia after the MH17 incident affect Microsoft's dealings with Russia?

Microsoft Mobile Oy (formerly Nokia) is actually a separate company incorporated in Finland. The "Oy" bit in the name means it's a stock company registered in Finland. As it is its own semi autonomous entity based in Finland I have no idea if any future electronics sanctions against US would affect it, unless they'd also be levied against Finland.

Not sure about Finland, but the EU has similar sanctions.

Nuff of all these sanctions, pretty sure that it hurt EU companies way more than it does hurt Russia

Pretty sure the people hurt most are the normal Russian citizens who have nothing to do with Ukraine but now have their food prices go up because countries are having a childish dick measuring contest.

Do you really think that prices went up after that?

Those sanctions mostly affect financial, military, oil and gas industry.

Sanctions should be applied to Ukraine, which was hit MH-17. This is probably why this device there is not released. For Lumia devices Russia is 4 market in the world. Nokia always loved Russia for her dedication. That is why in Russia was the first start of sales 920

Remind me again why go for the 530 instead of this Nokia:
https://m.kogan.com/au/buy/nokia-lumia-630-dual-sim-8gb-black/ Just asking?

Sooo Putin haven't abandon windows phone : D

He said several years ago he had no a mobile phone at all. Meanwhile there was an event "Send a messege to the president". No kidding

Add says that they will give free Nokia DC-18 portable charger.. It's like $25-30 @amazon

The price is good. But they have to decrease the price inorder to compete moto e.

How much is moto e in russia?

We don't have Moto E in Russia. Motorola has left russian market several years ago

Cool then this phone will rule there

Next year this phone will be sold at $70-80 and ms should keep this model in 2-3 years as a phone to replace asha

Microsoft should boycot Russia.

You should boycott WPCentral.

Америка страна дибилов и уродов

Then don't visit site about American software. -__-

Stupid nationalists in Ukraine

Don't be so rude, its not the place where you can share your opinion about people and nations Posted via Windows Phone Central App
Windows Central Newsletter
Thank you for signing up to Windows Central. You will receive a verification email shortly.
There was a problem. Please refresh the page and try again.