Microsoft's Lumia 535 lands in Brazil for R$599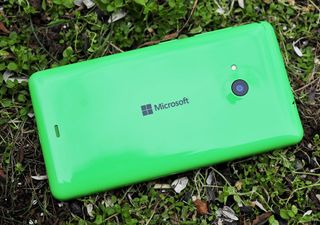 There's some good news tonight if you happen to live in Brazil: Microsoft's mid-range superstar, the Lumia 535, is now for sale in the country for R$599.00 ($218 USD) — lining right up with pricing that was leaked late last month.
For a quick refresh, the Lumia 535, which is the first Microsoft-branded Lumia device, sports 1GB of RAM and 8GB of storage (with microSD support), two 5MP cameras, and boasts a 5-inch 960 x 540 display.
If you live in Brazil and want to get your hands on this bad boy, you can pick it up from the source link below in your choice of white or black colors.
Thanks for the tips, everyone!
Source: Nokia Brazil; Via: WindowsMania.br
Dan Thorp-Lancaster is the Editor in Chief for Windows Central. He began working with Windows Central as a news writer in 2014 and is obsessed with tech of all sorts. You can follow Dan on Twitter @DthorpL and Instagram @heyitsdtl. Got a hot tip? Send it to daniel.thorp-lancaster@futurenet.com.
Expensive there than in south Asia

This is in Brazil. I think you might be holding your map upside down.

I know my geography ... I just told you as a fact that here in south Asia you can buy ML 535 for around USD 137++.

Things in Brazil are usually overpriced due to abusive taxes mainly.

Things are expensive in Brasil due to abusive taxes mainly.

No. This isn't Brazil (just Apple and Samsung do this things), anyway: Lumia 930: R$999 = US$363 Lumia 830: R$750 = US$273 Lumia 730: R$600 = US$218 All UNLOCKED You cand find Lumia 730 for arround 550 and Lumia 930 por 890 sometimes.

You have to search a lot here in Brazil. You can find things much more cheaper after a month or two... The official price of the Lumia 730 here is something around 750,00, but I bought it for 572,00 in other site. You can find the 630 for something like 260,00...

Did you mean to start the sentence so that it made sense? For example "More expensive there than...."

I think he wanted to say that things get cheaper there in Brasil one or two months later after the release.

I bought my Lumia 730 for 572,00, that's ridiculous...

557,00 it's Nokia Online Store price. It will be more cheap on others sites.

Yes I know, I bought mine on Cissa.

This would make the perfect free phone for those who chose to open multiple plans here in the US... We need some special WP offers on entry level devices to attract more users... MS needs to start working on these kinds of deals..

About att magically sending out Lumia denim for the 1520? NOW THATS NEWS.

Lol... Would be nice for the all around best WP device you can get..

Also, Bad Boy❓ Dan❓ Really❓
.......
Guess it's been so long since a new high end device came out some of you forgot what a "Bad Boy" really is....

How much is R599 in U.S. Dollars

I have a hunch: maybe it's written in the article.

I think Google and Bing do that for you...

I bought my lumia535 in Bahrain just for 95$ :D

i own a 535 and it was fixed after the update. i also turned off the screen magnifier. i'm loving it! :)

I'm brazilian and I can say that it's too expensive. Does not worth it at all. This phone is meant to be cheap, Microsoft. Not a good way to start after Nokia.

435/532 are the cheap one.

535 is not a mid range like 730 or 830. It's low end, like the 5xx line always been, including 532.
435 is a "extremely" cheap phone to replace the Nokia Asha line.

As I said before, I paid just 572,00 on my 730 at cissa magazine...

Exactly. That's a good deal and that's a better phone.

It is a mid-range. Not a low-end phone. There's a great difference in price

It isn't. 5mpx rear camera, Snapdragon 200, not even clear black screen is there. That's absolutely not a mid range phone.

The mid range or low end class depends on the phone coast not on the specifications, if that wrong, the iPhone 6 will be a low or mid range phone then

Um no iPhones are another class, this is a low end end of discussions. Posted via the Windows Central App for Android

iPhone IS midrange hardware.

Mid range is 630, 635, 730,735 and 830.

I thought the 830 was an "affordable flagship" :)

Everything is expensive on the first week of release...

We purchased number of these for clients and everything was very good for the price except the touchscreen and the screen itself, in UK would have been happier to pay £15 extra bringing it up to £100 for an unlocked handset to have better screen and touchscreen because it does make it rather inconvenient also gives Lumia and Windows Phone a bad name to new users. Would we buy them again? Yes if the client budget was again as low as it was however Microsoft really should address the touchscreen issue as one could argue that is not fit for purpose.

Was that with the fix firmware? And wasn't there a hardware rev which addressed it? Or is that internet gossip?

We had it with all the latest updates out of the box therefore nothing to compare it to however it was still jittery and actioning things by itself at times though after some use it does get little better which could be us getting used to it or our fingers maybe wipe certain substance off the screen which makes it work better! Where it becomes rather frustrating is when you in an social media app and while navigating it Likes, or retweets and etc... by it self which is always on the content that you would never share or Like! :-) Used an handy app called "Multi Touch Test" to test it which did help allot to see how bad the issue is. No idea RE hardware rev as it was setup and delivered to clients within two days and for their budget that's all they could afford though I would still recommand if someone has under £100 budget as it has all essentials.

Well, if there's something that you can bet that will happen it's the price going down in a couple months. That's how brazilian smartphone market works, they get the early adopters and then cut the price though it's a great price R$599..

Way too expensive, but I hope this phone reaches more places here in south America

That's too much. But considering Brazils heavy import tax... Posted via the Windows Central App for Android

Microsoft (Xbox) and Nokia (now Microsoft) has factories in Brazil.
Stay on Manaus, Amazonas. JUST Lumia 800, 900 and 920 are imported

For the same price I can get a Lumia 730...

Pagamos por dois celulares, ainda bem que a maioria sao de qualidade

You just have to wait two or three months and you'll get one with cheaper price.

218USD is expensive for Lumia 535. I got mine here in Dubai for 128USD.

In India it costs about $130 USD

Bought it in Germany for 74€ (85$). It is a nice phone, but the touchscreen is a disaster, even after the update.

The 535 is available for £89 in UK, which is about $136 in the US. Posted via the Windows Central App for Android

It's the launch price. Like 520 did. Now a days is less than $130.

I can't touch screen please update software again

Lumia 435 also: http://www.windowsclub.com.br/lumia-435-a-venda-no-extra-seria-uma-versa... *website in portuguese.
Windows Central Newsletter
Get the best of Windows Central in in your inbox, every day!
Thank you for signing up to Windows Central. You will receive a verification email shortly.
There was a problem. Please refresh the page and try again.