Lumia 535 launches in Bangladesh for BDT 11,499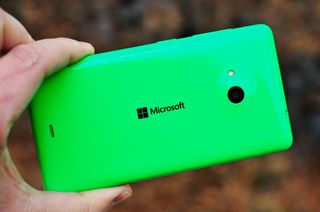 The Lumia 535 is continuing its global rollout, with Bangladesh the latest country to receive the handset. The affordable Windows Phone, which is the first to feature Microsoft branding, is available in the country for BDT 11,499 ($148).
For that price, you're getting a device with a 5-inch qHD (960 x 540) display, 1GB RAM, 8GB internal memory, microSD card slot, 5 MP front and back cameras, 1.2 GHz quad-core Snapdragon CPU and a 1,905 mAh battery. To know what it's like to use the device on a daily basis, check out our hands-on video:
Source: Facebook (Microsoft Bangladesh)
Thanks Rokibul!
Great. And rumors are 435 is coming soon too.

Nokia and MS don't have this habit of releasing any phone with the number "4" in it. Reason : Some weird Chinese voodoo saying that the number 4 sounds like death to them. Or something.

Maybe. I heard that the symbol for 4 looks the word 'death' in those languages.

Chinese Goth kids will love it. :P

No phones cmng with 4,... Dont day dream...

Nokia 5140 though. And they could release with another model number. The point is ab even lower end Lumia phone is coming, already certified e.g. in Indonesia. And some rumors on it do claim it would be called 435.

The word for four in Chinese is a homonym for death, just in a different tone.

I don't think you guys got the joke

Wth 148$...that is alot of money..microsoft you're doomed..with that much money I could even go oxford university

Then y come here go there ...

Where is your Oxford university? Show me master

Oxford is probably $30000. That is 3 million PKR. Half life 3 confirmed.

LMAO!! Half Life 3 confirmed?! :P

$148 means 14,800 PKR
In Pakistan, Lumia 535 will be available for 14,200 PKR

Wo kaise? Pakistan me har phone mehnga hi tou milta hai according to international price.

Yr jb mehnga milta hai tb bhi masla, aur jb sasta milega tb bhi masla. :P

Sahi keh rahe ho.mene bari mushkil se Lumia 620 relative se USA se mangwaya tha 50$ ka. Lekin customs Ki waja se bara masla hua.

Don't worry son, on the strength of your comment they won't accept you.

He isn't worrying, he is amazed.

Does this support 4G? Im tired of my 625...

Nope. 3G only I think I remember Daniel saying!

Need a Lumia with 4G and minimum 1.2 quad core and 1 GB RAM...

Lumia 636 and 638. Only in China, though. A Lumia 735 might work...?

Try to find the China variants on eBay..

It has single sim variant with 4G ... Dont know if available in your country

​That would be the 635. I think AT&T GoPhone is selling it, or is it Cricket?

Cool. This is off topic but seeing an article about 535 I thought of posting this link...
http://www.nokiapoweruser.com/exclusive-lumia-435-will-join-the-lumia-ra...

435, a 4x4x4. With 1 Mb of RAM, a 90 MHz snapdragon Pentium tribute, and a 4 mp front and back camera! Runs apps from the ovi store.

We will talk after you go home from bar ... Cheers

The race to the bottom has become awfully inspiring /s.

Now isn't that special...

I have Lumia 720 wishing to buy Lumia 630 which is better 630 or 720

630 is a downgrade. I suggest going for 730/735. If you can afford.

Apart from the performance concern, it'll be a downgrade. Better go for 730 (entry-level flagship).

I didn't like its in screen buttons
Rest is very good

Lumia 535 seems to be very much better than Lumia 630 by margin boss. I must have waited for some more time to get Lumia 535 yaar.

It sure has better specs but believe me, the display of 630 is far better than that of 535 because of ClearBlack tech.

Hope no damn 435 coming,expansysusa and 1shopmobile selling 535 pretty cheap

Checked out NPU, looks pretty legit... How much are they going to sell it for? £15 / $23?? Lol...

Lumia 535 was launched here in the Philippines last Wednesday, December 10 and will be available in stores on the 15th of December for ₱5,990.00.

Oh, that's very cheap! Thanks Microsoft, keep us rolling.

It launches already in the Philippines for 5990 pesos. About 130 USD

I've heard that its a bit chompy when opening apps, games
Is it true??

The price tag is awesome. Surely this device is going to be a hit here in Bangladesh. The comments coming from people are positive and they are saying that this is a great device over local smartphone maker's phones. I've already convinced my cousins to shift from their android (Symphony W82, Micromax Unite 2) to windows and they will start with this 535. I personally own a 525. Great devices for students like us.

Keep converting people to windows phone.

This phone is being sold in Bangladesh like hotcake already! Demand is much more than it was for Lumia 630.

A bit too expensive, I think

Can't wait until it hits the USA
Windows Central Newsletter
Thank you for signing up to Windows Central. You will receive a verification email shortly.
There was a problem. Please refresh the page and try again.