Lumia 610, 900 launch and 710, 800 release delayed indefinitely in the Philippines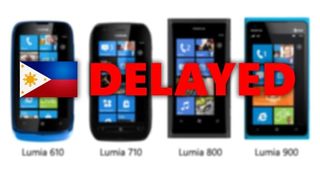 The Lumia 610, 710, 800 and 900 were all set to launch in the Philippines, but the Windows Phones have had their entry into the country delayed due to supporting carriers. According to Electronic Pulp, all four Lumia devices will not be arriving anytime soon, which is a massive blow for both Nokia and Windows Phone with the Philippines being a rather important market to tackle.
We previously covered the Nokia launch party of the Lumia 710 and 800, but it seems as though things have gone downhill for the manufacturer since, with no immediate plan to provide the 610 and 900 with the same treatment. The carrier Globe Telecom is set to stock the Lumia 800, while Smart Communications picked up the remaining three Windows Phones. Nokia has reportedly given up exclusive rights to sell the handsets in the Philippines.
The Finnish manufacturer has an agreement with both Globe and Smart for only the carriers to market and sell the Lumia Windows Phone family of devices. This prevents the manufacturer from bringing in retail units and getting them into consumer hands in a speedy fashion, which has led to subsequent delays due to carrier demands regarding their own exclusive launches. The Lumia Windows Phones were originally scheduled for an early 2012 release in a number of countries. Thus far the rollout has been somewhat successful, but there appears to be a few cracks appearing in the Nokia walls.
According to the Nokia employee that Electronic Pulp who was questioned regarding the delays, the Lumia 610 low-budget handset was planned to be out in the public domain during the first week of April, but the manufacturer has hit a wall with the carrier agreement and now can't provide an accurate ETA on launch dates for any device. The company is reportedly working hard at ironing out the creases and hopefully both Nokia and the two carriers will work things out quickly.
So, to recap (as it confused us slightly too): the Lumia 710 and 800 availability is delayed, and the launch of the Lumia 610 and 900 is also delayed, all due to the agreement made with local operators. Should you be patiently waiting for any of the Nokia Windows Phones on either Globe or Smart, you might have a few more weeks to see through.
Source: Electronic Pulp
Windows Central Newsletter
Get the best of Windows Central in in your inbox, every day!
Rich Edmonds was formerly a Senior Editor of PC hardware at Windows Central, covering everything related to PC components and NAS. He's been involved in technology for more than a decade and knows a thing or two about the magic inside a PC chassis. You can follow him on Twitter at @RichEdmonds.
The universal truth is confirmed, carriers are EVIL.

I was born in the Philippines. Nokia, you need to pull a Walmart and bring some bribery $$$. Lol!



What Nokia should do is offer through their website unlocked versions of their products officially - maybe discounted too. It is unacceptable for carriers to prolong any launch as it hurts their customers who may actually want the product.

I'm sure they will, the question is when? :-/

I agree. I would probably already have a Nokia phone if they did that.

Well that sucks, but I'm sure the carriers will launch as soon as they can. It's not in their interest to make delays if they got exclusive rights.
I just hope there's no similar delays on the bigger markets, like China.

This is what happens when i jump the gun and post to FB, encouraging my hundreds of Filipino friends to get their hands on these beauties :(

had a chance to try out lumia 800 on a nokia booth here in th philippines, the booth has lumia 800 and 710, and lumia 900 dummy phone , 610 dummy phone..must say i like the feel of the 800 better than the 900.

I know Nokia is quite big in the Philippines, and it's not good that the carriers is doing this when nokia needs it. They should make the 610 available in all carriers, IMO.

Me and my friends are waiting for this like forever! Nokia/Microsoft, pls hurry up. We want to upgrade our phones to maybe Lumia 800 or 900. I really like Lumia Phones, i even put Lumia 800 in my Facebook's timeline. Lol.

To all my brothers in pinas, buy it unlocked @ amazon.com

I work in Nokia Philippines as Corporate Communications Manager and would like to clarify a few things in this story:
1. Only the Lumia 710 is sold exclusively by Smart. They have started selling this after their launch last week. For the Lumia 800, we gave Globe a headstart since they offered this to their subscribers on a pre-order basis. They started selling after their launch last week. That said, the Lumia 800 will also be in select Nokia Stores and retail outlets by end of the month.
2. As for the Lumia 610, we are on track to start selling in select Nokia Stores and retail outlets by end of the month. Both Globe and Smart will be offering this to their subscribers as well.
3. We said from start that the Nokia Lumia 900 would be coming around Q2.
4. We will be announcing the timing of the Nokia Lumia Launch for the Lumia 610 and Lumia 900 in due time.
Have an amazing day,
Nikka Abes

If I'm to replace my aging iPhone 3 with anything
it will be a device that offers so much more.
Not vital, but important in terms of future proofing,
is 4G network connectivity.
The only 4G phones on sale here (Australia) are
both Android devices - HTC Velocity & Samsung
Galaxy S 11. While both are very good phones, in
my opinion, they both fall short in so any ways to
the HTC one X- quad core (3G).
The soon to be released HTC one XL- dual core
(4G) however, will definitely drag me into the world
of Android if the Nokia 900 or HTC Titan 11 don't
land soon.
The Nokia 710 and 800 are available, are 3G and
are too small with very few features. Mango 7.5
is the only reason I would consider either.
Our only telco that offers 4G was supposed to
have stocks of both the '900' and the' titan' in early
April......nothing and no firm date.
Qualcomm who produce the Windows compatible
processor 'snapdragon' for both companies cannot
produce enough for markets outside the U.S.
because of internal demand.
What to do?

Windows Central Newsletter
Thank you for signing up to Windows Central. You will receive a verification email shortly.
There was a problem. Please refresh the page and try again.