You can now pre-order your AT&T Lumia 635 directly from Microsoft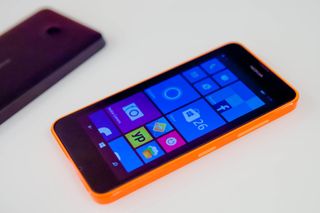 The Lumia 635 for AT&T is now available for pre-order from Microsoft's online store. The device is currently available without a contract for $99. While the phone itself is only available in black for AT&T, you can also order colorful protective shells from the Microsoft store in yellow, green, and orange for $15 each.
The Lumia 635 is a single-SIM, LTE-enabled variant of the Lumia 630. It sports a 4.5-inch IPS display, a 1.2 GHz processor, 512MB of RAM, a 5MP camera, 8GB of storage, which can be increased to 128GB with a MicroSD card. It runs Windows Phone 8.1 out of the box. The 635 is set to be available for purchase on AT&T on July 25 as a prepaid GoPhone.
Will you pre-order a Lumia 635 from Microsoft? Let us know below in the comments.
Source: Microsoft (opens in new tab)
Thanks to Matt C. for the tip!
Windows Central Newsletter
Get the best of Windows Central in your inbox, every day!
Nothing seems right today....hope this time passes soon..
...dint know this layoff thing will cloud my mind this much...

Why can't High End devices be available on more carriers just like these low end ones?

It's been proven that low-end cheap devices are what sells the most. I think mainly because newcomers and budget people buy them and then people that buy high-end phones also buy a cheap device as a backup.

Yeah, if I drop my L520 and it breaks, I won't be upset...if I had a L1520/1020 and dropped it and it broke, I would be very upset

Which is exactly what happened to my wife's phone yesterday. My son broke the screen of her 1020 and we happened to have a 520 on-hand to throw her SIM into, until we can get the screen repaired on her 1020.

I broke my 1520 yesterday but I gotta another one on the way off ebay. So I'm definitely getting the 635 Posted via Windows Phone Central App

Lol I guess no one got what I was trying to say? I didn't say "why don't we have more high end devices" , what I'm trying to say is why they aren't available on more carriers, if the 1020, 1520, Icon/930, Ativ Se, were available on T-Mobile and not just certain carriers I would have upgraded by now but no they stay exclusive

Never again. Never again AT&T and their restrictive business.....

Wait, maybe..... Nope, still not interested.

If you are a teacher or student, Microsoft has 10% off...bringing it to $89.10 before taxes

I'd get a couple of them if Sonos would get off their asses and release an app for WP. I don't want to buy another iPod touch.

For a mobile OS with 3% share in the U.S.? What incentive would they have?

Because that 3% is millions of customers.

I already have a couple grand tied up in their speakers. I'm not expanding further until there's an app. If someone else releases one my stuff is hitting eBay. Check their forums, they have quite a few in the same boat.

I work at a retailer that just picked up selling the Sonos speakers the rep told me they were working on it but not ready to make any announcement per the representative

Definitely good to know, thanks. Companies could save themselves a lot of trouble by communicating with their customers.

Maybe it will.replace my 520 as a backup to my 925. Hmmm...

If this had flash I would so get it

And if it had flash it would cost more. But,I agree that done mid range devices would be really nice!

We can use this for AT&T post-paid, not just pre-paid correct?

I have AT&T and AFAIK you can use it on both prepaid and postpaid with no issues. AT&T usually does not require you to purchase a min. of 1 month of prepaid service like Tmobile does in order to buy a prepaid phone.

Thanks! Thats what I was thinking...I have a 520, so might be a nice upgrade...maybe will take care of my stupid signal problems when it goes to Edge back to no service and back to Edge constantly...or so I would hope

Correct - my kids are using the GoPhone version of 520's on my AT&T family share plan with no issues.

Ditto. It required that I get a new sim and they couldn't transfer the number for some reason.

That was the sales rep lying to you because they get more commission for new service. New sim and new number = new service line even if you are deleting an old one to replace.

It was my sons gophone so not a big deal because only 3 people had his old number. But I agree with you.

It's not bad as a replacement for the 520. I like the color shells especially in green. My next Lumia will be green

I already preordered mine a couple weeks ago.
I did get a 630 a couple days ago. Trust me guys these phone deserve more credit. I tried the 620,520,1520 and 920, and this is the first time I haven't jumped back on my iPhone 5. These phones are a lot more impressive than you would think. It's fast and built well. I still can't believe its only 50$ on cricket.

but you just got it a couple days ago.

Can I use this phone on any carrier? if not, is there a way to unlock it?

This is locked to ATT. It is theoretically possible to unlock any phone, for a price. Don't expect ATT to do it for you, even if it is off-contract.

I was all set to update the family's aging WP7.x phone with these, until we reviewed the specs. To my surprise they all said, "No flash, no deal. I use my flashlight app too often to give it up."

A white screen app is 95% as good.

Oh hell, I thought I left you back on Engadget

Next time you need to be more persistent when he calls to cancel service.

Wonder if these would work with AT&T Visual Voicemail?

Yes, it's Windows Phone and visual voicemail is a part of the OS. As long as VVM is on your account, it will be enabled in your phone. My wife had issues with VVM not showing you on her phone when she switched to a different WP and a call to ATT customer service resolved the issue.

VVM doesn't work on my L520

Odd. I switched my SIM from my L900 to an L520 and VVM works on ATTjust fine. Didn't have to involve anyone at ATT for anything. I recall a setting on the phone to enable it the first time, however.

I had the same issue with the VVM on my daughters 520. It was the go phone version. Went back and forth with several ATT reps on the phone and at the store. It's not 4G so doesn't get VVM.

Yeah, talking with AT&T was worthless (as always)...when you say not 4G, you mean LTE or fake 4G (3.5G)? Mine says 4G on the phone, the AT&T rep said that my phone didn't support it and that's why it wasn't working...

I ordered one. For me having a new phone at that price with the clear black will be awesome. I live in Nor Cal in the Sacramento area, and the 520 has just too much glare. I'll use my wife's 1020 while out and about. Maybe use my 520 as a dedicated GPS and music player for working out.... I received my green shell from Amazon, so I'm set! Posted via Windows Phone Central App

I was a happy prepaid Aio Wireless customer with my Lumia 925. Now that they are Cricket, not so much. They started selling the Lumia 630. I ordered one to see how it stacked up against my 925, and the shipment was turned around midflight. The customer service is clueless as to why. Both me and my house mate ordered one and both orders were cancelled for no reason and support has no idea why. Anyway I may switch to Tmobile or ATT prepaid and get a 630/635. Pretty nice phone for the money.

If your L925 is an AT&T phone, I bet you could sell it...if not, you could always get Straight Talk SIMs, cheaper than AT&T prepaid

The 925 is a better and more powerful phone than the 630. There are really only 3 technical benefits that the 630 has over the 925: 1. Micro SD Slot
2. Sensor Core hardware/software
3. Miracast capability (this is disabled in the 925 even though the 925s Snapdragon S4 processor supports Miracast. If those 3 things are more important than the 925's more powerful CPU and GPU, 1GB RAM, NFC, front facing camera, 8MP PureView camera with flash and 1080p video recording, 720p HD AMOLED screen with Nokia technologies, Optical image stabilization, Nokia Rich Recording audio and more, go with the 630 for the cheap price and built in Windows Phone 8.1 experience.

well Duh... you are talking about a $399 vs a $99 phone, no shit its better... but you can buy FOUR 630's for the price of 1 925....

I think he was telling that to the original poster who had the L925...not sure why they would want to dump the L925 for this?

So I think I'm going to buy this phone and then unlock it for T-Mobile. It's cheaper....

I would check the frequencies that both AT&T and T-Mobile use to make sure that the savings will be worth the trouble.

Lol guess I could downgrade from my 1020. Show me something.

why would anyone with a 920/925/930/1020/1520 buy this phone as a replacement? its clearly a downgrade. This is a replacement for the Nokia 520, not ANY of those others. or for a cheap way to buy your very first windows phone.

Yes, do not get this phone over the 1020....I have the 520 and will get this because its an upgrade from that phone...from the 1020 to this, everything is a downgrade

I'll most like purchase because I'm interested in the fitness band and the 520 doesn't have the necessary hardware.

Pre ordered one through MS Store. They said I may have it Tuesday. They gave me free overnight shipping. I think that is normal though, as I have never NOT had free overnight shipping from the MS Store. My Son had the money from a birthday burning a hole in his pocket. He currently has a L520.

You got this online? Good for you. I rather saved 5% using a code from Bing rewards and got a message that will ship when available. Skipped the covers as eBay has cover/ shield combo for this new phone at $6, lot of them.

I thought this was supposed to be dual sim.

The 630 is the dual sim, non-LTE version. The 635 is single sim, LTE enabled. Posted via Windows Phone Central App

"Ain't nobody got time for dat!" I want a Lumia 930 and no I don't want to switch to Verizon for the icon...

I may just grab one and put it in a drawer in the event anything happens to my 1020, maybe use it for some testing.

To be honest, if you are going to not use it at all, I would get the L520 for a backup...you can get them easily new for $50, used sometimes for less.