Lumia 635 lands on Fido in Canada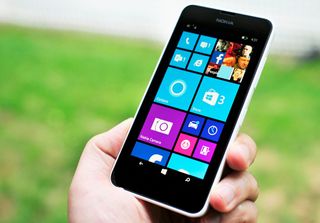 Microsoft's new Lumia 635 smartphone is expanding its reach in North America as Canada-based carrier Fido has now added the budget priced Windows Phone 8.1 device to its lineup of devices.
Fido is the first carrier in Canada to sell the 4.5-inch Lumia 635, and is offering it for free with a two year contract. Customers that don't want to deal with a long term agreement can purchase the Lumia 635 for $200 Canadian with a monthly plan or with Fido's pre-paid service.
The Lumia 635 went on sale in the US earlier this month, first with T-Mobile and Metro PCS and later with AT&T via their prepaid GoPhone service. If you live in Canada, will you be picking up the phone via Fido?
Thanks to ssapre and Karim for tipping us!
Source: Fido
Windows Central Newsletter
Get the best of Windows Central in your inbox, every day!
They really should have added a flash. Come on....

And 1 GB ram, list goes on. I should be able to buy a Porsche in $25k cause Nissan can sell cars that cheap.

Some other low end WP's have camera flash and even FFC's and are cheaper than the 635, whats Microsoft's excuse?

Those other phones are often 3G only (the 635 is LTE), or have other compromises.

+620. Flash is BASIC feature for all phones with a reasonable camera.

It's true, I'd miss it because I use mine a lot as a flashlight.

Not just Fido. Nokia announced Rogers and Chatr Wireless are also offering this phone in Canada starting today.

Got delivered yesterday for att, loving it, eBay has great shield and cover combos for $6, turned out pretty impressive. And now got $13 SD card. Used Bing rewards store discount 5% to get price down. I have $120 phone with everything that was needed. Wife loves it. If anyone needs info on eBay seller, I can give you that.

Its August already, how many hours left?

Cortana comes with the 8.1 OS , so answer is yes !!!

But need to set your region to the U.S., at least for now. :-(

Ya true , minor set back but works fine, I've been using the preview dev version and no problems !!!

That's great news , if only the 1520 or 930 would arrive soon would be amazing!!!

Nope... We need a flagship here...

I gave up telling the rogers reps, that keep calling me about the upgrade on my account, to bring in a new windows phone for me to upgrade to. Bought a 930. Probably won't be at least 6 months minimum before any chance of a new windows flag ship avail on Rogers.

Doesn't matter anyway, the plans available on upgrade suck ass. Keep your better plan and/or take a bring-your-own-device discount, and buy a new phone whenever you want/need it, rather than when your contract happens to come due. Cheaper and/or more control.

Really? If I remember well, the last time I actually did an upgrade (Nokia N8) I pretty much kept my same plan but locked in for 3 years. That was the last time I actually used an upgrade (Bought Nokia N9 and Lumia 920 outight from rogers after)

That was then, this is now! When the government forced them to go from 3 year contracts down to 2, they made all the new contracts suck hard. They were very up-front about it, pointing out that they didn't have as much time to make back the handset subsidy. If you're on a 3 year contract, you'll almost certainly be forced into a new plan when renewing and won't be allowed to stay on your grandfathered plan. The only way to stay on a grandfathered plan is to forgo contracts and go month-to-month when your contract is up. This is actually good news for Windows Phone fans (or anyone who does the math on how bad the new plans are). Your friends getting the iOS and Android flagships on contract will be paying $70-80 a month for a plan with 512MB of data. You'll be laughing all the way to the bank with a great plan, and getting phones when you want them rather than when they're forced on you every 2-3 years.

So I want to keep my 60$ 6gig superplan as hard as I can eh? Wait, aren't they just gonna screw everyone over like they did with the $30 6gb plan by increasing it $5?

You better believe it. Get used to buying your devices online. I got my Lumia 1520 for $450 off of a local free online classified site. :)

It's doubtful they'll be able to bone us on old plans as badly as the new ones. For example, Rogers' only plan with 6GB of data right now costs $125 a month. It's highway robbery.

haha yea, I was searching about retentions plan and the best people are getting is 110$ for 8gb (with voice text blah blah) but damn!!!

I'm paying $92 a month with my value pack, my unlimited anywhere in Canada plan, and my $30/6GB add-on. I guess that'll be $35 soon, if it isn't already, and my value pack went from $11 to $12. But Compared to $110, that's nothing. All that said, Rogers/Fido may get the opposite of what they're hoping for. Rather than pay more for same, I'll likely cut my plan way down and pay less when my contract is up. Now that Shaw's rolled out free WiFi for their home internet customers in public locations, I'm not using nearly as much data as I used to.

Makes me very happy to be with WIND.

I sadly can't even consider Wind as an option. They don't have coverage or sell service where I live/work yet.

Same, they have that amazing unlimited North America plan for $39 or something ridiculously cheap. And I don't get coverage in Sudbury.

They're expanding their network slower than we'd all would like. However, the CRTC called Rogers out for overcharging WIND and Mobilicity for roaming on their networks ($1000 per GB? YEESH!). Hopefully with stricter caps in place, WIND may be able to offer various domestic roaming plans that Canadians nationwide can use. Fingers crossed.

We're supposed to hear about the government's approach to domestic roaming by the end of the summer. Fingers-crossed indeed!

Does the Lumia 930/635 work with Wind frequencies?

From the info available online, the 635 does and the 930 does not.

You are correct. I was considering getting a 930, but it will not work. The RM-938 model of the 1520, however, will work.

Screen on my 920 crack in October 2013, it's still useable but I've been waiting for one of the new phones to be released in Canada but still no hope in sight. . .

I agree !!!! Please MS flagship phone for Canada!!!!

We need high-end phones here in Canada. Loving my 920, but when time comes I want a 1520 grade phone. I'm on Rodgers, but Fido should also offer a high-end Windows phone.

Have you looked at the new plans? They're *so* much worse than the old ones, that when the time comes to renew the only thing that makes any sense is to not renew, go month-to-month, and just buy unlocked phones whenever you need one.

You're correct. The plans are not the best. ;)
But I still get the plan anyway, might squeeze a free/cheap phone out of it. Plus, I have a public sector plan. It's actually pretty good.

It's a great budget phone but the wait continues fot a Windows phablet in Canada.

For those locked into the mindset of getting their phones from their carriers, I guess. I'm using and loving a Lumia 1520, and I'm on Fido. Bought it used, locally, from someone who imported it. WIth the rate increases to plans, there's no incentive to get a carrier-subsidised handset in Canada anymore, so it doesn't matter to me whether Fido or anyone else offers them to me anymore.

I, too, hate contracts, but most people aren't willing to shell out over $500 for a new phone.

But will they be willing to pay $80 for a plan with only 500MB of data just to get a Lumia 1020 for $50 (instead of $600), or an iPhone 5S for $330 (instead of $820)? Some will, but the smart ones won't. Smarter to pay more up-front, but less per month. Much smarter.

Wonder if they shipped developer edition(subsidy unlocked) batch or is that a Rogers exclusive

Yup we Canada need some devices....

That's great but we also need some high end phones with glance.

Glance is ok and definitely cool... double tap is good and fast enough.


Happy I could tip this one! :D

Congrats! I've had two of my tips published, and it felt good both times. :) I'd already seen this on Mobilesyrup and didn't think to tip it! :P

I was expecting a midrange or high end. The span between their first windows phone and this one is like 7 months?! So that means it would take a while for them to add another phone.

Was he ok? Is he at the vets? Please let us know.