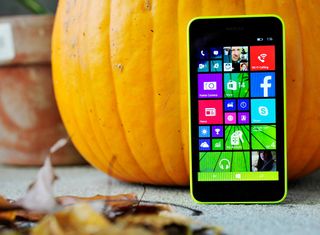 It's not the cheapest Windows Phone you can buy, but it might just be our favorite in the affordable category. Here's why.
The Lumia 630 and Lumia 635 were announced by Nokia during the Microsoft Build 2014 keynote. These two smartphones were among the first in the world to come with Windows Phone 8.1 and the Lumia Cyan firmware out of the box. In the Lumia lineup, the 63X series sits above the Lumia 530 and potentially represents a tremendous smartphone value. In the United States, you can get the Lumia 635 for anywhere from $100 to $140 off-contract. That's a killer price.
We recently reviewed the Lumia 530, a Windows Phone you can get for just $70. While it makes a handful of compromises, you can't ignore how cheap it is. Is it worth spending a little bit more and getting the Lumia 635? Let's find out.
Swipe to scroll horizontally
Great display for the price. Widespread availability. Good design. Backs can be swapped at will.
Relatively low storage space, no front-facing camera, no dedicated camera button.
Not the cheapest Lumia, but our favorite in the low-end range. Overall solid Windows Phone that only makes a few sacrifices to be so affordable.
What's the difference between the Lumia 630 and Lumia 635?
The Lumia 630 and Lumia 635 are the same for all intents and purposes. The difference? The Lumia 630 can support up to two SIM cards at once. A feature very useful in emerging markets where a user might switch cell providers for lower prices or when they wish to use their phone for personal and business calls. The Lumia 635 comes with the ability to only support one SIM card, but is LTE-enabled, which the Lumia 630 is not. For our review, we're looking at the Lumia 635, but everything said here will apply to the Lumia 630 as well. From here on out we'll just call refer to the device as the Lumia 635. Enough chit chat, let's find out what the Lumia 635 is all about.
Hands-on
The Lumia 635 is an attractive looking phone. Its 4.5-inch display means it's comfortable to hold for the majority of people. It's not too big and not too small. Think of 4.5-inch devices as the Goldilocks of phone size. It's curved corners, slightly curved back, and bright colors make for a phone we can't stop admiring.
Not only does it look great but it feels good in your hand. The rear shell comes in a variety of colors and finishes. We're using a bright green with a matte finish. Despite the cover being plastic, it's not slippery and won't be jumping out of your hand anytime soon. Other colors you can get for the Lumia 635 include yellow, orange, black and white either in matte or the shiny 'candy' versions (seen here in yellow).
Related: Hands-on with AT&T's Lumia 635
You're not spending a lot of money when you buy a Lumia 635, but easily get more than you pay for when you hold it in your hands.
Hardware
The Lumia 635 is an inexpensive Windows Phone, but it's not exactly cheap on specs. Below are the specs for Lumia 635, run through them and make sure you keep in mind this phone can be yours for around $100 off-contract.
Windows Phone 8.1 + Lumia Cyan
4.5-inch IPS LCD display with ClearBlack and Gorilla Glass 3
854 x 480 display resolution (800 x 480 + virtual keys)
1.2 GHz Quad-core Snapdragon 400 processor
5 MP rear camera, no LED flash
8 GB internal memory (3.33 GB free); microSD expandable up to 128 GB
512 MB of RAM
4G LTE
1830 mAh replaceable battery
5 x 66.7 x 9.2 mm
134 grams
The Lumia 635 comes with the Snapdragon 400 quad-core processor and 512 MB of RAM. In terms of performance that means the Lumia 635 can easily handle the majority of apps and games in the Windows Phone Store. We fired up some demanding games, like Age of Empires: Castle Siege, and had no trouble playing on the Lumia 635.
If you get the Lumia 635 and you also pickup support for SensorCore since the Snapdragon 400 processor is inside. SensorCore is useful for allowing your Windows Phone to collect motion data with minimal impact on battery. Your steps, motion, GPS data and time can be continuously recorded to your phone without destroying your battery. For instance, you can use the official FitBit app to count your steps even if you do not own a FitBit device.
We're smitten with the display on the Lumia 635. The Lumia 635 is a budget phone, but Microsoft was able to include their ClearBlack technology into the display. This feature allows the 4.5-inch IPS LCD to offer improved readability outdoors. ClearBlack also works to make blacks darker and colors pop a bit more. This isn't a high-end phone, but we have no problem looking at the screen on the Lumia 635 for long periods of time.
The resolution of the screen ends up being a usable 800 x 480 as the 54 pixels on the bottom are reserved for the virtual back key, Windows key, and Cortana key. The resolution and display size work together to make a viewing pleasant viewing experience. You won't see any pixels unless you actively try and look for them.
This is a budget device, so you don't get a whole lot of storage right out of the box. There's 8 GB of included storage with the Lumia 635, but only about 3.33 GB of that is free since things like the operating system take up space. Thankfully there's support for one micro SD card up to 128 GB in size. Although you don't get a lot of built-in storage when you boot up your phone for the first time, you can quickly add as much as you want with a micro SD card (purchased separately). Music, video, photos and most apps and games can be installed directly to the micro SD card.
Some misses in the hardware department include omission of a few sensors. The Lumia 635 comes with no proximity sensor and no ambient light sensor. What are these sensors primarily used for? The proximity sensor is useful for telling your phone how close it is to your face during a phone call. Meanwhile, the ambient light sensor allows your phone to adjust screen brightness automatically depending on the light in your environment. This lack of ambient light sensor just means you'll need to adjust the screen brightness manually on the Lumia 635. Not a major loss.
We are missing the dedicated camera button on the side and a front-facing camera. You won't be taking selfies with the Lumia 635 unless you turn the phone around to use the rear camera. We can do without the hardware button on the Lumia 635, but wish there was a front-facing camera included. While we hardly use it, we know it's a feature that could easily make the Lumia 635 most appealing budget Windows Phone for younger demographics. Those who take a lot of selfies might want to look at the Lumia 730.
Nokia though has somewhat solved the selfie problem as you can download their free Lumia Selfie app from the Store. This app lets you use the rear camera to take self-shots, and it uses an auto-face detection algorithm with an audible alert to snap a photo for you. It is a highly clever app, and you can get some exquisite photos since you are a using a 5 MP camera.
Camera
You get a 5 MP rear camera with the Lumia 635. It features auto focus, 4x digital zoom and a minimum focus length of 10 cm (3.97 inches). There's no flash, so don't count on using the camera in low-light situations. Camera results are average and won't necessarily blow you away. This is a budget device with a budget camera. You can take respectable pictures and post them to your social networks, but don't expect technically beautiful photos.
Below are a few camera samples from the Lumia 635.
Battery life
Inside the Lumia 635 is a modest 1830 mAh battery. It's replaceable, and you can carry a spare if you're worried about running out of juice. But you most likely won't need to carry an extra battery around. We were able to squeeze a full day's worth of use with the Lumia 635 easily. You should have no problem getting through your day of phone.
Where to buy
You can now find the Lumia 635 (and Lumia 630) in most international markets. We'll link up a few places where you can get the Lumia 635. Price will vary by retailer and region.
Accessories for the Lumia 630 and Lumia 635 can be found in the Windows Central Store: http://Shop.windowscentral.com/nokia-lumia-635 (opens in new tab)
The bottom line
The Lumia 635 might be one of our favorite budget Windows Phones around. It's not as cheap as the Lumia 530 or BLU Win JR, but the display quickly makes up for the price difference. Do consider the Lumia 530 or BLU Win JR if your budget is tight, however we recommend the Lumia 630 over the two if you can afford it.
Already have a high-end Windows Phone like the HTC One M8 or Lumia 1520? The Lumia 635 makes an excellent back-up phone in case your primary device takes a nasty spill. We're also a fan of bringing the Lumia 635 to places we normally wouldn't want to bring our expensive Windows Phone. Places like the gym, or mountain biking are where you might want to grab a Lumia 635 as a secondary Windows Phone.
Is the Lumia 635 a low-price winner? Yes. You get an attractive Windows Phone with enough money left over to buy some lovely accessories, apps and games.
Need even more information? Dive into our Lumia 630 and Lumia 635 support forums to ask current owners what they think of their phone.
Windows Central Newsletter
Get the best of Windows Central in in your inbox, every day!
i have this phone! best dumb phone to hold me off until Tmobile gets their next high end this Spring.

It's technically a smartphone.

LOL this ain't a "dumbphone". A "dumbphoine" is something like the Nokia 130. The 630 may be cheap but it's a full-on smartphone with a full smartphone OS.

Lack of a FFC kills it for me. I like my Skype video calls...

Lack of flash killed it for my wife, because she frequently uses it as a flashlight. Otherwise, she would have jumped on the 635.

There are few apps that make screen white as a workaround, not ideal but useful.

That would have been nasty...
For your wife's leg.

Lack of a single flash kills me and kept my mom away from buying this phone, she bought instead a 625.

Lack of FFC and the screen resolution keep me from buying this, I think I have to buy the 735 as there isn't any mid end alternative.

735 is excellent mid range choice against this phone. They just don't compare. This is low end. Get the 735 if you like the design!

You can take selfies with this with the Lumia Selfie app. It works really well using the rear 5mp camera.

I bought this phone to replace my 920 as the simcard reader died. The 635 handles everything extremely well even the camera is great for the price.
The only thing I don't like is that apps on my SD card sometimes get corrupted and need to be reinstalled but that might be the cards doing. Other than that this phone is great.
635/635 points.

That's interesting, my SD card in a 630 became corrupted and I had to replace. Old one was a SanDisk 16GB new one is a Samsung 32GB G10.

The wife has been very happy with the 635 as a first time smartphone owner. We have two of the T-Mobile versions in our house.

How did you hold out for so long? Jeez, I've had a widows smart phone since the 2002 pocket PC days so over 12 years.

Yeah, the FFC would be great for Skype calls, but if you don't do that, it's not a great loss. The Nokia Selfie app mentioned in the article is great, and virtually eliminates the need for a FFC for selfies at least. I gave this phone to my son and he uses it for playing games, texting, selfies, some apps like Vine and NFL etc. It's a GREAT value IMO.

This phone is not bad, it's only that it's not good enough either

I've wondered which dual sim would be nice for my wife when her N8 dies; dual sim would be nice as we have a Finnish SIM along with her regular French SIM. And I think my conclusion would be that 730 is the best value for money (and I don't care the selfie camera).

Could have been best seller if it had front facing camera. Those young kids love selfies

But they can take selfies with the installed Lumia app. Its the best selfie software too using the back 5mp camera you can increase eye size, smile and whiten teeth/eyes.

Heads up for anyone looking for one of these: http://www.amazon.com/AT-Nokia-Lumia-635-Contract/dp/B00LBFFSNM/ref=sr_1... I Just purchased one of these to replace my 100 with a broken screen. It is a steal for 80$.

my dad uses 630 good display. and feels good to hold it and type too.

Wouldn't it be a better value (with added features) to get a Blu HD phone from Microsoft Store?

I think it's about Nokia's quality

True...but I think I'd be willing to take a chance at $179 to get a 5" phone with a front-facing camera, Dual-SIM, and 1gb ram. Since the Blu phone wouldn't be my daily driver anymore than the 635, I'd go with features over quality.

I use my L920 as my daily driver. I bought the L635 to work out, run, etc. SensoreCore for the win! This phone is an awesome secondary device.

In today's world 500mb is not nearly enough RAM for a phone. I was so close to throwing the phone at a wall multiple times. Returned it and got the Lumia 920 instead. The 635 is a cute little phone though.

Keep in mind though, that only WP and IOS can run on 512 Mb devices. You would destroy any Android with that kind of ram.

Bought the Lumia 635 for my brother he likes it alot wishes it had a FFC.
Now he tells me he wants a high end WP I told him to wait until WP 10

If the FFC is for selfies tell him to use the Lumia Selfie app. It's really impressive.

Is it? can you provide the link for it if available I'll appreciate it thank you.

http://www.windowsphone.com/en-us/store/app/lumia-selfie/40b6a721-15d2-4...

I have this phone I bought with a small crack screen for cheap. Which I love this phone, screen looks great, light weight to browse the web in the bed with one hand. Bought it for sensor core for clu ting my steps when I run. With denim update Cortana will be always listening which is going to increase my use as well.

Always listening Cortana only coming to Lumia 1520, and 930/Icon. It requires a Snapdragon 800 SoC.

Never thought of Goldilocks' curved corners or that she might have a curved back! ;) :P

Will it run on Verizon? A must ask question in my region. Please include Verizon with all future reviews. Thanks in advance!

Wonder if anyone would know the answer to this - I am considering the 630 as I travel a lot internationally. But I would also like to keep a higher end Lumia with me, primarily to take nicer pics (for now it would be my AT&T 920). Would AT&T be able to provide my a duplicate sim so that I could have my US line active on both phones at the same time, if/as needed (and not have to keep swapping the AT&T one between the 630 and 920)?

That's not possible. The current SIM standard doesn't allow two devices to use the same number, and in fact: I think it might even be illegal. Legal issues aside: No, not possible to have two SIMs share a number.

My wife dropped her 1520 shattered the screen so I got her this until hers comes back from repair. On Amazon it was $79... Not a 1520 but when hers comes back we have a decent spare if an issue arises again

I miss the proximity and light sensors, sometimes is hard to end a call since the whole screen is used as proximity sensor and have no auto adjust to the bright on a clearback screen makes not much sense.

Bought this phone to check out the windows ecosystem. For what I do with a phone, which is almost nothing, this phone is fine. I use it to record performances of voice and acoustic guitar for youtube, does the job, would like more choices for standard formats. I use it to tweet, reply to emails, browse the net, listen to music. The other day I wanted to take some indoor pics and wished for a flash, thought I would want a FFC, but honestly don't use Skype much. Best of all it fell and shattered the other day (my fault for not encasing it), but I didn't even flinch, just thought, "oh well I will pick up another one.". That's the beauty of having a cheap phone, no worries.

Have the 630,great phone. Corners have been cut for sure with only 512mb ram and lack of sensors.but still performs great for price.

I have a 620 and going to this feels like a downgrade.
I'll wait for the 730/830.

+620. It has lot more features than this crap. 730 is a decent upgrade tho.

Great review! I wanted to buy this phone for my mother to replace her 620, but she's happy with her 620.

Still silly to include a front facing camera on the 625 but not this. Is meant to be better!

Its funny how the 521/520 are better than even this phone in some regards. Extra sensors, 8 GB internal as well, hardware camera key (a must for me), etc

Read. This phone has 8GB internal too. And the screen on the 520 is a P.O.S

Also the 52x phones have all the sensors that the 63x series lacks. Removing those features was going a tad too far in my opinion.

I've owned a 635 for a few months now - ATT no contract for 99 bucks. Couldn't be more satisfied. My kids are all iPhone and when they played around with this phone they were very impressed, which is saying a lot. I really like SensorCore and use it via Steps everyday. Who needs a FitBit which costs about as much as the phone. Some say not enough memory. My response: never notice it being memory starved. Some say not enough screen resolution. My response: looks fine to me and others. Some say no FFC. My response: I don't need one. Conclusion: If you don't need a ton of (often unused) features, take a good look at the 635. Thumbs up from this customer. Very nice review Sam. Thank you.

I have a Lumia 630 as a backup phone and as a travel phone. I left my main phone behind on my 10 day vacation this summer, and the 630 was a little star (Here Maps with Offline Maps was a lifesaver). It's also a tough little phone. The rear shell will pop off if you drop it, but this seems to absorb the energy of the fall. If only you could get the shells in other colours, they don't go that well with the darker WP Theme colours.

I still prefer my 620 with ffc, flash, glance screen and dedicated camera button. I do use Skype and take selfies. Might change it next year if an upgraded version comes out for the same price. 630 is definitely not an upgrade.

+620. I still don't know what phone should be an uprage to 620. Definietly not 630/635, in 730/735 Glance Screen is missing (one of my best feature). So maybe 830, but this is a huge (more expensive) uprage from 620.

Got mine at Frys for 79$ and like it quite a bit. I use it for travel when i don't need my 1020.

I love my Lumia 630 dual SIM. Gotta say after using the Lumia family (920, 1020), the only thing I miss is the gyroscope, but this only effect few of the app that I used the most like HERE Drive, and HERE City Lens. But apart from all that I love the dual SIM capability. I use it as my day to day phone as the battery life is awesome. I highly recommended to download the "Sensie" app.

The ram and lack of front facing camera kills this phone I've had it now little over a month 6tag crashes because of ram limitations and I get random reboots usually 1-3 a day. Its a great phone but I think a gig of ram and a front camera would have been huge for this phone

I currently own a 1520. Snowboard season is just around the corner and lugging my 1520 around while snowboarding can be a challenge at times. My question is would switching sim cards from the 1520 to the 635 back and forth work just fine? It's a noob question I know, but I never thought I'd be considering owning two phones. One for play and one for everything else.

It wouldn't be a problem at all. I do that with my various Lumia and BlackBerry phones and a Nexus 5. Although the 635 I bought is locked to AT&T (GoPhone), it works fine with my Cricket SIM. If I remember right, the 1520 uses a nano SIM so you'll need an SIM adapter to get your chip to work in the 635. Even with high-end phones on hand, I find the 635 to be a great little device, esp. for the relatively low cost!

Cool thanks. I appreciate the tip on the sim adapter as well.

620 had a better design (and a camera button) but the 630/635 looks like a decent device.

It's a beautiful device :) despite all that it lacks, the design is nice, the OS is perfect. Works smoothly. I like the call quality and battery can hold up to 5 days if you only use it for calling, texting and some browsing and mailing. That's my experience with this phone. It's a budget phone of course. Depends on what you need and want.

Just grabbed this phone from my company. It's really beautiful.

I have the 630 - broke my beloved 820 a week before leaving for a two-week road trip in northern India. Storage issues were easily fixed with an SD card (like with the 820) My 630 performed admirably, good battery life and speed, only when switching applications too often I noticed the 512MB RAM.

Think this device lacks clear black display, so no thanks. It's alright for a cheap large screen display due to price though.

The display is ClearBlack. http://www.microsoft.com/en-us/mobile/phone/lumia630/#ProductSpecsWidget

I think it's great! This phone is helping me back to windows phone after a traumatic experience with windows phone 7 and 7.8 , until Microsoft gets the hardware aspect right , and some more software tweaks , im all in .. for now this one will do , and the tradeoffs are minor imo for such an inexpensive device.

What did you hate about WP7? It had it's definite flaws, and I myself have moved on from a 900, but it was a beautiful and respectable OS. Nightmares? I'd like some more info, please.

This is one of my favorite phones of all time! For the price, the value you get is incredible. I'm a student and this phone is perfect, I can use OneNote, play nice games while in the subway, listen to my podcasts and music. It's WAY lighter than my old L920 and it's really comfortable in the hand with the green shell. My phone is unlocked so I can get really affordable plans to use with it. Only negative is the camera of course in low light but you can't have everything. This is the best budget device for Windows Phone right now for sure.

Excuse me.. But this phone lacks equalizer and may features and yes only accellometer all other sensors are not present... Don't buy... Have to switch to Lumia 730

620 is way better. Just that it doesn't have sensor core and pathetic battery else going to 635 is a downgrade.

I only got the 635 for the LTE. And it's all they had in stock at Target :P

Sam, can you straighten out the different covers that are offered for this phone? MS Store carries CC-3079 in orange, green, and yellow. All appear to be glossy. Does anyone in the US carry matte backs? Is there a different model number for them? I see them on eBay, but they only appear to be availbale from China and a Russian seller. Also, the yellow back appears to have some green in the clear coat? Can you confirm this? Looks kind of cool... Thanks!

Microsoft Store - Lumia 635 for Windows (Black) - Unlocked - $179.00 The bands included in this unlocked are those of AT&T only! No T-Mobile radios included! I was going to buy this black but looked at the specs and no 1700, 2100 inside!

I am having to consider this the Nokia Lumia 635 or a HTC Desire 510. I am not sure whitch to choose.

I have compared the low end 635 to a high end Nexus TABLET (with better specs than the Desire), and the 635 does leaps and bounds better on efficiency, reliability, and speed. You won't regret getting a 635, not at all.

Yea I am now maybe interested in the Sony Xperia M2 also. One of the things I want to confirm is sense core (sensor hub) on the andriod devices. They all have 4G LTE and micro-SD card slots ______________________ Xperia M2 +LED light +1GB RAM +Highest pixel density - 32GB max SD -non-removable battery - does it have Sensor hub? _______________________ Desire 510 + 64bit CPU +1GB RAM +NFC -Fixed focus camera -poor screen quality - does it have Sensor hub? _______________________ Lumia 635 +Sense core +Gorilla glass 3 +Better camer and screen than Desire 510 - 512MB RAM -no dedicated shutter button Yea just a bit of a rundown of the pros and cons.

I know these questions can be annoying, but: Where can I find the background in the header image?

Got a Lumia 635 today. Had a Lumia 920 before. Did not use the FFC or dedicated kamera button on the 920, so that is not something I miss. Got to say I really like this new Lumia 635 a LOT!!

I absolutely love my 635 to death, but since a came from a 920 as well I kind of miss the camera button. However, the action center camera button works very well too.

I have this phone currently, and so far I enjoy the lack of an ambient light sensor. Plus, I don't need a front camera because I really don't take selfies (however, Skype would be nice). The device is very durable, thanks to the design of the back plate. The screen does slightly tint blue, but that's no big deal. In other words, it has it's ticks, BUT I RECOMMEND THIS HANDSET TO ALMOST EVERYONE.

I love this phone. Bought it on best buys website after I cracked my HTC 8X. Great phone for the price. I recommend it to all people who want or need a secondary phone.

Picked up the 635 and I love it. I could careless about the ffc or the flash less cam, if you don't mind these luxuries then this is a very good device for the price!

I'm trying to decide on getting this phone(635), when Sprint releases it, or buying the HTC 8XT off of EB. People have posted the 8XT has better specs and other advantages that the 635 doesn't have. I'm torn with buying a phone that's almost 2 years old over a newly released phone. Any thoughts will be appreciated. TIA

This phone was ok till the new up date hit and now is sucks noting works like it did your safe bet is staying of windows untill they fix their phone problems and when the new phones come out the old phones like this you wont get any thing fix on phones like this .

Reading the specs it says it comes with 512 Ram I got one as a second phone for testing Windows 10 phone as i am a Windows insider And mine came with 1gig Ram
Windows Central Newsletter
Thank you for signing up to Windows Central. You will receive a verification email shortly.
There was a problem. Please refresh the page and try again.