Fitbit for Windows Phone grabs background-sync, Cortana integration, and support for new trackers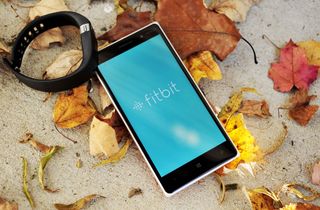 This morning, Microsoft and Fitbit have announced a major update for the current Windows Phone app in addition to a forthcoming overhaul to the Windows 8.1 Modern one. The Windows Phone app update is live right now while the Windows 8.1 app redo is expected in early November.
In addition, support for Fitbit's latest trackers, including the just announced Fitbit Charge, Fitbit Charge HR and Fitbit Surge, is included in this latest round of updates (Surge support due upon release of the tracker).
Windows Phone's new features
Microsoft and Fitbit are clearly working more closely together as the two companies are going beyond basic app support for the fitness tracker app, adding unique features to the Windows Phone version. Today's update also brings the Windows Phone up back to parity with Android and iOS with the addition of Challenges and other new features.
The major update today from Fitbit includes the following new features
Cortana : Available today in beta, Fitbit has worked closely with Microsoft to create a custom experience for Cortana inside the Fitbit app to make tracking food and activities more efficient. By speaking to Cortana, users can quickly log any of the 350,000 foods in the Fitbit database, all while using natural language like "Fitbit, I ate lasagna for dinner" or "Fitbit, I had a coffee with breakfast." Users can also create silent alarms for Fitbit trackers
Fitbit Challenges : Fitbit's newest app addition brings even more motivation and fun to Fitbit's Windows Phone app (as well as to iOS and Android apps). With Fitbit Challenges, users can directly compete with up to 10 friends and family to help meet and beat goals in new competitions, including Daily Showdown, Workweek Hustle and Weekend Warrior
MobileTrack : With MobileTrack, Windows Phone users without a Fitbit can still get in on the action. Mobile devices with MobileTrack use Microsoft's Motion Data (SensorCore) to track steps directly from the smartphone (Microsoft Lumia phones only)
Background Sync and Push Notifications : Users can now experience background syncing and push notifications for Challenges, messages, progress updates and more
New Language Support : Initially available worldwide in English, the Fitbit app for Windows Phone now offers French, German, Italian and Spanish languages
Roadmap and Windows 8.1 app update
The Fitbit app for Windows 8.1 has not had a significant update in quite some time, although that is about to change. The new app due in the coming weeks gets a new UI and updated features. The UI changes also work their way into the Windows Phone app, likely in December.
From our discussions with Fitbit, it is clear that Microsoft and the health tracker company have a reliable roadmap laid out, with continued and dedicated support for the mobile platform. Some new features were also announced for the Windows 8.1 app, including:
Additional Cortana Functionality: Building off of existing food logging and alarms functionality, upcoming Cortana features will include activity logging and the ability to enable exercise mode, all through voice commands (December 2014)
Support for New Fitbit Products: In addition to existing Fitbit products, Windows Phone users will have immediate syncing with Fitbit Charge beginning today. Support for Fitbit Charge HR and Fitbit Surge, as well as heart rate tracking, will be live once these products are available
Windows App: Windows 8.1 desktop, laptop and tablet users will experience a new Fitbit app for Windows 8.1, completely remade with a new design and better functionality. No longer just a window to stats, the tablet app leverages Microsoft's universal Windows application platform to deliver a rich and authentic Fitbit experience. Features will include manual logging of activities, food, sleep, weight and water, as well as Challenges (November 2014)
MobileRun: Windows Phone 8.1 users can access MobileRun, which uses GPS to track, log and compare workouts. The feature also offers real-time updates while running, as well as voice cues delivering stats and providing extra encouragement to meet goals while exercising (December 2014)
Additional Languages : Windows Phone users will have Korean, Japanese and Chinese (Simplified and Traditional) languages (November 2014)
From a press-release from Fitbit this morning, the company commented on the Microsoft cooperation:
We have been using a beta of the Windows Phone and Windows 8.1 update for Fitbit and have come away impressed. Although we have always been fans of Fitbit for keeping track of footsteps, activity levels, and floors climbed the continued development of the Windows experience is a great indicator for potential customers to invest in both platforms.
The just-announced Windows Phone app update is now live in the Store. Windows Central will also keep you updated on the Windows 8.1 app overhaul as that gets closer to release.
Windows Central Newsletter
Get the best of Windows Central in your inbox, every day!
Daniel Rubino is the Editor-in-chief of Windows Central, head reviewer, podcast co-host, and analyst. He has been covering Microsoft since 2007 when this site was called WMExperts (and later Windows Phone Central). His interests include Windows, laptops, next-gen computing, and for some reason, watches. Before all this tech stuff, he worked on a Ph.D. in linguistics, watched people sleep (for medical purposes!), and ran the projectors at movie theaters because it was fun.
A bit odd that MS would be involved in the announcement right before the expected launch of their own competing product. Still, glad to see the platform support.

There is no official announcement, so its still speculation.

Was thinking the same. But updates is updates. ;-) Especially when they bring features already available on other platforms.

For all we know their close work with Microsoft could be because it will support Microsoft's upcoming tracker as well.

Hi I hear your point. But it may not be strange at all. Microsoft in efforts to be competive has partnered with fit bit to offer this great product/service to those of us in the the Microsoft ecosystem and those Microsoft hope to draw into the ecosystem by having a breadth of diversity to choose from. Support for a diverse set of product offerings is important for a company that is attempting to reach a very broad audience. iOS and Android have a horde of "followers", legions of developer and third party support, if Microsoft is to reach the masses and communicate to them that they have support from the SAME broadly popular developers and third party product companies likeFit Bit, Microsoft NEEDs to stand side by side the company when the announcment regarding dedicated and committed support and product enhancements such as what Fitbit is offering Windows based products, is made. This also has the derivitive affect, and is actually excellent timing (if the rumors of an imminent Health Focused Microsoft Smart Band are true) of giving Microsoft much needed press in this specific area, leading up to the announcement of thier smart band. Interested parties and individuals may be drawn to read these Fit Bit articles that will likely pepper the web, many of which may make mention of Microsofts pending product, and/or the comment sections may be littered with references to Microsofts on device - drawing in potential customes for that product. This type of collaboration communiates the masses, DEVELOPERS, that micosoft is COMMITTED to a collaborative relationship in the area of creating exceelent software, which is tightly integrated in Micosoft's ecosystem and unique services such as Cortana. It is a keen example to potential developers that Im sure MS may hope to gain support from for thier own device. Well played.

It's the Fitbit Surge or the rumored Microsoft band for me! Your move Microsoft!

Right? The announcement of push notifications has me about 70% sold on this new Fitbit... Microsoft is gonna have to give up some more info to get me psyched about their smartwatch.

If Microsoft don't have something by Christmas then I will get the fitbit

Exactly my thought. The rumoured features look a lot like the new Fitbit watch, so I think it will come down to design and price. After the SP3 I am convinced that MS engineers can at least design and build that thing right! Anyways, it's good for the platform that we get more than one option!

wow, i just wish i didnt lose my fitbit at the airport.

Contact our customer support team. They should be able to help you out! :)

Wait what? If the team has support like this I might just go with Fitbit. Definitely getting Fitbit if Microsoft's is a bust.

Wait what? I can contact customer support for my lost fitbit? What would they do? O.O it would be amazing if I can get a new one!

I heard that customer support could help out but when I lost my Dash, the only thing they told me was to keep checking to see if my FitBit synched up. Then I could try and find out where my Dash was. There was 1.5 feet of snow on the ground and the parking lots got plowed. My fault on losing it but I wouldn't expect customer support to "help out" with a new one. You may get lucky but I then bought a FitBit One because I'm hooked on the steps things.

Actually I contacted them, and got a reply already. Tbh that's amazing customer support. Any way, they told me to get my receipt, and they will assess the case, and ship it if they found me illegible. I think they just look for trickery of some kind, otherwise the will help out. The receipt will be difficult to acquire, but lucky me they took my passport number and attached it to the receipt, as i bought while traveling. I'll update if things go well.

PM me if you have any issues. :) Can't have one of my users without their tracker now can I!

Hi Tristan, I bought a fitbit flex at Sydney airport in August this year. However, I am unable to sync it with my Lumia 920 running DP 8.1. I couldn't even use it once. Seemed to me like a lost cause. Can you help me out?

Hi Rishilal, Can you confirm that you are running the Lumia Cyan firmware on your Lumia 920? Without Cyan, Bluetooth LE is disabled on the Developer Preview. This wuld explain why you haven't been able to sync. Feel free to drop by the Windows Phone support forums on the Fitbit site if you need further assistance.

Thanks Tristan, Got it to work!!!! I didn't have the Cyan firmware earlier when I was trying to sync it. Now that I have it, it works. Have found an inconsistency in counting steps that I will log in at the support forum on the Fitbit site. Rishi

I'm afraid you've opened a can of worms by revealing yourself, Tristan... I'd been waiting a long time for a fitness wearable with WP support and was happy dancing when FitBit announced a few months back. Of course, then the fridge died and there went my discretionary budget... After reading this article about the new FitBit products, I still think I want the Flex - weighing in at 110 lbs with a 6" circumference wrist - I suppose I could buy 2 larger devices and use them for wrist weights... But now I'm wondering about hooking up multiple BT devices simultaneously. I have a pair of BT headphones that I love to use while working out (being tethered to my music source is so last lifetime). Have you tested having FitBit wearables and BT headphones connected to phones simultaneously? Is this doable?

Ha! No worries. I much prefer being an active party of the Windows Phone community, especially when it comes to the app I am responsible for. :) You should definitely be able to use multiple bluetooth devices at once. We have a bunch of FAQ's on our site which might address any other questions you have, otherwise feel free to drop by the Windows Phone support forum and we can help with anything Windows Phone specific. I hope you enjoy your Flex!

I once lost my fitbit one and customer support sent me a new one free of charge. Just had to send a copy of my purchase receipt.

Me too. Fitbit has the best customer service of any tech company.

Mine went through the washing machine and they replaced it completely free of charge. Fitbit customer service I amazing.

Wow! My One went through the wash, and I simply bought a Flex to replace it as I figured they wouldn't replace it since it was clearly my fault. Maybe it'd be worth getting the One replaced so I can gift it.

Great! Off to try it it :)

Wish I had a fitbit and a phone compatible

Sounds like you know what to wish for Xmas then! :)

Yes, I wanna snag a Lumia 1520.3!

Nice. Grabbing the update now.

"Fitbit, I just dropped a huge two pounder."

Does FITBIT supports L520?
Or sensor core is important?

See the part above about SensorCore.

If you can install the app, and you have a FitBit, you don't need "SensorCore"... Now, if you don't have a FitBit band.. and you want to use FitBit to track your steps with your phone, then you'll need a Lumia with "SensorCore" like L630, 730, 830, and don't know which other phones have SensorCore... But as i can remember your 520 doesn't have that technology

I gave my mom a 520, and it supports BT syncing with a fitbit device (she has a Zip)

Anyone hear anything about the Jawbone UP app?

Cortana integration sounds pretty sweet.

Take note Instagram, Twitter and IMDB!!!

Super news except for all those customers still waitintg for updates on T-Mobile and Verizon.

Yeah, too bad it won't work on any of the 3 WP I have on Verizon.

Just need the Cyan update...Im looking at you Verizon.

Did the 920 pick up Sensorcore with the Cyan update or is it hardware based on newer phones like the 930?

Sensorcore is unfortunately hardware based-- built in newer Qualcomm chipsets. But its functions is overlapping with the Fitbit bands.

It's hardware based. Sensorcore is its own chip but you can get it in the likes of the 630, not just high end phones.

Ok cool thanks for the info guys almost time for an upgrade anyway

Now I really want one. But still waiting for MSFT's own watch.

Microsoft to acquire or merge with FitBit and to launch the MS Watch as the new product under the joint company??? That's my analysis of the tight integration...

I was kind of thinking along the same lines, but just "Introducing MS smartwatch, powered by market leading Fitbit technology!" type of partnership.

I only know a few things about the MS smartband thing, but that is my guess too, that somehow they are working with Fitbit. Fingers crossed.

Fingers & wrists all crossed - we can hope. Time to buy shares in FitBit...

I think a MS partnership with FitBit would be preferable to buying them outright. FitBit has had great WIndows 8 & WP support from day one, and I don't see a need for tighter integration.

Apparently my wife requests that Meals added to the app. On the website you can define and add a meal... anyone know if there's a way to do that on the phone?

It's on my rather long to-do list. :)

That's great to hear! Thanks for all the good work

This should state that Cortana has to be in US English not UK English for it to work in fitbit

Hey, now Daniel's optimistic tone in his comment on the FitBit watch article the other day makes so much more sense. ;)
Glad to see app updates, hoping they fixed the live tile, since it never worked on my Icon at least. It also never showed the data from MyFitnessPal in the app, even though it showed on the website dashboard, hope they fixed that as well. A lot of these new functions aren't available on the Icon of course. :/

:P Yup, was trying to tread a careful line. Good company, glad Microsoft is recognizing that and working with them.

I'm glad they support WP as well, just sad to see that even when they are working with Microsoft we still don't get close to the functionality that iOS and Android get (music control, text, phone calls). It's sad that we'll have to keep being happy that they give us anything at this point. Is WP so fundamentally flawed that these functions can't be provided, or are they just not interested in providing more than the bare minimum? Either reason is sure to be disappointing, but I'm going to have to assume that it's due to a flaw in the OS, like how it can't handle keyboard support for Microsoft's own mobile keyboard. Oh well... Windows 10 might fix this, I guess. Sigh. :)

I am really disappointed, since I switched to WP on Lumia 1520, I feel that I am always a step behind iOS and Android.

Thanks Verizon, more stuff I cant use since you wont update a barely 6 month old phone.

My thoughts exactly...Lumia Icon the little engine that almost could...its kills me!

Awesome. Any word on battery status in the sys tray? Is MS going to update the OS to allow such?

Pull down the notification shade to have a look see. Also, this is very off topic

This isn't off topic. I am aware of the battery status, the battery status I am referring to is the fitbit battery.

Does not do us any good on Verizon.

I'm looking forward to using this when I get that Lumia 830 bundled with the fitbit

I still can't sync my fitbit to my phone. Anyone know why? And how can I fix it?

Jump into our support forums or send support and email at windowsphone@fitbit.com . Just to check, do you have Windows Phone 8.1 (and if you are a Lumia user, the Cyan firmware update)?

Please make such products available in India as well. Or let me know if its already available here. There is a huge potential to be tapped in this area.

In this case I draw back from my former statement. Fitbit (as a company) seems willing to support Microsoft (I was afraid they would take the Instagram route, releasing a basic app to the Windows ecosystem, with no updates to be seen).

I think, I must upgrade my phone :|

Now we can set multiple alarms. (Or I didn't noticed before?...)

That was always there. :)

Do we have confirmation that the "smart" features will work on Windows Phone? E.g. text and call notifications, music control?

We have confirmation that they will NOT. WP gets far fewer features than iOS and Android. WP: https://www.fitbit.com/content/assets/onezip/images/devices/Fitbit_Suppo... iOS: https://www.fitbit.com/content/assets/onezip/images/devices/Fitbit_Suppo... Android: https://www.fitbit.com/content/assets/onezip/images/devices/Fitbit_Suppo...

Yes, I can finally sync my Flex with my 925 with this app update. :D Before this, it couldn't detect my Flex at all.

It does not seem to be syncing still on my 925 (T-Mo) the other little features seem to show, but no sync. :(

Maybe it's because you don't have Cyan? As far as I know, you need Cyan for it to function properly. Anyway, I talked too soon. The app 'lost' my Flex after some time. I had to pair it again and again. :(

This is great news! I love my fitbit flex (even tho I have to replace my bands every few months). Was already thinking of upgrading, but this news makes it almost a definite.

So happy about this. Been waiting ages on new devices. Seeing Mr Rubino with his Fitbit on constantly didn't help ;) Only thing now is which one to get? Thinking Surge personally.

This just made my day way brighter - and the motion data support?! THAT'S EFFIN' AWESOME!

Works really nice with Lumia 930. It recognized my phone and set it up on it's own.

I think I really want the Surge...

Come on MS, give usj full pebble support

Been waiting for background sync and challenges...w00t w00t

Hmmm... Very tempting now...

This is freakin awesome!!! I love Fitbit and hope this collaboration with Microsoft persists.

That's good, but will the app be updated regularly?

Great news, now fix instagram!

I would really like to buy something to support this company, but I'm not quite sold on smartwatches as a category yet. The price would need to come down before I buy one to try out. Still, they seem like a decent company and they're helping to solidify Windows as a viable third platform, so I'm glad of it for that. Reports of good customer service and a nicely designed product lineup/website are good indicators, too.

Can't wait to use on my Icon... Oh wait.

How about Bluetooth 4 support for surface 2?

The Cortana support sounds awesome! Anything that makes logging meals quick will make it all the more likely to get done.

So my Flex is dead but appreciate the update on the app since I'll be getting something soon. Like the Garmin Vivosmart but negative reviews around their software which, isn't even for WP (surprise). Tried Cortana for entering food in and, well yeah, it's Beta. The voice recognition is just fine, I'm thinking they may need to improve the backend database to be somewhere in the MyFitnessPal level or maybe have some hints as to finding exactly what you want. I'd love to see a bar code scanner built into the app to help improve recording meals or better yet, have that and direct integration to Cortana to say, 'Scan and record my food' to launch directly into that function of the app. Hmm, dealing with too many customer wish lists, starting to sound like them.

@DanielRubino This bum's me out. A little rant if I may. I've been with WPhone's since the 7 series. Various carriers. I really liked the vision that MS was/is going for. Willing to stumble through those early years with them. My family have long since migrated to the easier Apple/Android world. Not me. Maybe I like the underdog. (irony calling MS that) It seems to me that the carriers are the ones killing the Windows Phone. The ever looming "maybe you will get the update, maybe you won't" is the most disheartening thing. So, now my FitBit (LOVE IT) that already had a second tier app compared to the others, will not get the sinc update on my 925 because of T-Mo. (No Cyan update for you!) Why does MS put up with this? Other than large model changes, you don't have this with Apple. Maybe it's time to listen and take the leap to Apple/Android. Big bummer.

It would be good if Cortana could be activated from the fitbit itself. I don't think the hardware is there to achieve this on the current model, but it would be a useful feature on the new models, especially the surge, to make them much more than just fitness trackers.

Any mention on how often it will automatically sync with the phone? Every hour? Minute?

I was wondering that too. No updated live tile over the last few hours unless i open the app.

So getting that Surge when it comes out

Does background sync work, my live tile doesn't update. I don't think it is working..

Why there is no caller ID feature with windows phone? why we are windows users are always a step behind..?!!

Isn't UK supported for Fitbit Cortana? Di you have to have it set to US?

It's definitely not syncing in the background at all, using a Flex and the HTC One M8. When manually syncing a message pops up saying to go into the app to sync. It doesn't reconnect with Bluetooth, and the live tile doesn't update. Between this and the lack of notifications on upcoming devices... why are we excited again? Is it known if they are working on call/message alerts or is a limitation of the OS?

I'm not sure why we as a group are excited either. We (and by "we" I mean "you in the US who are on AT&T", since I have a Verizon Icon I don't get any of this) get hardly anything new with this update except for bug fixes. The new stuff is for iOS and Android.

Background syncing not working for my 830 either...they have a thread on it at fitbit's site https://community.fitbit.com/t5/Windows-Phone-App/Background-Sync/m-p/564466#U564466

At least this is good news: "This update does not add Caller ID functionality for Windows Phone. This is still something we're working on and coordinating with Microsoft. Unfortunately I don't have a date for when this will be available. "

True...they put out an update, hopefully fixing sync

Coming to this thread very late, but just wanted to thank Dan and the other commenters for pointing out that it might be worth letting Fitbit know about a lost fitbit (as with others, mine disappeared at the airport when going through securirty) the WP app now supportsd sensorcore, so even though I'm fitbit-less, I can still get some tracking information into my account (although as my phone tends to sit on my desk at work, this isn't quite as accurate as with my departed "ultra"). In case anyone wonders, to add the sensor core stuff, you need to add a new fitbit and, in my case, finally acknowledge loss of the original one by having that removed from your account. :-(

I don't know whether it is a windows store problem or an app problem, but the app won't download on my 920. All it says in the downloads list is "pending"... Stays like that. Can't find contact details for fitbit to find out if it is a problem on their end or not. If anyone has details, please pass it along here. Cheers