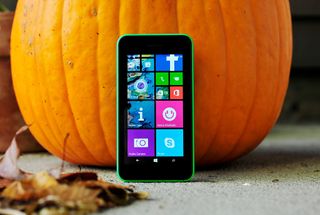 Is the Lumia 530 the best Windows Phone you can buy on a budget? Let's find out.
The Lumia 520 is the best-selling Windows Phone of all time. Announced during Mobile World Congress 2013 by Nokia, as of a few months ago the Lumia 520 has over 12 million activations. The Lumia 520 represented tremendous value when it launched, and it is still the most popular Windows Phone in the majority of markets. This reason is why its successor, the Lumia 530, has a high bar to reach.
At launch, you'll find the Lumia 530 for well under $100 in the United States and in Europe for about €85. This price-point makes it the cheapest Lumia to date and one of the most affordable Windows Phones in general. However, in 2014, does the Lumia 530 live up to the Lumia 520?
Swipe to scroll horizontally
Low-cost phone with quality hardware from Nokia. Dedicated support from Microsoft in the future for updates. Access to Lumia software. Widespread availability.
Although it is the cheapest Lumia, it is not the best-value for a Windows Phone anymore. Weak display, low storage space, no front-facing camera.
The Lumia 530 is the cheapest Lumia you can buy today and you get some excellent support from Microsoft. However, new 'white label' Windows Phone like the BLU Win JR. give the Lumia 530 some competition for value. Although more expensive, the Lumia 635 is a much better choice if you can spend the extra cash.
Hands-on
Holding the Lumia 530 will remind you more of the Lumia 620 than the Lumia 520. The corners are rounded as is the back as opposed to the Lumia 520's sharper corners. We have a bright green shell, but you can swap the back cover with other colors to match your outfit or mood. In addition to bright green, we have white, black, and bright orange. In the US, Cricket offers the Lumia 530 in an exclusive blue color. The polycarbonate plastic is smooth to the touch and it should prove to be highly durable, withstanding drops and bangs with ease.
Since the back is removable, there's an option to get a shell with a flip cover attached direct from Microsoft (opens in new tab) for just $15. This accessory, see above, allows you to protect the display of your device without having to add a case. The flip shell is an accessory you're going to want to get if you pick up the Lumia 530. You can also replace the battery if you need extra power during the day.
The Lumia 530 itself is small, especially when you've been using devices like the 6-inch Lumia 1520 or 5-inch Lumia 930. The Lumia 530 will have no problem fitting in your pockets since its wrapped in a package 4.7-inches tall, 2.45 inches wide and 0.46 inches thin (62.3 mm x 119.7 mm x 11.7 mm). It's a comfortable device in your hand. Weighing in at just 129 grams, the Lumia 530 is certainly very light.
Hardware
Lumia 530 Specifications
Windows Phone 8.1 (build12400) with Lumia Cyan
Quad-core 1.2GHz Snapdragon 200
Single or Dual-SIM
512 MB of RAM
4 GB of internal memory; expandable up to 128 GB with micro SD
4-inch LCD FWVGA (854 x 480)
5 MP main camera
1430 mAh replaceable battery
10-hour talk-time
Bluetooth 4.0
Wi-Fi: WLAN IEEE 802.11 b/g/n
119.7 mm x 62.3 mm x 11.7 mm
Weight: 129 g
Up front on the Lumia 530, you'll find a 4-inch LCD display and a resolution of 480 x 854, which results in a 245 PPI. You're probably looking at the resolution and wondering why there're an extra 54 pixels in the vertical direction (480 x 800 is more common). That's because the Lumia 530 eschews hardware keys and instead gives you on-screen keys thanks to Windows Phone 8.1. You won't find the ClearBlack polarizer found in other Lumia phones. The Lumia 530 is a budget phone, so the omission of ClearBlack shouldn't be a surprise, but you'll notice its absence. As a result, the colors on the screen are a bit washed out with the blacks not as deep as more high-end Lumias.
ClearBlack helps make the display readable outdoors and improves the contrast. And while you're expecting some compromises with a phone that costs less than $100, the display isn't the place to make it. It is better than its predecessor the Lumia 520 but not quite as good as the Lumia 630 where you get a slightly larger screen and ClearBlack. There's no proximity sensor on this device either, so you'll need to adjust your display brightness manually. Thankfully, that's not too hard if you add a quick-action key to the Action Center, where you can quickly toggle through low, medium and high brightness settings.
Powering the display and the Lumia 530 itself is a 1.2 GHz quad-core Qualcomm Snapdragon 200 processor with 512 MB of RAM. It might not seem like much, but it's easily able to power through Windows Phone and some fairly demanding games. Loading times might be a few seconds longer than on more expensive smartphones, but you're at least able to play some graphically demanding games like Subway Surfers and Age of Empires: Castle Siege without any problems. With only 512 MB of RAM, there are some games you will not be able to install as they require 1 GB of RAM for peak performance. However, this list of exceptions is increasingly small these days.
Those are fairly big games though, and you'll quickly run into storage space woes with the included 4 GB of storage. Nevertheless, you can grab a microSD card (up to 128 GB) and have more space for apps, games, music, videos and more.
Some other features found in Windows Phone you won't be getting with the Lumia 530 include NFC, Qi wireless charging, SensorCore for motion tracking, and a front-facing camera. The phone is also limited to just 3G, with no support for LTE.
However, the Lumia 530 can optionally come with a dual-SIM design (opens in new tab), which is ideal for those in emerging markets where carrying multiple SIMs is the norm.
Camera
The Lumia 530 does not have a great camera, though it is adequate for the price. You get a 5 MP rear camera with the Lumia 530, but a few pieces of technology are missing. There's no auto-focus (it is fixed), no dedicated camera button, and there is no flash. These are the imaging trade-offs for the most affordable Lumia.
Below you can check out some Lumia 530 camera samples.
Phone
Primarily, the Lumia 530 is a phone for making calls. Here, the Lumia 530 does live up to the expected quality of previous Nokia devices, although you are dealing with less bass and a more tin-like sound. Since the Lumia 530 does not have a proximity sensor, it relies on the display touching your face to turn off the screen during calls. It may be a bit it odd, but it works and most users will not notice the difference.
Reception was also better than expected, letting us grab a T-Mobile signal where normally we could not.
The rear speaker is small but much louder than anticipated. Sure, it is not a fantastic speaker for quality when compared to high-end phones, but it is loud, crisp, and adequate for use as a speakerphone or playing music. This feature is one of the more pleasant surprises packed into this nimble Windows Phone making the Lumia 530 a solid - but low cost - MP3 music player.
Battery life
Battery life is average with the Lumia 530. Inside you'll find a 1430 mAh battery, which is somewhat expected at this price point. We used the Lumia 530 for a week and had the phone last the majority of the day. Take it off the charger in the morning as you leave for work and you should be able to make it home with moderate to heavy use. Though you're going to want to juice up mid-day if you have plans that night. Expect about 10-12 hours with regular use, which is about what Microsoft gives as the battery estimate.
The bottom line
When the Lumia 520 came out, it was the first of its kind. A low-end device that was easy on the budget, but paired with an operating system that didn't slow down performance. It was a unique phone at the time and had a recipe for success others have since copied.
It's harder today for the Lumia 530 to stand out on its own. For just a little bit more money, you can get the superior Lumia 635. While the two are similar the display on the Lumia 635 easily outclasses the one on the Lumia 530. Additionally, the Lumia 635 has an improved GPU for graphics with the Snapdragon 400 chipset.
And then there's the BLU Win JR - a new, $89 Windows Phone that is selling on http://Amazon.com?tag=hawk-future-20&ascsubtag=UUwpUdUnU26341 and the Microsoft Stores in North America. We haven't reviewed the Blu WIN JR yet, but our hands-on of the device left us impressed. It's a little more expensive than the Lumia 530, but it has a few extra hardware specs, like proximity sensor, that you can't get on the Lumia 530. Plus we might prefer the build quality of the BLU Win JR over the Lumia 530.
The Lumia 530 does remain the most affordable way to get a Lumia, but there are also more options out there today. The BLU Win JR costs slightly more and does more. The display on the Lumia 630 (dual-SIM) or Lumia 635 (LTE) is worth the small premium. That leaves the Lumia 530 in an awkward position. It's not a bad Windows Phone at all; it's just a hard sell when there's better value for your money. Something that didn't exist when the original Lumia 520 launched last year.
Still, with the Lumia 530 you do get access to exclusive apps like Lumia StoryTeller, Cinemagraph, Creative Studio, Lumia Camera and likely better support direct from Microsoft, including updates. For some people, this matters.
Is the Lumia 530 for you? If you need a low-cost Windows Phone as your only device and want a Lumia, we'd recommend the Lumia 635. Again, similar performance and specs, but a much better display thanks to ClearBlack technology. With the Lumia 635, you can also get LTE in select markets for better internet speeds.
If you just need a cheap Windows Phone, you're going to have to decide between the Lumia 530 and BLU Win JR (depending on availability). Two phones that are significant when considering their price points, and it'll come down to personal preference. That said, it's hard to go wrong with a Windows Phone that you can pick up for $69 at the Microsoft Store (opens in new tab).
In the US, you can find the Lumia 530 on T-Mobile, Cricket and the Microsoft Store. More information, including experience from owners of the Lumia 530, can be found in our dedicated support forums.
Windows Central Forums: Lumia 530
All our coverage on the Lumia 530 can be found here: Lumia 530: All you need to know
Look for our reviews later this week for the Lumia 635, Lumia 735, and Lumia 830!
Windows Central Newsletter
Get the best of Windows Central in your inbox, every day!
Look for our reviews later this week for the Lumia 635, Lumia 735, and Lumia 830. In case that is what you are going to ask... Having said that, I really like the Lumia 530 for its build quality. Is it worth it? We now have more options and better competition in the low-cost Windows Phone race, and that's a good problem to have. The Lumia 530 though does have greater regional availability and the dual-SIM variation makes it attractive for those who need that feature on a budget.

Daniel, this is off-topic, but do you have any update on the Denim and Lumia camera app roll--out? The first month of Q4 is nearly over and we haven't heard anything. Thanks in advance!

Why i have lumia denim in my phone, and my phone is lumia 520?

It's a little glitch or bug with the extra + info in the settings. MS will update the extra+info and it'll no longer show Denim. In the meantime you can try restarting your phone as some users solved this by restarting. When you'll get Denim you can be sure the news will be more than covered in the Windows Central.

So that's why. Thanks man, i'll restart my phone. Edit: Nah, still doesnt work, maybe i just wait for the next extras+info update

Lol.. Yup, Just going to ask that..

Indeed, and once it starts being on sale at $39 or less all the time, it is still a pretty darn good value phone for backup, kids, light users etc.

It's on sale for $39.95 this week in Australia (at Woolworths). I bought one today!

530 make a good deal for budget. Still it's launching price cheaper than 520 while 520 more close to 630 intern of everything. 620 and 625 doesn't have succecor sadly. So when need flash camera on budget phone 620 line still good to go.

Yeah, I feel like some of the Lumia range did a shift-up. It's like they created a new lower price tier (4xx), and made that the 530. That shifts up the other models. So 520 became 630, 620 became 730... the 720 + some Hulk Alpha-rays morphed into the 1320, and 820 (and 925) went into a dark room and had a kid 830. The 920 tried to morph into a 930/Icon, but got slapped with some kriptonite and lost it's Glance feature.

yeah, the gap between series is more noticeable now...
remember how hard it was to decide between 625 and 720?

Pretty much this. The line up actually seems clearer now. 530 - ultra budget entry level smartphone, priced even lower to replace feature phones. Probably would've become a 4 series phone if released last generation. 630 - budget entry level smartphone, a little bit more feature rich than the 5 series. Would've been a 5 series phone using the last generation numbering system. If you were considering a 520 before they want you to move into this range. 730 - midrange, sort of a merge between the previous 620 and the 720 830 - mid-high, as it was before, but bumped up slightly to become even more feature rich. 930 - still the premium flagship Basically they cleaned up the line up instead of trying to introduce a whole new 4 series if they stuck with their system from last year. It's not a bad move actually, else they would have 3 budget phones series (4xx, 5xx, 6xx) which would make differentiation even more difficult.

I really love the 620. Possibly the BEST design. And flash, ffc, nfc, camera button, AND Glance support all on a bargain phone! Only thing it was missing was Qi charging (and of course the memory is weak at 512MB). I really feel like they should build a true successor to it... but I guess maybe that's just because I don't care all that much about screen size. I suppose their theory is that if someone is willing to pay more for features, they are probably willing to pay more for some extra screen real estate as well. (I just had to edit this because I realized that I forgot to mention the awesome dual shot color backs... I think they were really great too!)

It's great that you said this right away, hopefully you won't have many comments asking about the review for these phones. On another note I'm looking forward to these upcoming reviews.

I know a few people who love their 520 and will upgrade to 530 most likely. Some people don't need a flagship phone. Great review thanks.

Yesterday, I just #upgraded my wife's twice-screen-smashed Lumia 920 to Lumia 635 for $79 on Amazon! I fixed her screen myself the first time, but after this last smash, it's not even powering up. I took it apart and disconnected/re-connected to no avail. I couldn't believe the Lumia 635 was only $79 bucks no contract. I may upgrade my 920 (if I can't fix the power button) to the 635 and just wait until next year for Win10 devices. There's nothing out now that convinces me to enter a 2 year contract.

I considered a similar strategy for "upgrading" my 920, but to the 830. I've been spoiled with the 920's many features, including the great camera. The 630 and 730 are both good models, but the 830 has less compromises. The camera and other specs on the 830 are actually slight upgrades from the 920. The only major compromise is the 400-series CPU. I'll probably hang on tight to my 920 and it's lovely cyan color (exclusive to AT&T in the US). It's still humming along great after 2 years... (knock on wood... er polycarbonate).

I'm considering moving from the Lumia 928 to 635. Do you think I'll really miss all the features,

Depends on whether you value those features, I suppose. It's a CPU and RAM downgrade, and missing the camera button. I guess you're planning to switch carriers?

I'm switching from Verizon to AT&T. I'd love to get the 830 but I'm not doing a contract and it's too expensive for me right now.

That's really something only you can answer. But, if in your same position, I would keep the 928 and wait for the next round of phones, or maybe get the 635 as a backup.


I'm switching carriers and I don't know how well my 928 would work on AT&T. I'm hoping to upgrade to a Windows 10 model next year.

Verizon's Windows Phones generally have unlocked GSM radios. Some Canadians are using the Lumia Icon without even unlocking it, just putting in their SIM and using it. Wikipedia reports that this phone has GSM (2G) and HSPA+ (3G) as well as CDMA2000. It also has LTE, but your guess is as good as mine whether you could use that with an AT&T SIM without unlocking. I'd rather a Lumia 928 limited to 3G, than an LTE Lumia 635, honestly. And I don't even mind the 635. :)

Nice, I have been using the the Lumia 830 for about 10 days now and am quite impressed with it (now that I have one with functioning vibration - my first one didnt work). Really got to test out the camera while in Ottawa last week as well. Looking forward to your take on the device.

The fact that we are this far along in the year, almost years end, and we are reading a review of the Lumia 530. It's sad day in the Windows Phone world.

I hope you put at least one of these 512MB phones through a heavy usage test. What I mean is at least 10 background tasks (not that hard to achieve), memory hungry apps like facebook, hdr lens etc. Right now my Lumia 620 is struggling and I want to know if the same will happen with say 730.

Been thinking of getting a Lumia 830 or a Lumia 730, but I'm on a budget so I'm leaning towards the 730. Can't wait for the reviews to get me straight.

635 has been out for awhile, how did u not do it awhile back

I picked this up for $40 today (Australian Woolworths deal). I actually don't intend on using it as my main phone, as I'm (endlessly) waiting for a 1020 successor or 930 variant with microSD. The 530 is so cheap it'll be my device for offline maps, mp3 storage etc. i.e. a perfect low-cost travel device! At least that's the plan at the moment - I'll have a play with it tonight and see how I go!

First comment huh? That means something. I don't see this phone having near the success with the 630/635 line so close in price and spec.

Microsoft should've made this the 430. It just doesn't live up to the 520's reputation or feature set.

630 is succecor of 520 while 620 succecor doesn't really exist. 635 simply LTE version while relationship between 620 and 625 is bigger screen

730 is the successor of 620: Entry level windows phone without heavy cuts on features. While 830 is definitely successor of 720: Gorgeous, slim, mundane specs but feature-rich, focus on camera, not cheap etc.

Except that they still cut way too much on the 730. Camera bnutton and Glance are essential imo. 620 had both of those of course... I was really not a fan of MS dropping the camera button requirement.

I would expect/hope it to play out roughly like this (besides the likely variation in availability by country/carrier): MS will sell/have retailers sell 530 dirt cheap to capture market share and first time users where it can, more or less at cost, while selling the 630/635 also affordably but at a price point where they can make some reaonable revenue and at least modest profit. 630/635 is, i.e, attempting to be the 520+$10-20 more for MS.

Looking from your comments seems you're from US. Outside US you'll find there is no way to get a phone other than buy it from retailer. It cost quite expensive even for budget while flagship as 930 has took same price as notebook with i5 prossecor

I live in the US, yes, not from here. However, whilie I do know that is much more common to buy phones unlocked e.g. in many European countries, I also know that you are not fully correct - e.g. in the UK and now e.g. in Finland too its quite possible to get a phone tied to a contract (if that's what you were referring to).

Also it doesn't have the awesomeness of Lumia 520

Currently I can find the 520 for 20€ less than the 530. Until the 530 price drops, there is no point in buying one.

Its just the display that ruins the fun. Otherwise its a very good phone even fast than my 820.

Only the display?? 4 GB fills up if we install the PFD which reaches 3.70 GB mark making the phone dead slow..!! Had to downgrade it to the official one as mah sis was complaining a lot!! No auto-focus+Cheap and slippery backplate!! I like my old 520 more than it even if it's low on performance....!!

Don't do it and keeps h heavy memory so apps on SD card

and buy an expensive class10 SD card and still see not so optimal perfomance

Which one are ye exactly ye talking about?

or u could go for xolo windows phone of u want. in ₹10,000 the features are awsome

The 530 is in no way faster than the 820. I don't know what you're smoking, but it must be awesome.

Except the display everything else is fine for the price. And maybe the occasional ffc. Got one for my dad when it launched. I was impressed by the quality at the price but that display just doesn't suit the bright tiles of WP.

I have one question . Whether Microsoft will release its next big update of wp os for phones like Lumia 625,720,520 ?

Oh ! That update. I can't say yes or no because every thing depends on hardware requirement. But i wish that this update should be available for all devices.

Later This Year?? Seriously?? WP 10 isn't even in development bro..The WIN 10 is gonna come in March-April 2015..And WP version will come after it only!! But yes all WP 8 running devices will get WP 10 also(dunno about HTC or any other OEMs though)..

You sure about that. You would think if Microsoft is trying to unify the windows Os. They would want to release windows 10 on PC,tablet and phone simultaneously. Just my thought tho.

Joe told that it would be available only after the WIN 10 is released completely..

They should. Highly likely,they would. Maybe these may miss out on some features. But I hope their would be updates for these too. Hope I answered your question well. :)

Still it is a good phone for that budget and for old people it may suit them because they are most likely going to use it for calling purpose and ob Windows phone we have an option to pin the contacts on start screen. So its as easy as speed dialling.

I'm actually impressed by the sample pictures the 530 produced. However, I am curious to see how the 830 review turns out. Ever since the unveiling of that device, it's piqued my interest and I'm contemplating exchanging my Green 1520 for the 830. I know I would be downgrading, but the 830 seems like an easier device to handle for everyday use.

Definitely. The size of the 1520 can be off-putting to some. I've had a 520 for 1.5 years now, next phone will probably be a 730.

I feel the Blu Win Phone Jr provides a better value than both the 530 and 630/635. Picked one up for my sister this week (She destroyed her iPhone 5C, and we can't afford a replacement iPhone at this time), and I've been very impressed at how well it performs and what tremendous value it provides. The Lumia line is slipping, Microsoft needs to step things up. Fingers crossed for BUILD 2015.

How is the network performance?

530 is really a worst hanset... Worst ever, worst than 520

And just wait when it starts being on sale regularly at $39 or less sometime soon. :)

:) Even better. Well, not perhaps _regularly_ quite yet and not in all/most places.

Wish these budget phones were on VZW...

Switch. At&t is so much cheaper. We're switching and we'll save over $100 per month over Verizon and we'll get three times the data.

I bought this for my mum who needed a new phone. In the UK it was available for £39 (now £29) which you can't really complain about.
Yes, the display is crappy but for my mum she doesn't really care. She gets a fast, pretty well featured phone for pennies. Well done Nokiasoft.

Hey mate, where did you get that delicious price from? I'd pick a couple for my friends and family at that price, cheers

I'd like to know as well. That's crazy. My gf was looking to pick up a cheap phone but the 530 in the Carphone Warehouse we looked in was £70 and the screen is absolute shit but for that price, it's a bit more tempting.

It was Carphone Warehouse, but a PAYG-Upgrade. You need to have an existing sim as they check you're eligible for an upgrade but I recall reading that you can just grab a cheap 99p sim and it should work however I cannot verify that. What I can verify is that the phone is unlocked - we just swapped it straight over to Three's £7.50 pm sim-only tarrif. But yeah.. the screen is shocking, but for £39 (£29!) you really can't complain. http://www.carphonewarehouse.com/phones/nokia-lumia-530/ppay?colourCode=...

What to expect from Microsoft as I have the Lumia 525??

Yeah..I also want to know the comparison between 530 and 525. Is there any source for this?

In short, better gaming performance (Excluding the 1GB ram limitation) and probably better to Daniel but actually a worse display (Not the IPS LCD of the 52x), and is thicker and bulkier and not even one bit sexy (My friends who have the 52x like it partly due to its contour and slim profile) and omission of ambient light sensor and proximity sensor, along with lesser storage and lack of camera button. I doubt if the 530 can match up to 52x's success.
52x is practically better than the 505/510, and the 530. I'd take 52x over 530 ANYDAY, considering 52x has Cyan update and will get Denim too.

So,if I have a 525,better for me not to upgrade,right?what if I dont have any Lumia and want to start..should i go for the 525 or 530??

525's upgrade is the 630/635. This is a lower tier. If you don't have any Lumia, I would recommend the 630 or 635, but if just between the 525 and 530, I would still recommend the 525.

I think one should rather wait for a price drop in Lumia 630 if you can't afford Lumia 630, as It not only has better screen but also better camera and a bit of hardware too.

Microsoft made this phone with 4GB. Then they restrict their own apps from running from an SD card. They should know better. What a mixed message.

Exactly, that's why I still have Bing News.

Still love my Nokia Lumia 520 . 100x better than rounded , hammer and junk Lumia 530 . In design lumia 520 is better than Lumia 530 . But in performance lumia 530 is better than lumia 520 but who cares they both are windows phone which never lag and hangs or stuck even on dual core ;)

It seems to be a common theme with this generaiton. Last gen had more functionality, this gen is less useful while being moderately faster. Poor trade off in my opion.

This review seems to reinforce the problem that Microsoft has released far too many phones. All these variants negate each other. That said, I'd argue that it makes more sense to retain the 530 over the 635, as it's purpose is more clearly defined. The 635 is an oddly crippled variant of the 730. Overall, in this current lineup of phones, the only models that make sense are the 530, 730 and 930. The rest are superfluous and confusing.

I disagree. The 830 is in my opinion an awesome device. Also, the 635 is a good phone. It's way cheaper than the 730.

I would like to see tiers like this:
Small entry level/replacement device (5xx class) at $75 or less
Normal sized budget device (something between the 630 and 730) at $100-150
Large budget device (13xx class) at $250-300
Normal sized flagship (830 features but 930 quality) at $500-600
Large no-compromise flagship (15xx class) at $750-900 All devices should have SD support, Glance, and at least 1GB of Ram. Everything but the base model should have features like clear-black displays, camera flash, wireless charging, 802.11ac w/ WiDi, etc. and then differentiate the midrange and flagship devices based upon the quality of features rather than the presence of them. And finally, make minor refreshes of every device every year, and make them available to a broad range of carriers whenever possible. I think if MS can do this then they will have an easier time gaining traction. The OS is good, the App situation is OK and getting better, but the hardware situaiton right now is just rough. My contract is ending soon and it looks like my options will be to get a 930 which feels more like a side-grade rather than an upgrade, or the 1520 which is a nice device for a windows phone but is already a year old and far behind competing phablets, or the 830 which seems like an upgrade in features but a downgrade in quality. After 2 years I would expect clear and large improvements in the hardware offerings, but instead we have a wide selction of opitons that just have trade-offs rather than clear improvements, and that is just sad. And the low end is no better when comparing the last gen with the current gen offerings. I love the WP platform and am not about to leave any time soon, but I don't hold it against anyone who overlooks WP because MS needs to get it's act together.

Still thinking to get a 520 or 530?
I don't like on screen nav key and the round edges design, but 530 has a more powerful processor
I'll be using it as secondary smartphone for phone calls, SMS and some social network stuff.
Can anybody tell me which one has a better screen? 520 or 530? In term of specs and in terms of real life usage. Btw, I think Microsoft should make one low end specs like 530 with bigger screen like five inches and sell around the same price as 530.

The 52x ACTUALLY has a better screen (IPS LCD) than the 530 (plain LCD with washed out colours). But I'm not sure about the brightness.

As 1kcbharath said, the 520 has the better screen. The 520 also has an ambient light sensor, so brightness is adjusted automatically. The 520 is also a lot thinner and has physical buttons. The only advantage the 530 offers is a faster processor, but then you get less built-in storage. If I were you, I would spend the $20-$30 extra to get the 635/630.

Yea, I'm picking up a 520.
In my country, Malaysia, getting a 630 isn't just 20-30 bucks extra, I will need to add around 200 bucks to get a 630. And that 630 doesn't even have a front facing camera and only 512mb ram, cost RM450.

All these tests of phones is great, but those of us on Verizon are a bit left out, correct? Most of these won't work on Verizon's CDMA network. Most of these cheap phones are marketed as worldly, and GSM. Verizon is king here. GSM isn't good where I need it. I would like to get my kids some cheap Windows Phones, but my options are very limited. Don't want to spend a ton on a phone off contract, and these less expensive won't work. Someone please correct me if I am wrong, or point me into a direction I have missed.

730 is coming to Verizon.

Isn't the Samsung ATIV SE really cheap on Amazon right now? I would consider it, or even the Samsung ATIV Odessey.

I don't know about 530.. Just used it one or two time on my friends...
Also used the 520 back a few times. I have a Lumia 630 and works well.. But hates to say why the hell is equalizer lacking in it.. That's my only sadness... I love my windows...

I disagree with Sam about the screen. Comparing them side by side, the 520 has better contrast, better viewing angles, and far better colours than the 530 (less washed out). Maybe the US version is different, but the screen on the one I had (UK) was awful.

630 is selling more than 530 still. I didn't like the 530 screen resolution. its too bad for windows phone

Microsoft should team with McDonald's and make a cheap Happy Meal phone.

Dayum, that blue colour looks fantastic.

Yeah, I'm gutted I didn't check the other colours available. I was handed a grey one, and had already opened the box before I saw there were 5 different colour options (orange, green, white, grey, blue). I have an orange backplate in the box (same in every box), but I wish I'd got the blue originally. I'm just hoping they only had grey available so I don't feel so bad :P

Nokia will be back in the smartphone game in 2016.... Probably an android os or possibly their old linux meego os team that are now jolla and developing sailfish. Quality built handsets with superior imaging...

Probably not. Their profit margins would be razor thin if they even have any. They have pulled an IBM now and are in a more profitable sector.

Frankly apart from processor its a downgrade from 520. The display is worser than 520. 520 is LCD ips although not clear black. This is neither clear black nor ips. Plus only 4gb internal memory yikes. Plus point is camera and speakers are really a vast improvement over 520.

lookign online you can still easily pick up a Lumia 520 for under $50, the 530 starts at ~$60, and then the 630 is around $80. At this point I would still pick up a 520 while they last if I needed a budget device, or spend the extra $20 for a 630 for a much better device. Until the 520 goes out of stock, or the 530 can be found for under $40, then the 530 does not make sense yet. The BLU Win JR. seems to be going for $90 right now which is $10 more than the much better 635, and $30 more than the 530... not sure how that is viewed as a better deal.

The 530 is available today for $39.95 at Woolworths, in Australia

I think the article conclusion, that for just a little more you can get the Win Jr or the 630 and they are best value, is a fair comment. Why any of the US carriers are selling this and not the 630 is a mystery.

i simply dont think that 530 is the 520 successor what i think is MS is gradually removing the handsets which were launched by nokia with a different numbering,although it is fair to say that 530 on its own is ok for the price,i purchased it since i lost my 520 recently and it is certainily faster on whatever apps i have used on 520,screen is a BIGGGGGG drawback but i needed a dual sim phone and did not haveenough cash to buy 630 so went for this.

I love lumia 525, because it have a 1GB RAM, its okay with dual core procie, some app need 1GB RAM, quad core with 512 RAM ? I think its same with dual core with 512 RAM

I rather buy a 920 or 925 for that same price on eBay and Amazon manufacture refurbished!

Cheapest manufacturer refurbished 920 on Amazon is still over $200, same with 925. On Ebay, there are the Seller Refurbished ones for about $150, but those are basically used.

Thanx for the review, I am looking for an affordable WP for my mom (She's not a power user) and this helped me to decide which one to get her. A BLU Phone.

I think the 520 still offers better value (dedicated camera button, autofocus, etc.), but at least the 530 is faster than the 520. And I really like that blue Cricket back shell! Anyone in the U.S. who wants to try out Cricket (so far for me, their service has been great and costs just $35/month), message me and I can send you a $25-off referral code.

The presense of the 635 and 530 makes me wonder exactly how much longer the 520 is going to be around. I'd expect stock to be sold out in the next few months. Especially with Black Friday coming up. What do you wanna be those 50 dollar 520's at Walmart get knocked down to 20 for that weekend? (And if they do, I'm tempted to pick one up for giggles.)

This strikes me as a "kid's first phone." The kind of thing your teen or tween can have around and lose track of and you're not in TOO bad of shape.

The Lumia 530 is actually more of a downgrade from the Lumia 520. You'd think that the newer model would have (in this particular case) slighty better specs, but it turns out that the 520 is the outright better phone. The 530 lacks IPS display, 8GB internal storage, comparatively longer battery life, capacitive touch buttons, camera button, autofocus, and so on from the 520. The only thing going for the 530 is its budget price. But why buy a 530 when you can go with the BLU Win JR or Lumia 635? Sure, both cost a little bit more but you're getting a superior phone.

BLU Win Jr. is a much better phone. The problem is it's widely unavailable. If you can't get any alternatives you'll have to rely on L530 for the cheapest and quality WP. Can't wait till other phone makers start making budget phones like L530 and BLU Win Jr.

IMO the L530 is a good smartphone for its price, far better than its Android equivalents like the overhyped Moto E and Android 1 phones and the Chinese Xiaomi RedMi. It's perfect for budget customers, especially in India, who just want a functional and decent smartphone with dual-SIM capability and adequate hardware and who don't need vanities like front camera, flash etc. Plus, the device will never lag unlike its Android equivalents because of Windows Phone 8.1. And no need to worry about the 4GB internal storage becuase microSD cards of upto 128GB are supported.

SAW THIS PHONE AT MS STORE. ITS SO TINY. omg. its a mom phone.

I thought its ambient light sensor which controls the brightness, not the proximity one?

Correct me if I'm wrong, but I thought all the new Lumias had proximity sensor. I remember a WC article that says so.

Fantastic device for people on a budget. Couldn't imagine it takes such great photos for its price!

Ew I hate the blue Cricket back it's a fingerprint magnet and it's slippery. Looks ugly after a while also it cracks a lot easier. I bought a white back for my Cricket Nokia Lumia 630

I bought one for my daughter for £30 from the Carphone Warehouse the other week and then got the official flip case. This bargain phone is so lovely. Nice solid construction and fast processing for such a budget phone. With case and 32GB memory card cost me £50 total. his was an upgrade from an iPhone 4 and is actually a lot better spec than her iPhone. She has access to all of her favourite apps without exception and has unique apps created for her specific needs using App Studio from Microsoft. It misses a front camera which she does miss a bit for skype but she uses her laptop for that anyway and is happy to talk and text through skype on her mobile. She likes the rear camera for the little she uses one for. I put it straight into Developer preview. She was already registered so she could use App Studio created apps onto her 8.1 laptop. She loves that her phone links to her laptop for themes and passwords and browser tabs etc. She loves the colour, as Green is her favourite colour and she loves the customisation. The screen is bigger, brighter and more sensitive than her iPhone and the speaker is a million times better. To be honest an IPhone 4 was a premium phone in its day but her new budget £30 pone does a lot more and runs the latest OS without problem. I am having no end of issues with IOS 8 on an iPhone 4s. Am thinking of trading it in to get Emma the 735 and I would happily use her 530 as a replacement. I have a 525 with a Vodafone sim in it and I love the phone. My main contract is in a Lumia 925 and I keep a giffgaff sim in the iPhone. I have 3 mins for security reasons as I cannot walk properly and need to have a pone with a signal wherever I go. All of the networks seem to have cellular blackout at various points where I live. This means a reliable phone is essential and for me Lumia phones are my only choice for the future.

HI SIR WOULD YOU TELL ME HOW I PLAY 720P HD ON MU NOKIA LUMIA 530 DUALL SIM

I WENT TO PLAY HD VIDEOS LIKE SONGS AND OTHER IN 720P HD SIR PLEASE HELPE ME

Stupid ******* Phone come to Screw ppl