Microsoft Lumia 640 vs Lumia 635 video comparison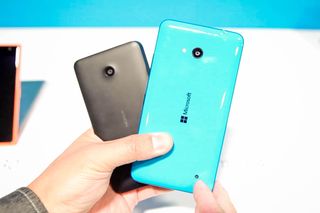 When the Lumia 640 was announced last week, I was impressed by the number of improvements it brings over its popular predecessor, the Lumia 635.
Should current Lumia 635 owners upgrade to the Lumia 640 when it becomes available? We quickly compare the two devices so you can make your decision. Watch our video comparison.
The Lumia 635 is a smaller device with a 4.5-inch 480p display while the Lumia 640 improves on that with a 5-inch 720p HD display. The Lumia 640 also features Glance screen, which lets you see the time and other lock screen content when your phone is on standby. That's missing on the Lumia 635.
Because of the bigger display on the Lumia 640, it's also bigger overall compared to the Lumia 635. The Lumia 640 is wider and taller than the Lumia 635, but the 640 is a little thinner.
It's also worth noting that the Lumia 635 does not have a front-facing camera. There's one on the Lumia 640, and it's one megapixel for your selfies. There's a 5-megapixel camera on the back of the Lumia 635, but there's no flash. The Lumia 640 improves on that with 8 megapixels and an LED flash.
Spec geeks are going to like that the Lumia 640 has twice the RAM of the Lumia 635. As you probably know, the Lumia 635 only has 512MB RAM, which prevents the phone to download some apps and games from the Windows Phone Store. That's no longer a problem on the Lumia 640 with 1 GB RAM.
A lot of the other things are the same. They both have microSD slots, 1.2 GHz Snapdragon 400 processor, Gorilla Glass 3 display, and replaceable battery. We'll have a more detailed review once we spend more hands-on time with the Lumia 640.
The Lumia 640 is expected to sell for 139 euros for the 3G model and 159 euros for the LTE model without any contracts. It's supposeded to release globally in April. What do you think of the improvements over the Lumia 635? Let us know in the comments below!
Windows Central Newsletter
Get the best of Windows Central in in your inbox, every day!
I can't wait to hands it on this one!

Give Lumia camera 5 for L730/735 !!

GDR2 update is rolling out in India. Update your phone right now. Link: http://www.techtree.com/content/news/8539/windows-phone-81-update-2-roll...

Oh ! really on which phone ?

Will it work if I change my region to India?

no, updates are relesed by firmware region, you would need to to reflash a different ROM (which I would strongly not recommend)

You just saying that, aren't you?

I'm not just saying. I stitched up the link later

You can't block *that* guy

Pls dont spread rumours like this, here i am sitting waiting denim on my 630 in india, n plp like you hit the wounded nerve -_-

Haha can feel the pain bro.

I'm not. I have proof of the news

its expected that the 8.1.2 wont be released for old phones, only preisntalled on new phones, all of the things added in GDR2 are all watered down updates that W10 has already started overhauling completely (namely the settings screen) there really is nothing to look forward to on this update.

Love those lock n volume buttons in black colour...... :)

Unfortunately it doesn't look like there's a camera button

But that's compensated by all the other improvements, right?

low ends wont have that camera button, microsoft has considered "pureview" to be a premium feature, and they bundled the camera button with the pureview package. so only mid range and higher will have the camera button

I'd like to see a comparison article on the 640/640XL vs the Lumia 925 for those of us on TMobile who might want/need a new device.

They are very comparible including the camera. The 640 includes rich capture, and a tons faster camera capture. The speed is about the same. I could actually do a comparo between the two (hint that i may have both in hand).

That would be amazing. I would really appreciate it.

check your inbox for info

The 925 is bit thinner though and the screen display quality should be also bit better (deeper blacks, viewing angles and brightness). Camera might be faster on 640 but not sure if it's really the same quality? I also need to replace my 925 and 640 is great deal but fairly sure we'll see a new flagship model announced before this holiday season.

Looked at specs and 925 does have a better main camera: Larger 1/3" sensor instead of 1/4" sensor Dual LED flash 6-lens optics (not sure on 640) How much that matters it's difficult to tell without true test but on paper the 925 will do better low-light pictures in theory. Also I noticed no super sensitive touch display so not sure you can use 640 with gloves. Also gyroscope is not listed for 640. Spec error? Can't imagine it doesn't have one.

139/159 WITHOUT taxes. Important to add because those values in euros will never happen. You have always to add around 20% VAT. Preorders are putting these two above 200€. My sister has a 630. She already made it quite clear that she'll be returning to Samsung the next time she buys a phone. Not because of specs but because she's sick of not having the apps she wants. I don't know what is worse... Remain with Windows Phone or go to Samsung... But if it were me, I'd still prefer to endure WP (on any non-Microsoft Mobile phone) rather than waste money on a cheap Samsung.

Bullshit. Amazon lists them at 159/179€. While the begining of your statement is true, there is no way they gonna end up above 200€.

219€ http://www.amazon.de/gp/aw/d/B00TX5MWMM/ref=mp_s_a_1_2?qid=1425911715&sr... And VAT in Germany is only 19%. Now do your research before speaking next time. Posted via the Windows Central App for Android

The article is about the 640 with 3G/LTE, not the 640XL. http://www.amazon.de/Microsoft-Lumia-640-GHz-Quad-Core-Prozessor-Megapixel-Kamera-Schwarz/dp/B00TX5LO2Q/ref=sr_1_1?ie=UTF8&qid=1425912039&sr=8-1&keywords=lumia+640 179€ as I said. Furthermore most european Countries have VAT around 19-22% so germany is not really low. Now learn to read before writing the next time.

1 - European VATs go from 17% to 27% and the average is actually 22-23%. So Germany's 19% is in the low end (http://ec.europa.eu/taxation_customs/resources/documents/taxation/vat/ho...) 2 - Fair enough, I was talking about 640 and 640XL, not the 6403g&640lte. Because apart from Amazon, it's unlikely you'll get the variety of choice. Even at Microsoft Stores online, they'll opt for one of the variations (same happened with the 730). 3 - Learn how to get the bigger picture next time. Also, I'm very prepared to bet with you that in some European countries, like mine, even the 640 3g - if sold - will be close to 200€.

1) Yes, Germany's VAT rate is 19%. 2) Microsoft's own store is offering me the Lumia 640 Dual-SIM for 159,- €, with 'VAT Included' in big red letters. 3) You can bet that if you like, but MS include the VAT in Europe for consumer products. It is added on top of the sale price for business products only. Happy to help :)

Yup, great prices. Not to mention pre-order at that which is hardly a reliable indication of what the stable retail price will be once it has been in the stores for a couple of week. In the US they will likely be even cheaper. :)

Just let her go back to Samsung since is apps she needs. I have no issues with apps with windows phone although some apps are not as slick as android ones.

XL should be an awesome phone

Depends on what you want. Assuming you got the pockets for both, 830 has class and a host of features, but 640XL has the SIZE and better camera, along with GDR2 and a cheaper price tag.

830 has a 10mp PureView camera. The 640XL has a 13mp non-PureView camera.
830 has the better camera ;) Posted via the Windows Central App for Android

But 640XL still has Zeiss Optics right? That's way better than a normal 13MP camera.

Looks great! Might get one as a backup for my 1520. Anyone know if it takes micro or nano SIM?

Looks like TMobile already posted it on their site. Must be coming soon. http://www.t-mobile.com/cell-phones/microsoft-lumia-640.html

Interesting. It looks like windowscentral puts an affiliate type of link on things we post. The above link directs through jdoqocy as an affiliate.

Nice. Pity its not the dual sim variant though. :(

And too bad the XL variant isn't an option, though not surprised. Time will tell, though if this phone appears in stores. After the M8 fiasco, not holding my breath.

Probably going to switch to the 640xl

Will wait to see what is next before upgrading my 925. But may upgrade my daughters' 521 and 635??? Wish T-Mobile would get the XL.

L640, with Glance screen, bigger display and better rear camera. And MS badge. ;)

730 gets you a better front camera though. And wireless charging.
But I think the 640 beats 730 in a lot of areas

Those two points are my actual point of confusion... And price for 640xl will be?any idea??

730 has a little bit better design and an AMOLED display with really great sunlight legibility (640 most likely is not able to match it with its IPS LCD) . Also better front camera and dual SIM option. If you care about those things then 730 is better choice for you, if not - 640 is the way to go.

Thank you all... I'll go for 730 thanks :)

640 - Better battery, better display ( Prefer IPS over OLED) and sensorcore 730 - It has Carl Zeiss Optics If I'm not wrong and front cam is 5MP So overall I'd personally lean a bit more towards 640.

Even 730 has SensorCore...

"prefer ips over oled". Well, in that case you should see screen to body ratio as well. 730 display beats 640. No offence but 640's design is poor comparatively.

Agree with @Electrodude16.

But with age IPS lasts longer than OLED. Sure ppi is less but that's just my personal taste :)

It's definitely an upgrade for my device.

Pls compare with 730 vs 640... That's the comparison needed for people buying phone...pls note that if going to review pls do like that...

Just isn't the same without Nokia branding...

Good.
Microsoft brand is much better.
Wish MS started producing their phones much earlier.
Hope Surface Phone with W10 is few months away ...

Only brand name, nothing else in there

You should see how beautiful the boot up looks with the microsoft logo instead of nokia :)

I hope your remark was sacarstic

If they would've had this back in October, I would've bought one and went with Cricket. But the 635's lack of flash kept me away from it. Ended up with a GS5 on AT&T. I should've waited... at least for the 830, lol.

Yep.
Microsoft slowly but surely is starting to sort out the Nokia mess by releasing 435, 535, now 640/640 XL.
Good staff

What will be the price of 640xl 3g version in India including tax

Lol it may be in the range of 11-15k

I remember when the 6XX serie was the smaller serie....WHY MS, WHY!?

Because make sense.
Lower spec phones/smaller screen should be part of the lowest series: 4xxx

Call me when the 640 is on sale for $60

Maybe not $60, but $100 or less..

Ok leave your number here.

They should give some exchange offers for older phone

I would any day opt for the Lumia 730 than both these pieces of %&*t, though the camera is only 6.7MP the aperture is F1.9 and the design is original Nokia, without M$'s nose in there I hate that flat look on the M$ devices which say 'me too'. Give up M$ you cannot make good hardware.

Surface pro is not available in my country. It's too expensive to make and nobody would have bought here. The original Nokia if handed the same task would have done a better job and we all would have had a global product that would have sold well. BTW the surface pro * always has some issue or the other on release, so is every other MS hardware product

LOL you sound like a Nokia cry baby‼

That's a tablet not a phone though. A phone based on the surface pro 3 would be beautiful Posted via the Windows Central App for Android

Microsoft universal foldable keyboard.

Yes, people don't seem to understand that the 640 looks too 'generic'. 730 has that iconic fabula design (pseuo-unibody), a HD AMOLED display and a kickass camera with f/1.9 aperture and 1/3.4" sensor size. And that is nothing said about the equally capable front camera. 640 may be a spec whore but 730 is more premium.

Until M$ makes a phone or a device that is path breaking they don't deserve the Nokia brain power and the patent portfolio they have bought, I feel that it is more of US greed. The real Nokia would offer the best they have on terms of design, technology and ease of use.
I see a future for this platform to become like Android, cheap and common. I don't see the new flagship offering anything but a hardware refresh

Well MS had no choice as the partnership they had with Nokia was coming to an end. If Nokia owning almost the entire windows phone 8.x market went to android they (MS) would be royally screwed.

Bullshit. Nokia offered many phones that were gimped in all sorts of ways. Low memory, no ffc, no flash, hell even removing proximity and other sensors. This phone is far superior to Nokia low end in terms of technology. There is zero difference in ease of use, other than this coming with the latest version of the os which is improved. Design is a personal opinion, but I think these look beautiful. Lack of a new flagship is certainly an issue... but I think that's more based on their misunderstanding of how important it is to have one. It will be corrected... eventually (which sucks). American greed my ass.

All phones should at least have the specs of the 640 nowadays. The things missing on the 635 is ridiculous.

Expecting an article about 640xl

I bought the 635 when it first came out in the US. T-mobile sold it for either 169 or 179. Amazon and the Microsoft Store had it for 129 (I bought it at the store). Should be interesting if the same thing happens with the 640.

And now the 635 is regularly on sale for $50. How does that make you feel? Microsoft needs to quit the sale game. If they ever intend to launch products with high inital sales price them right from the start. And by a handset maker with something like 2% market share "right" means cheap as they can. You dont get to make 50% markup, just eat it so we have some people buying the phones!

MS should quit making all 512MB phones without front camera immediately. Those specs give WP phones bad names. All WP phones should run all WP apps. The front camera is a basic spec for the W10 phones with Skype built-in.

They're not bad if they target the right markets. Imho, these "Budget" models are good for emerging markets. They can introduce users to both the OS and Microsoft's services.

Looks great,just recently picked up 635, so I'll wait a bit before change.

I can not shut up about how nice the 635 is. I bought it as a backup after cracking my 830's screen. I like it so much that it has become my daily driver for last couple of weeks.

I agree. I hate Verizon with everything I got!

I know the 635 has its shortcomings, but boy! Do I love its size! I think it's just perfect! Maybe it's a guy thing, but having a "Big" phone in my pocket becomes uncomfortable.

First update L625 to denim..... Den compare k...

C'mon Mark...you could have done an in-depth comparison when you have the phones. You just read the specs sheet with the two devices side by side. Was expecting more from the video. Hope you do one soon.

Need to spend more time with the Lumia 640

I love my 635, but I'd be tempted to upgrade primarily for the flash. I don't use the flash for pictures, but I really like having a flashlight available. The RAM would be a bonus that I'm sure speeds it up, although I do okay with my 512. But that light...

I can't believe how much I've loved the basic design of my 635. I prefer it in many ways to my L900, L520 and an L929/Icon I carried for a few days. Its not cheap feeling like the 520. The 4.5" size is perfect for one handed operation. The materials are perfect. That simple plastic back plate is understated but is tough as hell. I hope MS will feature the beveled edges in more future devices. So much easier to hold than the rounded 900 or the squared-off Icon was, and sorta invokes the Surface design.
If MS could fit flagship features into this same package, I'd throw money at it tomorrow.

I got the 635 for $79 or so, liked it a lot, broke it because I didn't have a screen protector, then went back to blackberry Q10. Looking forwarad to getting a 640. If the 635 had front facing and flash I would have replaced it after it broke. I had a great experience with it despite the shortcomings. If they price the 640 well, do some bundling with cool accessories this will be a great deal.

Just noticed something that is a minor but marked improvement. The 635 sides were angled so that it was difficult to pick up when face down. The more neutral angle of the 640 sides will make it easier to pick up when face down. I complained about this feature every time I had to pick my phone up off of the table.

Will the 640 also be a no contract phone?

i have a 1520, nothing with this new lumias top its specs but i kinda want to buy one, not because that im gonna need it or use it but maybe i missed the feeling of having a new phone. need to control myself until win 10 and 1030 or 1530 are ready. im still hoping for a cyan or grey flagship.

Look 730 is 1 step lower than 640 so when 740 would be released it would be awesome

The 640 XL is listed on AT&T for preorder.

no xl for tmobile that sucks and is pocket cast on windows mobile???

640 xl will be worth the upgrade

Haha yeah waiting for that 740

when is lumia 640 coming to africa Ghana to be precise.

This bugs the bloody hell out of me. I picked up the Lumia 635 just a few weeks before all the details about the 640 dropped. The 640 is such a better unit and worth the extra $35-$40 over what I paid for the 635. Microsoft needs to stop launching so many lower-end devices so frequently. They are making their own low end obslete what seems like every couple months.
Windows Central Newsletter
Thank you for signing up to Windows Central. You will receive a verification email shortly.
There was a problem. Please refresh the page and try again.