Microsoft Lumia 650 reportedly gets 'Double Tap to Wake' firmware update via WDRT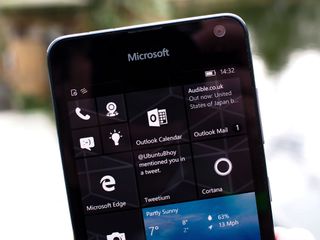 Some owners of the Lumia 650 can now reportedly get the double tap to wake firmware update via the Windows Device Recovery Tool (WDRT). The update is not yet available for all Lumia 650's, however, and is likely dependent on your phone's region code i.e. our U.S. Lumia 650 does not show the firmware update on the server yet.
The firmware update was first reported by email tips as well as members of the Windows Central forums.
As we have reported on before, the firmware update includes the return of double tap to wake to modern Windows 10 Mobile devices along with a fix for recurring Wi-Fi disconnections. The firmware version number for the Lumia 650 is 01078.00042.16352.50011. This update was previously released for the Lumia 950 and Lumia 950 XL.
Download the Windows Device Recovery Tool (opens in new tab)
Here is the full changelog posted by Microsoft (opens in new tab):
Wi-Fi connectivity improvements, including fixes for Wi-Fi connection dropping randomly and Wi-Fi scan occasionally not returning any results.
Support for double tap to wake enabled.
Bluetooth connectivity improvements.
Stability and reliability improvements.
Camera improvements, including improved image and video quality, improved Auto-focus and fix for a problem that was causing slow motion capture to skip frames for some users.
Cellular connectivity improvements, including fix for a problem that caused occasional network loss for some users.
Audio quality improvements, including fix for a problem that caused voice call audio to get scrambled for some users
We will mention once again that getting the firmware update via WDRT will also wipe your Lumia 650 down to its factory settings. Microsoft will release the firmware via an over-the-air update in the coming days or weeks that will avoid this issue and we expect all Lumia 650's at some point to get the update.
Thanks again to Dano91 and our Windows Central forum members for the tips!
See at Microsoft Store (opens in new tab)
Wow, what a surprise, but I'm waiting for my L550

L550 on Poland find new FW 01078.00042.16352.50011 :)

Even on the 650, its going to be crappy and a headache !

Huh? DTTW is awesome. Been enjoying it on a L820 since 2013.

Guess what ? It's completely ****** on my 950XL compared to my 830 or my 1020.Have to tap like a retard on it. Same on my grand father's 950.

Idk, works fine for me, you may possibly be a retard.

It works much better on my 950XL than on my 1020.

I have both 950 and 650, I have no doubt it will work well on the 650, as for the 950, I just hope for the best. I prefer using the Cricket L650 ( 50.00 ) Over the AT&T L950 ( 200.00 ).

Works great on my lumia 950 ds Posted via Limited Edition Lumia 950 with Mozo Case or Beautiful Gold S7 Edge or Surface pro 4 or Lumia 1020 or motoe or iphone 5s

Works great on three Lumia 640's in my crib foo.

What a nonsense comment. DTTW had been amazing in all NOKIA Lumia's and the latest MSFT Lumia's too.

Yay...who d hell using L650 over priced device ha...

I suppose not poor people. By the way, sorry to hear about your financial situation. I use it. Jez uses it.

Ouch !! i might be poor still somehow I ended up with L950xl...i may have taught L950xl with display dock plus hdmi is way cheaper compare to L650... :p

Given the trend of price drops, we're not that far away :D But seriously, don't judge until you use it yourself. I got my 950 XL stolen and decided to wait for the next flagship and buy 650 in the meantime, and it is awesome for the price. And if it's not for you, doesn't mean everyone's like you!​

Sorry you 950 was stolen, nice to know that people think it is worth steeling though, I have heard some phones people don't think are worth the risk of stealing. I Love my 950 and 640

650 is great!!! I enjoy it, plus I noticed when you have both phones 650 and 950 side by side the 650 has nice blacks while the 950. Has the clarity and sharpness, I also noticed MS gave the 950 48 accent colors and gave the 650 49 accent colors. It's aa nice powder blue color. Same thing with the color profile too..

You are poor at Math. In no universe is 950XL cheaper than a 650. Maybe better value for money, but not cheaper. But then you wouldn't know the difference.

If you re not business man then both phone are good for you. Just lumia 650 much much cheaper ;)

I use it and what is your point?

The Lumia 650 was buttery smooth since launch. Can the same be said for the 950?

Hey daryl, i don't have any idea about L650 that said going upon specs and my experience on L730/L640 redstone builds I'm sure L950xl performs way way better...initially it was unusable passing build it keep on getting better..

It should perform way way better, it is 3 to 4 times the retail price, has a much better processor, camera, eye login and Continuum. The 650 does 95% of what most mobile users need and wasn't plagued with returns at launch.

the action center is lagy on homescreen


I know my 650 has been buttery smooth since day one compared to the 950 i had. The design, performance and build of the 650 for me was a winner out of the box. I wouldn't give up the 650 for a 950 any day.

It's an awesome phone. Period :D

i just got mine for about 100€. not a bad price if you ask me.

we in Portugal can buy it at the microsoft store for 129€... is that overpriced????

In my country it costs almost equal to 200€...

Nope. But in my country it costs about $230-$240.
Moto G 4 Plus costs less than that.
Forget about the OS... Just compare the hardware of both the devices... Isn't it overpriced now?

Hardware is just a part of the story the software is the real deal Windowsphone10 even not being on preview mode is incomplete,No apps,Features than established Android & believe me if you are not a windows fanboy my Mom & dad both use MOTO E(1st gen) still date haven't seen if lag/hang battery life is good while keeping several apps open in background now just imaging how much better would Moto G would be in handling.

Totally enjoying my 650... In Canada it's also 199 So heck of a steal and works great on W10M... Compared to my work issued iPhoneSE which cost hella lot more... And feel like you are using some teenie bubbly interface phone... I always prefer to pull out my 650

Do devices on a fast ring insider preview still get OTA firmware updates?

Firmware is independent of OS version or Ring.

That's different from earlier, when you had to leave the Insider ring to get firmware updates. Thankfully, they fixed it.

Good question, I dunno under Redstone 2

Glorious! Hopefully VVM stays put after the update.

I wait few weeks and then I have the update and need no the factory reset.

It's still undergoing testing. The AT&T 950 firmware update will be ready early 2nd quarter next year.

It's already been out on wdrt, wouldn't it be out really soon? They already tested it if they are letting people get it.

I think its a fantastic phone for the price. Love that OLED screen.

@Cryio : Double tap to wake (Plz stop making abbreviations on your own, its so not cool) works briliantly on my fav Lumia , the 720. The unofficial Win 10 update I did on that ruined the phone for me though. Will go back to Win 8.1 on it. Double tap to wake was always crappy and stressful on my new Lumia 735. It's going to be same for Lumia 650. Sorry if it disappoints !

DDTW, yes I will call it that like 95% of the WP community, always worked perfectly on my 920 with WP8.1 and W10. Predicting it to be crap on the 650 is a bold statement.

DTTW :P worked great for me on my L820 on WP8.0, WP8.1 and W10M TH1 and W10M TH2. It's busted on W10M RS1 on the same L820 though.

this feature has been active on my Lumia 925 for a year or so

That firmware changelog looks so good. My body is ready

Off topic, I wish Lumia 730 had exactly the same form factor as the Lumia 720, except for the newer processor and higher RAM ! The actual Lumia 730 /735 is a bit bulky and unweildly as well

I also heard Intel is getting back into the mobile processors game. Intel, MS, Nokia ...hmmm sounds familiar ?

Sorry about that 'mopidevi' Daniel. There is no excuse for him !

Are you mopidevi's father?

Lost hope to get dttw for L650, but this are good News. Shows up on WDRT already, but think will wait for OTA ;)

Nice! P.S.: I loved that wallpaper, where can I find it?

This is a pleasant surprise, thanks Microsoft! Great phone L650 still getting better;)

i've never seen this phone in any store its like Microsoft through it in the water and said who ever find it is the lucky winner :D

I don't think the L650 was released in the US. You have to order an international version. I just purchased one for my daughter. It is a great phone.

The 650 was released in the U.S. back in April I believe. I bought mine in April and hope to keep it for quite some time. it is an excellent budget phone for my daily use.

I bought mine in the US thru Cricket wireless on sale for 49.95 about a few months back

i love my 650. It is very beautiful, everyone is impressed by how thin it is and the amoled screen is awesome. Now it will get even better!

A very pleasant surprise! I know people who have been struggling with their wifi and really missed the DT2W Posted via the Windows Central App for Android

Still no OTA update from AT&T for the 950! BOOOO!!!!!!!!!

What about the Lumia 550? Will It get the double tap to wake firmware update?

Yes, on Poland find 01078.00042.16352.50011

YES!! In Spain my 650 is updating!!!

All available firmware per version should be available here to check, and no sign of any 650 firmwares younger than 16082 (which was the 950 fw that didn't yet have ddtw). http://www.lumiafirmware.com/last

YES!!! This is great news!! The 650 is an excellent budget phone that has been the best win 10 experience I have had yet on mobile, even better than the 950 I had for about 6 months. Now with DDtW coming this makes a great phone even better !

WP reports DTTW on the 650 via WDRT. IDK about U, but that's TU for WP 650 FB's. AT&T needs to allow OTA for DTTW so my wife won't lose her score on Dots. I told her about how I can get her DTTW and she wouldn't be happy bout losing her top score. Acronyming just like in my military career. I tried to come up with more.. LoL

Now we just need double tap to wake for 950

Yeah! Posted via the Windows Central App for Android

I used DTTW to wake up on my lumia 925 all the time. Right now I'm using L650. Since I know that L650 do not have DTTW, it disappointed me a bit. I was really missing that feature and dedicated camera key alot. But now thanks to Microsoft.They never disappoint their customers.

Just got a 650. Was eagerly waiting for dttw on 650 especially after using 640 for a year and half. Even auto focus. Takes ages to focus. Good to see that too has been solved. Will wait for OTA update though.

A very useful feature i have been using it on my l640xl for months and there's a double tab to lock

Sadly MS still can`t come up with a way to update the firmware without having to rollback to previous windows version in the WDRT...

Rumors are that firmware Is also released for 550 model via WDRT

folks the 650 is a great basic Windows 10 mobile smart phone I hope that if the "Surface" smart phones go on sale in 2017 there's a low cost "Surface" smart phone like an upgraded Lumia 650 so Folks can buy a Surface smart phone who cannot afford to buy the 600 dollars plus High tech "Surface Pro" ARMS CPU smart phone. I'm pretty sure the coming "Surface" Flagship smart phone will use an ARMS CPU and operate a lot like an HP Elite X3 but wont have CRAP WARE on it and will run Desktop PC programs through special software that may or not be in the cloud

My L550 also showing firmware update 01078.00042.16352.50012 on WDRT. From where I can see the change log?

Omg, hell yes :) So happy right now.

I wonder if this also improves the unreliable hotspot Posted via the Windows Central App for Android

Just got the Lumia 650, and was wondering will DTTW ever release on it. Guess it will. :)

Wow im surprised so many people seem to like the 650. I got mine in early May and ive always thought it was a bit disappointing. Hmm maybe i should reevaluate it with a more open mind. Posted via the Windows Central App for Android

Finally, I have got DTTW on my Lumia 650. I have been missing this feature badly after I switched from Lumia 520. It feels great to have it back again.

I could've done with this firmware update months ago...well at least 2 weeks ago before I game up and got the 950.
Windows Central Newsletter
Thank you for signing up to Windows Central. You will receive a verification email shortly.
There was a problem. Please refresh the page and try again.