Lumia 650 may land at Cricket Wireless in April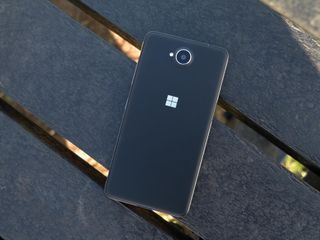 It looks as though those in the U.S. may not have much longer to wait to pick up a Lumia 650 — at least if Cricket Wireless is your carrier. According to Windows Central forum moderator and Ambassador RumoredNow, a Cricket sales representative recently confirmed that the carrier will indeed carry the Lumia 650 starting in April, confirming such with Cricket's online bulletins. Unfortunately, there aren't yet any details concerning price or a specific date to look forward to.
However, we may soon hear more about the fate of the Lumia 650 in the U.S., according to the official Lumia US Twitter account:
@kohli_r @mikepuddephat Hi guys. Please stay tuned tomorrow on social media, as we think there's an announcement you'll like ... ;)@kohli_r @mikepuddephat Hi guys. Please stay tuned tomorrow on social media, as we think there's an announcement you'll like ... ;)— Lumia US (@LumiaUS) March 10, 2016
If you've been following along with Lumia 650 news for a while, the phone winding up at Cricket wouldn't come as much of a surprise. Our own Daniel Rubino reported as far back as December that the smartphone may be destined for the carrier this April. Given that Cricket was also one of the first carriers to get the Lumia 640, this move seems like a natural fit.
In any case, we should hear more in the way of what Microsoft has planned for the Lumia 650 in the U.S. tomorrow, March 11.
Thanks for the tip, RumoredNow!
Dan Thorp-Lancaster is the Editor in Chief for Windows Central. He began working with Windows Central as a news writer in 2014 and is obsessed with tech of all sorts. You can follow Dan on Twitter @DthorpL and Instagram @heyitsdtl. Got a hot tip? Send it to daniel.thorp-lancaster@futurenet.com.
Every time I read Cricket I'm reminded of that poor guy from It's Always Sunny In Philadelphia


lol I approve of this reference.

Rickety Cricket. From working for the lord to doing anything for some spare change.

If this one was going to be last low end Lumia of this centuary What MS should have done is use nicer SoC like Snapdragon 425 or at least 412 and pack 2 GB of RAM and price it right. Then what's wrong with L550?

Yes, stop banging on it's getting boring. It is what it is...surprisingly pleasant to use. Spec freaks drive me nuts. It's how it is in everyday use to the end user that matters.

Looks like the perfect device for Cricket.

I just want Cricket VVM for my At&t 640... -Mach 8 Solutions, LLC a software company.
Http://mach8solutions.com

Ditch carrier VVM. Sign up for YouMail on the www. Then put ISeeVM on your phone. Best VVM I ever used. Follows you from carrier to carrier, phone to phone, SIM to SIM. You could even swap to a new number if needed. Seemless coverage, easy to use, quality service. It even greets my known contacts by name. A nice touch, that.

I have the app on my phone and never check it because of the WAV email attachments. It works great.

+1 youmail is a great service

Can it be used with Truecaller? -Mach 8 Solutions, LLC a software company.
Http://mach8solutions.com

I could not address that. Never used TrueCaller... It does have Enhanced Caller ID built in. http://www.youmail.com/home/feature/enhanced-caller-id Not sure how much of that is included for Window's Phone. It's certainly identified all my missed and recorded calls accurately. Don't think it works "live."

I have a Lumia 950xl I bought from the Microsoft store and I have the vvm working

Put SIM in cricket phone. Activate VVM. Put SIM back in 640. TaDa.

I didn't know you could do that. Does it work for tmobolie branded phones too?

It has worked for the ATT branded phones I have used. I haven't tried it with a T-Mobile branded phone so I don't know. It's another questionable policy by Cricket. There is no technical reason VVM shouldn't be available on every handset that supports it, regardless of where it came from, but Cricket short sightedly tries to inconvenience their BYOD customers once again.

Why buy that when Cricket is selling the Lumia 1320 for $49.95?

The 1320 came out on 2014 and its 2016 and now a days people want top of a line phones with lots of memory and such even of you have to spend more money

Also that phone is big! Not everyone is into big phones.

That's fair. But the 640 is still cheaper at Cricket.

The 650 isn't top of the line and doesn't have lots of memory lol

16GB internal is welcomed at that level. 8GB is a bit cramped for most users on a daily.

How soon will it be on Verizon wireless

I'm semi-pseudo-almost-sort of-famous. Not. Thanks for the shout out. I'm on Cricket right now and loving it. I may get a 650 to test and review for the forum. Gotta look hard at it when it arives and kick the tires.

I will probably do the same. Love the looks of the hardware. I am on Cricket now with a 950. Have been on Cricket (or AIO before the name change) for about two years and would never go back to a "regular" carrier. The monthly savings is incredible.

I just wish cricket wasn't so bass ackward about tethering. And they're stubborn about it too.

I've got 4 lines running for $100 a month. At those prices can you blame them? For $10 a month you CAN use hot spot on your line.

I can blame them. I don't mind the $10 charge, if they would let me pay it. But like any company that makes arbitrary, business hurting, ridiculous decisions they set themselves up to refuse to accept the money I am offering. Cricket's $10 tethering is only available for a limited subset of phone models, and those models have to be the cricket branded versions. There's no good reason for this, especially from a company that was pushing BYOD for so long. It's crap like this that keeps me on T-Mobile.

Ah... Good to know. I don't use the Hotspot add on myself. We keep a stand alone hotspot on Straight Talk for when we need one. Or I can swap my SIM into a 4G tablet.

Hopefully an unlocked 650 will be available to order online for the US tomorrow....?

I doubt that there would be one announced before the locked one comes out.

Phone looks great, but with those specs and the possible $200 price (if I'm guesstimating it right from the GBP price the Brits get), I still think the TMO Alcatel Fierce XL is a better choice. If L650 came to TMO, that is.... not likely.

I was told by a friend that works at Microsoft that March 31st is the day they'll be selling the 650. We'll see if that holds true!

The 640 is priced at $89 through Cricket. You can get it as low as $29 through Best Buy. The 650 can't be a $200 phone at Cricket. It'll probably be close in price to the 640. I've had no problem with Cricket, hard to beat for the price. My 640 works great, but of course I'll be interested in the 650 if it shows up at Cricket. If not, I'm sure Microsoft will put it on sale eventually and I'll buy it direct.

Any word on Canada getting the 650? I was going to get the 550 from ms store online but if 650 is reasonably priced I'd buy that instead of the 550. Posted from my ZenFone 2 Laser via the Windows Central App for Android

I don't see why not. The other x50s are available in the Canadian MS store. Posted from Windows Central for Windows 10

cricket usually has good online pricing too ... avoid their privately owned rip off shops

Great another low spec budget phone. Lumia n Microsoft.
The Fail that keeps on winning.

To my American brethren...i picked one of these up on Monday. Haven't touched my 950XL since yet (I will though I love it). This phone is nowhere near as poor as the reviews (so far) suggest. Once you update the software to current and all the apps it's a joy to use for everyday tasks. The build quality is excellent too. Might be low end, but boy it's a nice little phone.

Did you read our review?! ;-)

I read em all Richard. Sadly most were sniffy at best and cursory. Annoyed the hell out of me actually. A lot of it around the chipset - not surprising when most of those hacks spend all year fuelling the android specs arms race. This handset has been given an undeserved kicking by and large by the tech press. Decent handset with premium touches for a reasonable price, I like it a lot.

"This handset has been given an undeserved kicking by and large by the tech press." This happens to almost every Windows phone. If it's not specs, it's the app gap, or the general marginalization of Microsoft in mobile with the focus on what is missing instead of what is there.

What LTE bands does Cricket support?

It uses AT&T's cell service, I'm pretty sure. So to answer your question about what LTE bands Cricket uses, it's probably AT&T bands.

Band 2 (1900), Band 4 (1700 ul, 2100 dl), Band 17 (700 b&c blocks)

Very nice, I hope they at least announce an unlocked option via the Microsoft Store in the U.S.

Why you even want this phone?

Yeaaa got bored with 512ram and 8.1

Does anyone knows the market share of WP? Anyone?

You are a troll...all you do is bash MS. No nuance, no finesse, just constant yelping. A bit like an upset toddler. Try to add something useful for once?

I was searching for Phones Market share but I'm not getting excat number :-/ where the hell in this place I'm trolling? :-/ change your mind :-/

Has anything been announced for Australia? This phone looks perfect for the wife. I have a 950 but it's too big for her

I don't need to bother. I already have a Lumia 650 I imported from the Clove UK store last month been using it here in the States on AT&T GoPhone and it works just fine. Granted I don't get LTE (the highest I get is 4G) but still the phone is fast and texting/messaging work fine. And the best it is fully unlocked and carrier unbranded

Wow, how are your speeds? Single sim or Dual?

A lot of that is highly market dependent due to a less than perfect frequency match. See this thread: http://forums.windowscentral.com/lumia-650/412290-lumia-650-t-lte.html The user there reports EDGE only.

640 was 129 when I bought mine through cricket when it first come out. This will probably be 150 minimum Posted via the Windows Central App for Android

Bought my 650 for £130 in central London last week. PAYG upgrade. It's a no brainer when you see it in store next to the thick, clunky 640.
Windows Central Newsletter
Get the best of Windows Central in in your inbox, every day!
Thank you for signing up to Windows Central. You will receive a verification email shortly.
There was a problem. Please refresh the page and try again.