Lumia 730, 735 and 830 now available for pre-order in Russia for October 7 launch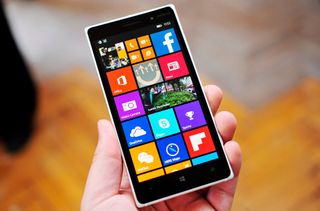 Residents in Russia can now pre-order Microsoft's newly announced Windows Phone devices: the Lumia 730, the Lumia 735 and the Lumia 830.
All three smartphones with Windows Phone 8.1 installed are now available via the Russian Nokia store website and are expected to start shipping in Russia on or around October 7. Both the 4.7 inch Lumia 730 and 735 will be sold for 12,990 rubles, or about $346. The higher end Lumia 830, with its 5-inch display, will have a price of 19,990 rubles in Russia, or about $532.
By way of comparison, a Lumia 1520 is 23,440 rubles ($624 USD) and a Lumia 930 is 23,990 rubles ($640 USD). In other words, smartphones are always priced higher in Russia than in competing markets. The Lumia 830 and Lumia 73x fall in line with current pricing trends in Russia.
If you live in Russia, will you be purchasing these new Windows Phone products from Microsoft?
Source: N-Store.ru via WP7forum.ru
Windows Central Newsletter
Get the best of Windows Central in in your inbox, every day!
$532? That's not mid-range... Well considering the iPhone is $1000+ I guess it is?

It's relative and yes, it is mid-range. Compare it to a Lumia 1520 (23,490 rubles), Lumia 930 (23,990 rubles) and the 19,900 ruble price for the Lumia 830 falls in line. Comparing market value of one phone in another market using currency conversion is not an indicator of prices reflected in YOUR market. Phones in Russia, for whatever reason, are often priced higher than other markets.

Lumia 1520's cost on Nokia India website is Rs. 42199 (~690 USD). Does that mean Lumia 730 would cost more than 350 USD in India ?? OMG!

Seems a bit highly priced

Did you compare it in price to the Lumia 1520 and Lumia 930 on Nokia's store?

Now I did, and it turns out Russians have a hard time when it comes to phone prices compared to here in UK, actually, I'm surprised that nobody has mentioned to you Daniel, just how cheap the 930 is here on EE's network: £350! That's a price that should be nudging purple to import maybe?

Pretty decent, but I'm scared that they will price the 830 as if it were flagship due to some confusion, because even the old 520 is £90 most places which is far too high in comparison

Koen, can we pre-order the 830 already in the Netherlands?

But you mean region locked smartphone? There is no such thing in Russia. Also, there is an 18% tax included into prices, not to mention, that most of our resellers are greedy. But, anyway, Russia has the best prices around the ex-USSR, for example, in Ukraine new iPhone 6 will cost 46500 rubles, while in Russia it will cost 31990 rubles for the cheapest version.
Althought its included into all good, for some reasons only cell phones, notebooks, some cameras, other junks and, for some reasons, console game have higher prices: 2800-3200 rubles, for example, $60 is 2300 rubles. And their price was and still is 2300 for previous gen, but the nextgen prices are higher. I just hope that is will go lower, I'm pretty sure it will. When Microsoft announced Xbox One for 20990 rubles, Sony dropped their price for PS4 from 23990 to 20990. Now Microsoft announced that exclusive games for Xbox one will cost 2800 rubles, I just hope that everyone else will drop the price as well. But, uh, there is always american marketplace and gift cards, right?
P.S. Baltia countries(Estonia, Latvia, Litva) have the same EU prices, 'coz they're in EU, but it has some advantages and disadvantages. For example, Windows 8 for Russia(supports only Russian and was sold only in Russia) had a price tag of 2300 rubles, which is $60 now, compare this to USA or EU prices. Also, computer games, printer cartridges, other stuff cost less here. Consoles cost the same(PS4 price was 18000 rubles at the start, but when Microsoft said, that they wont release Xbox One in Russia at the same time as in USA, Sony increased their price, what a scumbags, I'll never buy their crap just because of this), as well as computers.

Maybe the conversion is a little off, what I care about is the US

Why care about anything else in the world? I bet you don't even know where Russia is unless you Bing it. And its not of since they are writing about "anything Microsoft" with a focus on WP of course.

Let not get to sensitive now....emotions run high on the internet.

??? BDub0817 only states that he is interested in the US pricing, which is understandable for anyone in the US. Why are you spewing out generic "dumb American doesn't know where Russia is" nonsense?


Because he goes in a thread that clearly states it is targeted to the Russian market, to say that he doesn't care and that he wants the US details.

Same goes for Russia. Bet most in Russia couldn't pinpoint the US unless they used Bing themselves. Don't be a Putin.

Now that's far from the truth... Only Americans care the least about the rest of the world, so they are usually clueless about non-us geography, history, etc...

So what's the big deal if they don't know your country's history? Does it make your country any less important?

In Russia students studies not only Russian history, but also an US one, as well as GB and Germany after World War I, France after World War II, Soviet Block, NATO Block, "Thirld world" countries(mostly Yugoslavia), not to mention that there is a geography tests at the end of the school year, where you have to pinpoint random countries given to you(There is even Vatican).
So, most of the russians will pinpoint US without a problem, as well as Serbia, Ukraine, Chile, Brazil, Vietnam and Nigeria.

I can get a 1520.3 for 490$ or 519$.
532$ for a midrange? -facedesk- no just no lol

Lol right. That's ridiculous how they say that they are affordable but cost a arm and a leg.

All phones in Russia cost higher than other similar markets. Please go and compare the pricing of the Lumia 830 to the Lumia 930 on the same Russia Nokia Store and you will see. You folks really need to do better before pouncing on this stuff. Prices in Russia do not indicate a conversion price for your market when these phones arrive.

Yep. Rightly said Daniel, no use comparing with other markets. Tax structure, import duties vary widely among countries

Daniel, Nokia 530 officially costs about €89 ($118) in Ukraine. Could Nokia 730 cost €199 in my country as was said? How do you think? Posted via the Windows Phone Central App for Android

I think we are just scared whilst doing our assumptions of conversions, when in reality, it's gonna be totally different

Im from Russia, Prices on Phones is about 30% higher than in Europe, and we have not contracts, you buy your own phone for full price, and then put your sim card in (any carryer, any country). Only that way.


Different taxes etc mate.

Going to buy a Lumia 730 once it launches in Pakistan :) if I get a good result and if my parents can afford it. Both things are difficult :(

Exchange yur 520 bro . In sha allah yu ll get good result :)

John i think the image is fake,
Both are 830s from front view.

these are L930 and L830 kiddo

And the Flipboard app when? :/

Interesting. When is the range coming to the UK?

"globally this month" I've read.

India next, please! Can't wait any longer o_O

both the devices are nearly 80USD more than the price annouced, seems to be huge taxation!!

1 Month????? Moto G is already here ¬¬

You know what you should do then right?

Yes, I'll wait for the next year cause my L720 is useful enough for me. But it's funny how L830 already passed through Anatel (FCC or FFC (I don't know) from Brazil) and we will have to wait ¬¬ And Moto G could be bought here in Brasil after some hours of its announcement. C'mon MS =/

How did €199 turn into $365? I rely on the first price... Posted via the Windows Phone Central App for Android

You're better off getting a 1520.

How so? A Lumia 1520 is 23,440 rubles ($624 USD).

Yup, they don't... They are acting like there is no such thing as local market rates and it would be too much to ask of them to take into account the relevant taxes that get applied.

This nonsense is what you reply to? If this is your argument why don't you take it up with your co worker who converted to dollars from rubles in the article? Ppl ask you relevant genuine questions and you stay silent but you bite on this?

Well John is correct at the current rates that is what they equate too. Unless your saying the currency rates are wrong?

No I said that because Daniel told ppl to do better as russias price does not represent what it will cost in dollars. Post towards the top. Didn't mean any offence to John.

Nokia gallery guy said 730 possibly end of September or first week of October.

346$ for 730 is bit costly that's 21048rs.

They would be priced according to the local market range. So the prices in Australia for example won't reflect the pricing in India. Plus you have to take into account the taxes levied on the product.

USD 533$. Am I nuts..? No are u nuts.? The price is way higher than the announced one in Berlin.
This is outrageous. And i have nvr used that word in a sentence b4.

I have added a clarification that most of you are failing to notice: ALL smartphones in Russia are priced higher than similar markets. Compare the price to the Lumia 1520 and Lumia 930 from the same Russia N-Store and this point becomes obvious.

People post on here before they think........

I admire how you're scrolling down telling that to pretty much everybody buts its a losing battle man

There are too many zombies! Only option? Just nuke 'em :P.

in that case then, i Retract my statement. well i guess there is still hope. thanks Daniel for that.

It's odd that the 930 has a higher mp camera but a smaller camera circle than the 830. Why is that?

Design man... design!!!!!

Why would they intentionally make the camera housing bigger on the newer phone? It doesn't really look better

That's fucking costly. Microsoft again u will suffer low sales.

Dude everything in Russia is priced higher! Get your facts straight.

Read what Daniel has written man. All phones cost like that in Russia.

Read before you speak lol (I made that mistake once very to recently >.>)

Do we know SAR values? I searched but wasn't able to find. Has anyone any clue about the European measurements?

I already have a Lumia 930. Prices in our country have always been higher. Iphone 6 with 16Gb will cost 859 US dollars.

Is there anywhere else in the world that those devices are going to launch soon? October 7 is almost in one month... and this is the sooner announced date.

They said it would launch "this month". I hope they didn't mean September 30. Posted via the Windows Phone Central App for Android

$532.830? better go to buy $575 1520 sucks 830

False. Lumia 1520 is $624 in Russia.

He said right (i think)
Difference is about 90-100USD in Russia also people who don't care about size of 1520 they will definitely go with 1520 !!! I don't think 100 USD is deal breaker...
Much more sense to buy a 1520

Well, i would rather go with 930 if it was more expensive than 1520. Size is deal breaker for me.

I am from Moscow, Russia and going to buy L 830 for my wife to change her L820. The main reason is PureView camera, supporting memory cards and Qi charging. Both of them is awesome though. And I can claim that official Russian Nokia store is not the cheapest.

Bring them to Greece soon !

I understand that phones are higher priced in Russia but a $110 difference is what I don't understand. Perhaps in rubles that is a big difference but if it we're me I would spend the extra money. Sure no glance or SD card support on the 930 and I can't speak about other people's finances but bang for the buck the 930 seems like the better buy.

sad that prices are so high in russia at www.1shopmobile.com you can get nokia phones unlocked at great prices 1020 - 365USD 1520-435USD 520-105USD 630 Dual Sim -135USD 930-499USD

Russia is not the only country where phones after over priced... So... What ever fits once budget is the best phone for them...

I hate that all stories in WP Central have these little questions at the end. It gives an amateurish vibe to the stories.

I heard the more you pay the faster the phone goes, also if its red

Hey bring it to India.... Cant wait anymore.. Why Microsoft u keep all waiting???

Looking at these prices, as high they are they do fall in line with the local market. Plus Australians also pay more as well on tech compared to other markets, guess we will find out soon enough which is cheaper the Russian or the Australian prices :p.

Anyone who attended the More Lumia event who tried opening that Flipboard tile?

Yeah, they are. And I either but 735 without the shutter and hardware control buttons, or paying 54% extra for the PureView camera I don't need and additional 8GB of memory (not RAM!). WHY? :|

Is it also available in the Ukraine?

what's the price of lumia 830 in india?

Rs 26,990... i m waiting for 735 for preorder in flipkart or snapdeal Posted via the Windows Phone Central App for Android

In the U.S., I think the release is at the end of September; but no official release as of yet. Only two U.S. Carrier for each of two new models! Does not look good for myself to be able to purchase a new WP this year! Might go back to Apple's iPhone 6!

USD 532$, kissing my dream phone goodbye. so much for the "affordable" flagship.

Hi, I just found out about price and availability of Lumia 830 in Poland. The price is 1599zl, which should be about 380Eur and it should be available last week in September. Still no news about the availability in my country :(

They said it cost €350, didn't they? And Poland is a euro zone. What is going on with the prices? Posted via the Windows Phone Central App for Android

Technically, Poland is not in euro zone, they don't use Euro yet, but yes, they are in EU. Price for 830 announced during its introduction was 330Eur, but that was without the taxes (VAT)! And don't forget resellers wants their cut of cake too ;) Anything around 380Eur is OK but Amazon.fr price (349Eur) looks definitely superb!

l'm waiting for Lumia 730 in India from last month. when will be launched?

My lumia 820 is completely bricked when updating the software. it won't even turn on again. when i pluged it in my PC it shows Qualcomm HS-USB QDLoader 9008 (COM23) .Try both hard and soft reset but nothing, the phone wont even vibrate. pls i need help to revive this phone.

Amazon.fr has the Lumia 735 en Lumia 830 priced on their website: Lumia 735: €229 Lumia 830: €349 This looks like great prices! Especially if you compare them with the release prices of the Lumia 820 en Lumia 920 (end of 2012): €499 and €599!!! Maybe I'll buy them both ;P

Pre orders for the Iphone 6 Plus are all sold out. Man Apples really does know how to make business,good products and fantastic presentations and of corse,....products delivered after 10 days of presentation.Apple one step ahead.!

Nice... Russia beats out tmobile in the states... WTF? Sneaky Russians Posted via Windows Phone Central App

Pick me :D I screwed my phone and need a new one now :/

quite surprised to have read such news as this. I was then wondering how they would price both of Lumia 730 and 830 in Indonesia next?
Windows Central Newsletter
Thank you for signing up to Windows Central. You will receive a verification email shortly.
There was a problem. Please refresh the page and try again.