Nokia Lumia 800 firmware 12070 update rolling out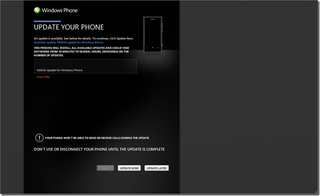 It would appear as though Lumia 800 Windows Phones are receiving new firmware, following the rollout in Singapore. The new firmware, 1600.2487.8107.12070, addresses a number of problems and is the next version up from the previous firmware release that arrived in January.
Quick recap of known improvements / fixes in the update:
Enhanced battery standby and talk time performance
Battery capacity icon instead of question mark on top right of screen
Improved bass in audio performance
Soft-key illumination at all brightness levels
Fixes for device performance issues including self-reboots, freezes and call-ending
As you can see, it's a fairly sizeable update. Many of our readers have confirmed update notifications (unlocked - U.S. and UK), so be sure to plug your Lumia 800 into your PC to check via Zune. Let us know in the comments should you receive the new firmware.
Thanks to everyone who sent us tips!
Rich Edmonds is Senior Editor of PC hardware at Windows Central, covering everything related to PC components and NAS. He's been involved in technology for more than a decade and knows a thing or two about the magic inside a PC chassis. You can follow him over on Twitter at @RichEdmonds.
No update for my unbranded swiss cyan lumia :-(

My UK country variant (unbranded) black just got the update thru zune, can't be that long for the other country variants to be out.

How sure are you of that? The update in the Netherlands is planned for halfway April. So 3 - 4 weeks from now. Or so Nokia says.

No update either (lumia 800, switzerland, unbranded)

* Battery capacity icon instead of question mark on top right of screen*
Does it show percentage? Can someone show a screenshot of how this looks like? Really curious.

I got it today no forced updates or anything. I am on Rogers with a UK Lumia phone. Battery seems to be better but sound is alot better

I bet this is part of the reason why we haven't seen the Lumia 900 yet.

I doubt it. It's a minor update that was available for a couple of weeks in other regions. I don't think the fixes in this update are big enough to hold the 900 release. It's either a more serious issue or a supply issue

No, I think you are confusing the previous firmware update with this one. Nokia said this firmware was coming, just didn't announce when it would be available. The previous firmware update was supposed to address the battery issue, but really didn't.

Off subject but I'm on my xbox360 on Zune music and I sure wished the Xbox would multi task like the phone

Off Topic reply:
Keep in mind that the Zune app on the Xbox is just that, an app. It's not a core function of the Xbox. If you wanted to listen to music and play a game or launch an app, you need to setup streaming with Zune to your Xbox, which uses the built-in player to the Xbox. Check out this Support Article from Microsoft on what to do: http://support.xbox.com/en-US/xbox-360/audio-video-setup-and-use/media

First my HD7 and now the Lumia 800, I thought it Tuesday was update day with Microsoft...

I see someone on Rogers says they got the update. Does this mean it's hit Canada? Telus people anything?

Nothing yet for my unbranded Austrian Lumia 800. Just checked. :-/

UK unbranded (formerly t-mobile branding) got update. Now it sips 50-80mA power instead of the 120-150 it did pre-update.
Also full charge capacity equals the max charge at 1311mAh.

I just got off the phone with AT&T support regarding the update for my Titan. They still don't know anything...
I wish I knew how else to voice my displeasure w/ them for not moving on this.

Cancel your account. That's the only language they understand. Even then they probably won't care.

UK T-Mobile Lumia 800 got the update :-)

Hi!
Not sure if you're still looking ast this site, but would be interested to know how you managed to get this update!
I have the same phone with the same privider and cannot see it either via Zune or wirelessly?!
:-(

Nothing on my international unlocked version in the states. Tried the unplug trick, too.

No update yet for lumia800 on 3 uk

Portugal unlocked, Nothing yet.

Orange UK still no update :(

Waiting for that magic notification on my Lumia 800 on Orange UK.

I updated just now through Zune on O2 UK.

No update in Sweden yet either (unbranded black l800)
=/

However my phone works like a charm , so im not in a need.



Still awaiting an update for T-Mobile Black Lumia 800 here - London.
No notification on the phone nor via the Windows Phone 7 Connector for the Mac.


Have a n00b question. I bought an unlocked Lumia 800 from Hong Kong and now I'm living in Germany using a prepaid T-Mobile card. Does that affect anything? Thanks.

I don't think it will, but I'm not positive :)

Thanks justin071894. I was wondering if it is treated as an 'unlocked 800" or "t-mobile 800 (germany)". Have a Vodafone SIM card from HK as well maybe I'll swap em and see. Will update when I get results.

Ya it should still be unlocked. :)

Just got the update today (28.03.2012). Unlocked 800 purchased in HK, using in Germany with a T-mobile prepaid card.
Cheers

TIP FOR PEOPLE ON THREE NETWORK OR ANY OTHER NETWORK WITH NO UPDATE : Unlocked Lumia 800: no update on three network, but as soon as I put my Vodafone sim in it updated.

Nothing. Using unbranded black Lumia 800 on AT&T in the US.

Just got this through Zune on Vodafone in Ireland. Coolio!!!

Just got it! France & SFR. Just after the update 2 new aoo updates : drive & nokia maps

Contrary to the experience of Tellem above, I also am on Orange UK. Lumia 800. The firmware update is still not available through Zune on my laptop.

Likewise, I even asked Orange UK on Twitter and they said that had no news about it at all.

Same in here. Lumia 800 Orange UK no update through Zune.

I don't think anyone on Orange UK is getting it anytime soon tbh. Took them long enough to get the 8107 update out.

Bad news people, Got the reply from orange technical support. There is no update for Lumia 800 in the pipeline. Orange customizes the firmware so the guy confirmed they are not even working on one yet.

Knew it. God I hate orange sometimes. I wish this firmware update was like the previous Nokia one, carriers have no say in the matter and it just happens. I don't get why Nokia made it optional. Tell you what then while orange sit on their hands for the next three months they can fix their "Your Account" app too. Sorry rant over.

I got the 12070 update..and it improved the battery life..now I have to charge my phone after 20hrs..better than last update where battery was lasting around 12hrs .

HKG unlock phone on 1010 network, no update so far...... anyone knows when the tethering function will be available?

I got my 12070 update this morning on my Nokia Lumia 800/AT&T in Florida. No tethering (yet).
Gary Davis
Webguild.com
Windows Central Newsletter
Thank you for signing up to Windows Central. You will receive a verification email shortly.
There was a problem. Please refresh the page and try again.