Nokia Lumia 800 firmware update detailed, not fixing everything?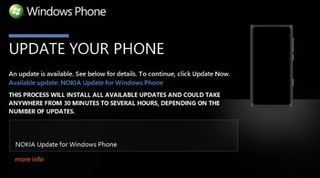 An article has been published over at Nokia Conversations detailing the 1600.2483.8106.11500 firmware update for the Lumia 800, which is in the process of rolling out. The update is being pushed out gradually using Zune software and contains two benefits; battery performance (making use of the capacity too) and WiFi connectivity improvements. This is update number two of two that were announced at the end of last year.
Unfortunately, we've received reports that users have encountered issues with soft key lighting and battery performance after updating, but we've yet to confirm this on our models. Let us know in the comments when you get the update.
Source: Nokia Conversations
Rich Edmonds is Senior Editor of PC hardware at Windows Central, covering everything related to PC components and NAS. He's been involved in technology for more than a decade and knows a thing or two about the magic inside a PC chassis. You can follow him over on Twitter at @RichEdmonds.
My Lumia 800 (1600.2483.8107.11501) problems include:- 1. Moving tiles long distances on the home screen does not flow properly. You need to drop the tile first before continuing. 2. Keyboard has intermittent delays causing the user to see the same character 2 or 3 times. 3. Critical alarm goes off too early and minutes later the OS battery is no longer critical. 4. Moving between songs there is a loud noise at zero volume and 1-30 levels. While playing a song, lock the phone and wait 5 seconds. Then unlock your phone and quickly move between songs, there is no noise for a few seconds and then it starts again. 5. Sound quality is poor from the loud speaker, Bluetooth and audio jack. 6. Nokia feedback within the settings tab has been limited to once only now. Nokia does not seem interested in customers providing ongoing feedback. 7. The Nokia drive direction voice occasionally stutters, taking about a minute to complete one command. 8. Video play back frames are missed on some videos. Audio keeps working. 9. Battery does not charge to manufactures specification. 10. Battery saver function is not working properly. On HTC HD7, Battery Saver (low) makes a big different. 11. Camera quality is poor for a Nokia phone. 12. Camera is set to macro by default. 13. Video auto focus still needs more improvements. 14. Low volume level is too high from audio jack. High volume level from the speaker is too low. Poor bass levels. OS UI now flows smoother on the new firmware.

I think that this says it all:
http://www.mobiletechworld.com/2012/01/12/upcoming-nokia-lumia-800-firmw...
It's now a week old but discuss the newest update and all the issues that remain un-resolved


Well... There's always a risk when you install something before it's officially made available I guess. :/

This was/is exactly the same update that is being pushed out now and the author has 2 Lumia 800 handsets to test it on. Many users are now reporting the same issues (just checked Nokia's support forum).

I left my phone in the office last night this morning it was still on although battery saver was on. Plugged into my laptop and was offered the update and installed it no issues.
I have not observed any of the issues and I have tried to replicate some of them so currently nothing to report on those specific issues.
My Lumia did suffer some lockups recently which I attributed to receiving calls in areas of low signal as that seemed the only common denominator. So will look out for this issue reappearing.
Obviously my battery is pretty flat right now so the phone is charging. The Nokia Diagnostics used to report 65K as its Charged % that now reads a more believable number currently mine is n ow 21% rising from 19% when I first noticed it.
The Battery Capacity Full charge was 1500 something it now reads 1483 now I will need to see if the Remaining charge when fully charged exceeds the old value and gets closer to that 1483 number.
So currently I can only report that they fixed the Charged % number in the Nokia Diagnostic app :)

Just updated to the 1600.2483.8106.11500 Nokia firmware and it also included the 7.10.8107.79 OS update. Yes, the soft keys no longer light up when the brightness is set to medium or high. I think it was done on purpose as the majority of people who have the brightness set at medium or high are probably somewhere that is well lit and it would not be necessary to have the soft key illuminated. My battery now reads a 'Full Charge Capacity' of 1483, which is a bit lower than the 1507 to 1524 it used to read. It is currently charging and is past the 1343 mAh it used to stop at.

It appears that the soft keys now have a lower lighting level than the screen. If you cover the light sensor, the backlight for the soft keys comes on. Is this really going to improve battery performance??
And the fact that the soft keys are quite faint without the backlight isn't helpful.

So wanted Lumia 800. Won't get one until these niggles are cleared up.


I'm confused... yesterday I was notified there was an update, so I updated. This resulted in OS 7.10.8107.79 and firmware 1600.2475.7720.11414. But one of my colleagues ended up with firmware 1600.2483.8107.11501 later in the day. I've checked and there's no other updates available to me... so what's going on?

If you got your Lumia from a different shop or at different times the two phones whould have come from different batches and had been released with different firmware. I got mine 27th Dec, I've had no firmware updates yet and my firmware version is 1600.2479.7740.11451. I've only had the OS update a couple of days ago. I am hesitent to get the new firmware given the issues. My battery life if about 8 hours with minimal use but often too scared to use my phone if I know I cannot charge it later in the day. I really love the design, look and feel of the Lumia 800 but it is a shame that I can't use it without being concerned about the battery.
Windows Central Newsletter
Thank you for signing up to Windows Central. You will receive a verification email shortly.
There was a problem. Please refresh the page and try again.